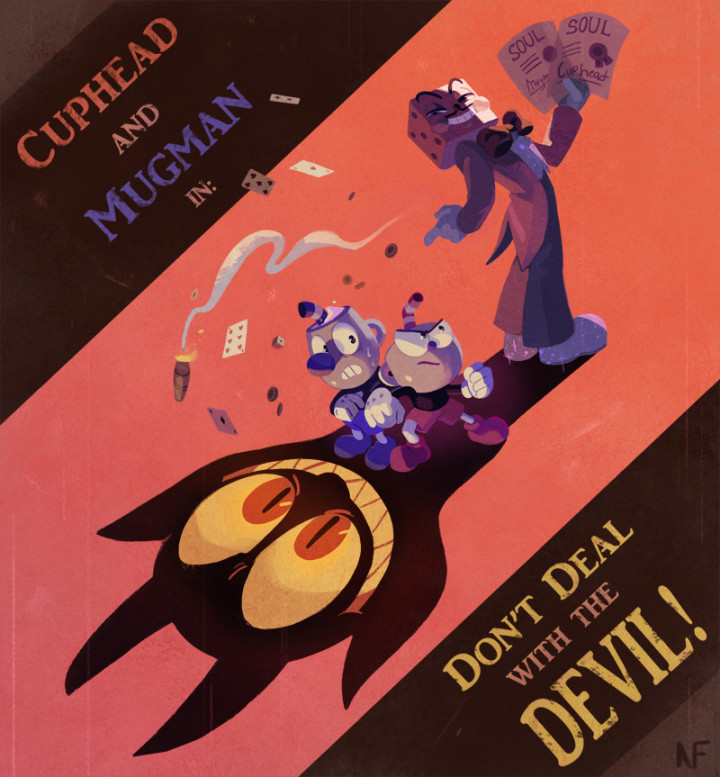 I'm still loving the design of Cuphead, the recent release from Studio MDHR based on the look of the old Fleischer Brothers animation studios. There seem to be lots of great posters for it online, possibly official, it's hard to tell these days. Many follow the multi-coloured, multi-character model but some keep in line with the look of the game. There's also merchandise starting to appear, from enamel pin badges to the inevitable Funko toys but the best object so far has to be the 4xLP original soundtrack.
Housed in a 30's book-style sleeve with gold leaf cover graphics, separate leaves for each disc and yellowed 'pages', it looks like it could have come straight from your grandparents' vinyl collection. There's also a lovely 7″ with selections from the near 3 hr LP set. At an eye-watering £71 + postage it's a bit out of my league at the moment but it looks worth every penny from the photos.
* Beware of pre-orders of figures from PopInABox – my Cuphead and Mugman figures are now 2 months overdue, one has been dispatched from overseas without a tracking number and the other remains in limbo while they wait for stock, meanwhile I've seen them in shops in the UK.