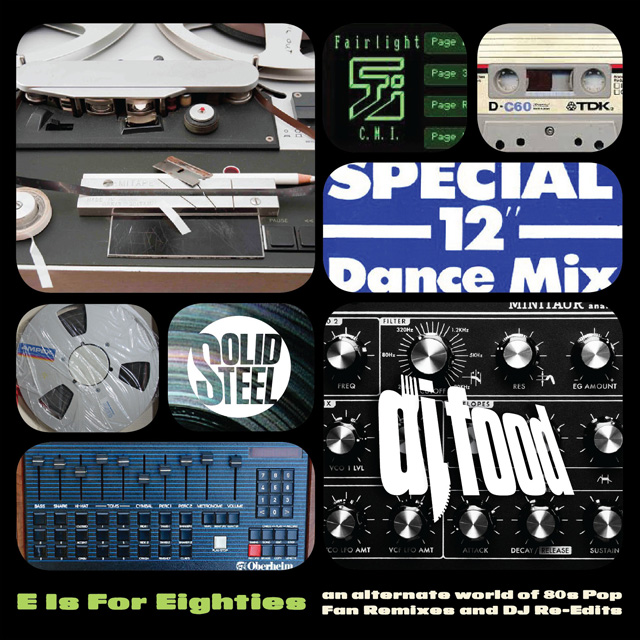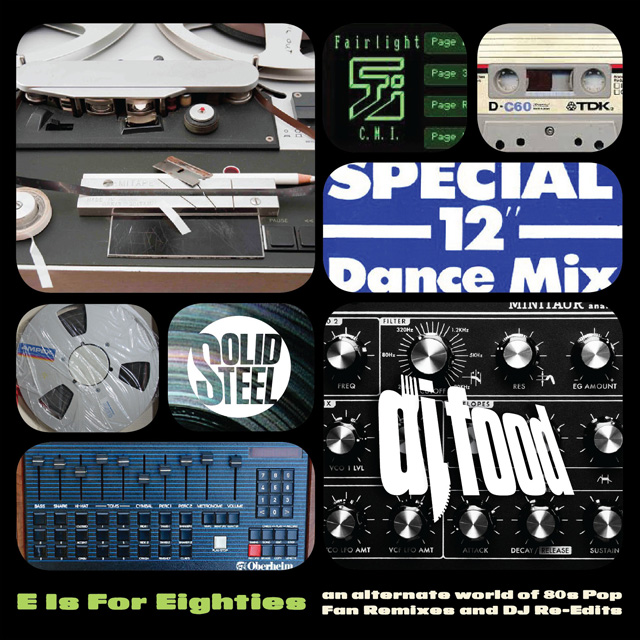 Imagine an alternate version of the 80's pop chart, not the one already there in the form of the extended 12″ remix that came to prominence in that decade, but a secret, subtly twisted one with different producers at the controls. Imagine Depeche Mode and Gary Numan remixed by a Hip Hop engineer, Tears For Fears cut to ribbons by a tape edit king, Bow Wow Wow and The Human League streamlined into a slow disco groove. Grace Jones and Heaven 17 pumped up for a House club, Japan remixed by Giorgio Morodor or Grace Jones covering Tubeway Army – no actually, those last two really happened.
My latest Solid Steel mix compiles an hour of mostly unofficial remixes, re-edits and versions of classic pop songs from the 80's, remodeled by fans or studio engineers with access to the separate track stems. What emerges is a collection of pop classics seen through a distorted looking glass, culled from the darkest corners of Soundcloud or the hard drives of those with access to audio they shouldn't have and time on their hands. See below for track listing and more info.

'E Is For Eighties' – An Alternate 80's (Re)mix
Gary Numan – Films (DJ Butcher Instrumental) (soundcloud mp3) – Found on Soundcloud, this toughened up Hip Hop take on the Numan classic, beloved by break fiends from back in the day, is minimally tweaked for the dance floor. Check more of DJ Butcher's wares here.
Tears For Fears – Shout (Remix di Marco De Luca) (soundcloud mp3) – a crazed edit-fest of cuts and splices of one of TFF's best known songs, I actually had to edit this down a little as the machine gun edits got so relentless that it was a difficult listen – the full 8 minutes is here.
Grace Jones – Slave To the Rhythm (Better Days' Rough Slave version) (mp3) – The first of three versions of Grace's finest moment – this one takes the multitracks and strips away the percussion and bass to leave a gorgeous string and acappella version that's billed as a 'Rough Slave' version on YouTube.. Info suggests that this was done by DJ Bruce Forest circa 1990, who got the chance to do a quick mix when working at SARM Studios on a different project. It has since been taken off of the web.
Grace Jones – Slave To the Disco (Tribute To Trevor Horn mix) (We Mean Disco mp3) – upping the bpm to a steady 110 this new cheeky re-edit turns a mid 80's hyper-polished pop masterpiece into a dirty disco groove to brilliant effect. I've added a fair amount of the Better Days acappella and strings version over the top of this as the original is mainly instrumental.
Bow Wow Wow – I Want Candy (Deep Sound Design Balearic Dub) (soundcloud mp3) – Taking the original's drum and bass groove and stretching it out, the mix just feels so dirty. Again I edited this down as the sugar-sweet singing of Annabella sounded a little too cheesy in the mix but check out Deep Sound Design's Soundcloud pages for tons of excellent mixes both past and present, he even makes ZZ Top sound good.
Frankie Goes To Hollywood – Relax (Hibakusha 'Don't Crack' mix) (CDR) – One of my favourite 80's songs tackled by my good friend Jeff Knowler aka Hibakusha. This is a few years old now and was largely achieved through EQing the various mixes of the song and re-sampling parts to achieve a mix. This is actually only half of Jeff's version and he's done many more Frankie and ZTT mixes in his own time, all sounding like they could have existed 30 years ago and among the best fan mixes I've ever come across.
Talking Heads – Once In A Lifetime (Hibakusha remix) (CDR) – Another one of Jeff's, originally done for a friend's birthday present and now presented here for the first time in public.
The Human League – Seconds (Antony Toga Unlimited Orchestra Mix) (soundcloud mp3) – The 'Don't You Want Me' B-side taken and stretched into a menacing 8 minute groove with the help of the 'Love & Dancing' version by Anthony Toga. I added the news bulletin dialogue as JFK's assassination took place and edited it again for length.
Japan – Life In Tokyo (Extended Disco mix) (Virgin) – A bonafide original, this actually saw a release in 1979 with Giorgio Morodor at the controls, one of the turning points in Japan's history which saw them at a crossroads between outdated glam rockers and early adopters of synthesisers who were put in the same bracket as the Futurists.
Grace Jones – Slave to the Rhythm (Steve Anderson & Chad Jackson remix) (soundcloud mp3) – A third outing but justified by this killer mix for DMC from the late 90's, unreleased but one that successfully ups the bpm by 20 or so to make this go-go pop classic into an 11 minute house club banger. Check out Steve Anderson's Soundcloud for tons of interesting mixes in this vein.
Tears For Fears – Mad World (ABH Remix) (soundcloud mp3) – Another Soundcloud find, TFF's breakthrough hit given a crunching big beat undercarriage by ABH from London.
Depeche Mode – Big Muff (K Master bootleg demo) (soundcloud mp3) – This is actually an unfinished demo but I liked it so much I featured it anyway. A slowed down, Plastikman-esque remake of one of my favourite tracks from DM's debut album, 'Speak & Spell' – hopefully one day he'll finish it. K_Master hails for Minnesota, USA, not to be confused with the K Master from the UK.
Heaven 17 – Penthouse and Pavement (Eggman Remix) (soundcloud mp3) – The mysterious Eggman Productions from London, filters the Heaven 17 classic into House territory – the original is nearly 10 minutes long but I edited it a lot to fit it in, hear the full version here.
The Clash – Rock The Casbah (Dubrobots 12″) (mp3) – One of Jeff's engineer friends who goes by the name of Dubrobots takes on The Clash. '…Casbah' has been versioned a few times over the years but this sympathetic, dubbed out mix using the original stems to break it down caught my ear for the open piano passages. Also check out his Dubrobots HQ blog for a great mix of Adam & The Antz – Cartrouble Pt.1 (Dubrobots 'Who's The Slave & Who's the Master' mix). It's a rarity to find any remixes of Adam Ant material, even more so to find one of the original, pre-fame Antz tracks. His is a fantastic re-imagining of 'Cartrouble Pt.1' which really exists in its own little world, I'm not sure how you'd place this with any other music successfully and it just didn't make the final cut because of this.
Grace Jones – Me, I Disconnect From You (Island) Another track that's legit but has only just seen the light of day. Originally recorded in 1981 for inclusion on the 'Night Clubbing' album, Grace covered Tubeway Army but it sadly never made the cut. Finally released on the new 2 CD deluxe edition we get to hear it and I mixed a little of the original into the ending so that Numan bookends the whole mix.
Along the way, whilst making this mix and auditioning a lot of other mixes in a similar vein, I stumbled upon Paul Dakeyne's site where he has a number of interesting posts including one on tape edits with an unreleased Omar Santana 'Bullet edit' version of the same Tears For Fears track I used. It's pretty full on and comes from a cassette Paul had, his Soundcloud page is also worth a look with unreleased megamixes of Paul Hardcastle material.