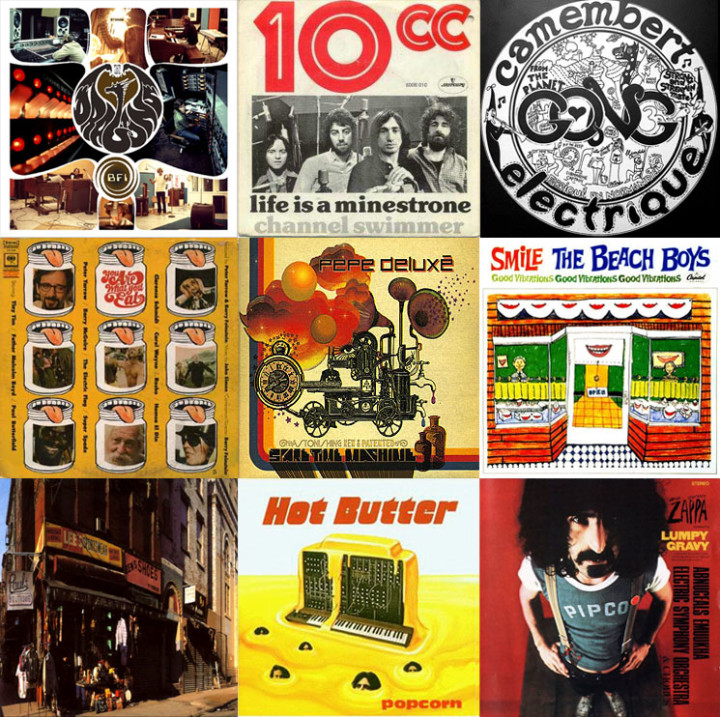 I was asked to make a list of food-related records for something back in 2009, I forget what, again, all archived on a CDR I recently found, here again just for the hell of it.
The Dragons – Food For My Soul (Ninja Tune)
This has to be top of my list because of the title, the message and the association with The Dragons that blossomed with it. If it wasn't for licensing this track for the 'Now, Listen Again' mix CD then their unreleased 'B.F.I.' LP wouldn't have come to light.
10cc – Life Is A Minestrone (Mercury)
Until Godley & Creme left 10cc could do little wrong when it came to singles and this is one of the classics. Honourable mention should go to the duo's later 'Snack Attack' from the 'Ismism' LP which has to be one of the greats.
Gong – Camembert Electrique (Virgin)
Maybe not their best album but great nevertheless, as well as the title it contains the track 'Wet Cheese Delerium'.
Cookie Monster & The Girls – C Is For Cookie / If I Knew You Were Coming I'd Have Baked A Cake (Sesame Workshop/Ninja Tune)
Cookie Monster tracks are rarely about anything but food, the former was released in disco mix form by NInja, backed with my re-edit of the classic 'Pinball Number Count'.
Pepé Deluxe – Apple Thief / Salami Fever (Catskills)
Can't decide between the two of these. 'Apple Thief' is from my album of 2007 – 'Spare Time Machine' – and is pure psyche pop beauty. 'Salami Fever' has been a staple of my DJ sets for many a year and is a collision of rock guitars, scratches and distorted vocoder that I never tire of.
The Beach Boys – Vegetables (Capitol)
From the Smile / Smiley Smile sessions, featuring Paul McCartney on carrot (!) Has to be on the list just to get Brian Wilson and the Beach Boys on there.
Beastie Boys – Egg Man (Capitol)
Only a tenuous link with Food but Paul's Boutique is one of my favourite records and mixing the themes from 'Psycho' with 'Jaws' just wouldn't happen legally on a record any more. Also for the epic 'B-Boy Bouillabaisse' and they mention the next record too.
Hot Butter – Popcorn (Musicor Records)
Two food stuffs for the price of one, this evergreen novelty hit has been covered by quite a few including Aphex Twin and has to be on here to represent the Moog.
Frank Zappa – Lumpy Gravy (Bizarre)
The entire album – one of my favourite Zappa albums from his early days with the Mothers, pure madness on vinyl.
Various – You Are What You Eat OST (Columbia)
This is the soundtrack to a little known film which is full of all sorts of gems although only the title is about food. My favourite track is 'Freakout' by the Electric Flag and John Simon, a 10 minute jam of unparalleled insanity – you know when people describe things as 'psychedelic' and then you listen to them and it just sounds like some badly recorded garage band? – this track actually warrants using the P word.