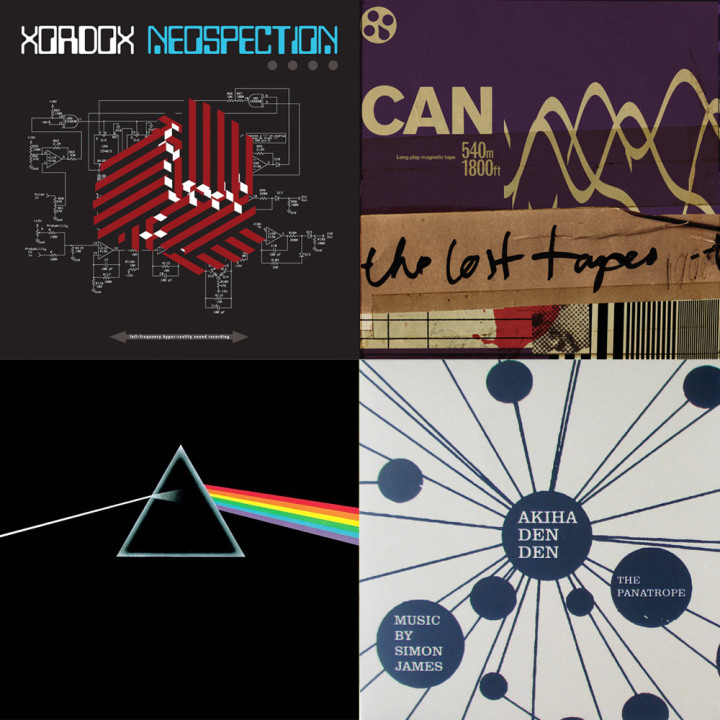 Four From Food Fridays – a weekly look at four things I've been loving in the last seven days. Old or new, whatever's been on in the studio. From top left:
Xordox – Neospection (Editions Mego) LP/CD/DL – JG Thirlwell mutates into yet another alias, this time for deep space instrumental pieces recorded on the Buchla and Serge synths at EMS, Stockholm. Get the CD/DL for an extra 14 min track too.
Can – The Lost Tapes (Mute) 5xLP box + poster/booklet – Incredible 'outtakes', jams, demos and live collection from a few years back. Better than some official album releases.
Pink Floyd – Dark Side Of The Moon (Harvest) LP – Seeing the Their Mortal Remains exhibition at the V&A Museum last Sunday made me want to revisit parts of the Floyd back catalogue.
Simon James – Akiha Den Den/The Panathrope (Castles In Space) CD – Bonus disc of extra material that comes with vinyl LP – 70 minutes worth of quality material.