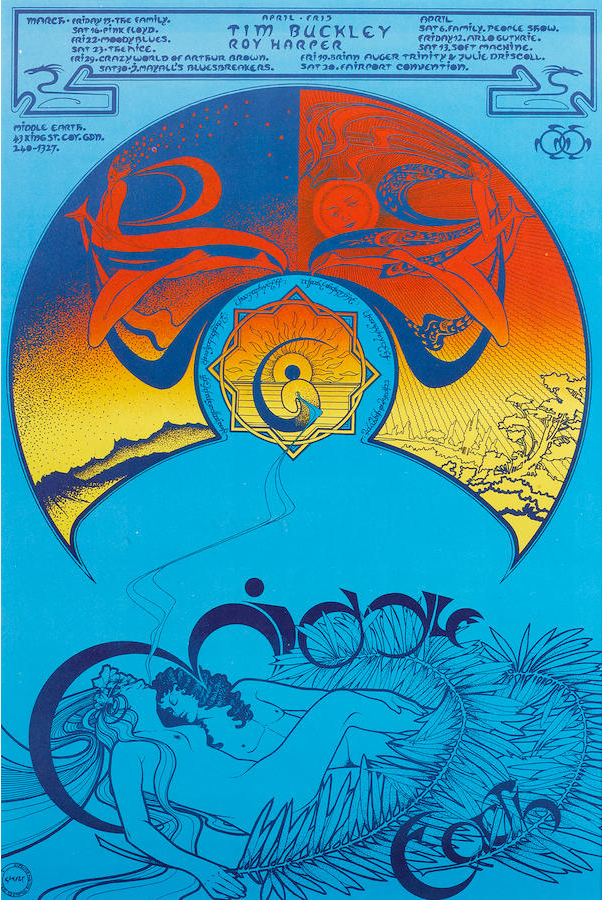 Continuing the occasional overview of British psychedelic club advertising I've been compiling over the years…
I've not come across too many posters for the Middle Earth club, the psychedelic happening in Covent Garden that sprung up and eventually succeeded the UFO club in 1967 through to 1969. Michael English illustrated possibly the most famous poster for the club above and the original art was sold some years ago at auction.
From the auction blurb: "Michael English's detailed explanatory letter explains that this was the last, and technically the most sophisticated, poster created under the Hapshash name. Printed by offset lithography rather than the usual silkscreen process, the image takes its theme from J.R. Tolkien's books, from which the Middle Earth derived its name.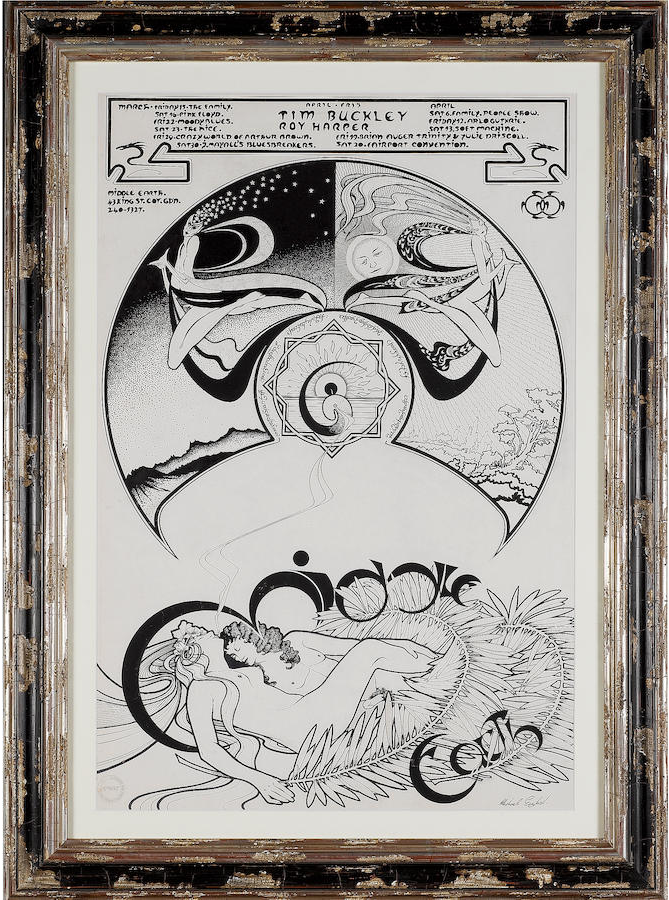 "In typical post-Freudian Hapshash style the content was heavily sexualized but the less explicit version of the two lovers was printed and used for promoting the club's concerts. Above the lovers, entwined in foliage very much in Alphonse Mucha style, are two windows into two worlds, one of darkness, one of light. Locked in eternal balance, they are a symbol of the symmetry of space-time, as are the lovers – a reflection of each other, independent, yet inter-dependent. English recalls that, at the time, he felt it was somehow dishonest to hide the boy's genitals in the printed version as it somehow diluted the force of their love and consequently weakened the message."
Below is the background colour printing plate and below that a rather aged example of an original print.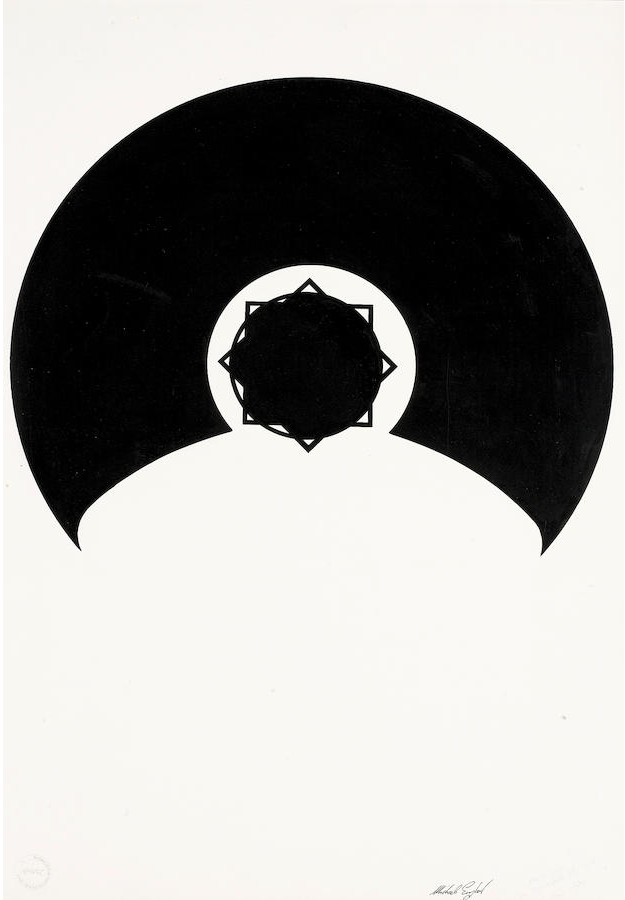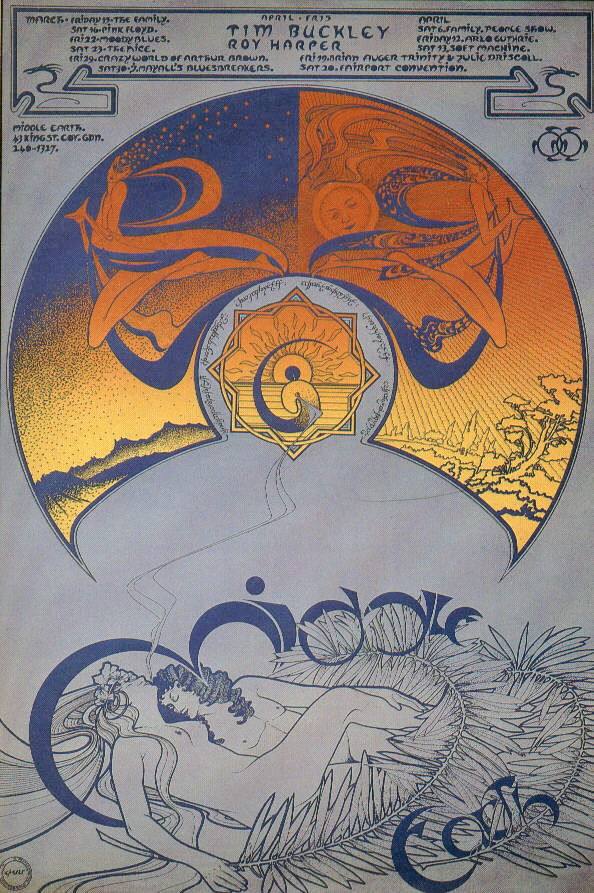 There's little info about this landscape poster except the credit at the bottom and the names Marc Tracy and Paul Bennett hidden in the hair. The V&A hold a copy in their archive, originating from 1967 but despite the title, 'A Trip To Middle Earth', it's not clear whether this was for the club or just a Tolkien reference.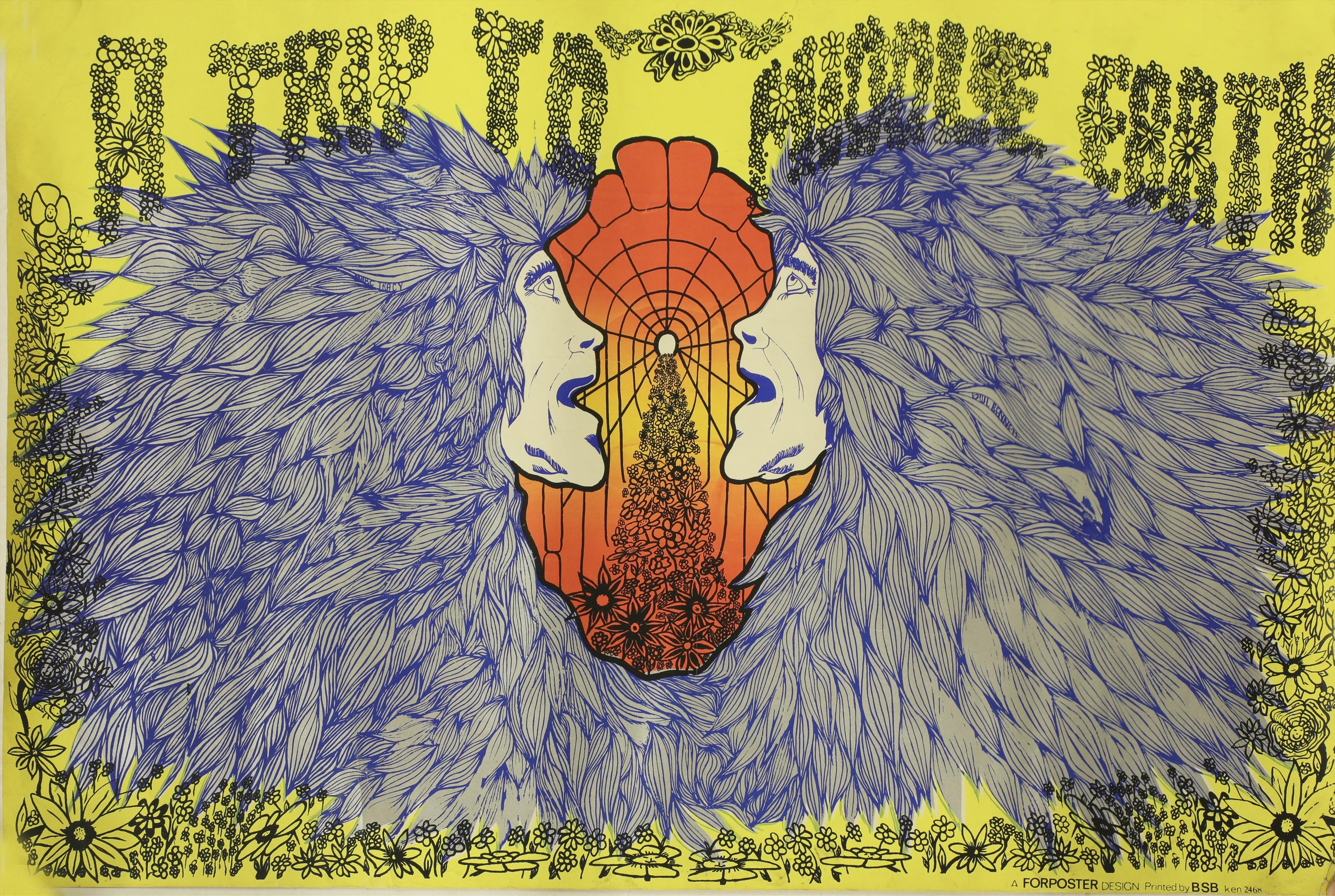 Below is a strange anomaly I found; a minute scan of a Middle Earth poster or advert – now upscaled – that cribs its main image and type from an American poster by Clifford Charles Sealey for the Summer of Love festival in San Francisco, dated March 1, 1967. From the dates on the British poster it must be from late 1967, over six months after the American event, I guess the similarity of the name was too good to pass up and they swiped it.