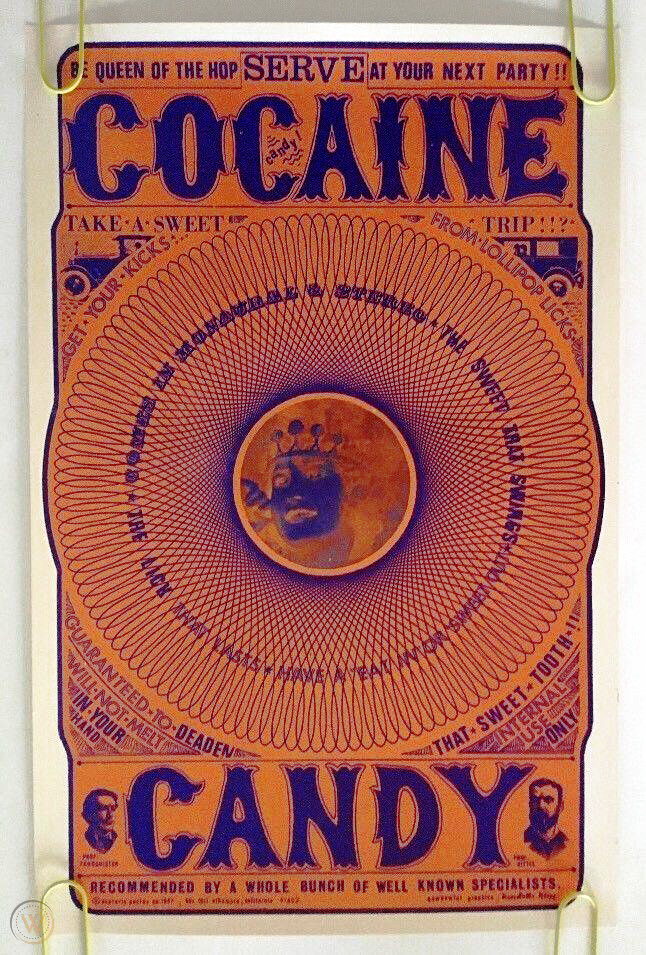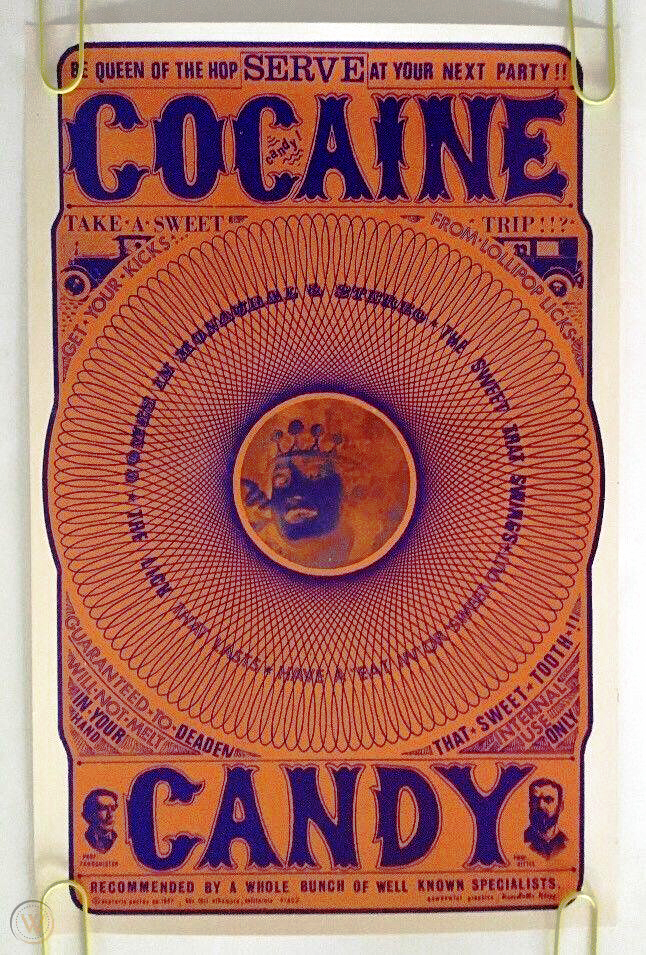 On my travels round the web I ran across these late 60s parody drug posters – the following info was cribbed from the Worthpoint website:
Vintage Psychedelic Poster 'Cocaine Candy' Limited Print
Published by The Esoteric Poster Company in 1967
Hand-Pulled Serigraph on Thick Stock Paper, Semi-Gloss Finish
Original Art by Robert Wendell, after Roland Crump
Printing by Gawdawful Graphics / Wendell & Klopp
20″ x 13″ Black Light Sensitive
The Esoteric Poster Company, founded by Howard Morseburg in California during the early 1960's, had a brief run before folding for good in 1968. The beatnik satirical 'drug' parody posters achieved popularity from the community they sought to mock. Owner and founder Howard Morseburg hired artists Roland Crump (acclaimed Disney animator) and Robert Wendell to produce the designs. Very limited printing, less than 300 (as low as 100) printed.. among the most collectible and prized of all 1960's psychedelic era posters.
Guaranteed original from very limited back stock, from Howard Morseburg's gallery in Alhambra, California.
A bit more history:
Howard Morseburg (1924-2012) began his career in the art business in the 1950s. He was a World War II veteran who had served in the Merchant Marine and later worked in the book and magazine business. As a young officer during the war, Morseburg was on the "Murmansk Run" to the Soviet Union and other perilous wartime voyages through the submarine-infested North Atlantic. It was one of Morseburg's friends from this time, a young skipper named Jim Greenberg, who was to introduce him to the art business.
After the war, this friend became a ship's captain on the Atlantic route, and began importing paintings by European artists to the United States. In Europe, which was still suffering from the economic after effects of the war, there was no appreciable market for these artists' work. During the 1950s Greenberg began selling the paintings he imported to galleries, furniture stores and interior designers who were then developing a wider consumer market for art than had existed before the war. From his base in Seattle, where he and his young family were then living, Howard Morseburg followed suit, and he began selling paintings imported from Europe throughout the western United States.
In addition to the European paintings he received, Morseburg began representing young American artists. He also became involved in the West Coast printmaking movement. In the late 1950s and early 1960s he started to represent young artists like Wayne Thiebaud, Elton Bennett and Mel Ramos, who created their own hand-pulled prints. It was this interest in printmaking that helped lead to his next venture.
The Beatnik Posters: About 1960, Morseburg became interested in creating humorous and satirical posters. At this time, the "beatnik" movement was in full swing and coffee houses and jazz clubs were full of beatniks spouting free-form poetry to the beat of bongo drums. To Morseburg, the beatnik movement found in Greenwich Village, Seattle, San Francisco and the East Bay was ripe for satire. He met a talented young Disney artist and Imagineer named Roland Crump at a gift shop in the San Fernando Valley, just north of Los Angeles. Crump was a brilliant and eccentric young artist and designer who became one of the most important Disney "Imagineers." Crump was already producing some hand-pulled beatnik posters before he met Morseburg, but once the association began, Morseburg had larger quantities of some of the posters published using the photo-offset process.
Crump designed a series of images that satirized the drug culture that was developing among the Beats, which Morseburg took on the road, travelling down the coast from Seattle to San Diego. In that era, drug use was not widespread and they were chiefly popular with musicians and beatnik hipsters. So, Esoteric Poster's first releases were "Smoke Marijuana," "Fly High, Fly Heroin Airlines" "Cocaine" and "Opium."The next posters were which poked fun at a Beatnik club, and "Big Liz," which was a colorful poster of a Beatnik princess. Those 30″ x 24″ posters were silk screened in three colours and for posterity's sake they cost $0.50 to produce, were sold to book stores for only $1.00 and retailed for $1.95.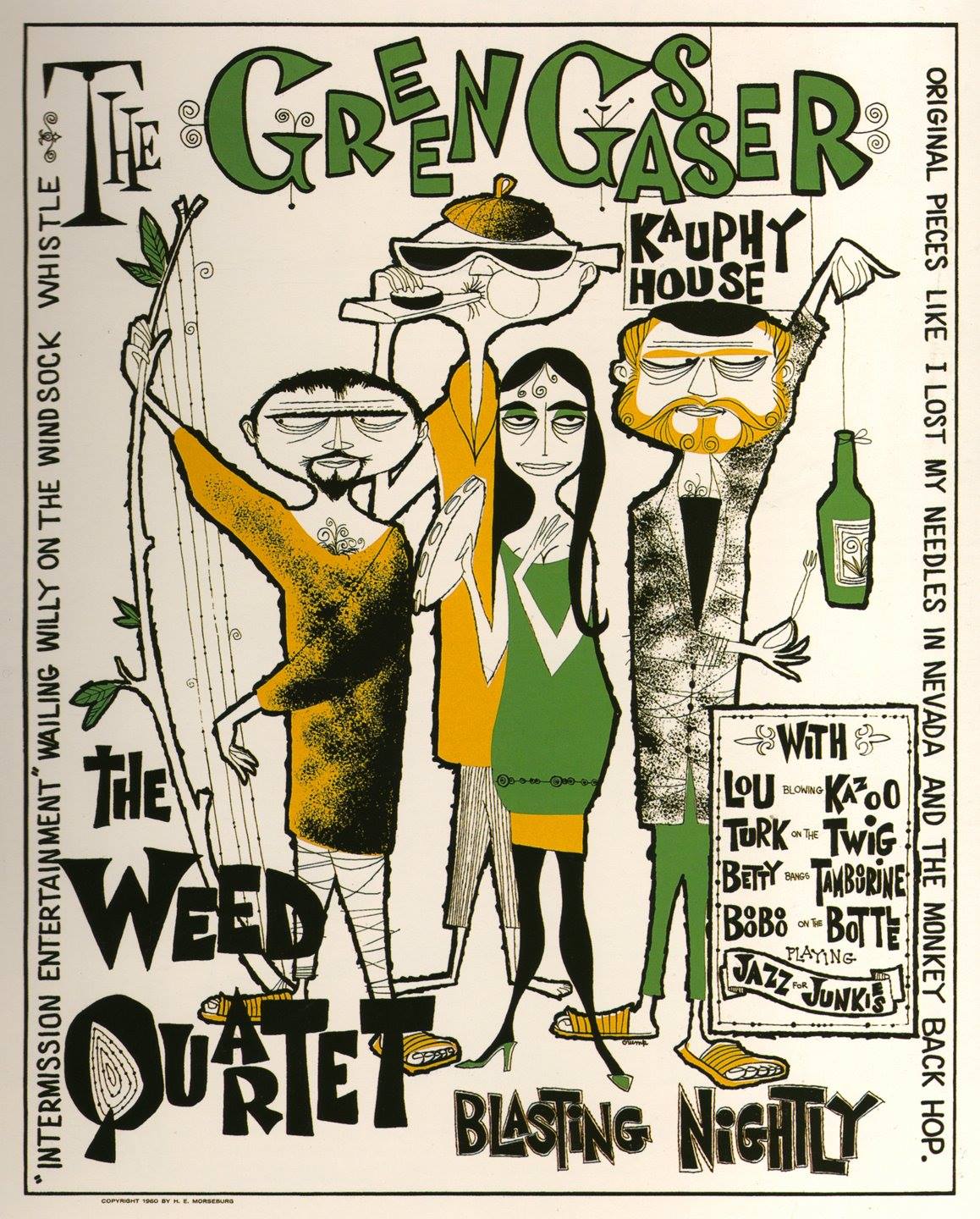 In the course of his frequent sales trips to visit art galleries, Morseburg personally distributed Esoteric's posters. His primary outlets for the posters were the book stores along the west coast that catered to college students in Berkeley, Stanford, Portland, Seattle, San Francisco and San Diego. These posters were produced as very early critical parody of the drug culture by the Esoteric Poster Company, but the message was so subtle that they were popular among the very community they sought to mock.
Below are a few more I've run across although details about dates and print houses are scarce but I'm reasonably sure they're from the same era.
Original vintage black light ultra violet poster designed by Dominick Jago, 1969.
Depiction of the pharmacopeia of the era.
Publisher: Poster Prints, Plymouth Square Center-Conshohocken, PA.
Dimensions: full sheet: 21″ x 31.5″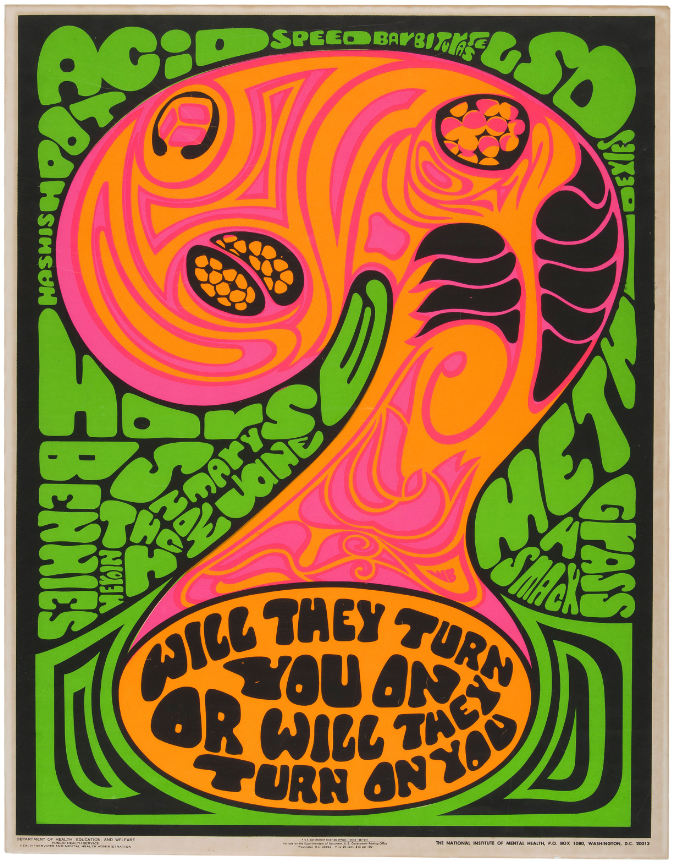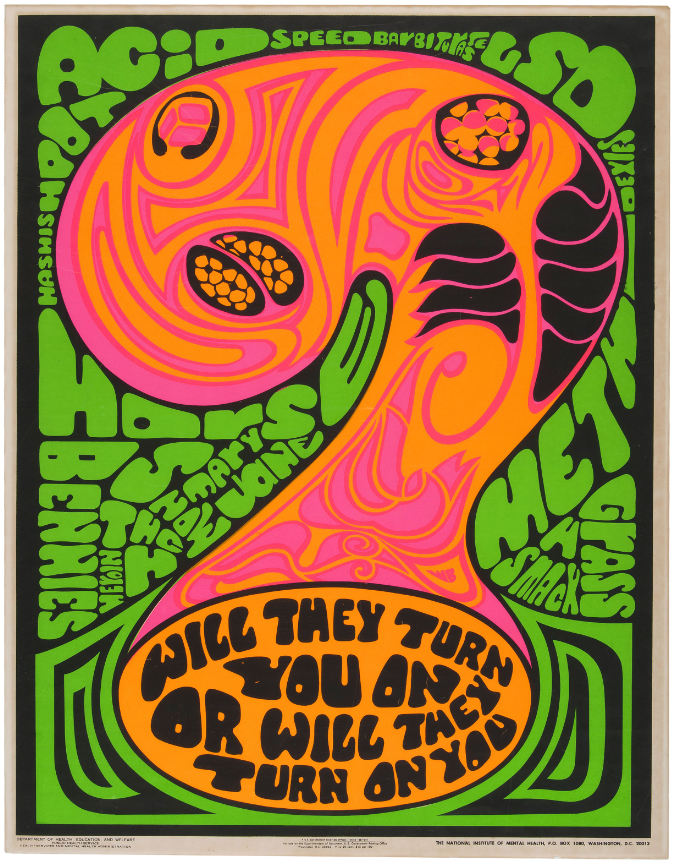 Printed by The US Department of Health, Education and Welfare; Public Health Services and Mental Health Administration, possibly 1969 although other sources say 70's.