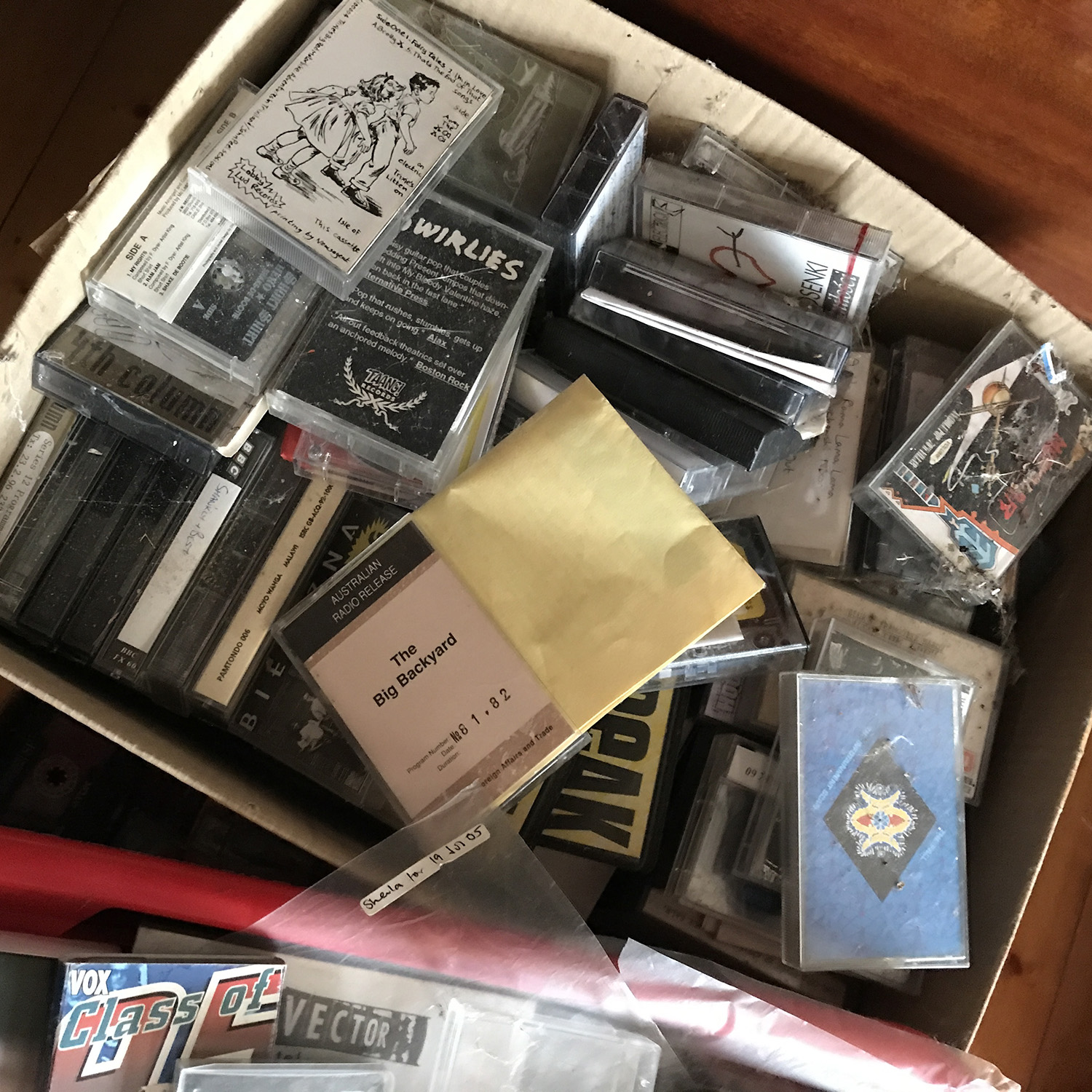 Recently I was lucky enough to accompany my friend Eilon Paz of Dust & Grooves to Peel Acres – John Peel's family home and site of his incredible record collection. We'd been granted a visit by Tom Ravenscroft, one of John and wife Sheila's four children and renown BBC 6 Music DJ in his own right. We were getting an exclusive look into his archive for the follow up to Eilon's 2013 book on vinyl collecting, Dust & Grooves – due out next year. This piece isn't about the whole visit though – for that you'll have to buy the book and see all the amazing treasures we found – but about something that was discovered before we arrived that I took a special interest in. On the drive up from the station Tom revealed that the week before they'd uncovered a huge stash of tapes from a hidden cavity in the floor below John's studio, previously some sort of sunken sitting space that had been covered over decades before for space and safety reasons. In amongst the hundreds of cassettes were demos and submissions from hundreds of bands, some unknown and unsigned at the time and one name sprang out at me from the list he reeled off – Frankie Goes To Hollywood.
Readers of this blog will know that I'm a huge fan of both the band and their label, ZTT so an early demo from them was of interest despite having heard pretty much everything that's ever come to light from their recorded history (plus plenty of material yet to be officially released). Even better was that there was a personal letter enclosed as with many of the things we found that day. Once in the house and faced with the mammoth task of even knowing where to begin, Tom kicked things off by retrieving the tape from a small pile of the more interesting finds he'd pulled from the boxes. Extracting the letter, he began to read and by the time he'd finished I was more confused than when he started. See for yourself, most Frankie fans will be similarly scratching their heads.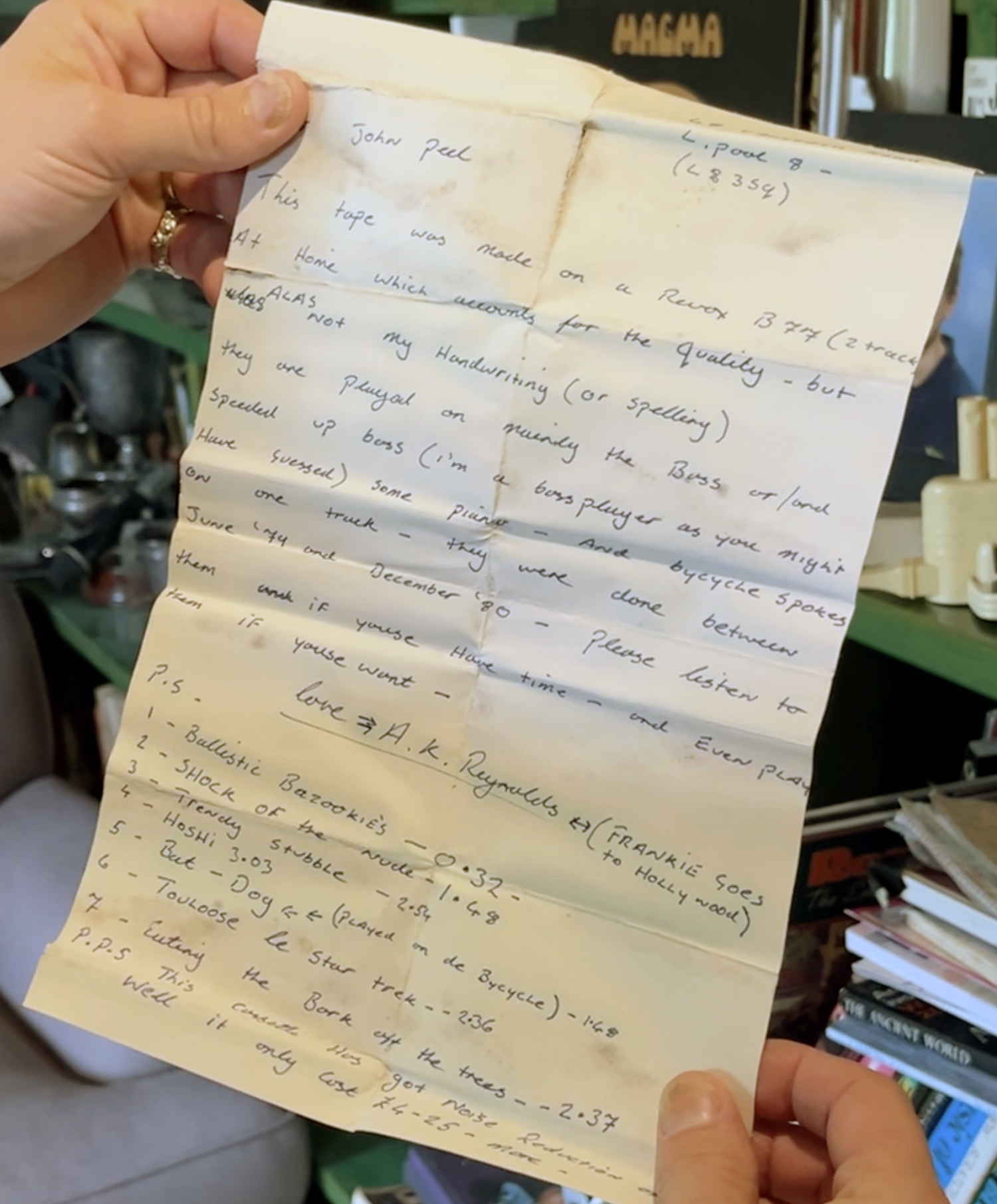 Three things that instantly jump out are: who was A.K. Reynolds? There was no one of that name in the band. The track titles – I'd never heard of any of them – and the time frame – recorded '77 – 80? The Frankie that became world famous didn't form until 1982 but this letter was from a Liverpool address and the writer a bassist, as was Holly Johnson originally, the band's vocalist, when he was a member of Big In Japan. Maybe this was a pseudonym and he's sent some solo material to John in the hope of getting airplay? There couldn't be two Frankie Goes To Hollywood's, the name was too unique, taken from a page of Guy Peellaert's 1973 book, 'Rock Dreams' which Holly had then adapted.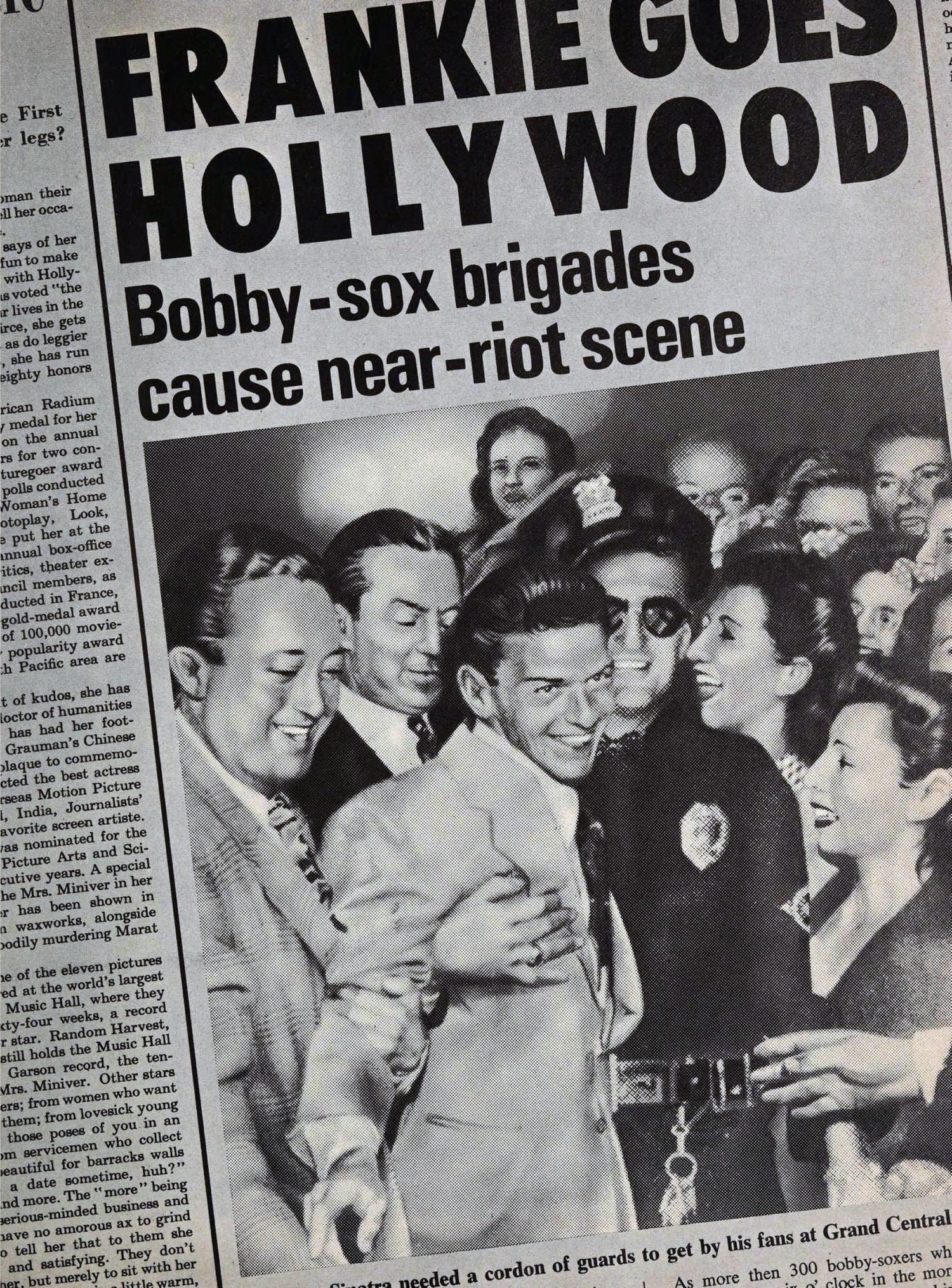 I decided to consult Holly's 1994 autobiography, 'A Bone In My Flute', as his recall of the early Liverpool years is extremely detailed, hoping I'd find a reference to the name or address on the letter. Eventually my patience was rewarded on page 132 with first, the writer's name, and simultaneously the origin of the band's moniker.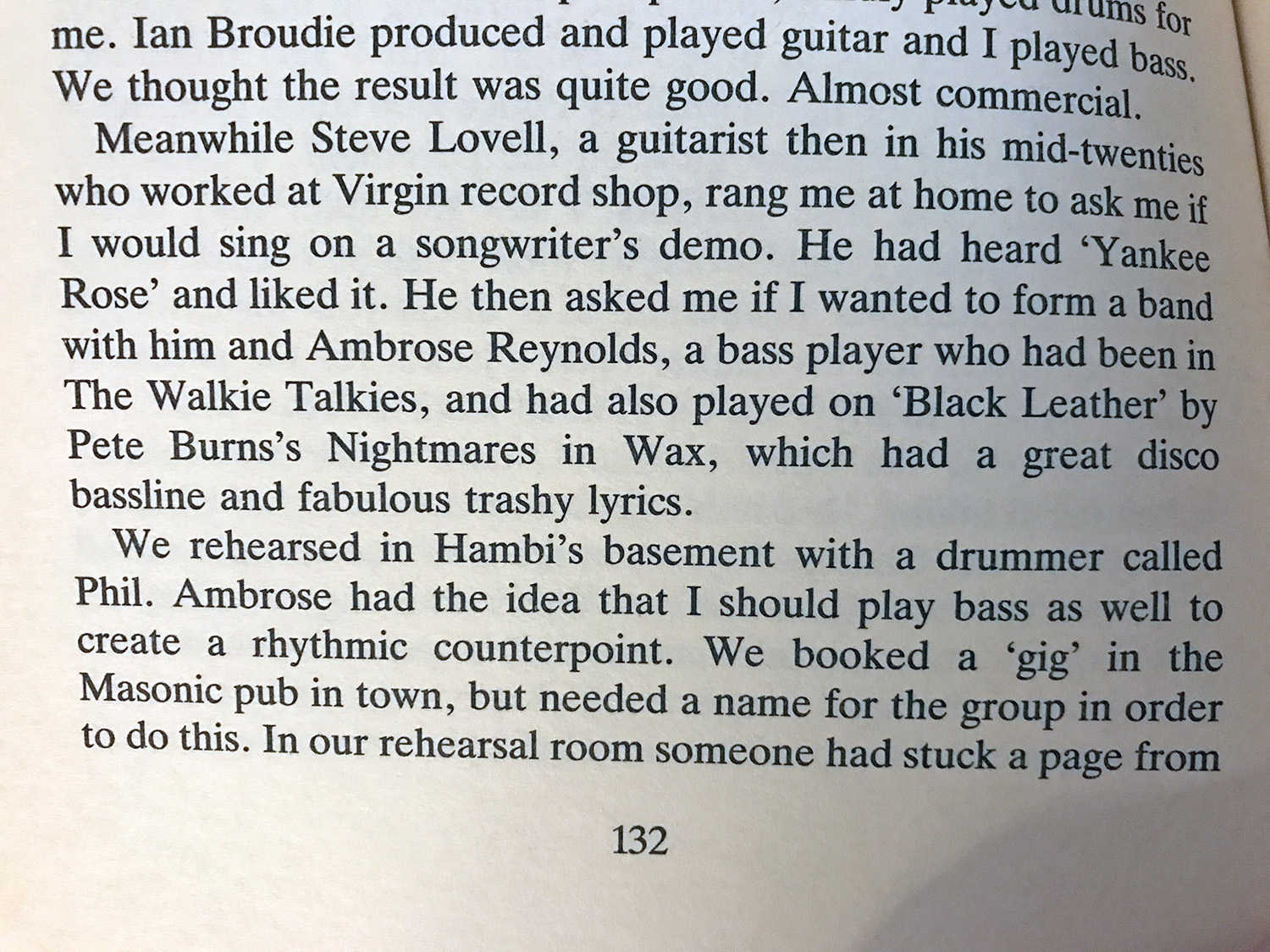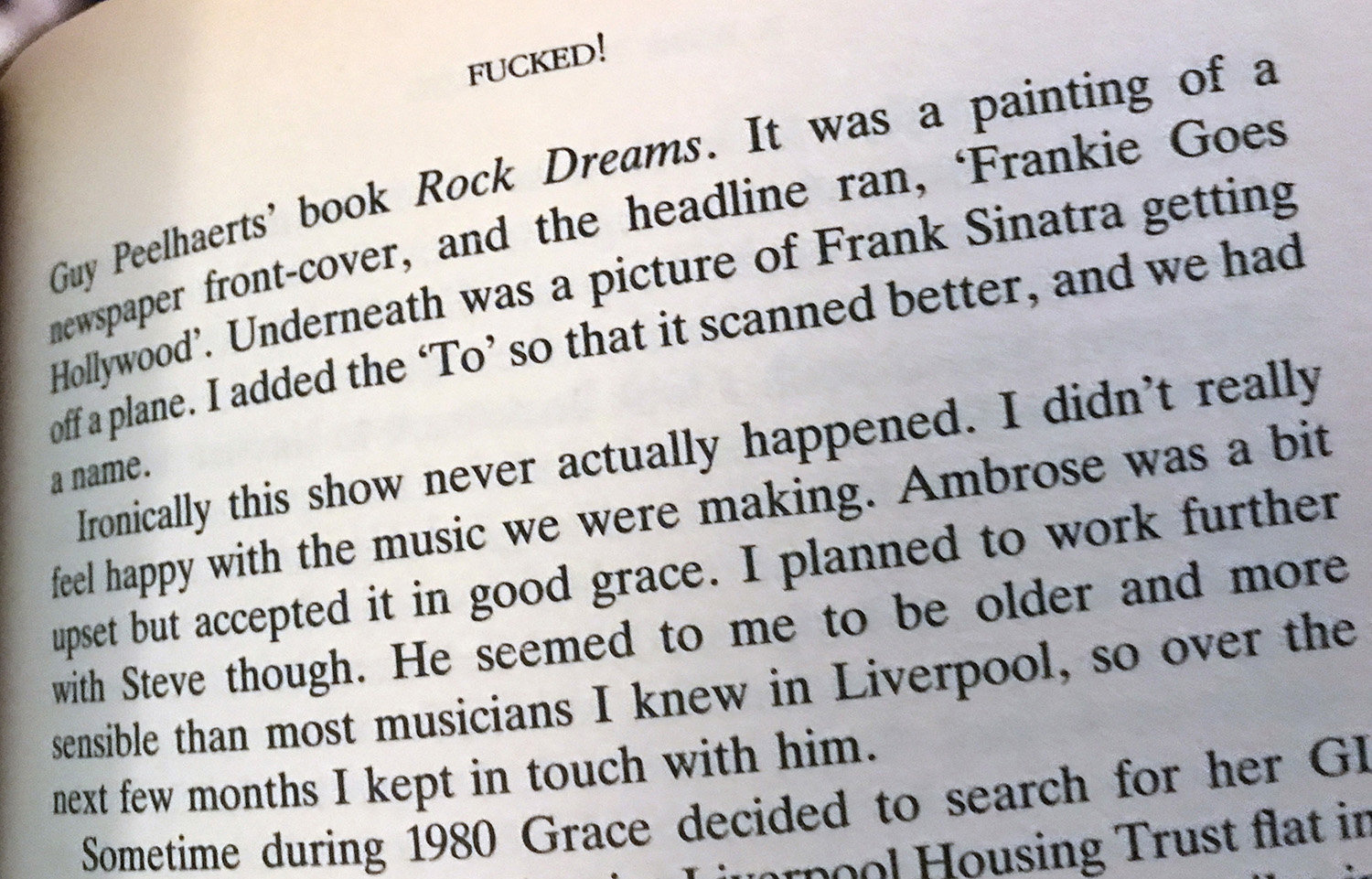 The band Holly formed with Ambrose Reynolds – the A.K. Reynolds who wrote the letter, also a bassist – were Frankie Goes To Hollywood mk1. Steve Lovell and BF Tin were also members and I'd say that the time frame here was about 1979/80 although it doesn't explicitly say in the book. Ten pages later there's another clue as to those sessions as Holly meets and starts writing songs with Peter Gill, Brian Nash and Mark O'Toole in the embryonic stages of what we now know as Frankie, when they were part of a band called The Dancing Girls and later, Sons and Egypt.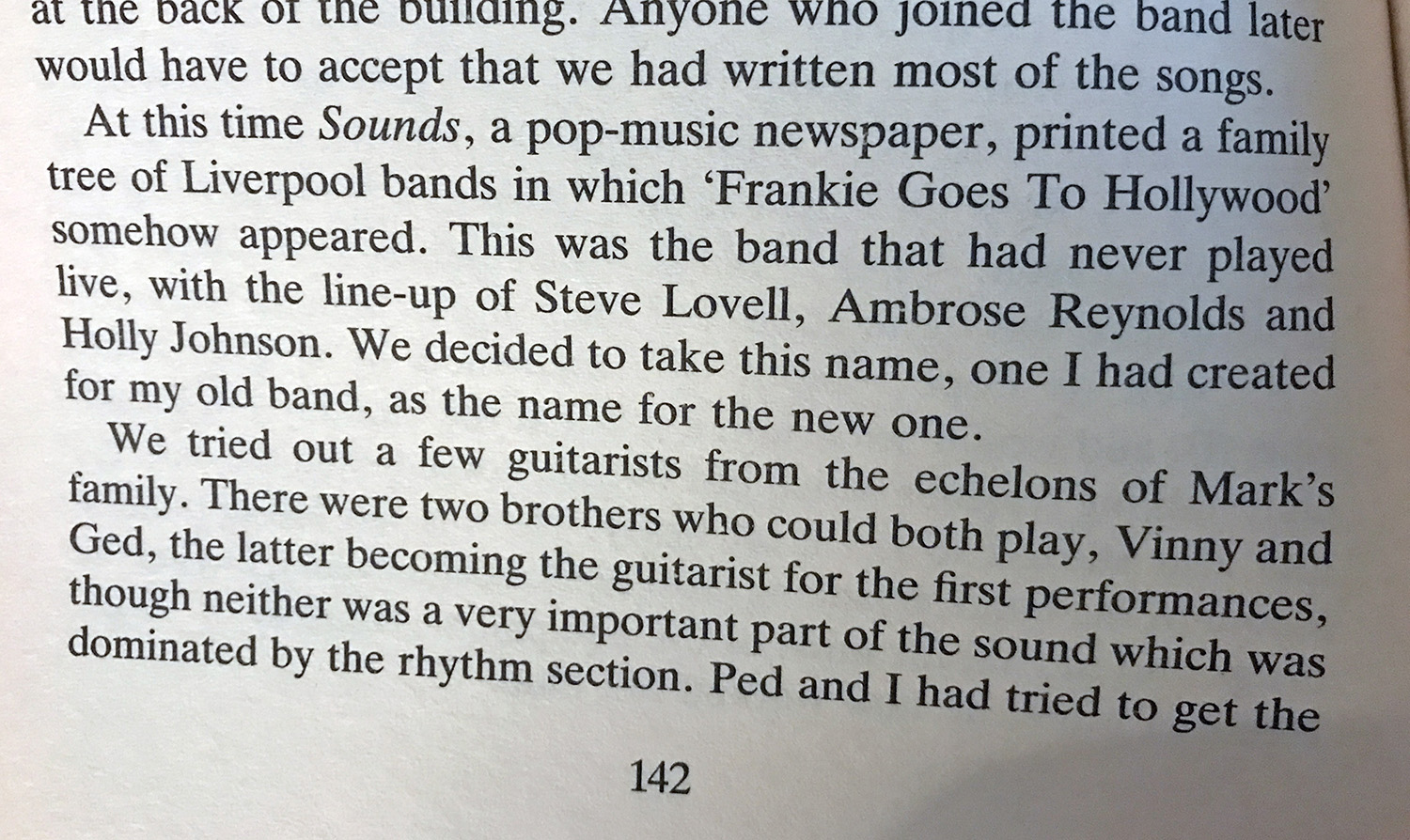 As nothing came of Frankie mk1 I'd hazard a guess that Ambrose sent the recordings (or some of his own maybe?) to John and used the name? Holly released at least one solo single between Frankie mk1 and 2 so there was a gap, it's a pity I didn't see if there was a date on the letter. Looking up Reynolds on Wikipedia shows that he was pretty active on the music scene around Liverpool, later teaming up with ex-Big In Japan vocalist Jayne Casey to form Pink Industry and starting Zulu Records together, but one paragraph stood out:
"In 1980, Reynolds formed a new band, Frankie Goes To Hollywood with Holly Johnson, BF Tin and Steve Lovell. The name is a matter of contention; Johnson wanted to call the band Hollycaust, Reynolds disagreed, Johnson responded "we could call it anything"; his eyes then drifted to a poster on the wall of Frank Sinatra (from a book called Rock Dreams) as he read out the caption, saying disparagingly, "we could even call it Frankie goes to Hollywood, it doesn't matter", at which point Reynolds said, "yes, that's what we SHOULD call it, it's original and different". The band split up soon after that, and Reynolds continued to work under that name until 1981, when Johnson began using the name for his more successful band of the same name a few years later."
So there we have it, the contents of the tape are from the little known – and I suspect even lesser heard – Frankie Goes To Hollywood mk1 although whether any of the recordings include Holly's contributions we may never know. Thanks to Tom for bringing it to light and Eilon for inviting me along, we found some great stuff but you'll have to wait for the book next year to see and read about that. Thanks also to Tom's mum, Sheila for her hospitality, here we are together with a John Lennon promo pack, shot by Eilon (can you tell by the superior quality?).
Take a look at the Dust & Grooves website and give Eilon a follow on Instagram as he continues his Vinyl Nomad tour (inc more photos) – he's off to Japan next week!
This has been another DJ Food digging mystery solved…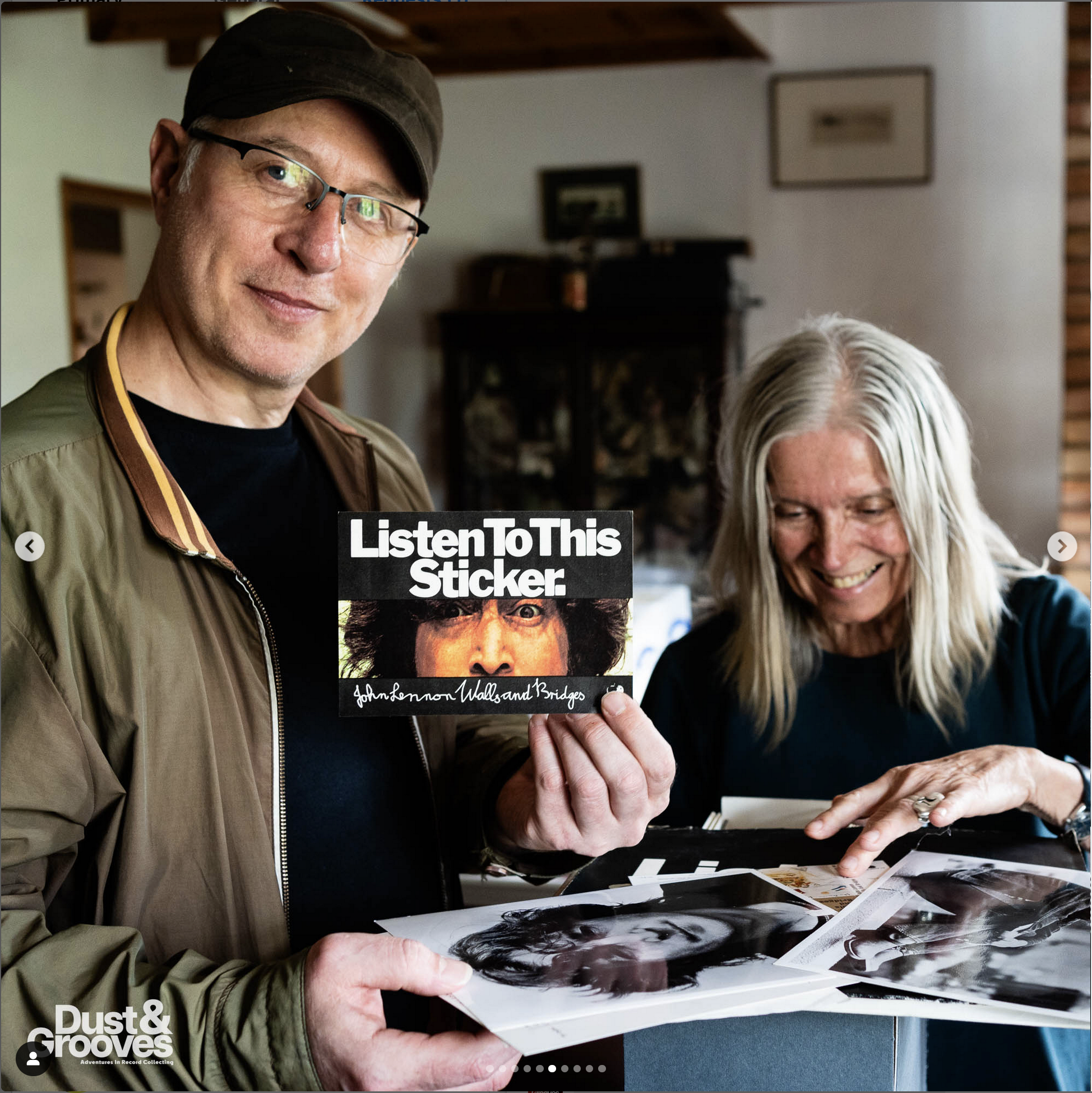 PS: There was also a nice additional passage in Frankie member Brian Nash's autobiography remembering John: