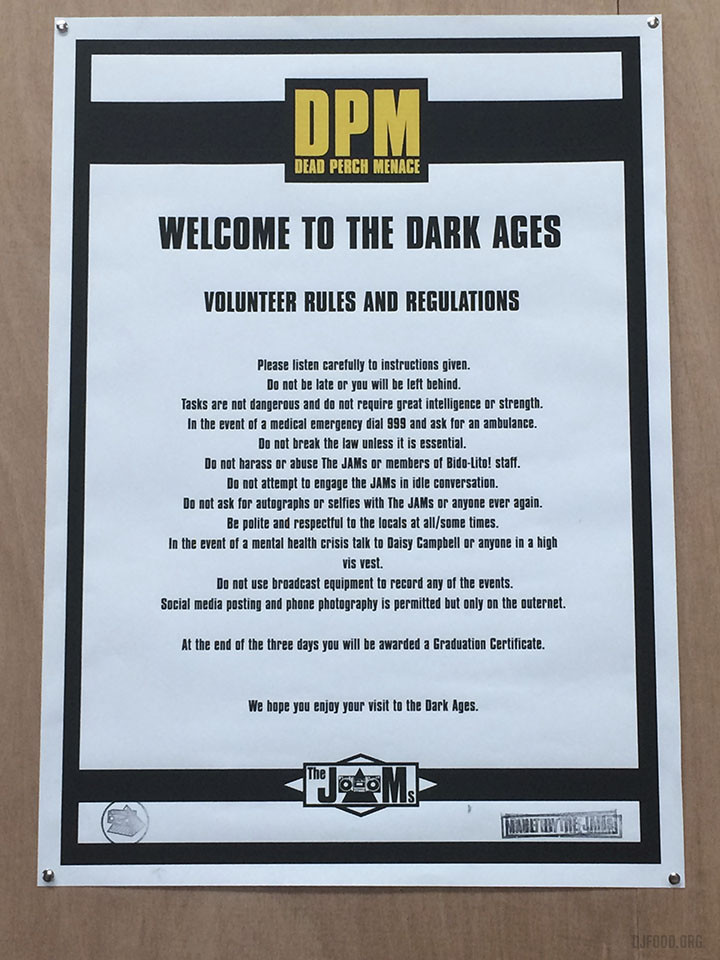 Ok, I'll attempt to get this down while it's still reasonably fresh, there will be gaps, there will be questions raised that are never answered, there will be confusion, joy, hilarity and sadness plus everything in between. The reasons why are pointless to debate and the amount of pre-planning, effort, co-ordination and just plain luck that went into the events I just took part in may never be known. The truth is also irrelevant as everyone will have their own version and perspective on it, you'll have to take my word for it and if you were there you may understand it better than those who weren't. That's not meant to sound elitist but you're ultimately reading an account and looking at highlights of what went down from one perspective out of 400. I'm betting that if all the participants told their stories, each would differ quite radically in places, such were the multitude of experiences, tasks, responses and reactions to what unfolded over the last five days in Liverpool.
I'm going to have to post this in parts as there's just too much to tell and here's a quick recap for those who don't have a clue what this is all about. The JAMs – Bill Drummond and Jimmy Cauty – aka The Justified Ancients of Mu Mu, The KLF, The Timelords, The K Foundation, K2 Plant Hire and more have reached the end of their self-imposed 23 year hiatus following the burning of £1 million of their own money back in 1994. To mark the occasion they are staging a series of events in Liverpool where 400 tickets have been sold at £100 a head and each ticket holder is a volunteer who will take part in the events that unfold over the days 23rd-25th August 2017. I was one of the 400 but I was also taking part in the event at the request of the JAMs, but more of that later. Just one more thing before we begin, even though I was asked to perform, I had no idea what was going to happen at all, I probably had two or three scraps of info that others didn't but had no idea how these fitted into the jigsaw puzzle that was constructed over the following days.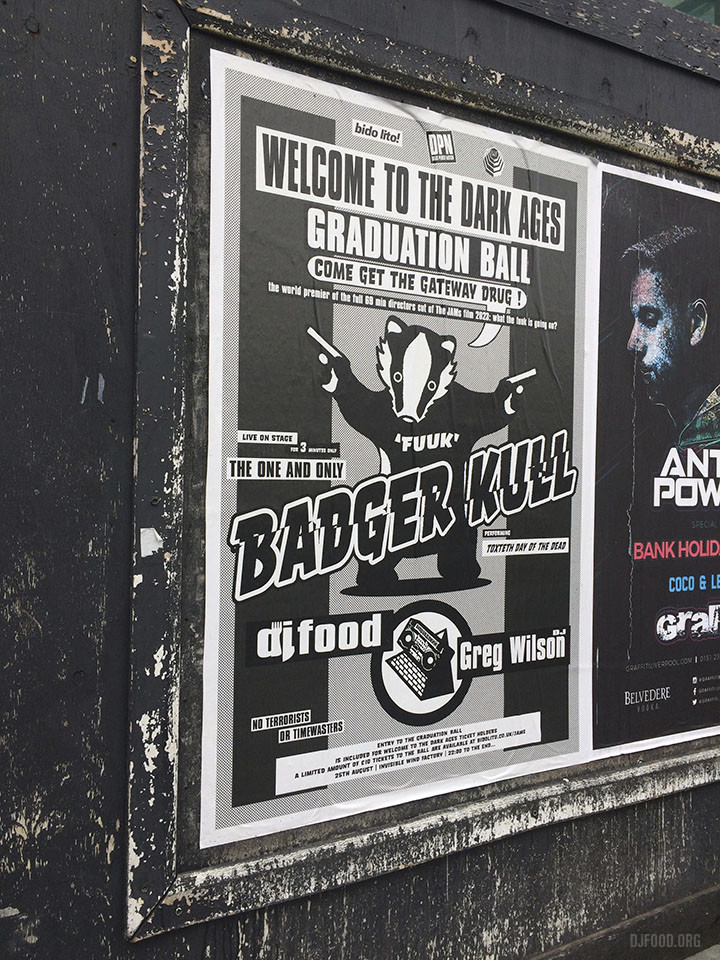 Tuesday 22nd: I departed for Liverpool, arriving to my hotel close to the Static Gallery, now rechristened The Dead Perch Lounge – the base of operations for the week. On my way up the street I passed a fly poster for the Graduation Ball, happening that Friday night, featuring myself and Greg Wilson on the decks and the unknown band Badger Kull performing their one and only gig. Inside was a bar and a wristband collection point where we signed in and gave names and telephone numbers, receiving a menu for the week with times, places and info on what would lie ahead. Each person was presented with a list of eight different tasks that they had to pick one of whereby their names were written next to the number and then put into a bucket for later. These tasks ranged from 'Are you a strong swimmer?' to 'Can you tell people "no"?' to 'Are you strong and exactly 5'5″?'. I chose number seven, 'Can you draw?'.
By the bar was the merchandise area – run by the L-13 Light Industrial Workshop: T-shirts, mugs, posters and more – all priced at £20.23 each regardless of their size – with a couple of mystery items to be revealed at the end of the week on the price list. Most of these items are now available from L-13 at these prices – just go here.
At 23 seconds past midnight (technically Wednesday) the JAMs were to drive their Ice Kream Van down Bold St to the News From Nowhere bookshop to stamp hardback copies of their new book, '2023′. In the window was the infamous 'T-speaker' from 'The White Room' LP cover – now with the addition of a small TV with single roving eyeball video on top, giving it a more religious, crucifix-like shape – and a list of rules for the event that forbade the signing or memorabilia, the taking of selfies or jovial conversation with the band.
The queue had formed hours before and by midnight half the street was full with the 400, onlookers, press and organisers with the odd taxi struggling to get through the mass. Super-fan Phil Blake was one of the 400, arriving in his customised Ford Timelord police car, complete with siren. At the appointed time the JAMs arrived in their van, blaring out the 'Just One Cornetto' theme alternated with their own 'What Time Is Love' in classic ice cream van distorted bell form. The media scrum around the van was unlike anything I'd ever seen, fans and paparazzi alike rushed the van as it made its way down the street and chaos reigned for 10 minutes while they tried not to run anyone down and were quickly ushered into the bookshop.
Each book was stamped with a variety of different insignia ranging from 'Built By The JAMs' to the pyramid blaster to the new 'Toxteth Day of the Dead' skull that I'd spotted earlier stuck to the back of the speaker and was now plastered over the van outside with another mysterious 99 Mu Mu brick sticker. Channel 4 News were doing pieces inside and outside of the shop and you can just see me above getting my book stamped with the Moody Boyz' Tony Thorpe to the right. People hung out until 2am at least, catching up with friends, new arrivals and speculating what we would be in for during the week. Rumour was rife, faces were spotted and names bandied about, this very much seemed to be a coming together of the original crew again save for the few who had since passed on like Ricardo da Force and plugger Scott Piering. It was an exciting start to the three days we would be taking part in, the JAMs were back, there were more questions than answers but we'd soon be finding out what the FUUK was going on… part 2 here