So, my new EP – The Shape Of Things That Hum – should finally be in shops today (Jan 11th) after a pressing plant mistake led to the whole lot being repressed, missing the Dec 14th release date.
You'll find a poster wrapped around the vinyl and inside is another of Henry Flint's amazing illustrations – done specially for this release. He only provides the line work though and I colour each image in Photoshop using a combination of photos, transparency and colour balancing.
It's a painstaking process involving many layers, minute mouse work and multiple options and variations. I did several screen shots of the work in progress as I went this time (see below) and I'd estimate it took roughly 2 weeks of intense work.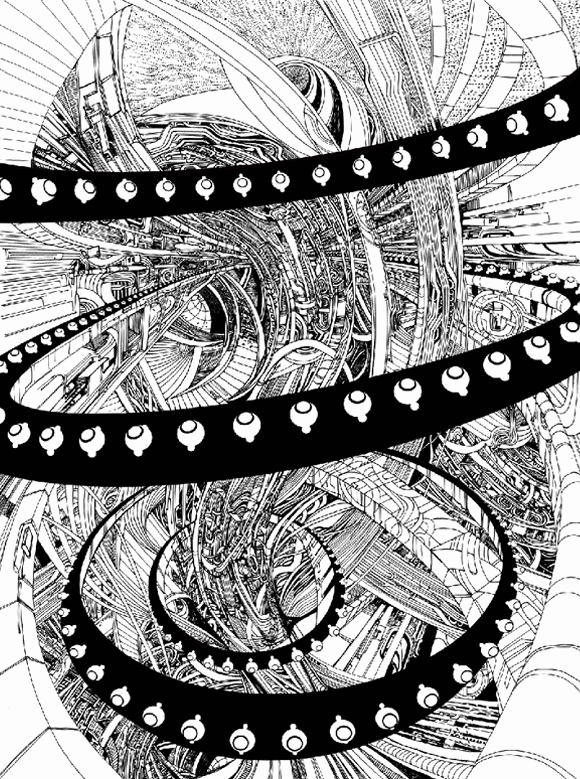 It wasn't helped by Photoshop bugs flattening the image for no reason after saving a session. I'd wake up the next morning to find a whole session had been lost and I had to use Time Machine to go back a stage to un-flatten the thing.
Another setback was 'the orange juice incident' after a weeks work on it in the evenings on holiday. That seems an age away now and I'm at work on the final installment, due out around May. Not sure what the cover to that will be but I have plenty more of Henry's work available to use and then there's the album cover…
There will be a Shape Of Things Reader mix up on Soundcloud later this week featuring music from the EP plus influential tracks I was listening to whilst making it and other favourites from 2009.