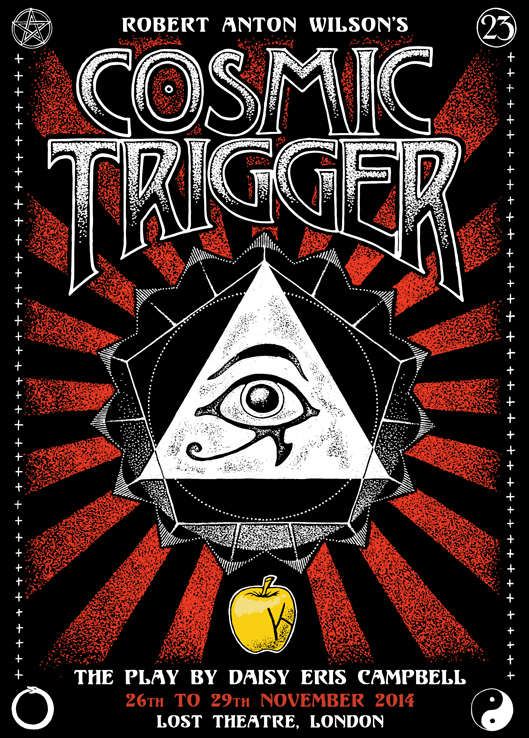 The crowdfunded play 'Cosmic Trigger' opens in Liverpool and London this weekend and next week, based on Robert Anton Wilson's follow up to the Illuminatus trilogy but also taking in his life story. It's being staged by Daisy Eris Campbell, the daughter of Ken Campbell who staged a version of Illuminatus in Liverpool back in 1976 that was pivotal for many people involved.
Being that I already mentioned Liverpool and the Illuminati then it follows that The KLF can't be too far behind and Bill Drummond built the scenery for the original play. Jimmy Cauty is also somehow involved in the new version. There are a little too many intersecting factors in all of this so here's some further reading if you're interested:
The Cosmic Trigger Play – sets out what's about to happen, it's complicated.
Bill Drummond – 5 Things I learned from Ken Campbell – essential read, very funny.
Greg Wilson – The Gateway Drug – extensive, make some tea and settle in for the long haul
John Higgs' – Chaos, Magic and the Band Who Burned A Million Pounds – absolutely fascinating book chronicling the KLF's history from before and after they formed/disbanded, taking in the Illuminati, Dr Who, the number 23, JFK, Alistair Crowley, the banking crisis and much more.  Buy it, even if you've no interest in the KLF, they're just the springboard for a romp through the latter half of the 20th Century.