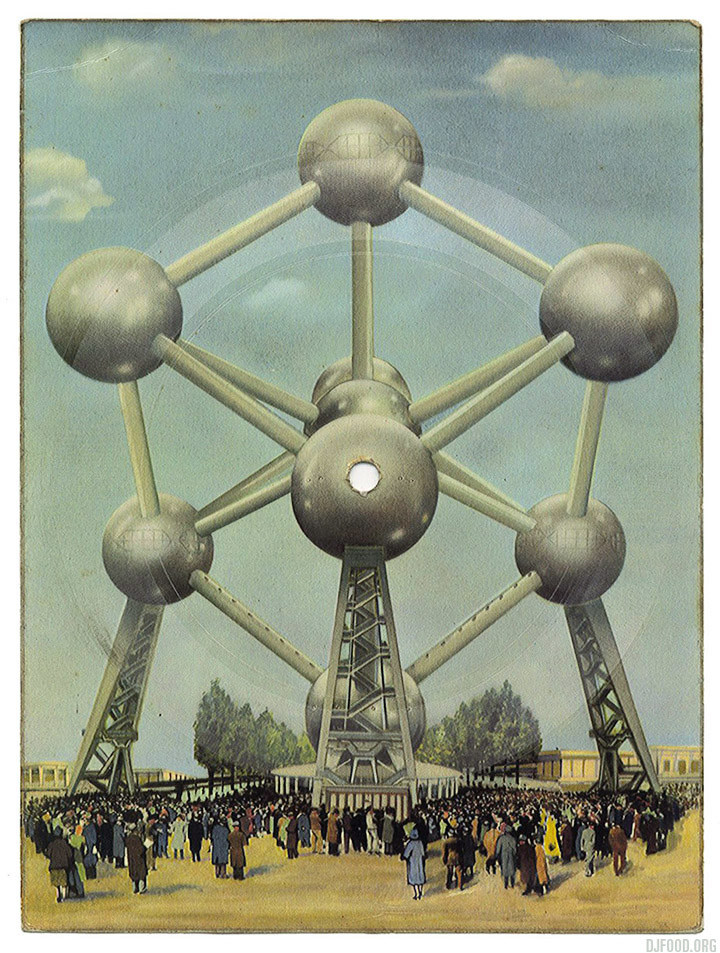 Stephen Coates – he of The Real Tuesday Weld, Antique Beat and the X-Ray Audio project amongst other things – gamely lent me part of his collection of flexi discs and postcard records late last year with the express purpose of me showcasing them on the blog. So here we have the first of several posts highlighting some of the treasures he's found over the years.
Some of these were on show at the Horse Hospital in 2015 when the X-Ray Audio book debuted but have been hidden since. I especially coveted the nearly 6″ in diameter Atomium postcard above when I spied it back then and inspecting it now I see that it seems to be an idealised painting or possibly a hand-tinted photo with part of the background erased as similar photographs don't quite match this viewpoint. The song, 'Marche Atomium' by M. Leemans, is a swinging brass type number which sadly doesn't mirror the futuristic architecture it plays over.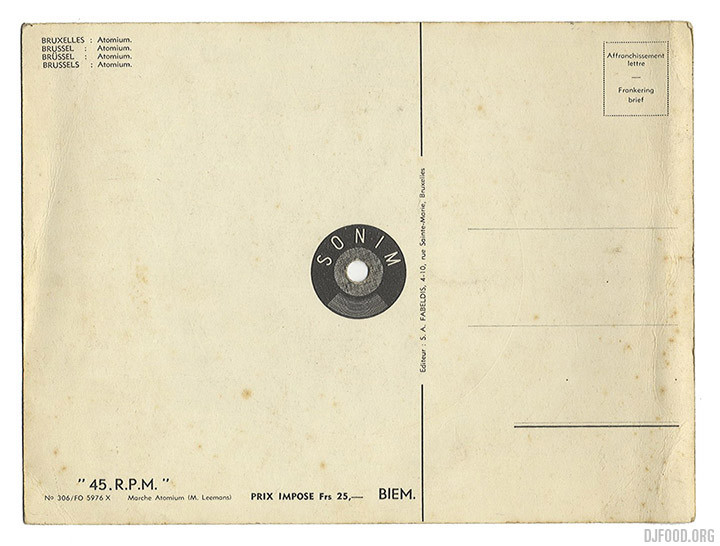 The tiny, beautiful but fairly unremarkable postcard below takes on a new importance when you turn it over to discover that the Beach Boys' 'Help Me Rhonda' is etched into the front image. Or 'Help Me Rondoo' as it's spelt here. It measures 12cm x 10cm and, despite sounding like you're listening to the song through a sandstorm, you can easily make out the pop classic, possibly a live version to boot which has very odd soft and loud parts near the end.
The 19cm x 16cm postcard below is the Polish singer Maryla Rodowicz as a young woman, and the song pressed across her face was the one that made her famous, 'Malgoska'.
US Marines were allowed to record messages home for their loved ones and discs came with a pre-printed design as well as an envelope that broadcast the contents for the postman and recipients. This one is unused, approx 6.5 inches across and has a second hole stamped in the center label, presumably to steady the disc when it was being cut. The darker ring over the illustrations is a thick, shiny layer where the grooves would have been cut. The cartoons make war out to be a fairly light-hearted affair.