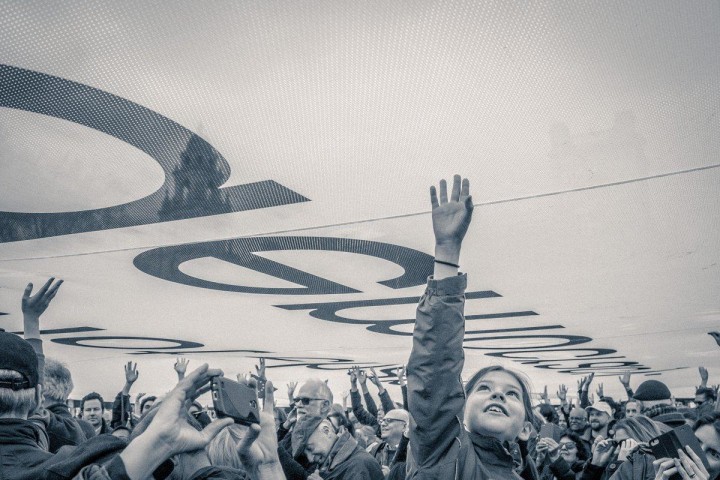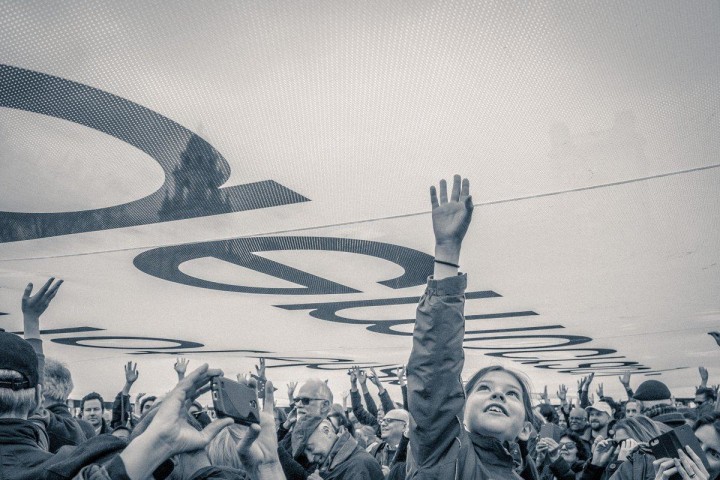 What a grim end to the year and the decade, good riddance to the last four years at least. Writing this on the morning of Friday 13th as the results and fallout of the election come in, it's hard to muster the energy and will to rejoice in anything when the turkeys have voted for Xmas. I used to be largely ignorant of current affairs and politics, back in my youth, I thought it was dull and boring, why would I be interested in any of that? But you grow up, you have a family and these things start to matter because they affect your life whether you like it or not. Back in the first half of December it felt like there was still hope, a chance to pull things back from the brink, but not now when the country has voted overwhelmingly for Johnson's government in the belief that he will fix things that he helped engineer in the first place.
Sometimes I wish I was ignorant again, as ignorant as those who didn't vote or voted on personalities, believing the lies and propaganda peddled by the media. But you can't just turn that tap off, not once you've understood how the system works and see the soap opera play out. You CAN however blot it out for a bit by reading, watching, visiting or listening to great art made by your fellow man, or woman or non-identifying person. There was a lot of it this year and here's some of the favourite ways I blotted parts of this year out.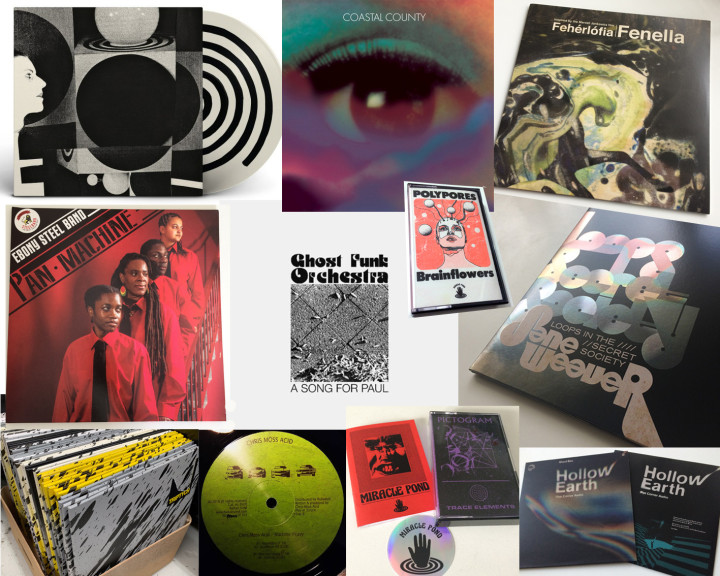 Music / podcasts – way too much new music to keep up with only so much time and money, I probably listened to Adam Buxton's shows from the archive more than anything else this year:
Pye Corner Audio – Hollow Earth LP (Ghost Box)
Various – Corroded Circuits EP 12″ (Downfall Recordings)
Chris Moss Acid – Heavy Machine 12″ (Balkan Vinyl)
King Gizzard & The Lizard Wizard – Fishing For Fishes LP (Flightless)
Pictogram – Trace Elements cassette (Miracle Pond)
Vanishing Twin – The Age of Immunology LP (Fire Records)
Big Mouth podcast (various) (Acast)
Beans – Triptych LP (Gamma Proforma)
Roisin Murphy – Incapable single (Skint)
Ebony Steel Band – Pan Machine LP (Om Swagger)
People Like Us – The Mirror LP (Discrepant)
Coastal County – Coastal County LP (Lomas)
Adam Buxton podcast (various) (Acast)
Ghost Funk Orchestra – A Song For Paul LP (Karma Chief)
Jon Brooks – Emotional Freedom Techniques LP (Cafe Kaput)
King Gizzard & The Lizard Wizard – Organ Farmer (from Infest the Rat's Nest LP) (Flightless)
Jane Weaver – Fenella LP (Fire Records)
Polypores – Brainflowers cassette (Miracle Pond)
Seemed to acquire a lot of tapes this year too…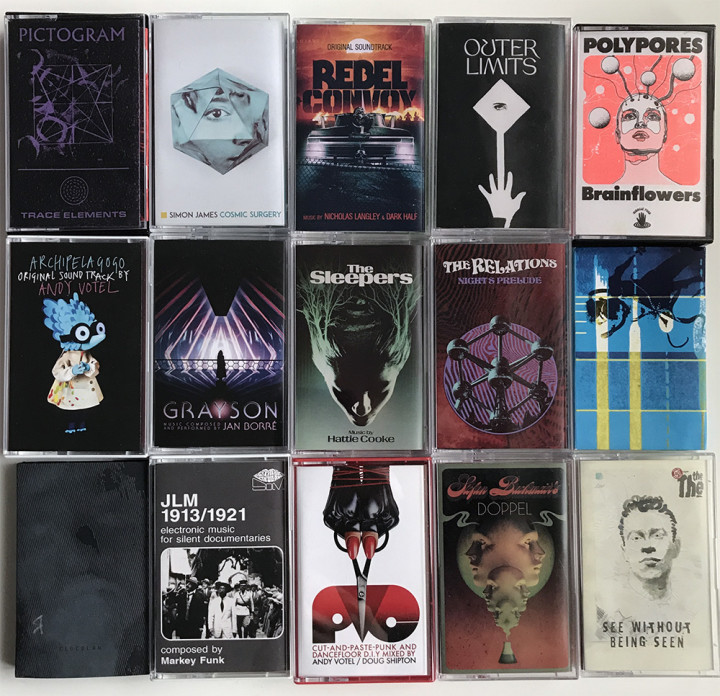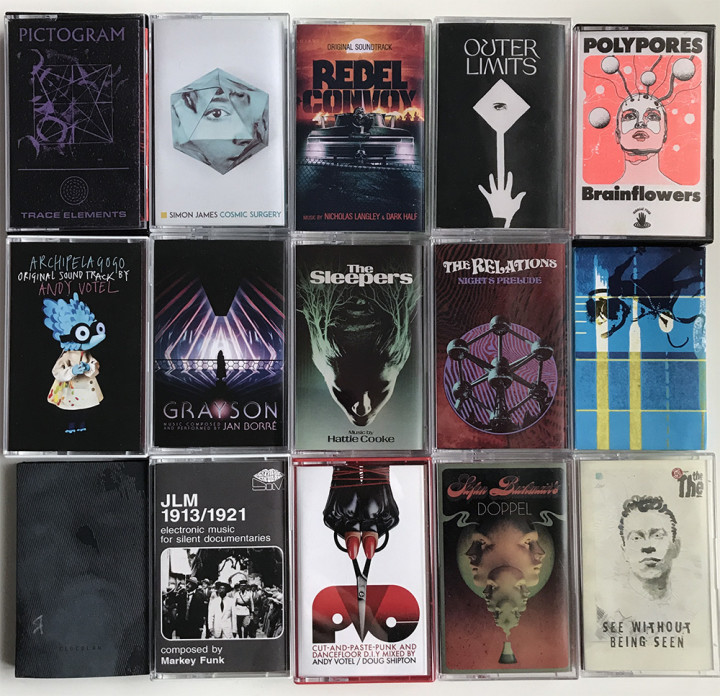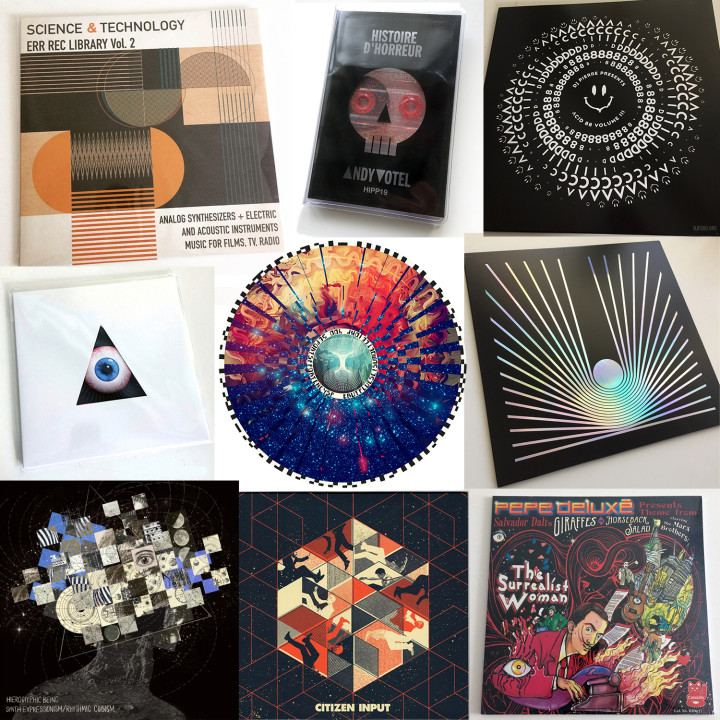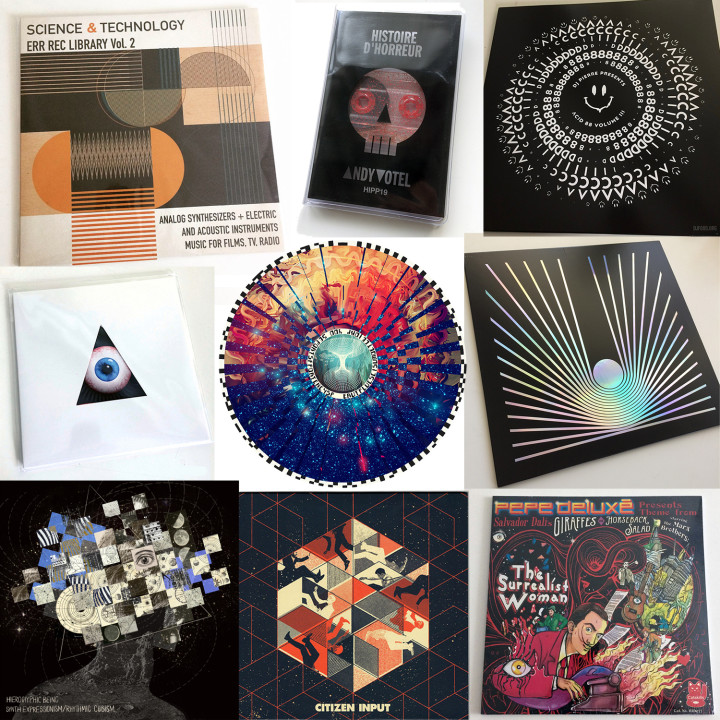 Design / packaging – so much good stuff out there, Nick Taylor goes from strength to strength, Reuben Sutherland's work for Sculpture always inspires and Victoria Topping continues to do great art for On The Corner Records:
Pepe Deluxé – The Surrealist Woman lathe cut 7″ (Catskills)
Various – Science & Technology ERR Rec Library Vol.2 (ERR Records)
DJ Pierre presents ACID 88 vol. III LP (Afro Acid)
Mark Ayres plays Wendy Carlos – Kubrick 7″ (Silva Screen)
Tomorrow Syndicate – Citizen Input 10″ (Polytechnic Youth)
The Utopia Strong – S/T LP (Rocket Recordings)
Jarvis – Sunday Service LP (ACE records)
Andy Votel – Histoire D'Horreur cassette (Hypocrite?)
Sculpture – Projected Music 5″ zoetrope picture disc (Psyché Tropes)
Lapalux – Amnioverse LP (Brainfeeder)
Hieroglyphic Being –  Synth Expressionism / Rhythmic Cubism LP (On The Corner Records)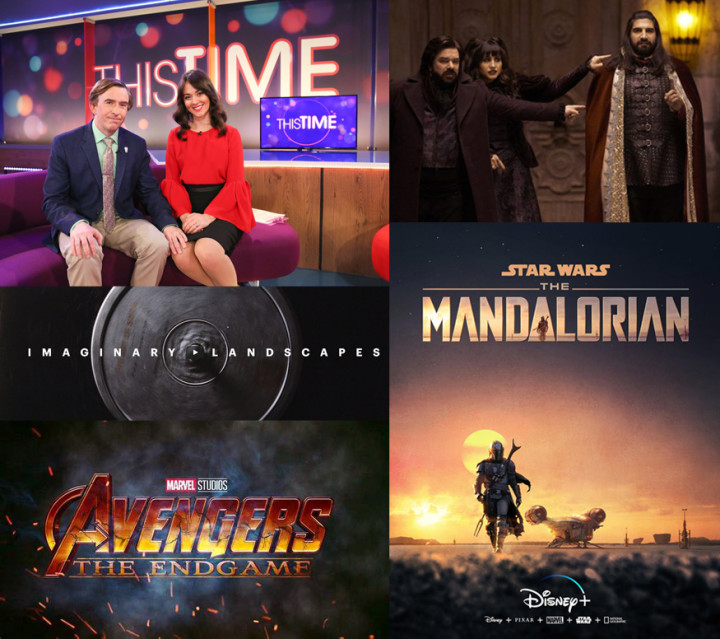 Film / TV – I really don't watch too much TV or get to the cinema as often as I'd like to:
Sculpture – Meeting Our Associates (Plastic Infinite)
This Time with Alan Partridge (BBC)
Avengers: Endgame (Disney/Marvel)
Imaginary Landscapes – Sam Campbell (Vinyl Factory)
What We Do In The Shadows (BBC2)
The Mandalorian (Disney+)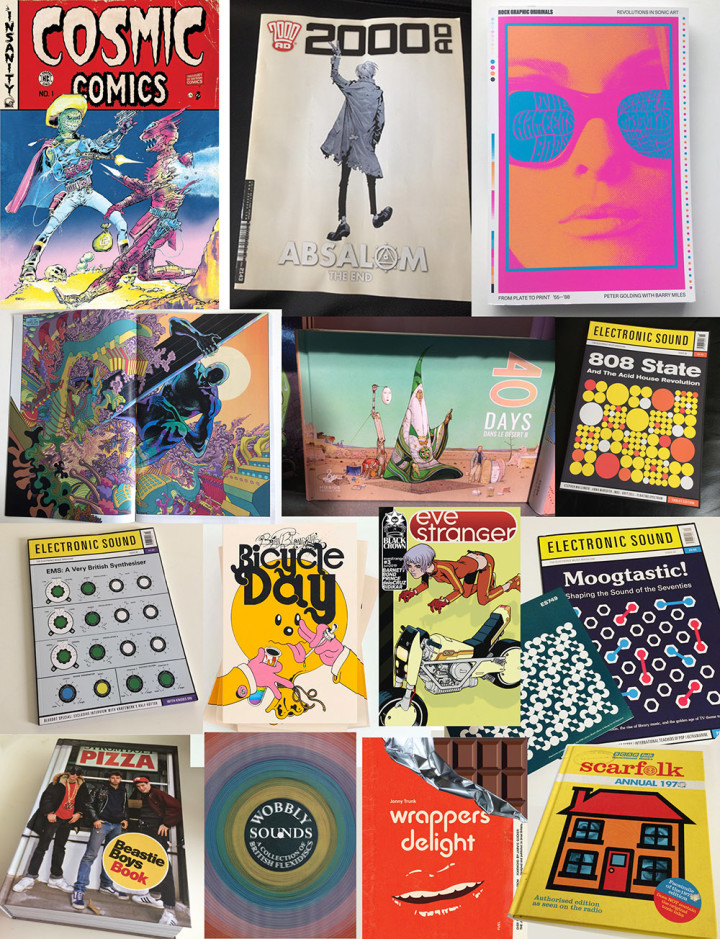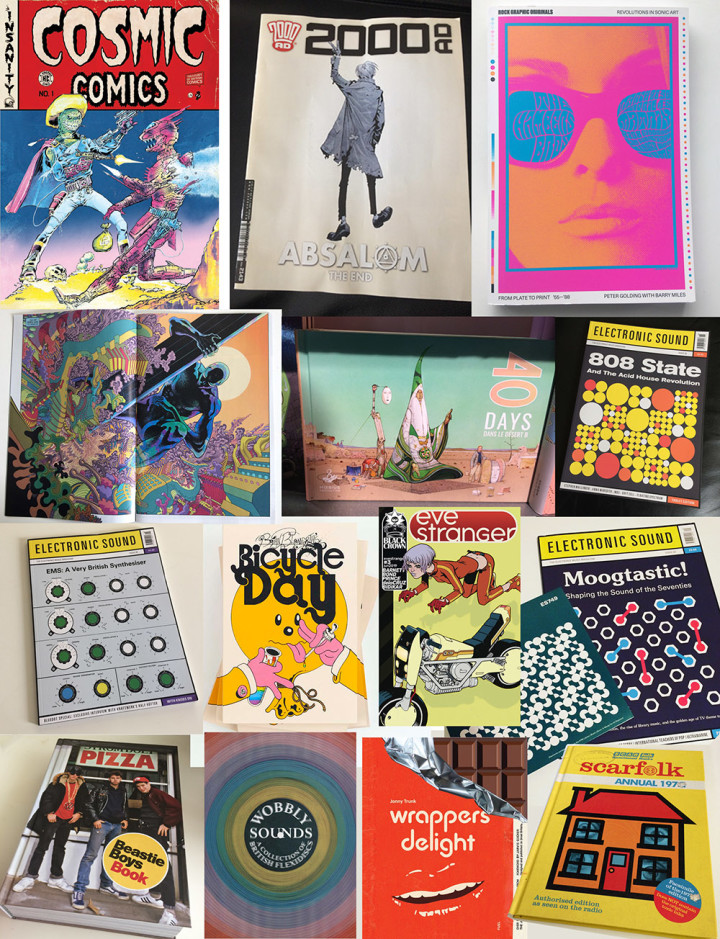 Books / Comics / Magazines – I read constantly, all sorts of stuff, a lot online, I found less interesting new comics this year or there were fewer that made an impression. Also many of my regular reads came to an end so there was less to consume on that front.
Beastie Boys Book – Mike Diamond & Adam Horowitz (Spiegel & Grau)
Cosmic Comics – A Kevin O'Neill Miscellany (Hibernia Books)
Electronic Sound (Pam Comm Ltd)
Eve Stranger – David Barnett / Philip Bond (Black Crown)
Bicycle Day – Brian Blomerth (Anthology Editions)
Moebius – 40 Days In The Desert (expanded edition) (Moebius Productions)
Rock Graphic Originals  – Peter Golding w. Barry Miles (Thames & Hudson)
2000AD / Judge Dredd Megazine (Rebellion)
Silver Surfer Black – Donny Cates/Tradd Moore (Marvel)
Help – Simon Amstell (Square Peg)
The Scarfolk Annual – Richard Littler (William Collins)
Wrappers Delight – Jonny Trunk (Fuel)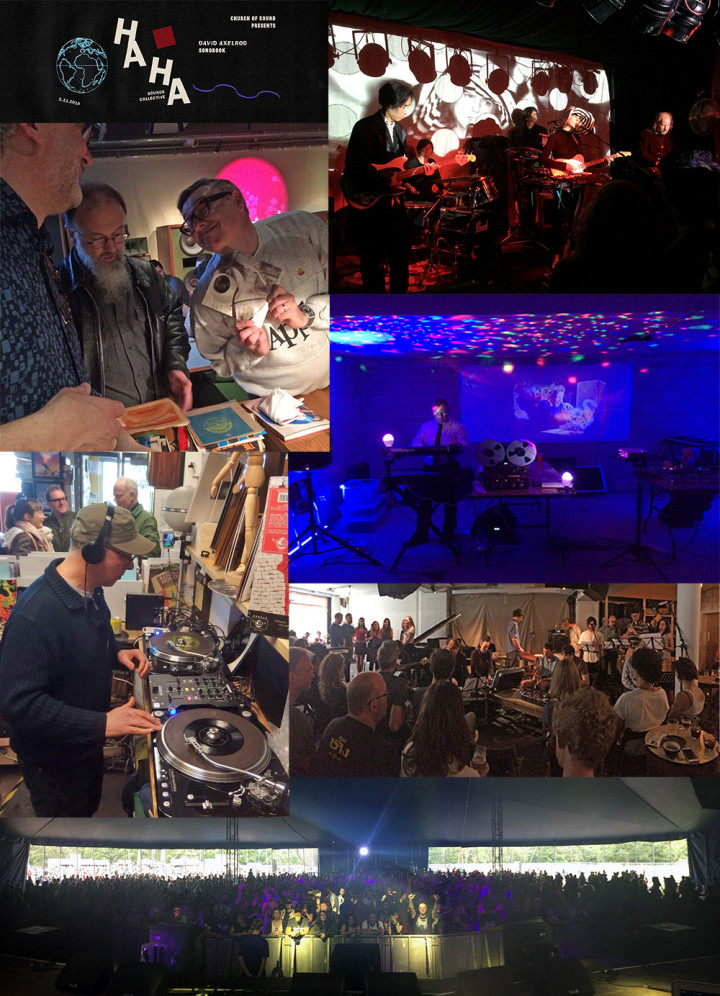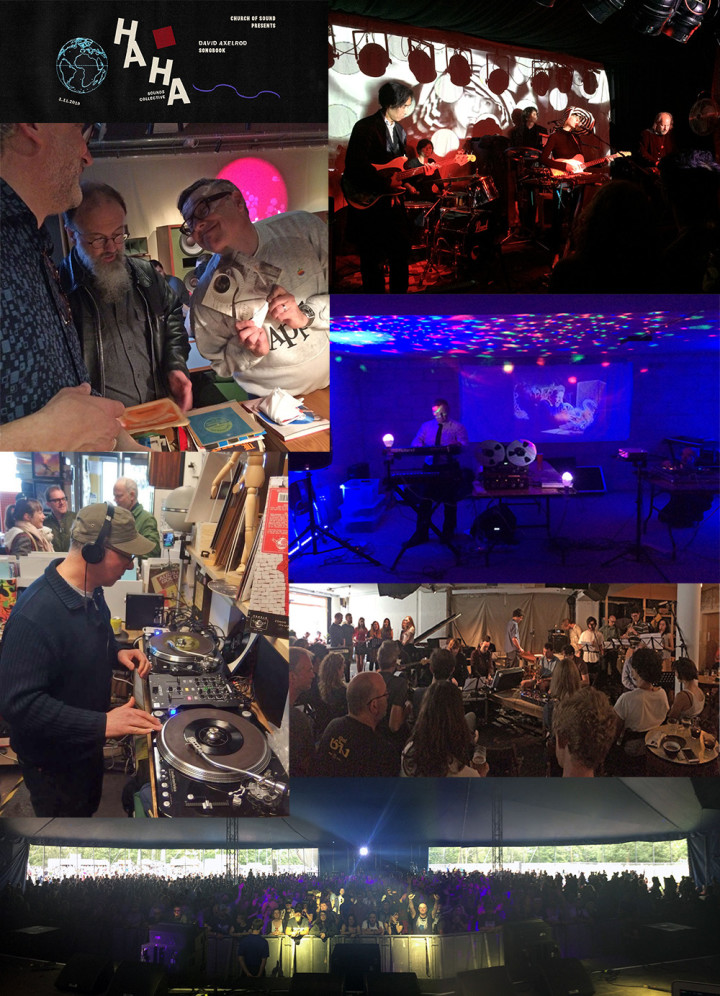 Gigs / Events – I spent a lot of time in Café Oto, socialising to the sights and sounds of Jonny Trunk & Martin Green or watching groups that featured Cathy Lucas this year:
Vanishing Twin @ Prince of Wales Pub, Brighton
Stereolab @ Concorde 2, Brighton
People's Vote march 23rd March, London
Wobbly Sounds book launch @ Spiritland, London
Confidence Man @ The Electric, Brixton, London
Mostly Jazz Funk & Soul Festival, Moseley, Birmingham
Bluedot Festival, Jodrell Bank, Manchester
HaHa Sounds Collective play David Axelrod's Earth Rot @ Tate Exchange, London
School of Hypnosis play In C @ Cafe Oto, London
Palace Electrics, Antenna Studios, London
The Delaware Road, New Zealand Farm, Salisbury
Breaking Convention closing party, Greenwich, London
Jonny Trunk & Martin Green's Hidden Library @ Spiritland, Southbank, London
Negativland / People Like Us @ Cafe Oto, London
HaHa Sound Collective plays the David Axelrod songbook @ The Church of Sound, London,
Sculpture, Janek Schaefer, Mariam Rezaei + the 26 turntable ensemble @ The Old Baths, Hackney, London Vanishing Twin & Jane Weaver's Fenella @ Studio 9294, Hackney Wick, London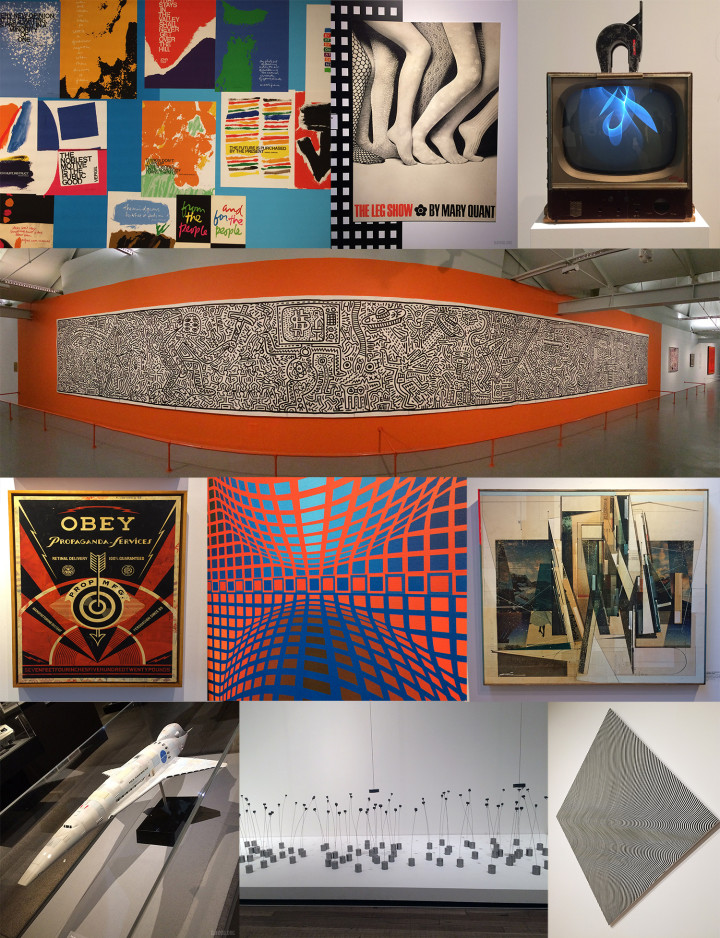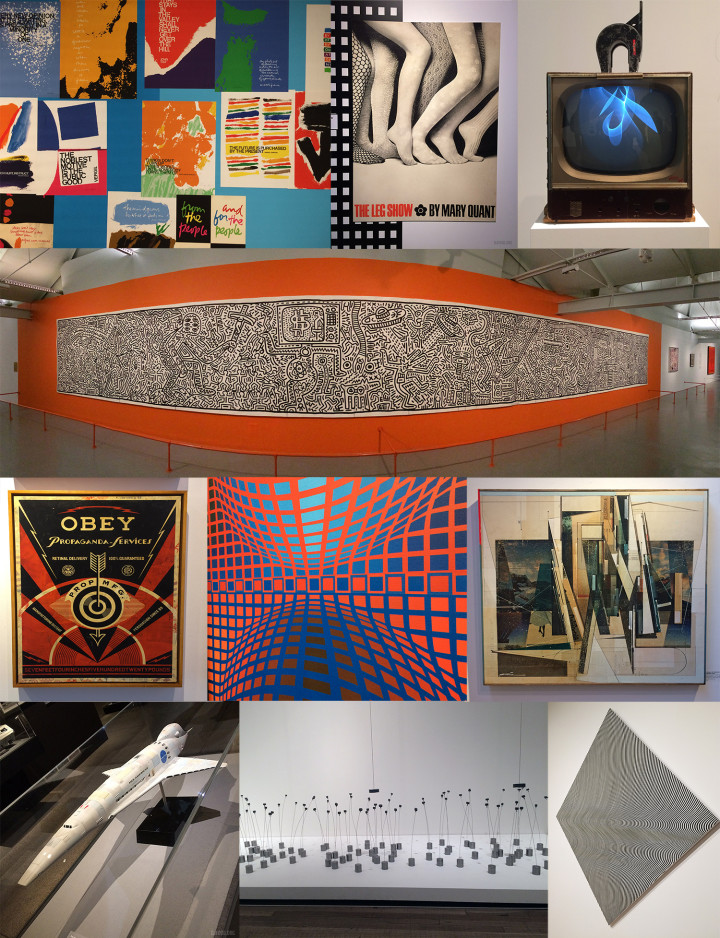 Exhibitions – there was so much art to see in 2019, I managed most of it but London does spoil you sometimes and you can't see it all. Just a stroll round the Brick Lane area of east London will delight with the free art painted, stuck or sprayed on the walls for all to see:
Sister Corita Kent @ House of Illustration, London,
Augustinbe Kofie @ Stolen Space, London,
Victor Vasarely @ Pompidou Centre, Paris,
Mary Quant @ V&A Museum, London,
Stanley Kubrick @ The Design Museum, London,
Tim Hunkin's Novelty Automation Museum, London,
Keith Haring retrospective @Tate, Liverpool,
Nam June Paik, Tate Modern, London,
Takis @ Tate Modern, London,
Shepard Fairy @ Stolen Space, London,
Damien Hirst 'Mandalas' at the White Cube, London,
Bridget Riley @ The Hayward, London,
Museum of Neo-liberalism, Lewisham, London.


Another year over and what have I done? quite pleased with this lot this year:  
Become by own agent for the first half of the year (not fun)
Designed As One's 'Communion' LP sleeve for De:tuned
Toured my Kraftwerk: Klassics, Kovers & Kurios AV set
Contributed to the Wobbly Sounds book on flexi discs published by Four Corner Books
Performed a 30 minute reimagining of Kraftwerk's 'Radio-Activity' album
Appeared on Big Mouth, Out Of The Wood, Jonny Trunk's OST, Dusk Dubs, Mix-Ins, 45 Live, Mostly Sounds podcasts / shows
Continued the design for De:tuned's 10th anniversary with a 10th volume, poster, tote bag and more
Built a modified turntable with three extra floating arms for future performances
Designed a fold out 3″ CD Xmas card for The Real Tuesday Weld – more to come in 2020…
For no other reason – Badges, along with the cassettes it's like the 80s never stopped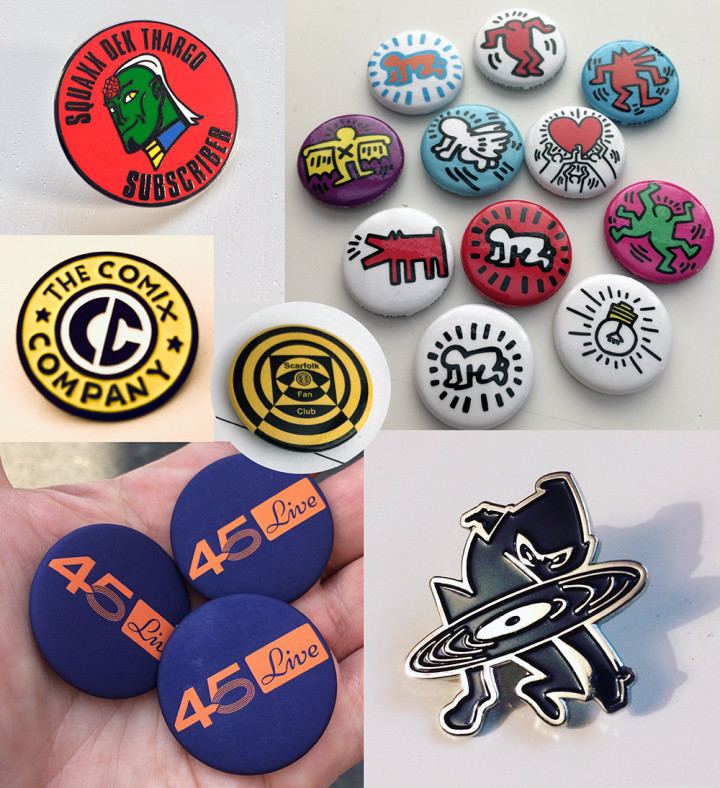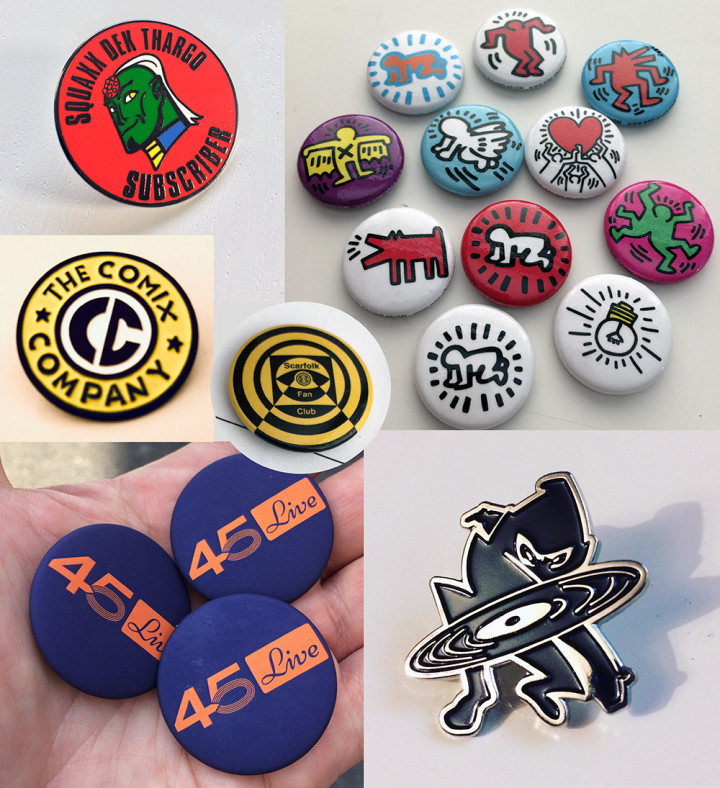 RIP: Daryl Dragon, Ron Smith, Ken Nordine, Peter Tork, Mark Hollis, Keith Flint, Magenta Devine, Hal Blaine, Scott Walker, Quentin Fiore, Dr John, MAD magazine, Vertigo comics, Rutger Hauer, Ras G, Peter Fonda, Richard Williams, Pedro Bell, David Cain, Patsy Colegate, Clive James, David Bellamy, Phase 2, Gershon Kingsley, Emil Richards, Dave Riley (Big Black), Vaughn Oliver, Neil Innes, Syd Mead.
Looking forward to: – not much to look forward to except a year of Brexit, economic downturn and US Presidential campaigns but these might lighten the mood…
Paul Weller and Plone on Ghost Box
A Touched Music special release in conjunction with De:tuned for World Cancer Day – 4th Feb.
The second Revbjelde LP, 'Hooha Hubbub', from the Buried Treasure label
More designs for The Real Tuesday Weld…
The next Group Modular album, released on a UK label
The Castles In Space label releasing a remastered vinyl version of Clocolan's excellent 2019, cassette-only, 'It's Not Too Early For Each Other' album.
The return of Slow Death Comix
45 Live releasing their first acid 7" with Type 303 in Feb
Ian Holloway from The British Space Group's new label, Wyrd Britain – the first release will be his own 'The Ley of the Land'.
The Amorphous Androgynous album, 'Listening Beyond The Head Chakra' and album-length single, 'We Persuade Ourselves That We Are Immortal' around Easter
Ninja Tune's 30th anniversary in the Autumn
An exhibition about electronic music at the Design Museum featuring Kraftwerk, Jeff Mills, Ellen Allien, Jean-Michel Jarre and BBC Radiophonic Workshop among others
The Masters of British Comic Art book by David Roach in April
The return of Spitting Image (we really need this)
Happy New Year x