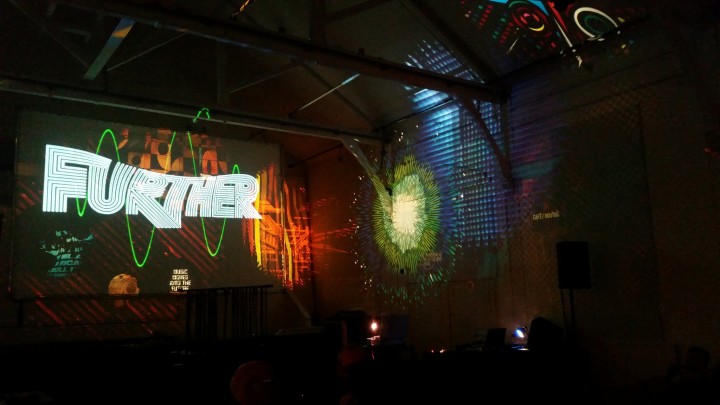 The reason it's been a bit quiet on here recently is because of a little (big!) thing called Further that's been occupying my time for the last few months. Myself and Pete Williams hatched this idea last summer, started talking about it seriously in the autumn and stockpiling equipment over the winter. A studio space was found early in January and we started planning an event that brings together lots of the things we love into one space. Music, visuals, records, food & drink, analogue techniques and leftfield artists. After a test run a couple of weeks ago, at the behest of Alex from The Orb, at the Royal Festival Hall we unveiled the first evening at the Portico Gallery in West Norwood on Saurday May 6th.


Featuring guests Jim Jupp & Julian House from Ghost Box records playing an AV set and Howlround presenting the premiere of their live rescore to Steven McInerney's film 'A Creak In Time', we opened and closed the night with our own multi-projection slide / oil / video sets. Local café/deli Pintadera came over to provide delicious Italian food and Michael Johnson from the Book & Record Bar down the road set up a record stall selling records by the artists and music sympathetic to the event. The whole thing wouldn't have been possible without the support of John Price at the Gallery who let us use the building as our own for the night and Martin LeSanto-Smith who helped set up on the day and managed to take amazing photos all night whilst simultaneously being on a date!

I'll be posting photos of each of the acts each day here and we've set up a new Facebook page for the venture where you can get an early peek at the photos right now, please 'like' our page if you do that sort of thing whilst you're there. There should be a video by the end of the week too but there's a lot of footage to go through. To give you a taste, here are just a few of the photos harvested from social media, Tuesday I'll post Ghost Box images, then Howlround, then us on Thursday with the video to follow by the end of the week.
Photo credits: Top: Neil Mason (Electronic Sound), 2x panoramas: Nathan Adams, slide stills: Spectrascopic, Howlround silhouette: Zoe Plumb, video: Tony Coleman (London Electricity)