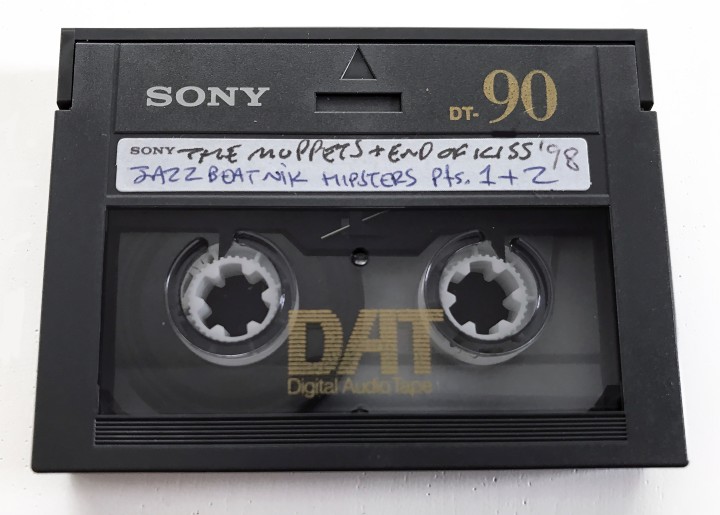 Another chapter from Del Close and John Brent's 'How To Speak Hip' undercover field trip opens and closes  this week's mix and leads into the extraordinary 'Traveller' by Talvin Singh, the strings on this are so gorgeous, I really thought this would be the one to put him up there in the spotlight, win him awards and such, and it did of a sort but he deserves way more recognition. You can hear jazz creeping in here and it was starting to become fashionable again, after hip hop producers had moved from funk, soul and rock to jazz in the early 90s. Techno producers like Kirk DeGiorgio had started espousing its delights and people were rediscovering electric Miles Davis and Herbie Hancock albums. A good example is the Papa Blue track – a solo 12" on the Finnish Sahko offshoot PUU label – home of Jimi Tenor before he signed to Warp. Apparently it was an alias of Jaakko Salovaara who records under the name JS16 and this was his only release under this name. Find a copy, there are 20 for sale very cheap on Discogs, it's a lost classic of hazy, trippy jazz comedowns.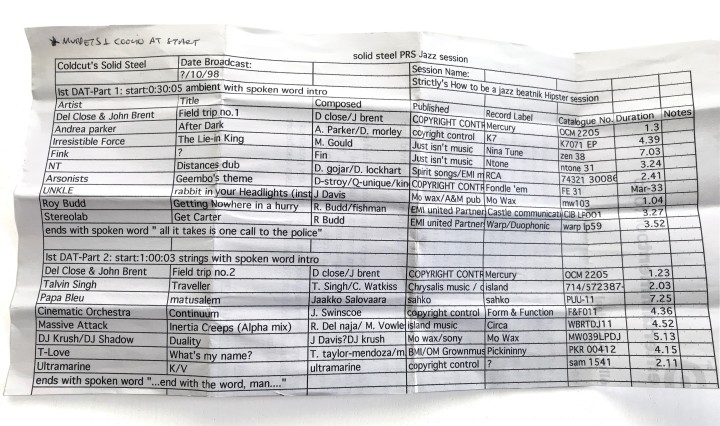 From one-off obscurity to the first Cinematic Orchestra single debuting here, who could have guessed how far they'd come over the next 20 years? Massive Attack get dubbed up by Alpha, DJs Shadow and Krush dual in fine style and a certain LA rapper who would later move into my building in London shows up – what was her name again? Ultramarine close the mix and don't release another album for another 15 years.
* The Muppets + Coolio at start note refers to a recording at the start of the DAT of Coolio trying to teach The Muppets to rap taped from the TV in Canada in the late 90s on tour. It also features a section from KISS meets the Phantom of the Park film, a terrible cash-in film that plays out like a Scooby Doo cartoon featuring the masked rockers whose careers were on a high at the time.
Part 3 follows next week…
Track list:
Del Close & John Brent – Field Trip no.2
Talvin Singh – Traveller
Papa Blue – Matusalem
The Cinematic Orchestra – Continuum
Massive Attack – Inertia Creeps (Alpha mix)
DJ Krush/DJ Shadow – Duality
T-Love – What's My Name?
Ultramarine – K/V