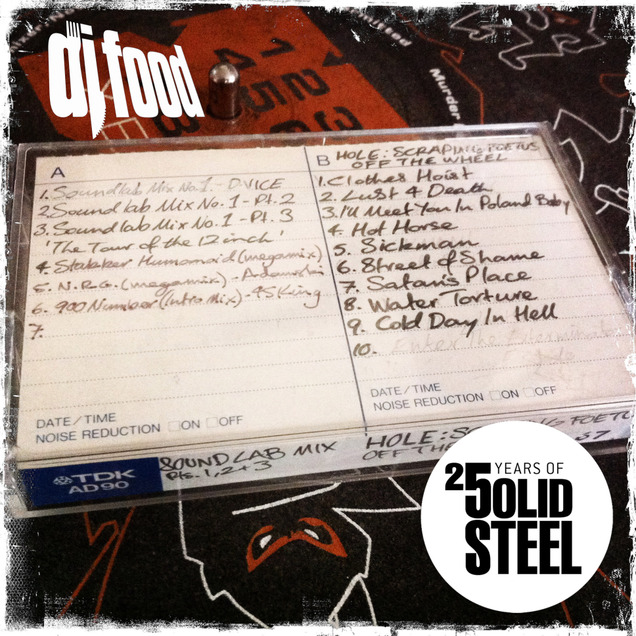 This week on Solid Steel I put together the best of a set I made for the De:Tuned party in Antwerp the weekend before last with the I Love Acid crew. They asked for an old school Hip Hop and Hip House set (I think I probably own about one Hip House record so it's more heavy on the electro to be honest). Anyway, it's a trip back to the 80's but with an added bonus for Solid Steel that the Antwerp crowd didn't get. The first seven and a half minutes consists of selections from the first mixtape I ever made in 1987, extracted from an old TDK AD90 cassette and unheard by virtually anyone for 25 years.
Let me explain a little about the mix, it was made over many months in various sections once I traded in my first mixer (a Tandy model with no crossfader) and bought a Soundlab model – hence the name, 'The Soundlab Mix'. At the time I had very few records, maybe less than 100, I had no parental collection to raid as they never had a record player and my younger brother had none either. So, I was forced to use what I could find alongside the few import 12″s I could afford and the limited UK releases of US Hip Hop that were available. People forget that a lot of early rap never got released in the UK in the first half of the 80's, we were mostly forced to survive on Streetsounds Electro compilations and the few 'hits' that the Sugarhill, Tommy Boy and Def Jam labels produced until the rest of the industry caught up.
This meant that my early mixes have tracks from 7″ singles given away free with music papers, carboot soul and funk compilations and even a flexi disc I had found attached to a magazine in a paper recycling shed at school. As you will hear, the mix is massively influenced by Double Dee & Steinski's 'Lessons' series and Grandmaster Flash's 'Adventures On The Wheels of Steel'. Kicking off with the Thunderbirds theme, the idea to mix well known soundtracks over beats seemed like a no-brainer but I've spared you the 007 and 2001 themes elsewhere on the tape. In the spirit of the aforementioned 'Lessons' I decided I needed an 'old' song to mix over some beats, similar to the 'Hernando's Hideaway' section in Double Dee & Steinski's masterpiece. For this, I used the flexi disc which happened to contain, 'The Inquisition' from Mel Brooks' 'History of the World Part 1' film, not very politically correct by any means, sorry, I had to use what I get my hands on.
Anyway, I wanted lots happening rather than having to mix live and change records so I would record a short section of two records, wait until one had finished and pause the tape on the beat. Rewinding to the best point, I'd cue up another record and jump back in at the appropriate point, sometimes for as little one line of dialogue. Neither of the decks were Technics 1200's and only one had a pitch control so each record had to be pitched to beat mix before the next section. Actually the 'pitch' control wasn't anything of the sort, it was a tiny screw next to the tone arm that I found, if you inserted a small screw driver into it, you could fine tune the deck speed faster or slower. At times I would have to release the pause button and start scratching immediately so a lot of it is a little shoddy, also, occasionally the initial edit was sloppy so I had to rewind and do it all again until I got a clean join between the two separate recordings. It was a learning experience and I would record small sections with what I had and slowly build on it as and when I got new records so that the side filled up over the course of about a year, eventually ending with some chart acid and dance music in amongst the beats, rhymes and film snippets.