I've been in full on mix mode this week. I finished off a follow up to the Boards of Canada-inspired 'O Is For Orange' set from earlier this year called 'T Is For Trapped'. This was already half recorded as I couldn't fit everything into 1 hour before so had 30 minutes left over which I've updated and added to with other like-minded songs that have been patiently waiting their turn. At the moment I'd love to do a video version too but just don't have the time, but it may happen as I have video for at least half of it.
The second mix, that I've literally just finished, is for the In Motion night we will be doing in Bristol with DJ Shadow, Coldcut, Cheeba, Civil Music and more. This set is straight up club material, unashamed four to the floor stuff and a load of 'Amen Brother' flavoured d'n' b as well which will probably debut the week before the gig in October.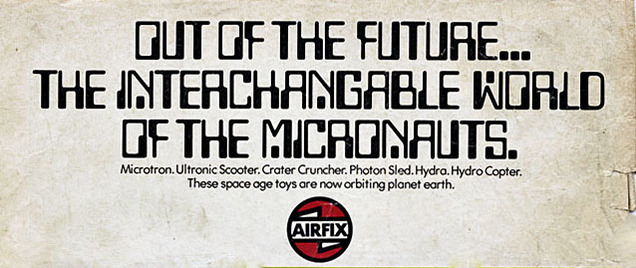 But firstly it's another mix up on Solid Steel – 'Out Of The Future' – in a similar vein to 'T Is For Trapped' it features lots of synths, spacey sounds and such. The title comes from an old ad for Micronauts toys that appears at the start and Gary Numan, The Simonsound, Four Tet, Scanone, Sinoia Caves and more feature. Late night headphone music… enjoy.
In other news I've just finalised a DJ Food library compilation of material with Jon Tye for his Lo Editions imprint. This will be music for TV and film and it features unique edits, instrumentals, reworks and even the odd bit of unreleased material. You won't be able to buy it but I'll put a link up in a couple of weeks when it's online so that people can have a listen.
I'm also about to begin work on not one but two remixes for The Amorphous Androgynous (!) and write an album of new music based around samples from the Bruton catalogue in conjunction with Universal. There's also the small* case of rehearsing the 'Paul's Boutique' mix with Moneyshot and Cheeba and the usual DJ gigs…
*(not small at all)