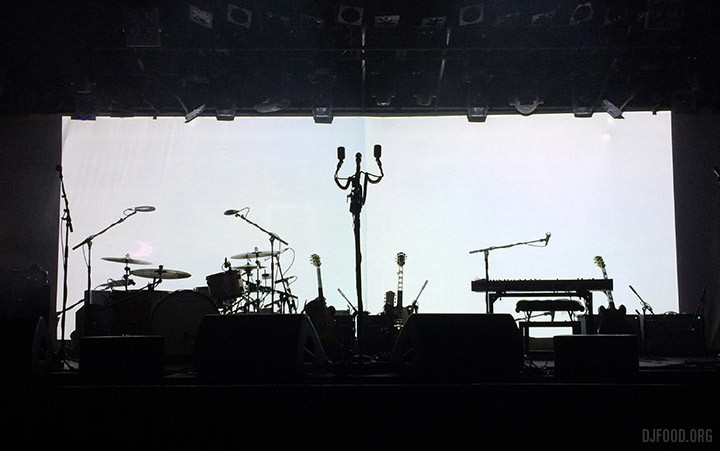 It's been quiet on here for a bit because I've been so busy I've not had a minute to put things together. After last week I really had to sit down and write something to summarize what's been going on though. It's very hard not to gush over being asked to support The The for three nights in London for their comeback concerts but the experience was a unique one that I'll never forget. I've known Matt Johnson now for about 15 years, we've done a few things together and when he asked me to spin a set of cinematic ambience from his back catalogue before each show it couldn't have been any more of a dream job.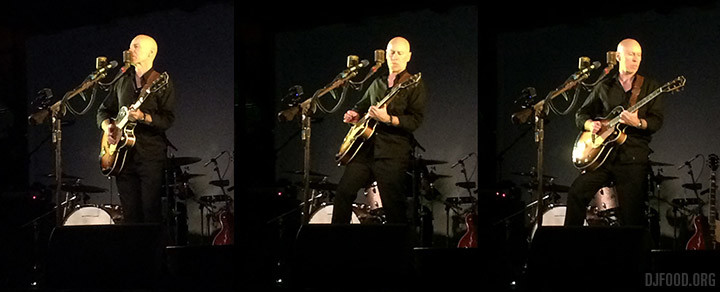 Matt is a very astute character, virtually everyone I met during the past two weeks was either a friend, relative or had worked with him in the past at some point. Surrounding himself with such people brings something unique to the events that I've not experienced since the early Ninja Tune days. Everyone was top class in their field, approachable, friendly and relaxed. There was no ego, pecking order or division between the crew, everyone ate together and mingled after the shows and I felt accepted very quickly and easily. Matt especially was extremely attentive to everyone's needs despite having to deal with the awful news of his dad's death the weekend before. That he pushed forward and went ahead with the shows is a testament to his character and resilience, lesser men would have crumbled.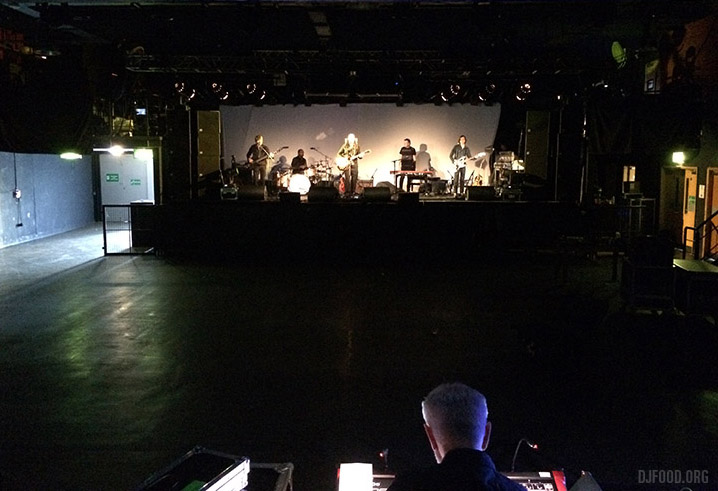 Leeds was the first show, a 'warm up' or 'public rehearsal' on a Sunday at the end of May, and I was nervous dropping into the middle of a crew after they'd been on the road for a couple of days already. Despite this I knew a couple of people already, Vicki Bennet aka People Like Us and her partner Peter, had put together the video backdrop for the show and were traveling up to preview it. James Eller, the bassist, I'd met the year before and he's one of the nicest people you could ever meet; calm, warm and funny, a rock solid person and just what you need in a band such as this. Kate Wilkins, the production and lighting designer whose work gave the gigs more of a theatre mood than rock concert, was immediately friendly and welcoming as was Levi, the road manager and the tech crew.
Stepping out onto the small stage in Leeds was pretty daunting, the place was full with hardcore fans and I'm sitting in the middle of the stage playing a collage of samples, edits, loops and atmospheres from nearly 40 years of The The productions. Some were obvious, some very obscure and I quickly realised that a lot of subtlety was lost in the live setting with people talking. The support slot is an odd one, no one is there for you, they're waiting for the main event and you're really just filling time, treading water until the clock ticks round to the time the band take the stage. For anyone paying attention I hope I at least filled the gap with something interesting for half an hour, a duration that went by in a flash, having only played half of what I'd prepared.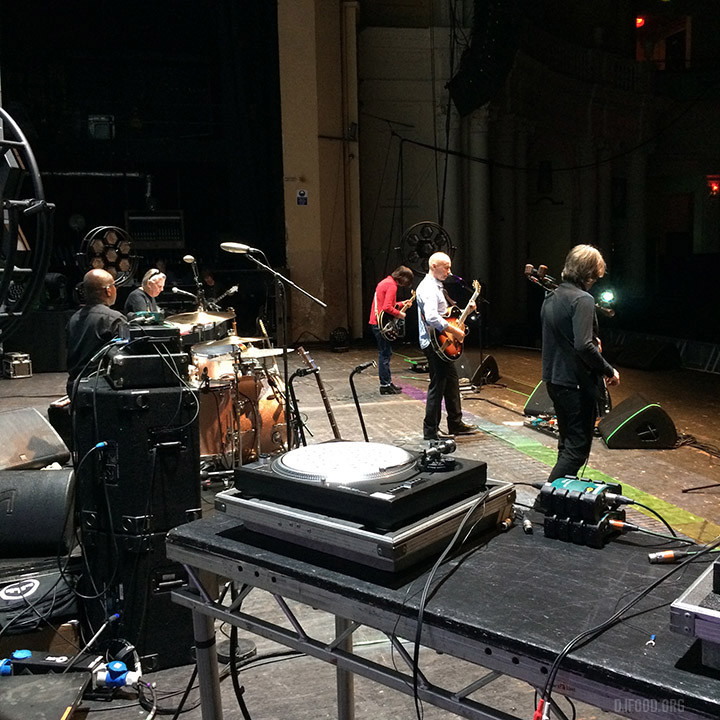 The band are quite the revelation, Matt's voice is as strong, clear and commanding as I've ever heard it, James' basslines never wavering. Earl Harvin on drums, a reserved but warm person to chat to, told me that he cannot speed James up or down in tempo if he tries, once he's locked in that's it.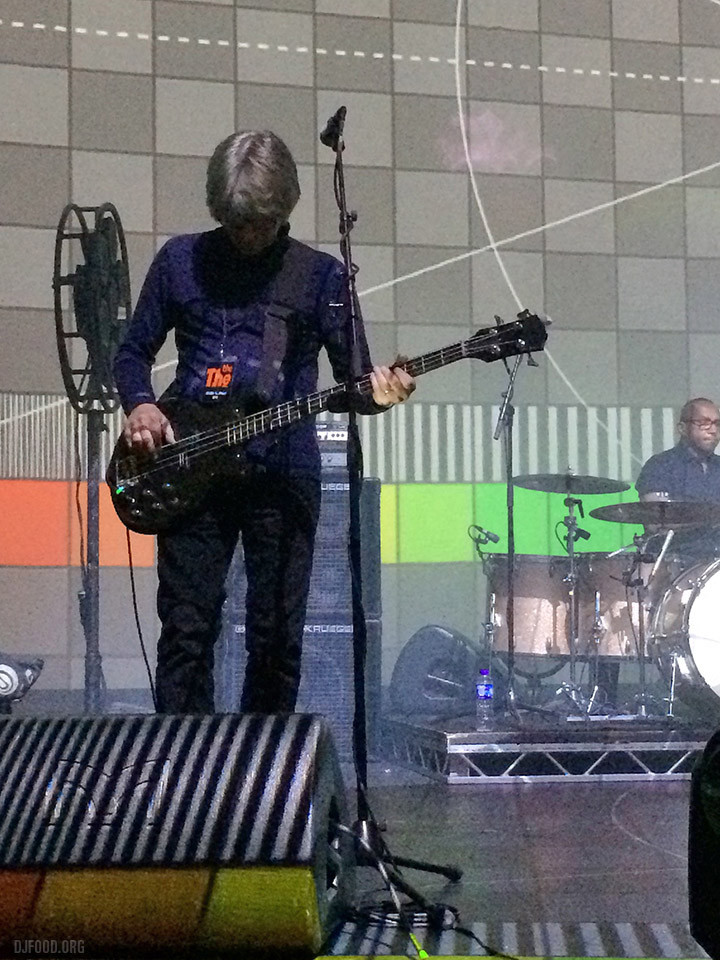 Harvin is a killer drummer, whether lightly wielding brushes on 'The Beat(en) Generation', pounding out 'I've Been Waiting For Tomorrow…' or simultaneously playing the beat AND the percussion to 'Infected' with separate hands, I never heard him drop a beat in four nights. DC Collard on keys is a friendly, hilarious character whose star turn on the solo during 'Uncertain Smile' is a set highlight and crowns him man of the match every night. I had to wait until after the first gig to meet 'Little' Barrie Cadoghan properly, a red hot guitarist with the unenviable job of filling Johnny Marr's shoes who rapidly felt his way into the set and banished any such comparisons by the end of the first run.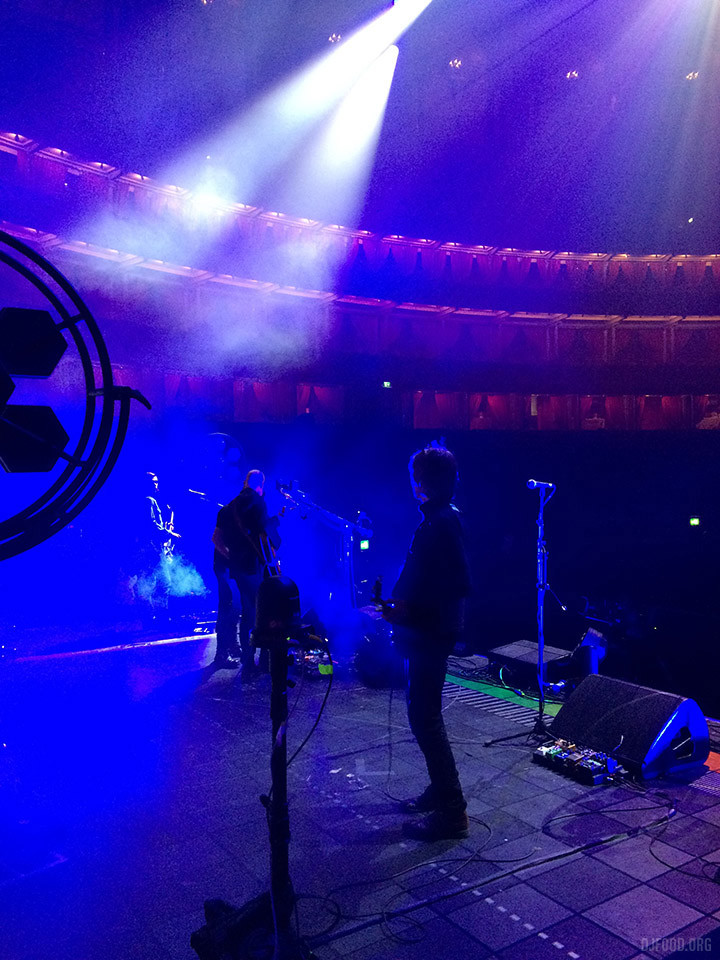 The set list is far from an obvious collection of crowd-pleasing hits, with a couple of relative obscurities from Matt's solo 'Burning Blue Soul' debut alongside cuts from the excellent but overlooked 'Naked Self' album from 2000. There were a lot of 'Dusk' era songs (six!) which were well-judged as the crowds seemed very familiar with them, but only three apiece from 'Mind Bomb', 'Infected' and 'Soul Mining'. Notable exclusions were 'Perfect', 'GIANT' and 'The Mercy Beat' but it was a treat to hear 'Flesh & Bones' – a 'Soul Mining' era compilation track – thrown in near the beginning. Highlights for me were the more uptempo numbers; 'Armageddon Days…', 'This Is The Day', 'Infected' and 'Uncertain Smile' and by god DC's reinterpretation of that piano solo was great EVERY night.
'I've Been Waiting For Tomorrow…' is a challenging number to play as the bass parts waver between four and six bar runs against the original 6/8 drum track which seems to have its own random arrangement. At the end, just as you think they're done with it, there's a huge snare roll from Earl and the band drop into a funky jam where Barrie gets his chance to shine. For a taste of the sound of the new band you can check out their recent session on BBC 6 Music for the next month including an interview with Matt where an unexpected link between his and interviewer Steve Lamacq's childhood is revealed.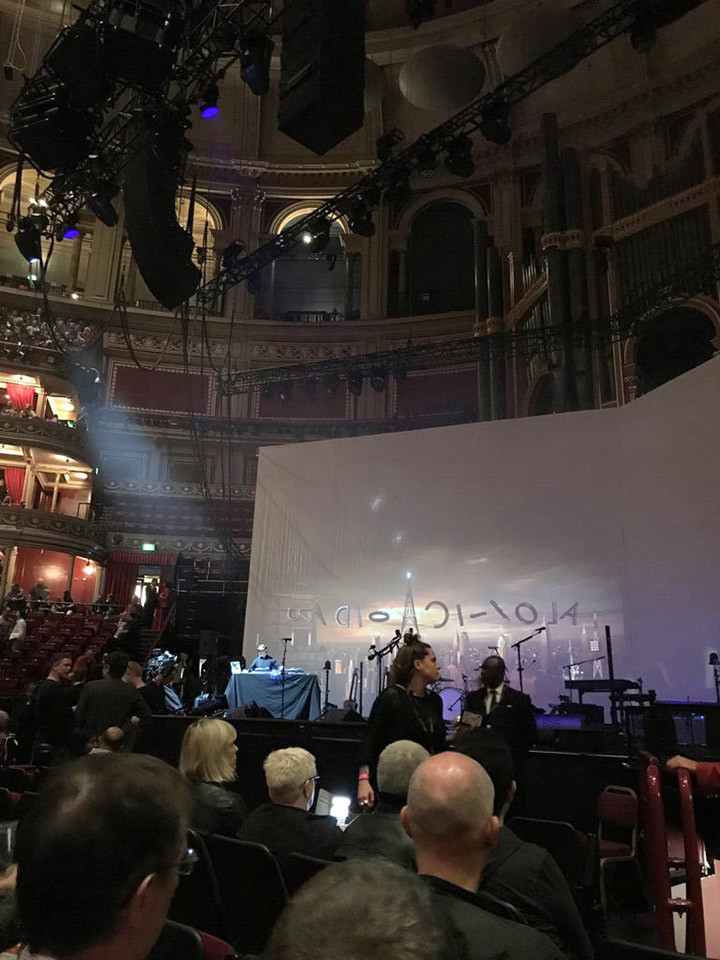 Photo: Leo @l_n0te

I'd forgotten what a beautiful and intimidating building The Royal Albert Hall is, having not been there since the early 90s, huge but with fine acoustics, it was the perfect setting for the comeback proper. For this gig, Tim Pope filmed the show and I got to watch from the center, back behind the mixing desk. It took 'This Is The Day' to get the crowd completely on their feet but it was a fine show.
The Brixton Academy was a lot rowdier and I was asked to play on longer as hundreds of people were still outside, presumably thrown by the band's 8.30pm stage time and the summer weather that day. Things got a little tense as the audience already inside got impatient, there's nothing like being on stage, having to tread water when thousands want to see and hear the main event. The band had real trouble with the sound on stage with this gig, although you'd never know from their performance, but apparently it was bouncing around all over the place for them.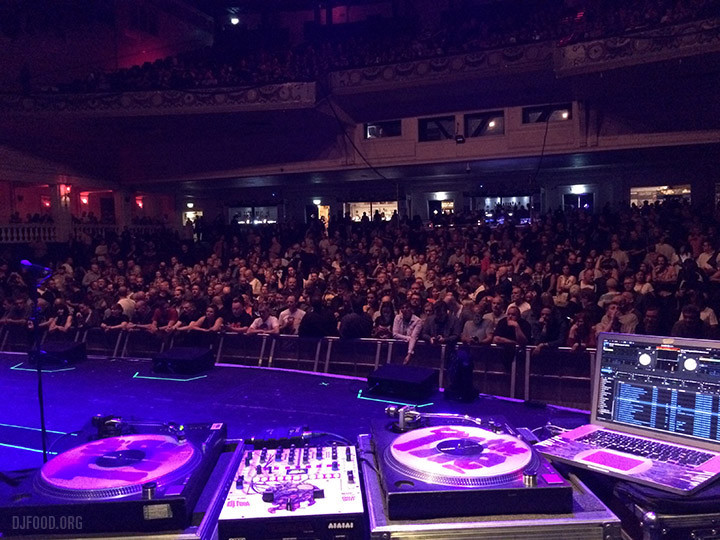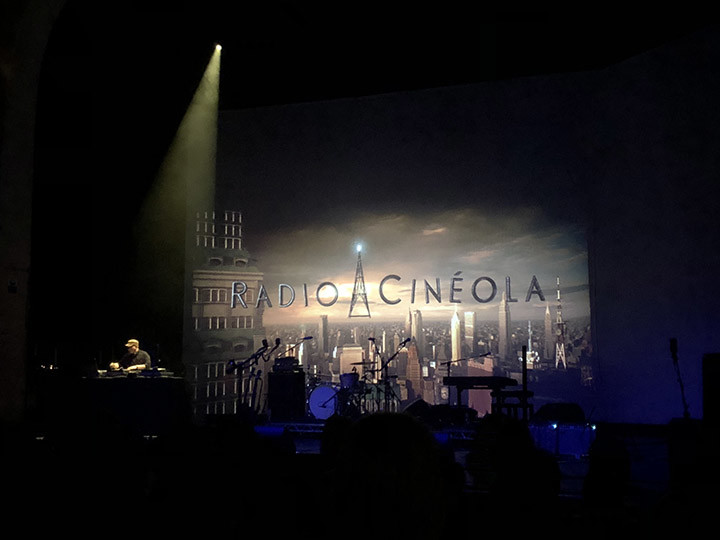 Photo: Paul Noble.
Matt bought his youngest son, George onstage at the start of the Academy gig, it was the first time he'd seen his dad on stage and did a great job of breaking the ice immediately.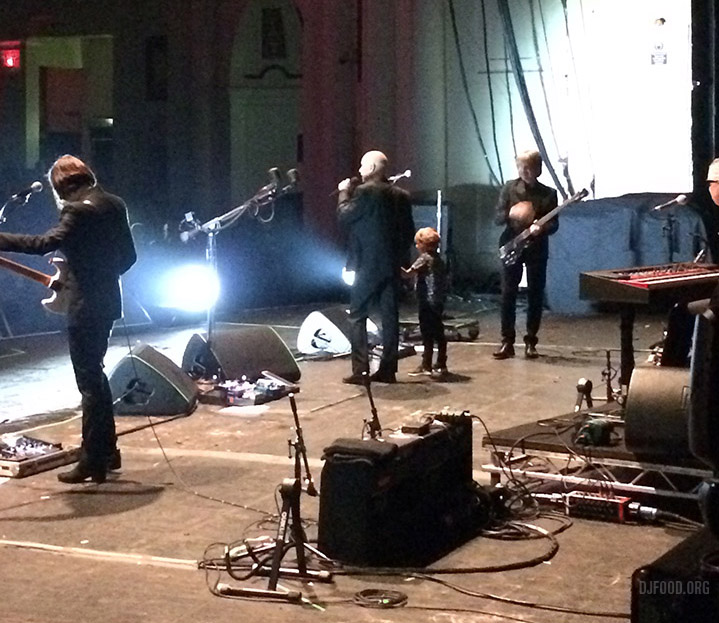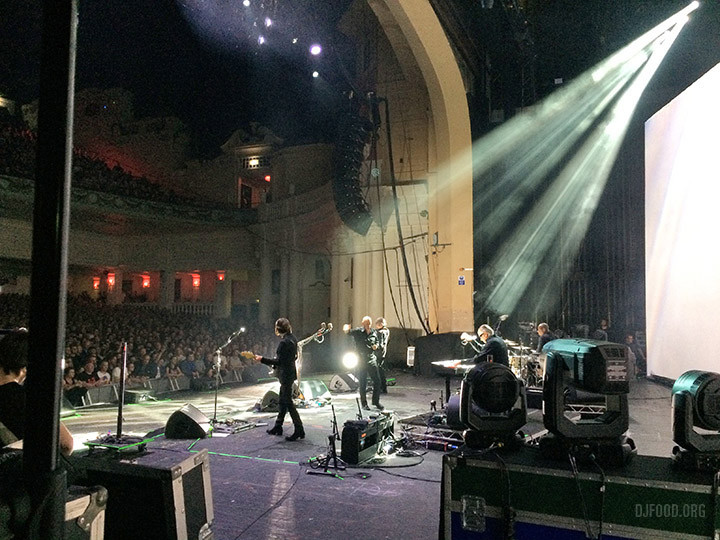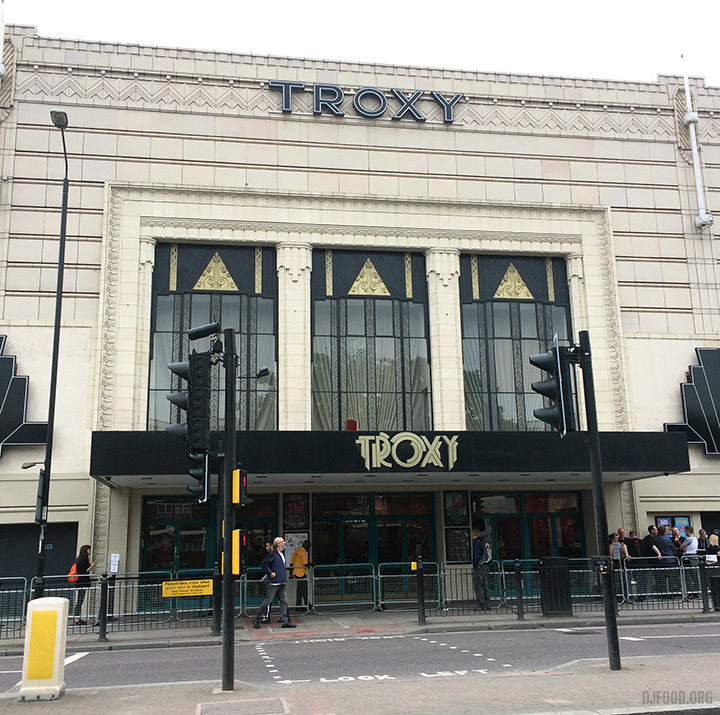 The Troxy was new to me, I'd heard all about its Art Deco interior and it didn't disappoint. Neither did the crowd – a hugely appreciative lot who sang along to everything and even applauded after another extended set from myself as more latecomers were squeezed in.
Johanna St. Michaels' documentary, 'The Inertia Variations', is now available to watch online and it's well worth checking out if you have a passing interest in Matt's history and want to find out where he disappeared to for all those years. I could have watched another hour of it easily as there are so many competing threads left hanging so tantalisingly. Next stop will be Neil Fraser's official biography, 'Long Shadows, High Hopes', just released this weekend, to fill in the gaps. This is all starting to sound like a huge advertorial so I'll stop here, honestly, you wait 16 years and then all the buses come at once! A fantastic comeback and I'm so glad people are finally hearing Matt's songs live and on daytime radio again in the present day. I'll be supporting again at the Newcastle and Glasgow dates in September…