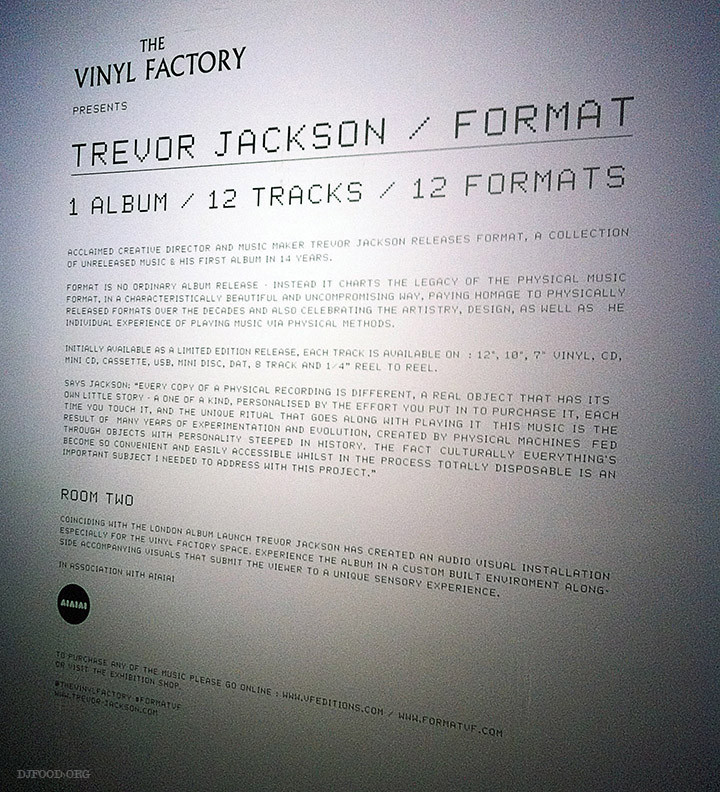 Thursday night saw the launch of Trevor Jackson's first release in 14 years, 'F O R M A T', hosted at the Vinyl Factory space under Brewer St. car park on the heart of Soho. The release consists of 12 tracks and is initially being made available on 12 different kinds of media with 1 track per format.
These range from 12″, 10″ and 7″ vinyl, CD and mini CD, DAT, VHS, Cassette, USB card, Minidisc, 8-track cartridge and 1/4″ tape reel. The numbers of the edition drop as the format gets more obscure so while the 12″ is pressed up at 500 copies the 1/4″ reel is in an edition of only 10 available with the complete box set of all 12 formats. Prices start at £10 and slowly creep up as the numbers get more limited until you get to the full box set at an eye-watering £850. There is also a poster of all 12 formats available in an edition of 100 with each piece signed and numbered. See, hear and buy the full line up at www.formatvf.com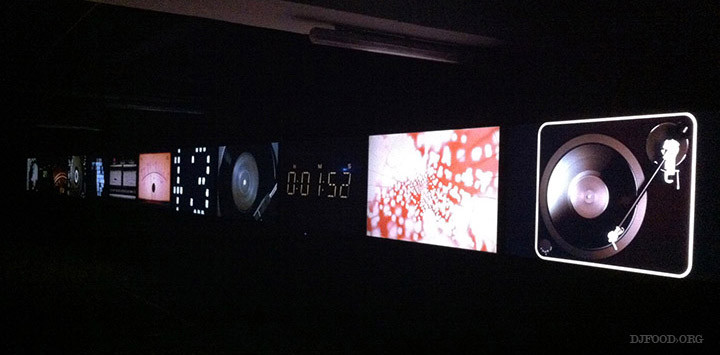 At the opening last Thursday guests were directed into the car park and downstairs to a space with a free bar at one end and a table selling the various formats that make up the album at the other. A second dark, enclosed space housed a wall of 12 huge screens opposite corresponding plinths with two sets of headphones. Each format and track was represented by a different film of it being played on the corresponding equipment, not a one shot YouTube-style video but varying close ups of the act of loading the format as well as associated graphics such as time displays, VU meters, rotating spools and platters etc.
http://www.djfood.org/wp-content/uploads/2015/03/TJ-Format-scan1.mov
What's different about how this album came to be is that Trevor had over 100 tracks that he'd worked on over the past 14 years but only finished last year. This isn't an album in the conventional sense, none of the tracks were intended to work together, they've been cherry-picked from the archive and exist in isolation from each other at the exhibition, preview-able via the headphones. Likewise (at the moment) each track exists in isolation if you buy it physically. Even the spaced letters of the 'F O R M A T' title suggest a disengagement from each other or maybe that's just the graphic designer in me reading more into it. There was no playback of the full record and it will be interesting to see how the tracks hang together when the collection is released in two months time.
http://www.djfood.org/wp-content/uploads/2015/03/TJ-Format-scan2.mov
.



About the music, as it's not been mentioned as much as the packaging and concept yet: everything I heard was instrumental, electronic, stark, minimal and very brittle sounding. Knowing Trevor's methods and tastes I'd guess that a lot of this has been made using original kit rather than samples and his 'Metal Dance' compilations point the way to the sonic palette he's using. Baring in mind I've only heard approximately two thirds of the record (it was a very busy night with only two heaphone sets per track) my description above may be a little skewed.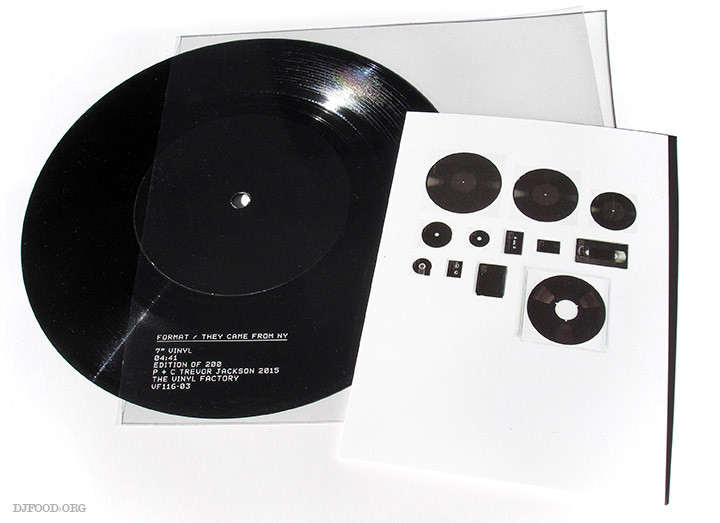 The 7″ track, 'They Came From NY' for instance, features an unidentified voice intoning a few lines and the ending disintegrates into random background sounds that slowly coalesce into a mutant jazz ensemble before being abruptly cut off. 'In Your Hands' – the VHS format that also includes the video – was my favourite from what I heard, an edit of a 7 minute plus ambient piece with a film of a dancing form that had been forced through some sort of video distortion technique.


My friend Frode Heieren pointed out that if you added up the 11 separate formats they would cost over £300 and yes, the pricing is crazy if you look at it like that. It aligns the work with the art and fashion worlds rather than the music industry, way out of proportion to the majority of similar objects sold elsewhere. The way each piece is sold is in the same manner as the art world too, these won't be available in shops, only at the show and online, and each piece comes with a signed, numbered card that states which number you have and there's the difference.
You're buying part of an edition and the art world dictates that the lower the edition the higher the price. If you want to get into that side of things then you'll spend the money – personally I bought a 7″ and cassette as well as a poster, certainly the most I've ever spent on either of those formats new. You're getting 1 track per format and I don't think anyone is under the illusion that that's a good deal but you're buying an artifact here on a format of your choice and it's more about your preferred media than the track it contains.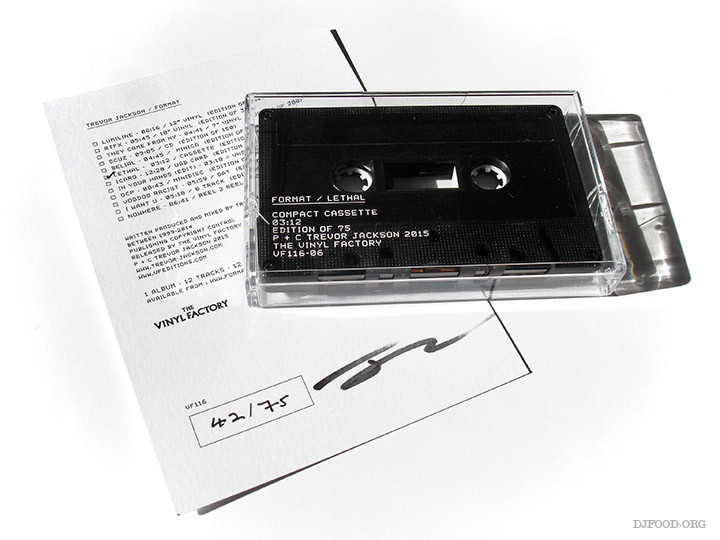 If you don't want to get into that then the whole album will be released in 2 months on vinyl, CD and download. Realistically very few people are going to be able to play a DAT, tape reel or 8 track cartridge so the editions are low and the prices high. That's going to frustrate the completists but it's also a very clever way to stop the album leaking in full as it's unlikely that anyone is going to buy the box set and stick it online.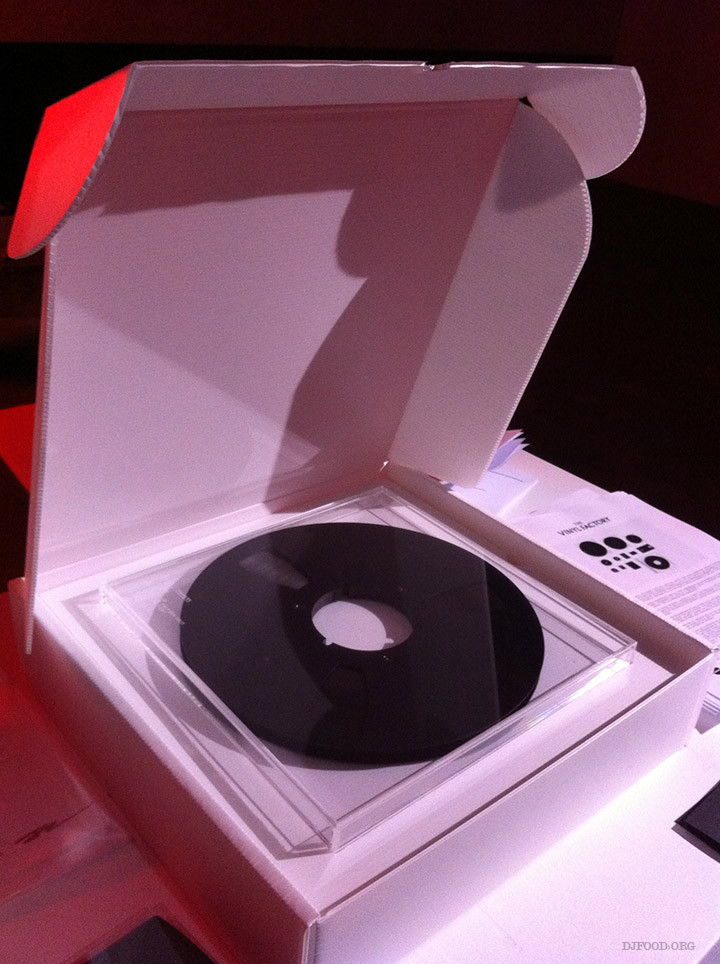 The full box set is inordinately expensive though, I thought it would be £2-300 tops and that's the only bit where the pricing seemed out of whack to me. It puts it into the realms of the 1% and that's something I'm personally not a fan of. But then again I have no idea how much it all cost to make, source and produce and the Vinyl Factory have never been known to be cheap which is why they're one of the best at what they do. Trevor has said that there is no way he's making a penny from it unless the box sets sell as sourcing things like 1/4″ reels and 8-Track cartridges aren't exactly cheap or easy. Anyone who has experience of pressing records will also know that the lower the pressing, the higher the cost per item. From my own experience, I made 30 playable postcard records for the launch of the 'Search Engine' album exhibition in 2012 and, even selling them at £8 each, I only just broke even. But let's not get into the crass subject of money and costings…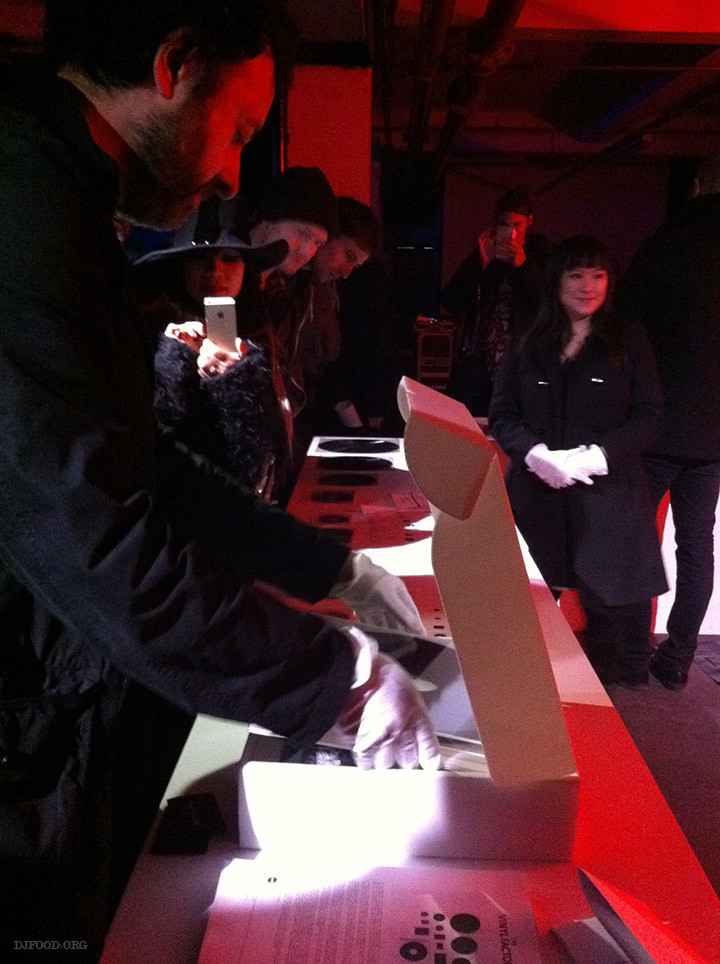 Most of all, the whole concept and execution is excellent and has had me thinking about music packaging from a different perspective in the same way that a good exhibition or film leaves you questioning things. I found the most successful presentation of the set was actually a framed version hanging on the wall, displaying each format rather than hiding them away in a box. I'd wager that those who bought items on the night probably acquired them more as artifacts of the show and, after a cursory listen, are more likely to display them than play them, certainly with the limited numbered formats. This has been happening for a while now if you speak to record shop owners who quiz their customers on their buying habits with many physical releases.
It will be interesting to see how much makes its way to the secondary market and how they appreciate in value over time, something I don't think we can discount in this age of investment buying and flipping. A quick web search shows nothing on eBay or Discogs which is refreshing but will these prices seem like chicken feed in years to come? I know that Trevor's intention couldn't have been further from any thoughts of long term fiscal appreciation and would have been focused on the concept and presentation and 'F O R M A T' is a love letter to the physical in a time when more and more people are interested in owning a tangible manifestation of what they're paying for again. In terms of innovative ways to present an album Trevor has broken new ground here and, despite the elitist pricing, I think that makes it a success.