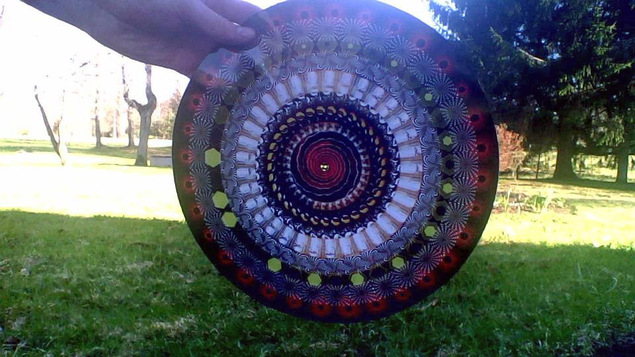 Peep Rooks sent me this photo of one of the zoetrope prints I'd had inserted into the 4×12″ version of 'The Search Engine' for Record Store Day. He wrote, "I wanted to let you know that the zoetrope nr. 4 ended up in Estonia.
I ordered the record online about a week ago from a shop from the capital Tallinn and it found its place on a record player in the middle of nowhere near Viljandi.
… I did not have any idea what it (the zoetrope) was until a few days ago and now i am thinking..hehe – what are the odds? I wonder where will the other artworks end up…"
Another one turned up in Finland – Mikko posted on this site on May 1st,"I am one of the lucky ten who got one of the artworks, 'original master' collage!
I live in Helsinki, Finland.
Thank you!"
So, that's two accounted for out of the ten, (see the 4 collages and 6 zoetrope prints here), if you have one or hear of someone with one – bear in mind some buyers won't even know about them until they discover them – please let me know.
UPDATE 19/12/15: Today Christoph Chilli G from Nürnberg emailed me these images of the collage he found in his copy of the album!