It's the end of the year and reading down the list of sounds that have moved me most in 2018 I'm struck by how much new music there is after years of digging a lot of reissues over current styles. This may well be because the well is finally running dry on a lot of the stuff I'm interested in but more likely that the old adage of great music being made in times of great strife is coming home to roost again. There is no order to the lists below, no No.1 or 'best' of anything although they are mostly chronological as I write stuff down as I hear or see it.
Special mentions though for the Castles In Space label that continues to go from strength to strength, the Confidence Man album which got a lot of play despite me missing them live twice. Trevor Jackson's beautiful design for his 'System' CD and cassette, so good I bought it three times, The Advisory Circle's 'Ways Of Seeing' LP and the Tomorrow Syndicate's excellent 'Future Tense' album, complete with Nick Taylor artwork.
Supporting both The The (on several UK dates) and the Art Of Noise was the stuff of teenage dreams and the former's biography by Neil Fraser is a fascinating read. The Karminsky Experience Inc.'s 'See Inside' VR single was a genuinely eye-opening experience and having them and Markey Funk down at Further was a treat. Walking into the House of Illustration's John Vernon Lord exhibition to be unexpectedly confronted with the original drawing of his 1966 masterpiece, 'Beneath The Tree', was the art high of the year and the People's Vote march in October restored my faith in humanity for an afternoon. Electronic Sound magazine continues to excel and their first LP release, Jack Dangers' remix of Terry Riley's 'In C', was another disc that saw a lot of play this year.
On Dec 23rd I played a lot of my favourite releases of 2018 on WNBC's Out Of The Wood show which you can hear below, complete with mic. fluffs and wrong track listings.
As we go into 2019 I'm dreading the first three months, leading up to the Br*x*t deadline, hoping against hope for a last minute chance to reconsider but bracing for a fallout post 29/03/19 that could see chaos come to the UK. I hope that I'm writing a more positive missive this time next year, if not then at least the music will only get better and better…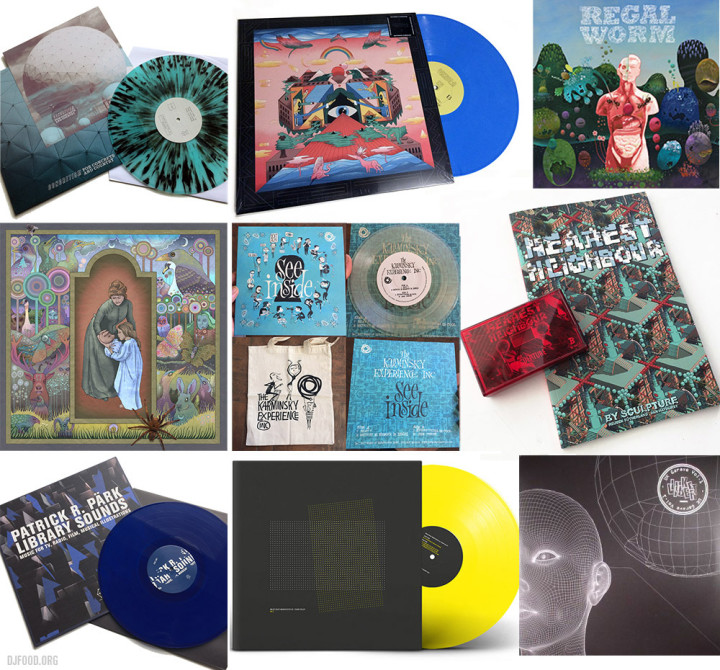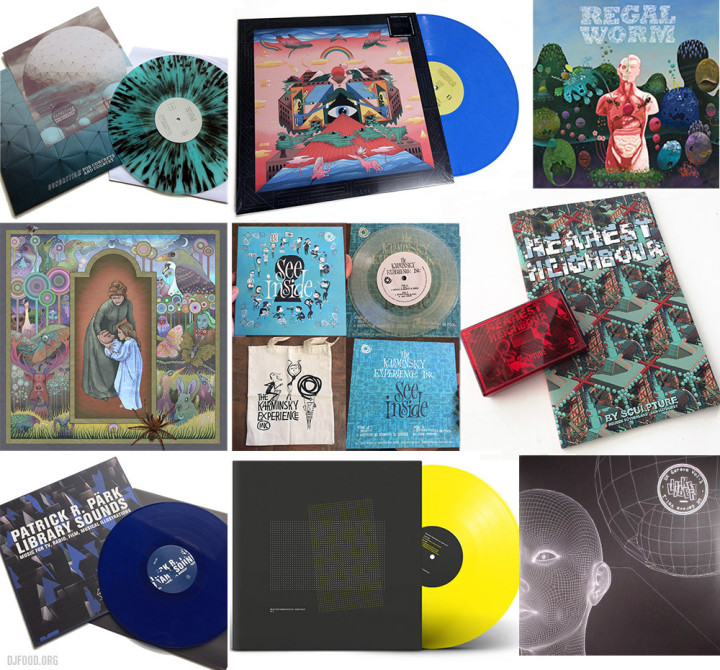 Music / chat:
The Karminsky Experience Inc. – See Inside 7″ (Patterns of Behaviour)
King Gizzard & The Lizard Wizard – Gumboot Soup LP (Flightless)
Beautify Junkyards – The Invisible Worlds of LP (Ghost Box)
Basil Kirchin – I Start Counting LP (Trunk)
Bigmouth podcast (Audioboom)
The Turbans – Baba Ganooz 7″ (Mona Tone/Delights)
Cavern Of Anti-Matter – Hormone Lemonade LP (Duophonic)
The Advisory Circle – Ways Of Seeing LP (Ghost Box)
Janelle Monae – Make Me Feel (single) (Wondaland)
Confidence Man – Confident Music For Confident People LP (Heavenly)
Concretism – For Concrete & Country LP (Castles In Space)
Trevor Jackson – System CD (Pre_)
Tomorrow Syndicate – Future Tense LP (Polytechnic Youth)
Chaka Khan – Like Sugar (single) (Dairy)
Jonny Trunk – OST show (Resonance FM)
Regal Worm – Pig Views / Use And Ornament (Uranium Club)
Meat Beat Manifesto vs Terry Riley – In C (Electronic Sound)
Patrick R. Park – Library Sounds LP (Castles In Space)
David Shire – The Conversation LP (Trunk)
Amgala Temple – Invisible Airships LP (Pekula)
Adam Buxton podcast
Type 303 – The New Ravelution EP (Insult To Injury)
Luke Vibert – 165 303 – from the Gradients vol.2 LP (Astrophonica)
Luke Vibert presents Garave vol.1 LP (Hypercolour)
Kosmischer Laufer – Vol.4 LP (UCR)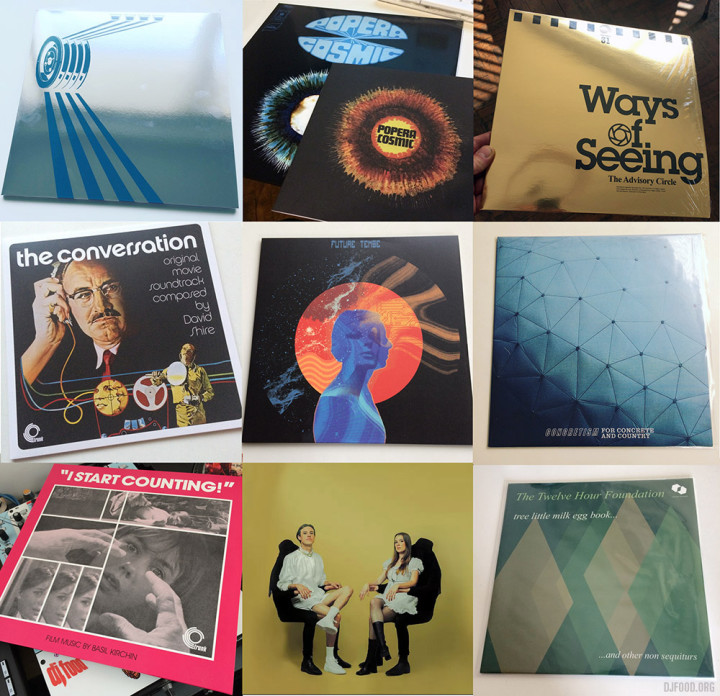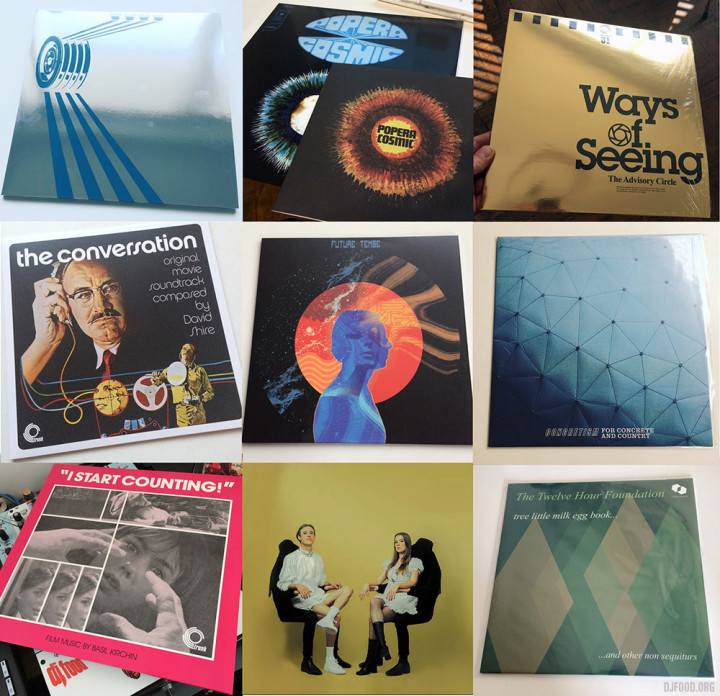 Packaging / design:
The Karminsky Experience Inc. – See Inside VR glasses (Patterns of Behaviour)
Chop – CDL 10″ (Drumetrics)
Concretism – For Concrete & Country LP (2nd edition) (Castles In Space)
Trevor Jackson – System 1st & 2nd edition CD + Cassette (Pre_)
Sculpture – Nearest Neighbour Cassette & comic (Tapebox)
Tomorrow Syndicate – Future Tense Regular + Ltd Ed. LP (Polytechnic Youth)
Spider Jazz – splatter vinyl edition LP (Trunk)
Spun Out Of Control vinyl + cassettes
Aver – River of Ice Cream 7″ promo flexi disc
Listening Centre 5″ lathe cut picture disc (Polytechnic Youth)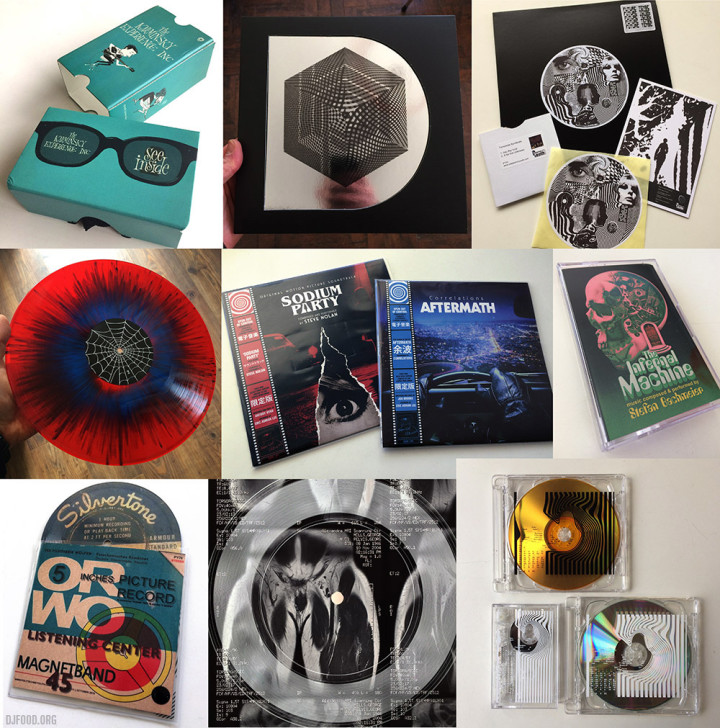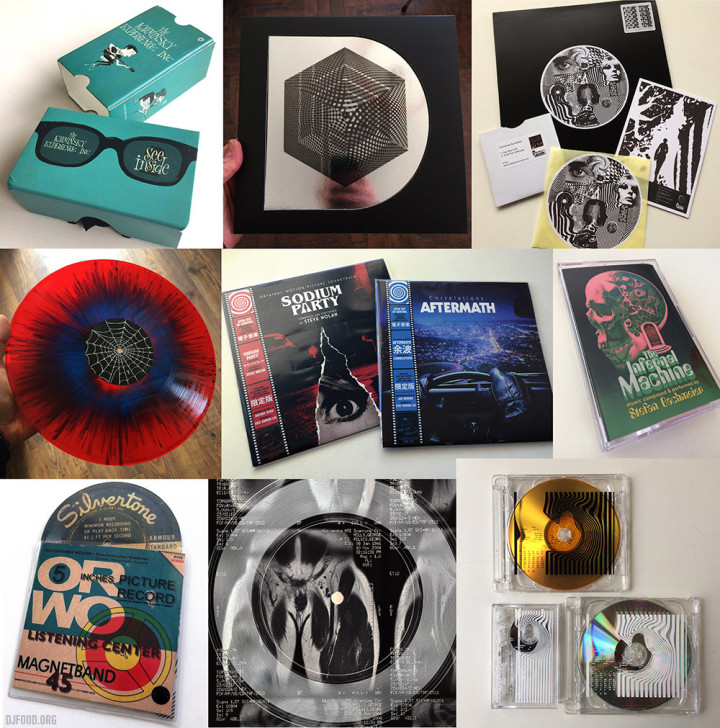 Books/Comics:
VS – Ivan Brandon / Eric Ribic (Image)
A Year In The Country 'Wandering Through Spectral Fields' – Stephen Prince
The Adventures of Jodelle – Guy Peellhaert (Fantagraphics)
Batman – White Knight  – Sean Murphy (DC)
Orla Kiely – A Life In Pattern (Octopus Books)
Electronic Sound magazine
Unusual Sounds: The Hidden History of Library Music – David Hollander (Anthology Editions)
House Industries – The Process Is The Inspiration (Watson-Guptill Publications)
Sculpture – Nearest Neighbour comic (Tapebox)
Proxima Centuri – Farel Dalrymple (Image)
Doomsday Clock – Geoff Johns / Gary Frank (DC)
Saga – Brian K. Vaughn / Fiona Staples (Image)
Long Shadows, High Hopes – Neil Fraser (Omnibus Press)
Judge Dredd – The Small House (Rob Williams & Henry Flint) (2000AD/Rebellion)
Lawless  – Dan Abnett / Phil Winslade (Judge Dredd Megazine/Rebellion)
Pete Fowler – Decades of Lead (Unbound)
Diary of a Bookseller – Shaun Bythell (Profile books)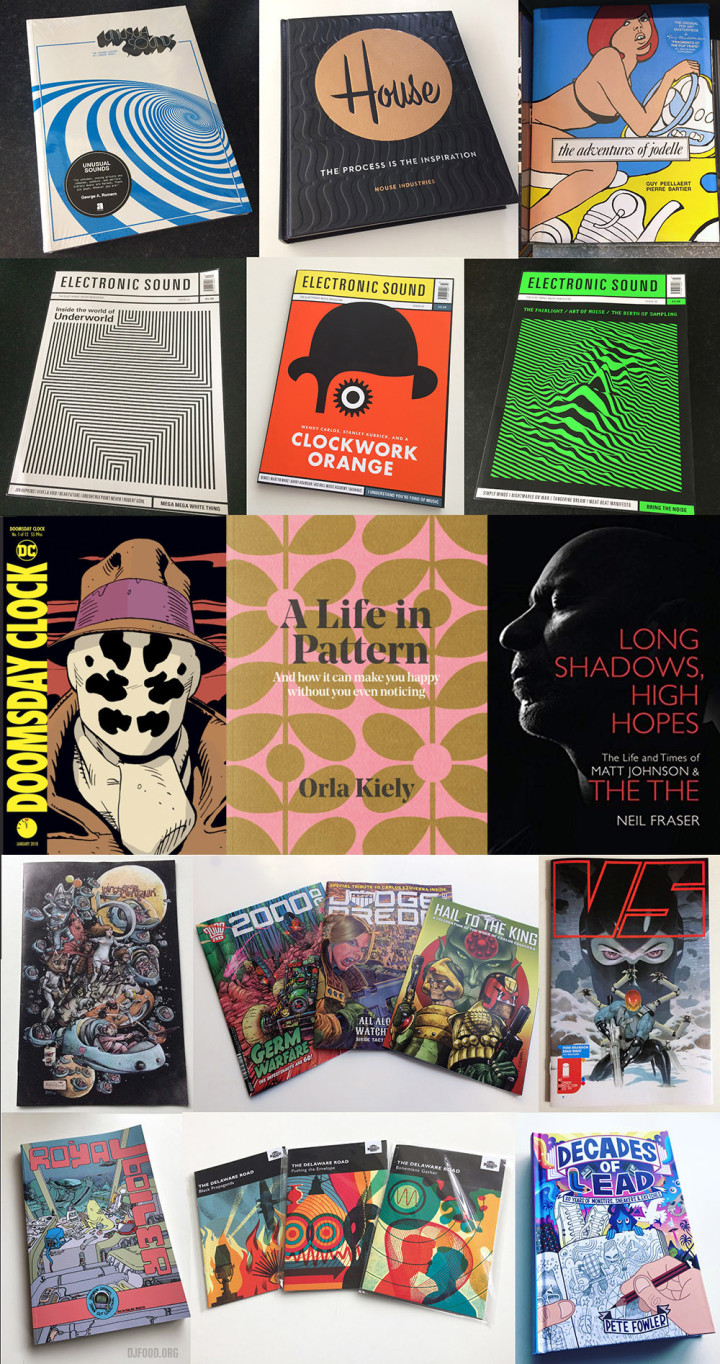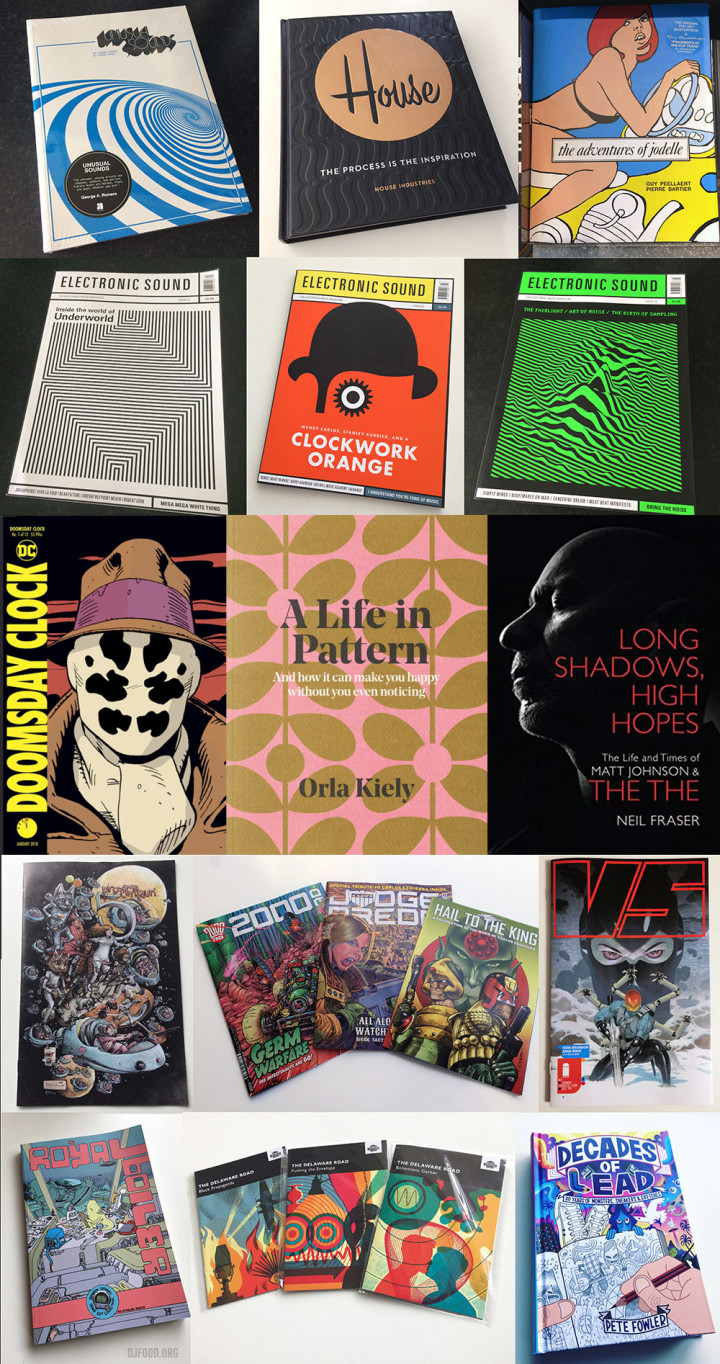 Film/TV:
Inside No.9 series 4 + Halloween special
The Inertia Variations documentary
Flowers series 2
Avengers: Infinity War
Yellow Submarine 50th anniversary remaster
The Karminsky Experience Inc. – See Inside VR + packaging
Bobby Gillespie on Newsnight
The Clock – Christian Marclay, Tate Modern
Bros: After The Screaming Stops (BBC)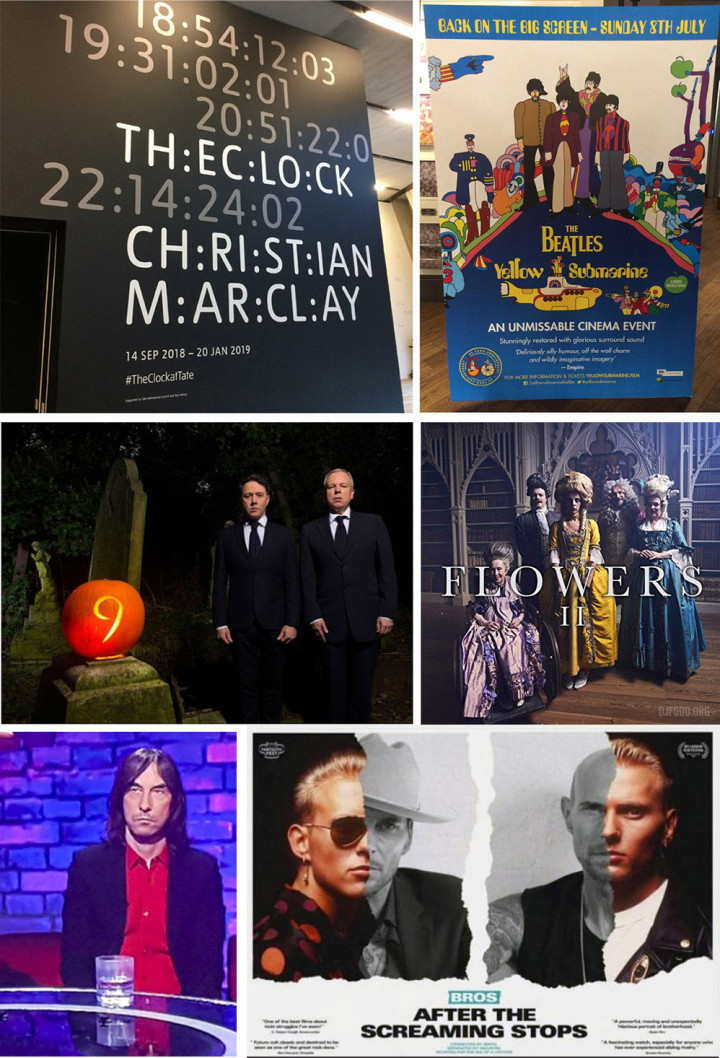 Events / Gigs:
Art of Noise, British Library
'O Is For Orange' premiere Archspace, London
The The, Albert Hall, The Troxy, London, Royal Concert Hall, Glasgow
The Crystal Palace Festival afterparty @ The Paxton Pub, Gypsy Hill, London – one of those gigs where every track flows and lands just right.
The Indie Label Market, Spitalfields, London
The People's Vote march in October
Jane Weaver at EArtH, London
The Soundcarriers, Gloria and Strange Majick @ The Victoria, London
Dirty Fan Male at the Bethnal Green Working Man's Club, London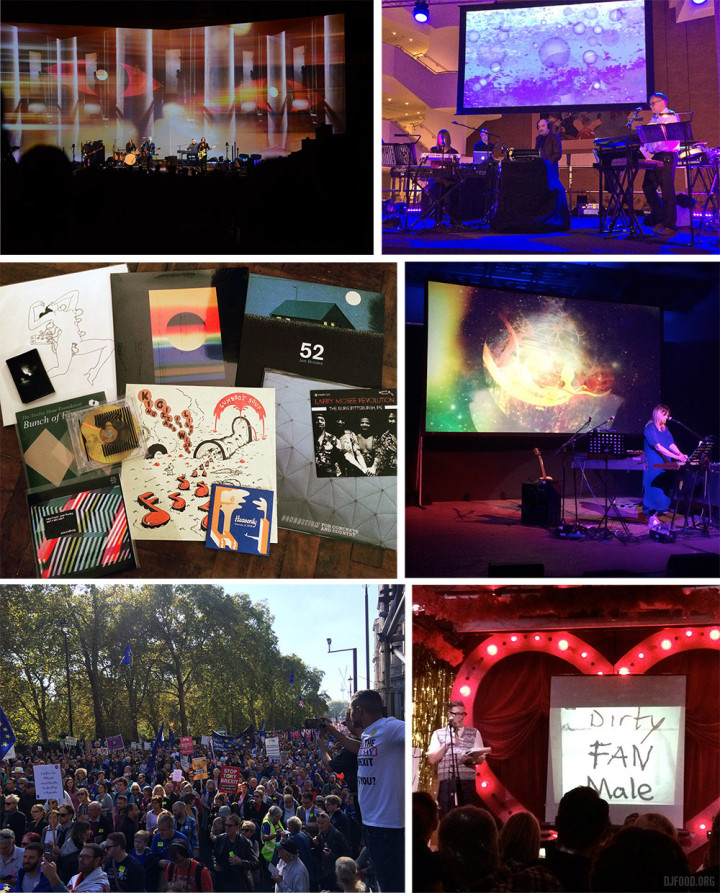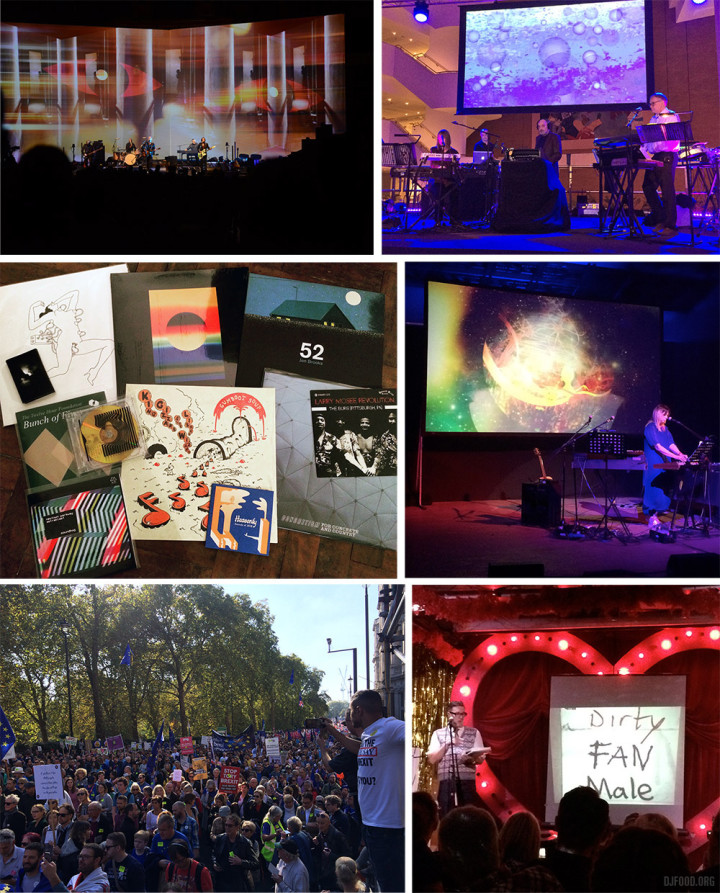 Exhibitions:
Sister Corita Kent – Ditchling Art & Craft Museum
Orla Kiely – Fashion & Textile Museum, London
Aphex Twin posters – Elephant & Castle underground, London
The Shape of Light, Tate Modern, London
May The Toys Be With You – New Walk Museum, Leicester
John Vernon Lord – The House of Illustration, London
Peanuts – Somerset House, London
Daniel Mullen – Lisa Norris Gallery, London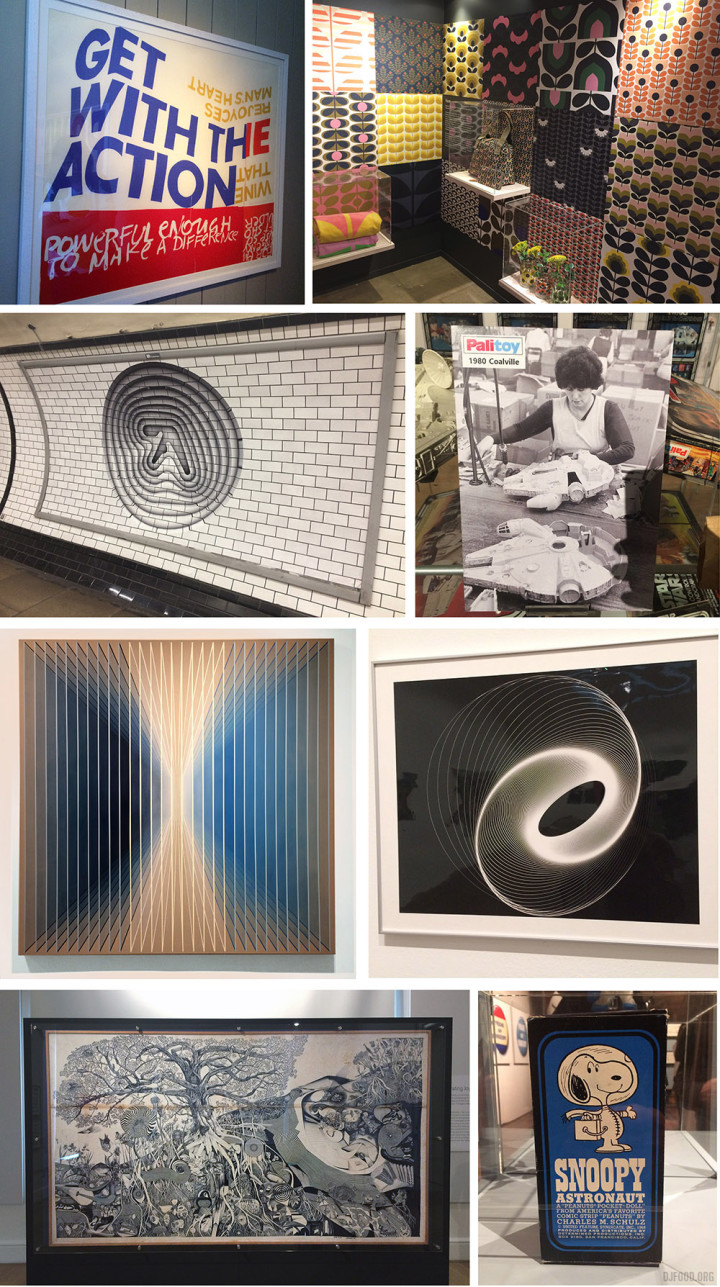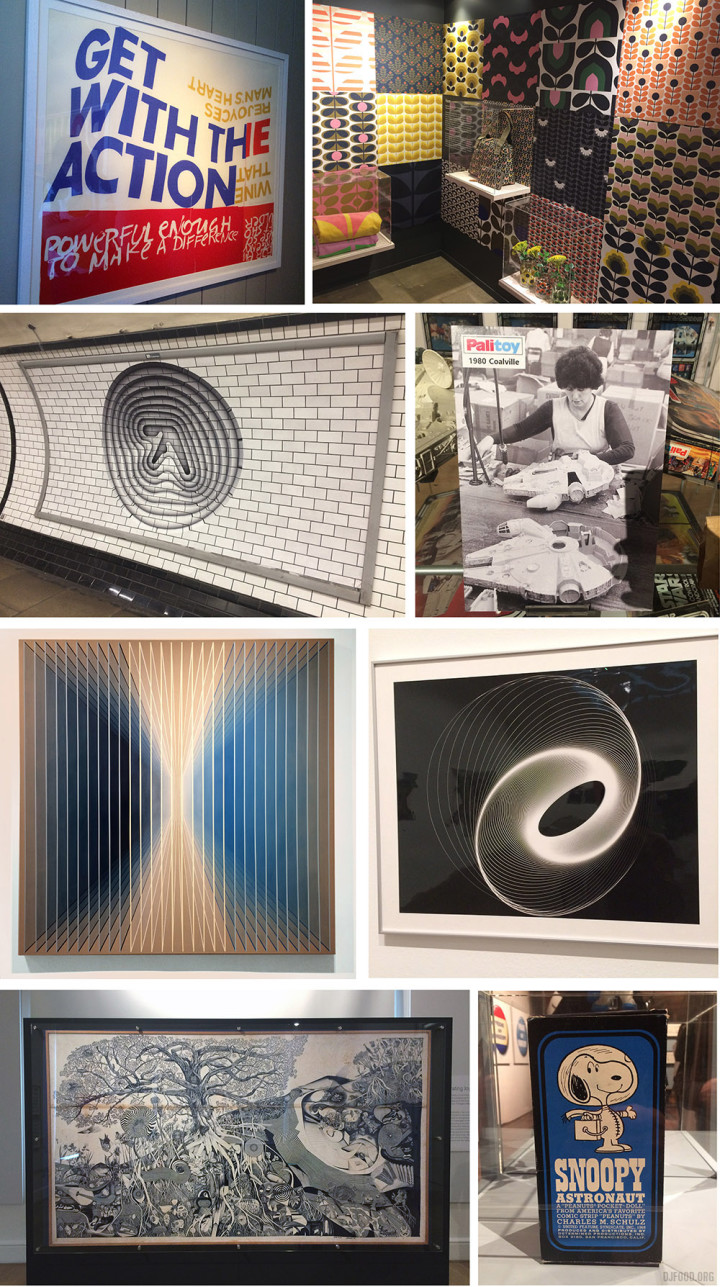 "Another year over and what have I done?"
Designed Peshay's 'Reflections' LP for the De:Tuned label
Created a 3 minute spoken word collage for Penguin/Random House's Voices event at the London Palladium on World Book Day
Supported the Art Of Noise at The British Library
DJed multiple times at Secret Cinema presents Blade Runner
Opened for The The at several of their UK gigs including the Royal Albert Hall, Brixton Academy, Glasgow Barrowlands and Glasgow Royal Concert Hall
Further at the Portico Gallery with Pete Williams, Markey Funk and the Karminsky Experience Inc.
Designed a nine disc set for De:tuned's forthcoming 10th anniversary releases
Mixes for Solid Steel, 45 Live, Brokers, Rat Records, Out Of The Wood, Diggers Dozen and radio show appearances for Resonance and Soho Radio
Overhauled my Openmindesign.uk website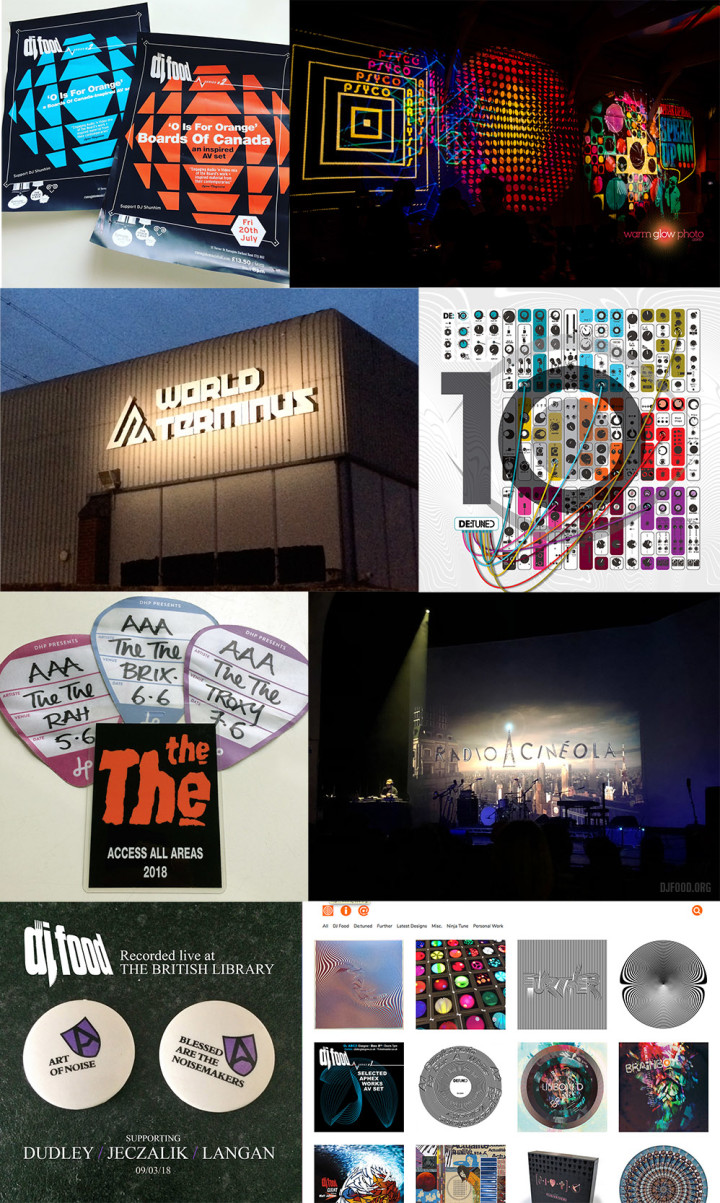 RIP: France Gall, Ken Dodd, Stephen Hawking, Matt Dike, Lovebug Starski, Jabo Starks, Tom Wolfe, Aretha Franklin, Orla Kiely shops, Carlos Ezquerra, Paul Allen, Stan 'The Man' Lee, HMV, June Whitfield.
Looking forward to: The Delaware Road 2019, Keith Haring retrospective at Tate Liverpool, the Wobbly Sounds book, Further at the Ace Hotel, Sister Corita Kent at the House of Illustration, De:tuned's monthly 10th anniversary 12″s, Avengers: Endgame
Happy New Year!