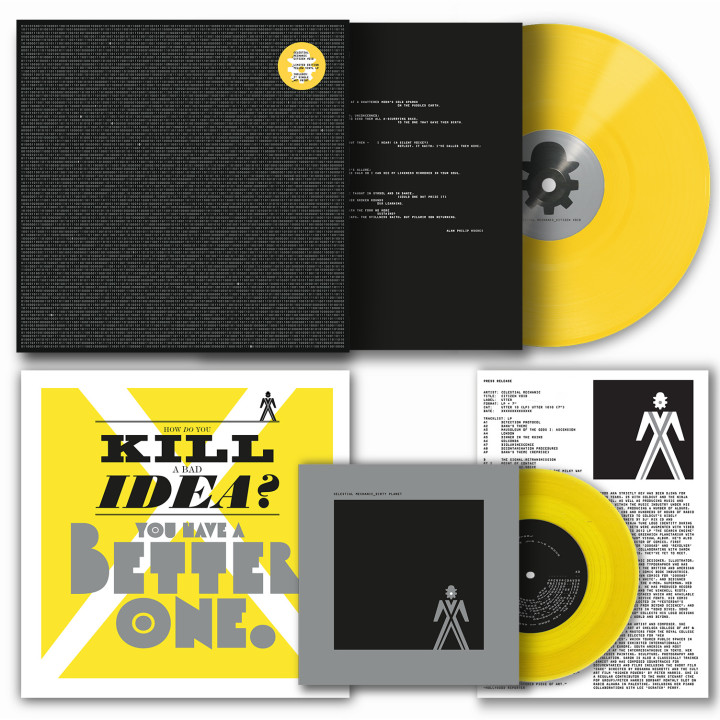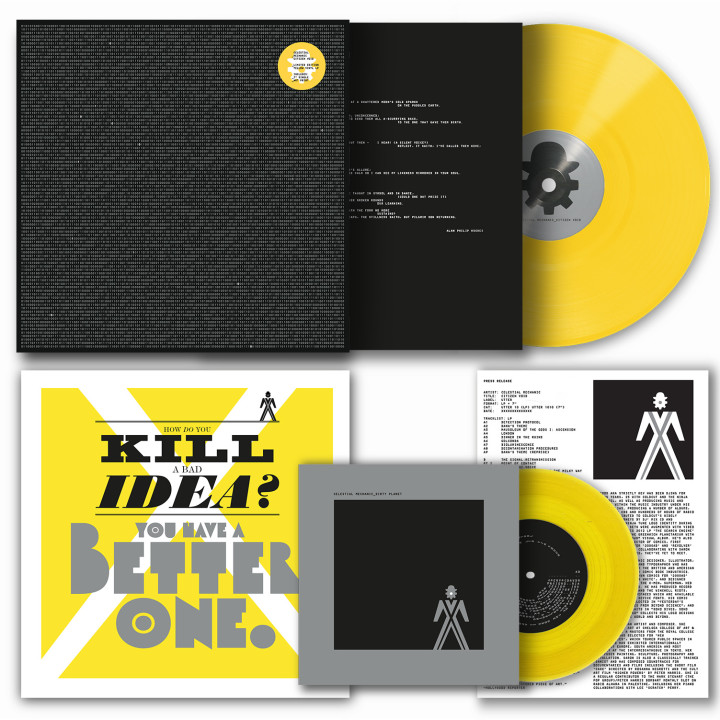 Online today is the vinyl version of the Celestial Mechanic album, 'Citizen Void', that I co-wrote with Saron Hughes last year. The album is a soundtrack of sorts to Rian Hughes' book, 'XX – a novel, graphic' after he tasked us with created the actual music for a fictitious album review featured in the book.
The release which is immaculately designed by Rian, is a lavish package featuring an LP and 7″ on yellow vinyl with inner sleeves, 12″x12″ print and original album press release. The cover is finished with silver ink and features a slightly reworked version of the sleeve that appears in Rian's book. Part of the book focusses on an alien signal from space that is detected on Earth and is used at one point to make an album, a QR code inside takes the reader to a Bandcamp page with the music on it. For more info see my original post about the book.
Upon release we were contacted by Alex Egan of Utter who was excited to put it out on vinyl to compliment other multi media entries on his label. We had a problem in that 'side 1' of the album on the digital release was 30 minutes long and an LP can generally only cram 24 mins tops onto one side before the sound deteriorates. After unsatisfactory edits and deleted track line ups the solution was to snip the final two tracks and place them onto a bonus 7″ – more artwork for Rian! The whole package is a perfect visual companion to the book and differs slightly from the original digital version in that side 2's side-long epic, 'The Signal' is the remixed version from the follow up digital EP.
UPDATE: It's come to my attention that the pre-order from Bandcamp now adds tax onto the record and shipping total for the LP – seemingly as a result of Brexsh*t continuing to shaft us in all sorts of ways we never could have foreseen in the name of 'taking back control'. If you pre-order via the Phonica link you should be able to get around this. It's limited to 300 copies so be quick if you want one – release is early July.