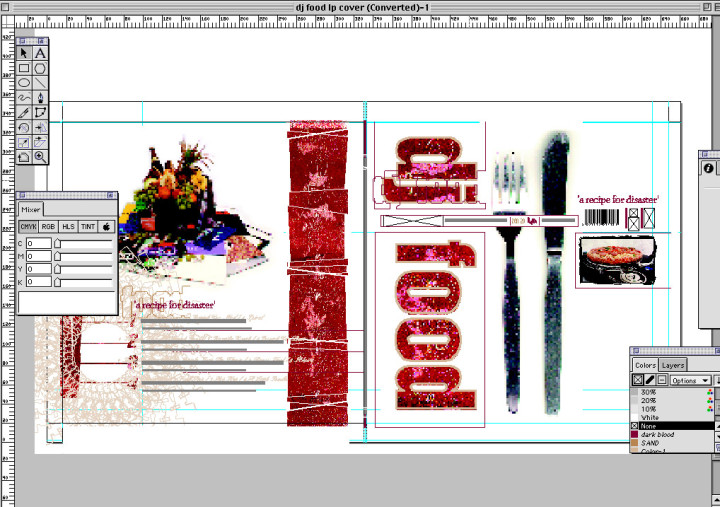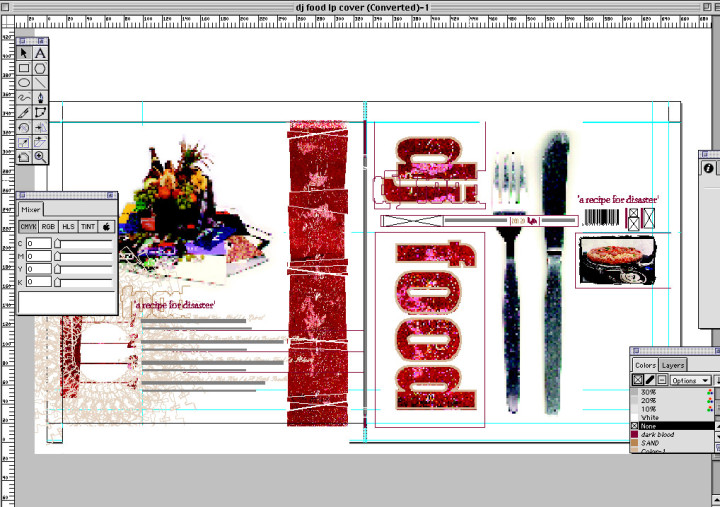 I've been wrestling with old laptops and copies of Freehand all day to try and open the original artwork for the 'A Recipe For Disaster' album. I managed to extract the original files from the first ever disc I burned back in 1997 which houses the first work I did for Ninja Tune on it. To think that the first designs were made in 1994 but I didn't think to archive them until 1997 says a lot about how small the file sizes were back then. The first LP I ever designed for Ninja was 9 Lazy 9's 'Electric Lazyland' and it all fitted on a 1.4MB floppy disc!


So, 'Recipe…' came out in the Autumn of 1995 and I was using Aldus Freehand 3.1 to lay out my designs and deal with type. At the time there were four main programs: the ubiquitous Photoshop, the fiddly Quark Express (good for laying out books and magazines), Illustrator and Freehand. The last two weren't that dissimilar and were both good at drawing in vectors but you could do decent layouts with them as long as you didn't want to use reams of text across multiple pages. For some reason I learned Freehand at college instead of Illustrator so that's what I stuck to, along with Photoshop to manipulate the images, and most Ninja sleeves were done using this in the 90's and 00's.

Along the way Freehand got bought by Macromedia and made some big jumps between versions which rewrote a lot of the internals apparently whilst still being backwards compatible with older versions. As with any applications, they're at the mercy of the Operating Systems they're made to run on and, through the years, Freehand had to make some big changes. It was finally bought by Adobe and then unceremoniously dumped with everything after Mavericks refusing to run the app. But even before this, getting older versions to open on newer Macs was a task and the files I recovered from 1995 just came up with 'unsupported format' messages when I tried to open them in Freehand 10, Illustrator and more.
Even on an old laptop running the OS 9 'Classic' environment I had no joy until I remembered that Freehand 5.5 was a big upgrade and should be able to read the older FH3 files. But I couldn't find a copy anywhere, not on archive discs or the web, the oldest version I had was Freehand 7. As a last resort I booted that up on the old laptop (all 24 MBs of app) and lo and behold, it worked! Here's the lesson; don't throw away those old applications that aren't compatible with current operating systems, you never know when you might need them. What you see at the top is the low res preview of the DJ Food LP cover as it appeared this afternoon. I know it looks crappy but that's all I need to work with and I'd rather have that than have to remake the whole thing from scratch.