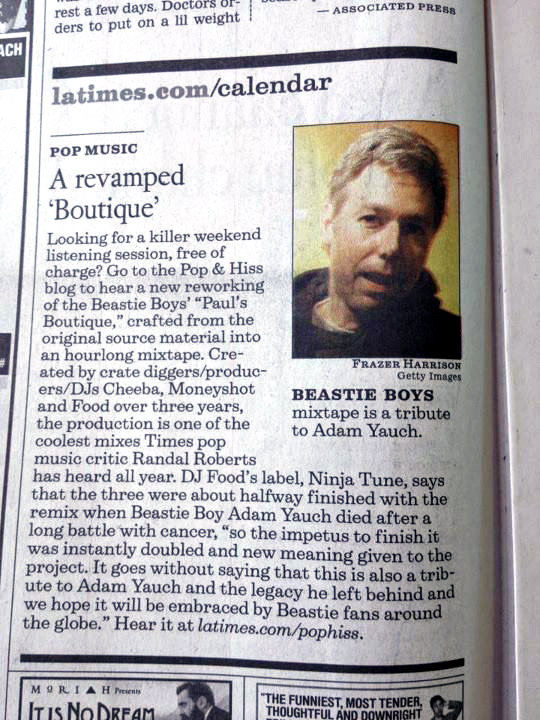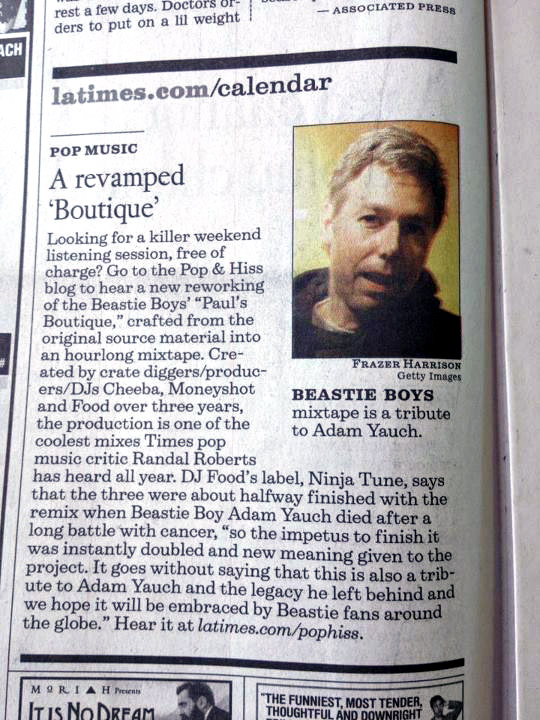 A great big THANK YOU to everyone who's listened to the remake of The Beastie Boys' 'Paul's Boutique' album that Cheeba, Moneyshot and I debuted 10 days ago. It's been blogged and linked to from all over the world by magazines like Urb, Fact and Spin plus sites like EgoTrip, Comic Book Resource and Dangerous Minds, and this weekend the LA Times ran a news piece on it.
On Friday we broke the record for the most listens to one mix ever on our Solid Steel show (33,000 for Bonobo) and are currently heading towards the 40,000 listens mark on the Ninja Tune/Solid Steel Soundcloud. Sadly we received the news that Strongroom Alive – the radio station that hosts us in London every Thursday – was no more last week but their memory lives on in the live version currently on Mixcloud which has garnered another 10,000 plays.
Big thanks to Erik Batternberg who sent me the LA Times photo and for all of you who blogged it, shared it, retweeted it, let us know your thoughts and hipped us to others who have done the same.
Now that the mix has had it's week on Solid Steel I've uploaded it to my own Soundcloud and you can access it quickly via the image on the right or the download page. We are all blown away with the reception this has received and will be working on something special as a follow up for next year.