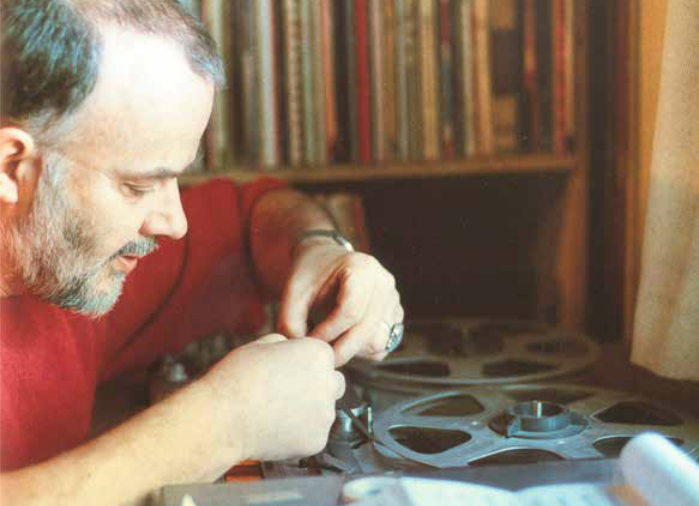 Today sees the auction of items from John Peel's amazing collection at Bonhams in Knightsbridge. You can view 200 items from the auction online here from the incredible, often historical, contents. Whilst there are letters, lyrics, acetates, clothing and promos by heavyweights like Bowie, Lennon & Ono, Bolan and Factory Records, those don't interest me as much as these items below. The notes and photos below come from the Bonhams catalogue entries.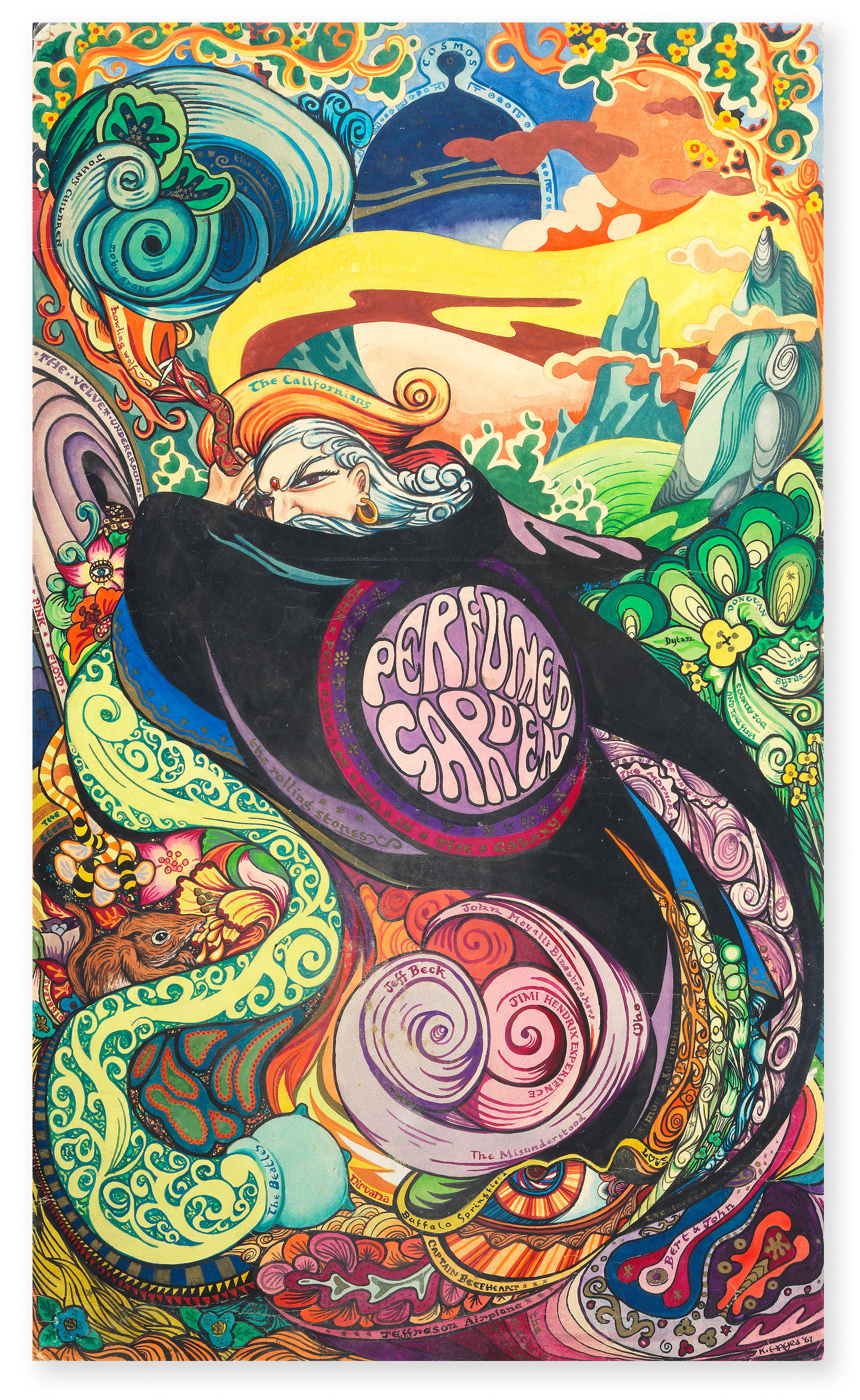 THE PERFUMED GARDEN: THE ORIGINAL ARTWORK BY KEN HAYES CREATED FOR JOHN PEEL'S ARTICLE IN THE MAGAZINE 'GANDALF'S GARDEN', 1967,
Gouache on artboard, hand-painted by Ken Hayes (Graphics Dept) as an illustration to accompany an article by John Peel in Issue No.1 of the sub-culture magazine 'Gandalf's Garden'. The centrepiece of the artwork reading John Peel all at sea in the galaxy with the names of bands such as The Beatles, Jefferson Airplane, Captain Beefheart, The Rolling Stones, The Byrds, Dylan, The Velvet Underground, Pink Floyd and Donovan among others in the design around it, signed and dated '67 by the artist in the bottom right corner, the back of the board with a handwritten football score Chelsea 1 – Liverpool 2, 14 1/2in x 24 1/2in (37cm x 62cm)
*Sold for £4,462.50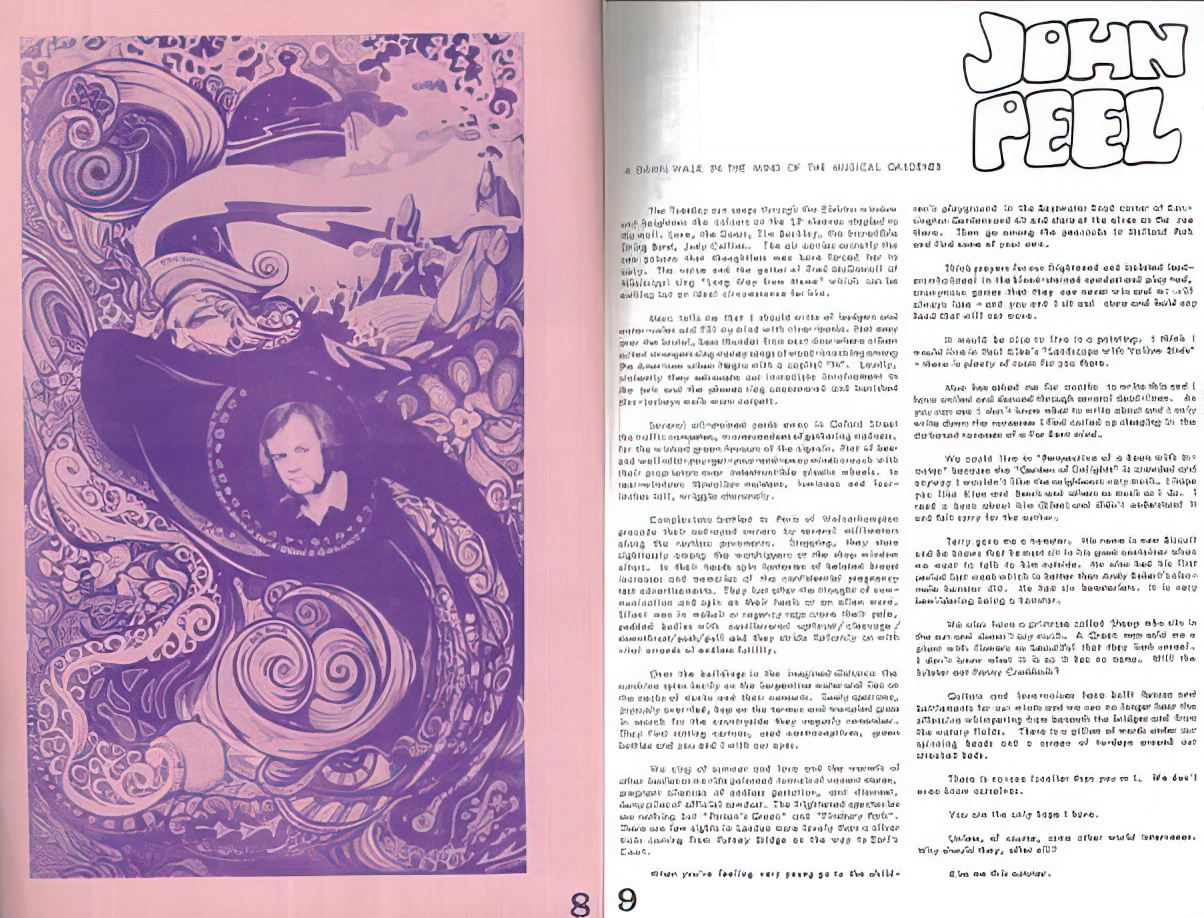 'Gandalf's Garden' was a publication focusing on a 'mystical community' which flourished at the end of the 1960s as part of the London hippie-underground movement. The magazine emerged in 1968 and ran for 6 issues. This artwork can be seen on Page 8 of Issue No.1 alongside John Peel's article 'A Dawn Walk In The Mind Of The Musical Gardener', published 1st May 1968.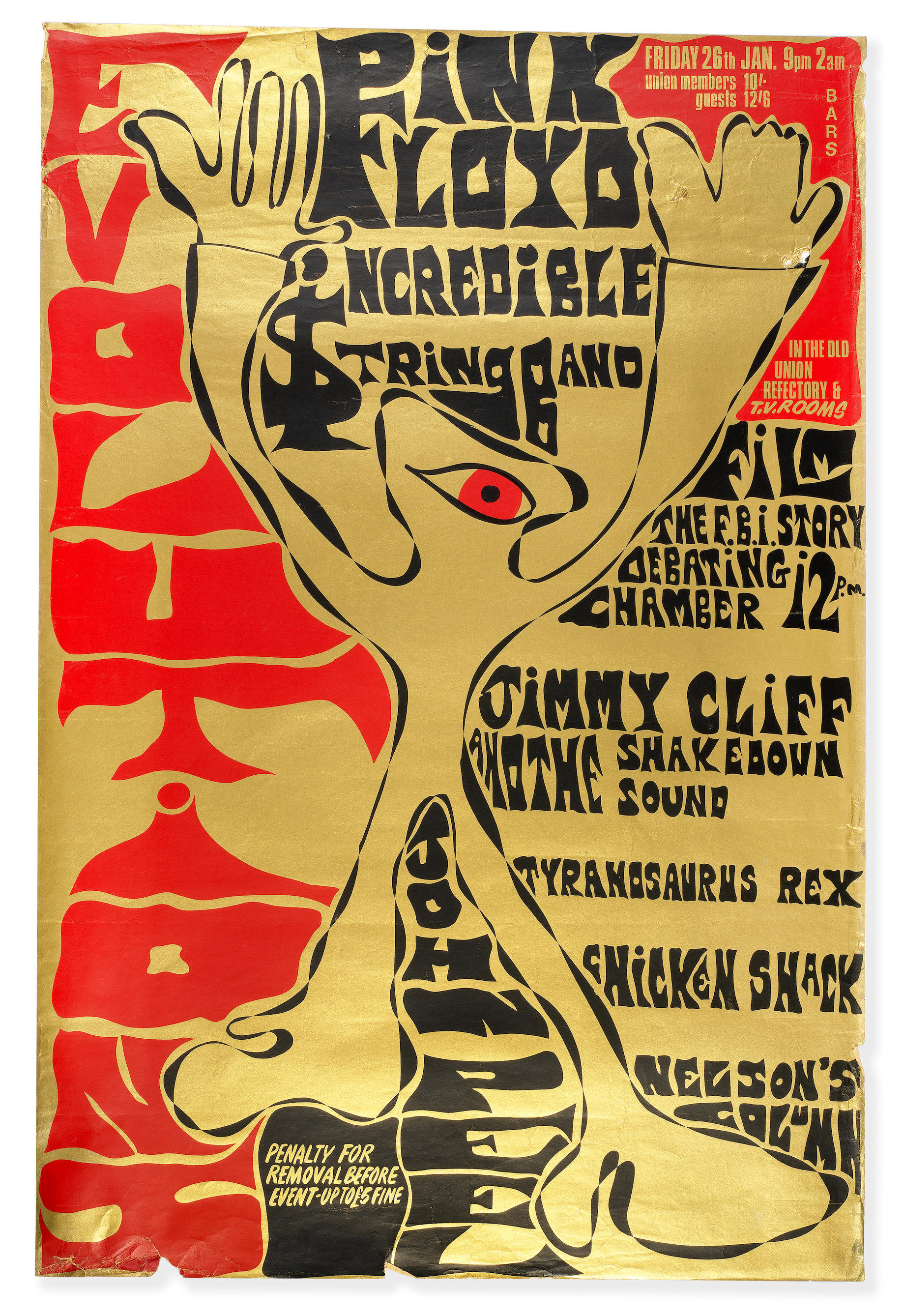 PINK FLOYD/JOHN PEEL: AN IMPORTANT AND RARE 'EVOLUTIONS' SOUTHAMPTON UNIVERSITY CONCERT POSTER, Friday 26th January 1968,
Printed on metallic paper, for a concert featuring performances by Pink Floyd, John Peel, Incredible String Band, Jimmy Cliff and the Shakedown Sound, Tyrannosaurus Rex, Chicken Shack, Nelson's Column, held at the Old Refectory, University of Southampton, England, 20in x 30in (51cm x 76cm)
The title of this event is eerily apposite, the date being that on which Pink Floyd effectively sacked Syd Barrett. His increasingly drug-related erratic and difficult behaviour through 1967 and the band's evolving musical direction led them to seek another guitar player.
At the end of that year they brought in one of Syd's friends, David Gilmour, and the band played a handful of gigs as a five-piece in January 1968. In his book, Echoes: The Complete History Of Pink Floyd, Glenn Povey writes: "Syd Barrett was clearly never going to come back to the real world, and his role within Pink Floyd was all but over. One solution the band thought of was to use him as an off-stage songwriter in the same way that the Beach Boys retained Brian Wilson. But almost at once they realised that this was an impossibility." Travelling to Southampton for this gig, the band simply decided not to pick Syd up en route.
As MC/DJ for the evening, this poster was kept as a souvenir by John Peel. It is thought this is the first example of the poster ever to appear at auction and it may possibly be a unique survivor of the small number that would have been put up around the University campus to publicise the concert.
*SOLD for £8,925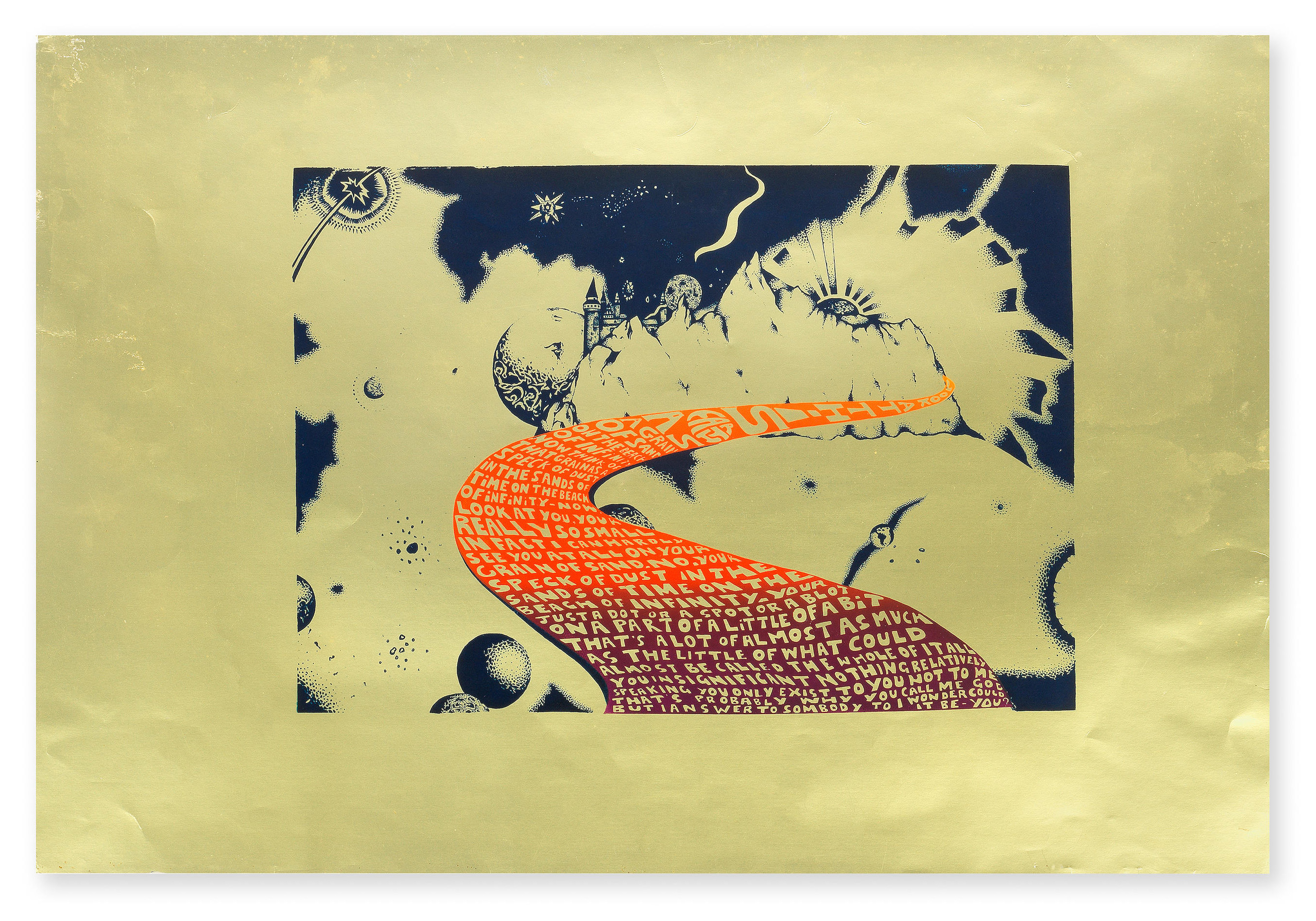 PSYCHEDELIA: A HAPSHASH & THE COLOURED COAT-STYLE POSTER, 1960s,
Printed on gold coloured card, with typical Hapshash-style castle and sky motif and twisting prose about a grain of sand, origin unknown, 20in x 30in (51cm x 76cm)
Hapshash and the Coloured Coat was an influential British graphic design and avant-garde musical partnership in the late 1960s, consisting of Michael English and Nigel Waymouth, who produced popular psychedelic posters. Though this poster has no artist or publishing credit, it bears several stylistic similarities to other well-known Hapshash posters.
*Sold for £637.50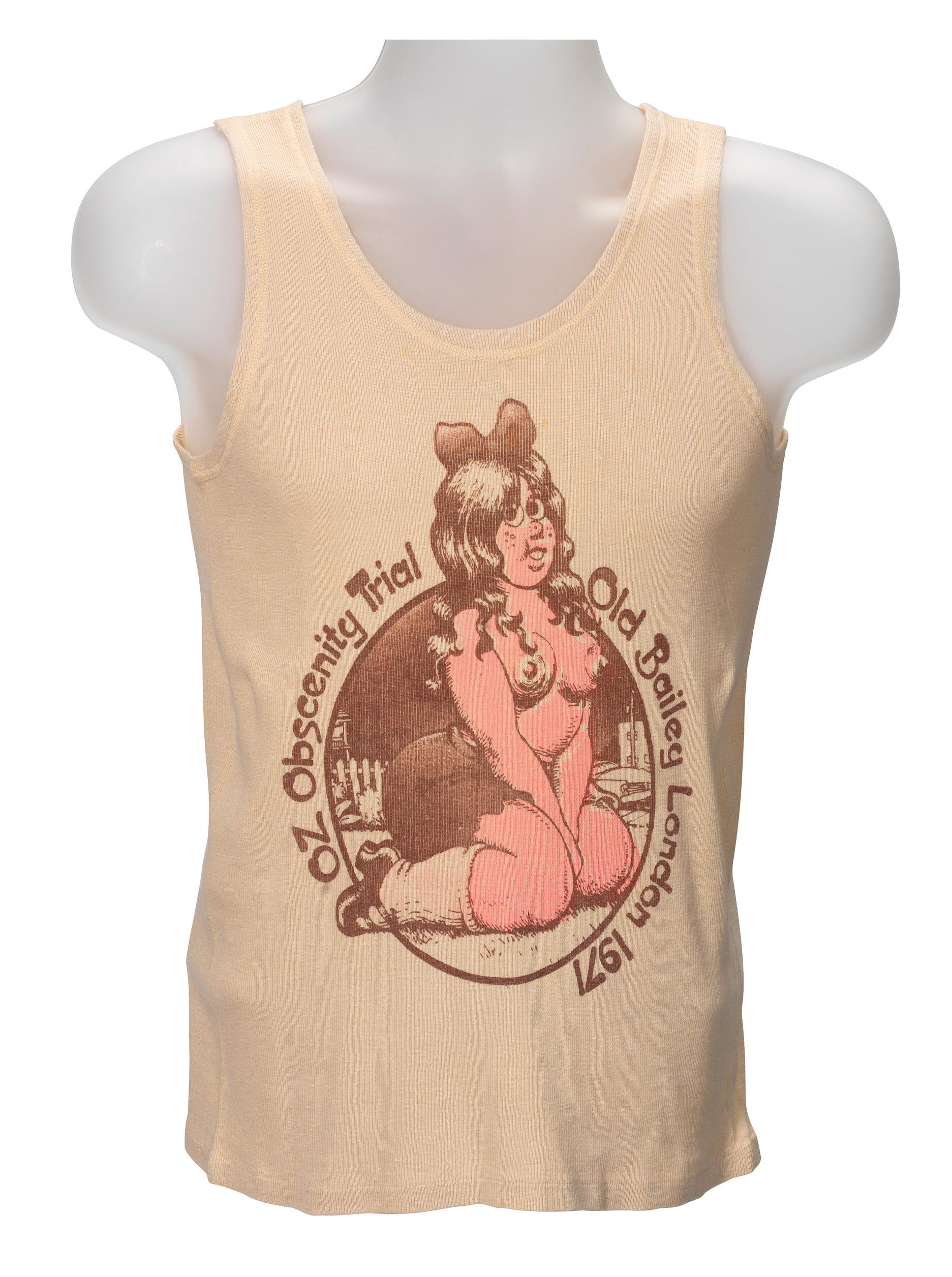 OZ: AN OBSCENITY TRIAL VEST TOP, 1971,
A fawn cotton vest top printed with brown and pink slogan 'Oz Obscenity Trial Old Bailey London 1971', labelled size 34.
Issue 28, May 1970 (the School Kids Issue), which included a very adult Rupert Bear cartoon strip, led to obscenity charges being brought against the three editors. Peel appeared in court as a defence witness for Neville and co-editors at the trial, held at the Old Bailey in 1971. John Lennon was also one of the high profile supporters of the magazine and released the single "God Save Oz" in order to help raise funds for the magazine's defence. The three were found guilty, but their convictions were overturned following appeal, resulting in an embarrassing defeat for the Establishment.
*(Bonhams neglect to mention that the image is by Robert Crumb)
*Sold for £828.75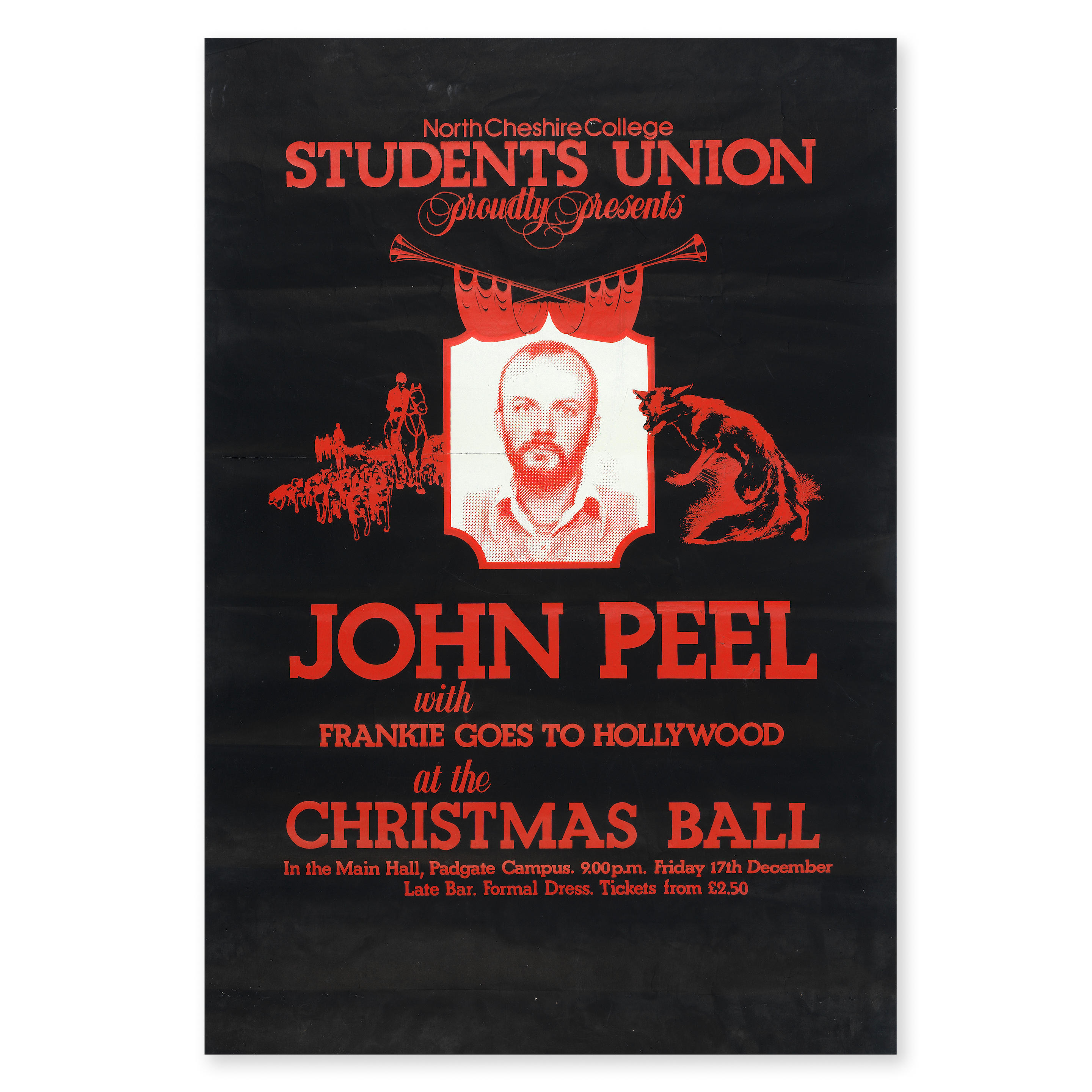 JOHN PEEL: A NORTH CHESHIRE COLLEGE STUDENT'S UNION CHRISTMAS BALL POSTER, 17th December 1982,
Printed on paper, for the John Peel Roadshow at which Peel invited Frankie Goes To Hollywood to do a session that included an early version of 'Two Tribes', at North Cheshire College in Warrington, 20in x 29in (51cm x 73cm)
Soon after this show, the group was asked to record a video for their hit 'Relax' which was shown by Channel 4 on 'The Tube' in 1983. The growing popularity of the group convinced Grammy Award-winning producer Trevor Horn to sign them to his newly formed ZZT [*ZTT actually] Records. The band later performed the song on Top of The Pops before the song was banned from the BBC in 1984.
8Sold for £280.50