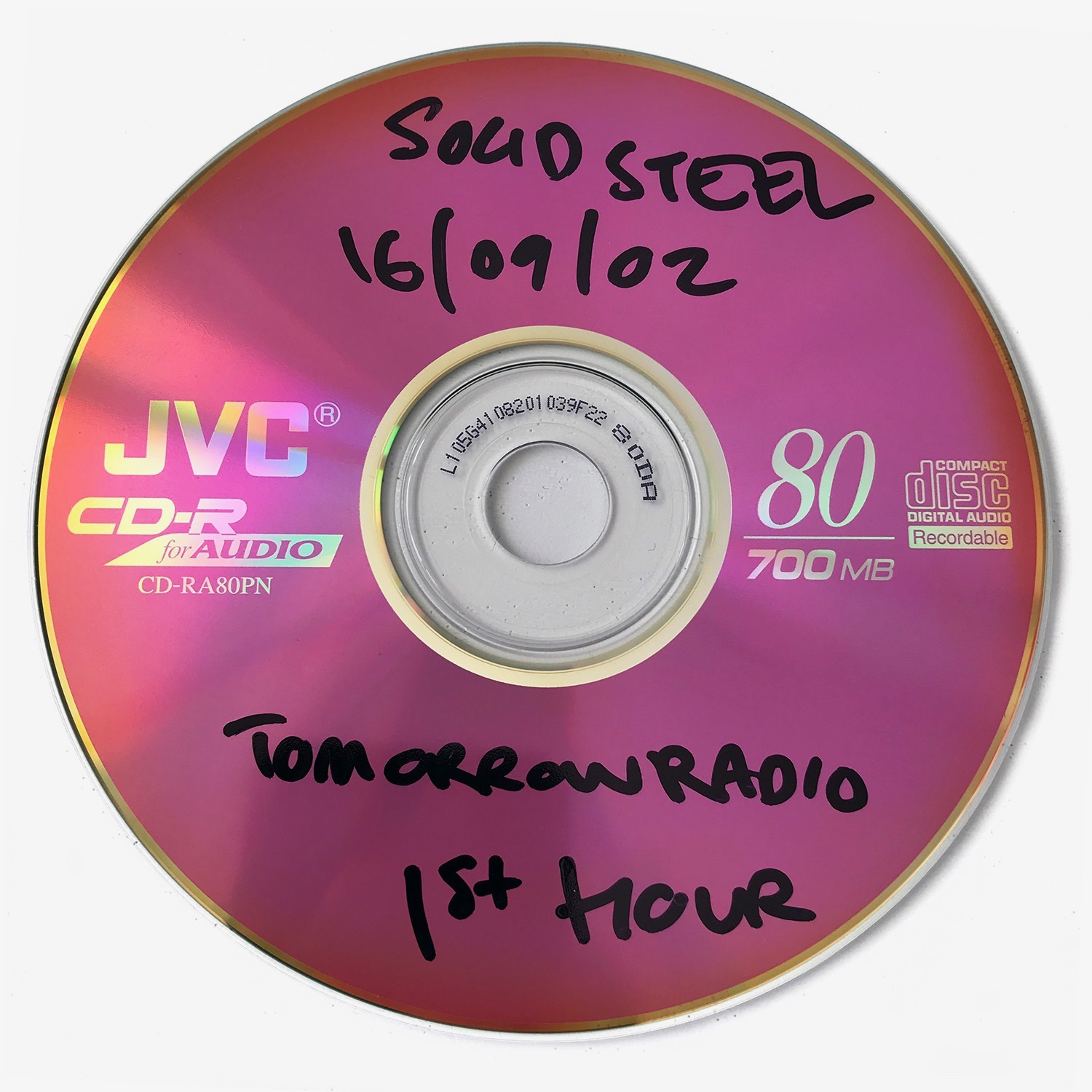 Tomorrow Radio is the name of an amazing LP by the advertising group, TM Productions Inc. I found it in the States one time on tour and the whole album is an audio play based on a fictitious radio station showcasing what the production company can do for your station in the way of ads, jingles and suchlike. Samples from the album feature throughout the mix and it's worth checking out if you find a copy as there's a very dodgy 'advert' nestled in there which wouldn't pass in today's world. This is a Solid Steel set from nearly 20 years ago, a time when I was very prolific on the show and getting more into making densely layered mixes.
Anyway, let's get to it, an excellent Four Tet remix opener as he takes on Blue States, the Sinewave track I'd completely forgotten though. He was a Canadian drum & Bass artist who is mixed over the Four Tet remix, the track comes from his debut album, 'Interplanterary Ridicule'. The P Brothers work over The Herbaliser and Blade in their unique style, love the way they put his vocal through an Echoplex, not enough delay in hip hop, not since 'Beat Bop' anyway. RJD2's 'Let The Good Times Roll' still sounds as rough and ready as it always did, he seemed to just appear fully formed and slot straight into the scene at the time before moving off into other areas. Dennis Coffey's classic, 'Scorpio' flows nicely out of it and under LCD Soundsystem's debut 'Losing My Edge', one of my favourite tracks of the decade – absolutely timeless, still makes the hairs on my neck stand up. 'Scorpio' needs a fair amount of pushing and pulling to keep in time but it's just about there.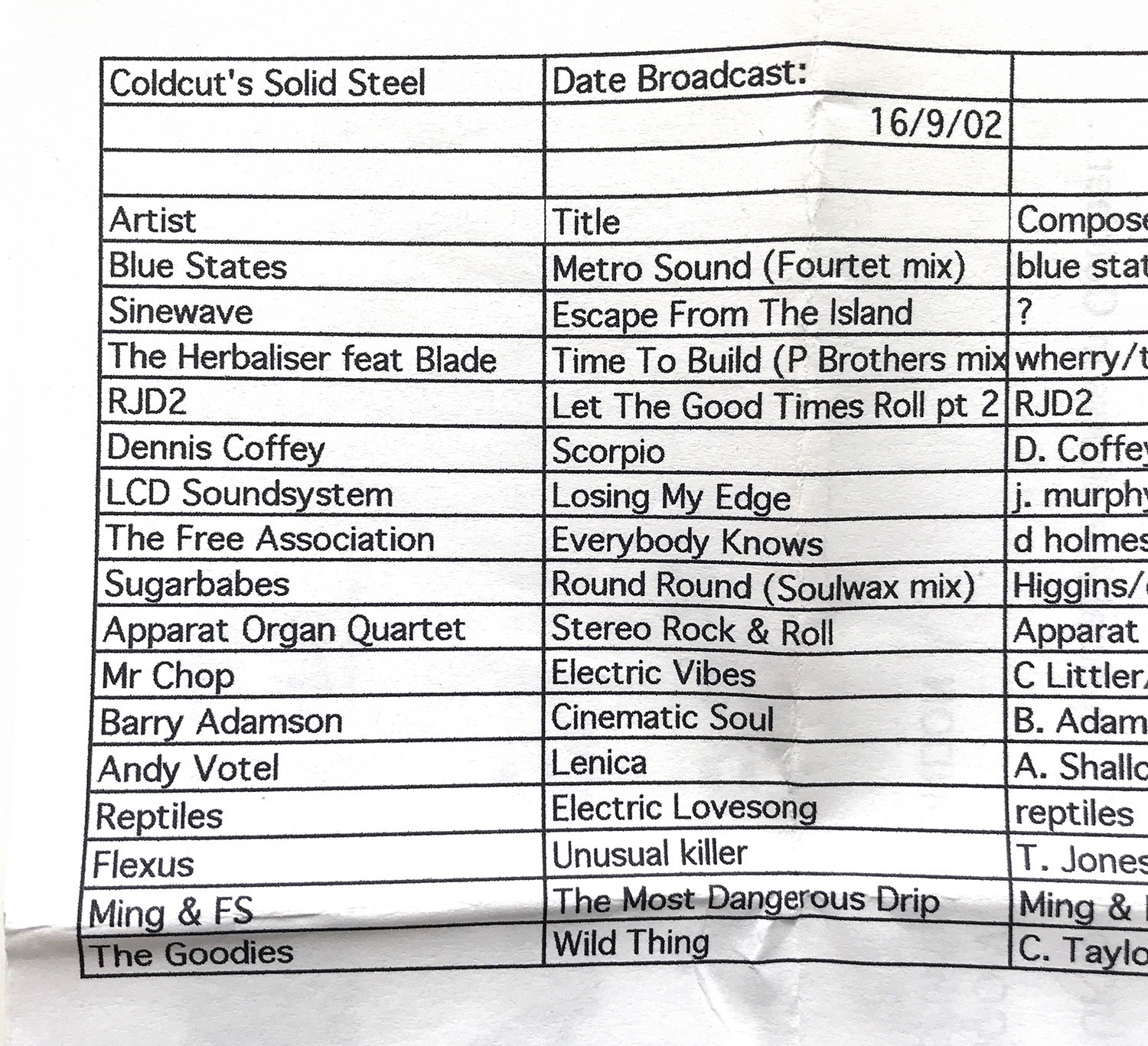 The Free Association liberally take from Johnny Jones and the King Casuals' version of 'Purple Haze' on 'Everybody Knows' – this was an instrumental before the vocal version I think. I always hoped Holmes and co. would do more with this alias but he had bigger fish to fry in Hollywood. Soulwax's excellent remix of The Sugarbabes slotted right in, you can hear the Electroclash scene working into the mix here. Apparat Organ Quartet put out a curious 7" on David Holmes' 13 Amp label and I had to look them up to see what else they'd done. A CD single on Duophonic Super 45s and two albums it seems. Johann Jonhannsson was also part of the group early on as well it says on Discogs but had to leave because of solo projects. I think I first heard of Mr Chop via his releases on the Jazzman offshoot label, Stark Reality and he'd later go on to record for Jazz & Milk, Now-Again and Five Day Weekend. I love Barry Adamson, he has the kind of voice I can always listen to and he's in hamming it up pop mode here, I'd love to do something with him one day, almost remixed him a few years back but the stars didn't align. A rare case of an artist adding their child to a record and it not being cringe-worthy.
Always have time for Andy Votel's work, whether graphic or sonic, 'Lenica' was a promo-only release at the time (big sample I think) which showcases his wonky production style to perfection. Nice little delay mix into it and odd Tomorrow Radio insert in the middle, I must have added that later in the edit as a lot of this mix seems live. I would record a pass on decks (all vinyl, no Serato yet) with a delay pedal and then tidy up stuff and overdub spoken word sections in Cubase afterwards. Early Reptiles release from their debut 7" on Jazz Fudge offshoot Electro Caramel (only four releases) with vocals from Juice 126 and Remi/Rough who is still one of the hardest working men in the game. Ah, the Bug/Tom Jones mash up I made under my Flexus alias (there's an album's worth of these peppered throughout Solid Steel mixes). I played this at the Supersonic festival in Birmingham when I appeared the next year with The Bug, LCD Soundsystem and Coil among others, in fact I think Coil were playing their Time Machines set outside while I was inside, they were probably well pissed off as the sound leaked like buggery. Ming & FS were super-prolific around the late 90s and 00s and 'The Most Dangerous Drip' comes from the Subway Series on OM Records. I've no idea why The Goodies' version of 'Wild Thing' finishes the set off here but I have a soft spot for their uniquely British silliness.
Track list:
TM Productions Inc. – Tomorrow Radio intro
Blue States – Metro Sound (Four Tet mix)
Sinewave – Escape From The Island
The Herbaliser feat Blade – Time To Build (P Brothers mix)
RJD2 – Let The Good Times Roll pt 2
Dennis Coffey – Scorpio
LCD Soundsystem – Losing My Edge
The Free Association – Everybody Knows
Sugarbabes – Round Round (Soulwax mix)
Apparat Organ Quartet – Stereo Rock & Roll
Mr Chop – Electric Vibes
Barry Adamson – Cinematic Soul
Andy Votel – Lenica
Reptiles – Electriclovesong
Flexus – Unusual killer
Ming & FS – The Most Dangerous Drip
The Goodies – Wild Thing
TM Productions Inc. – Tomorrow Radio outro