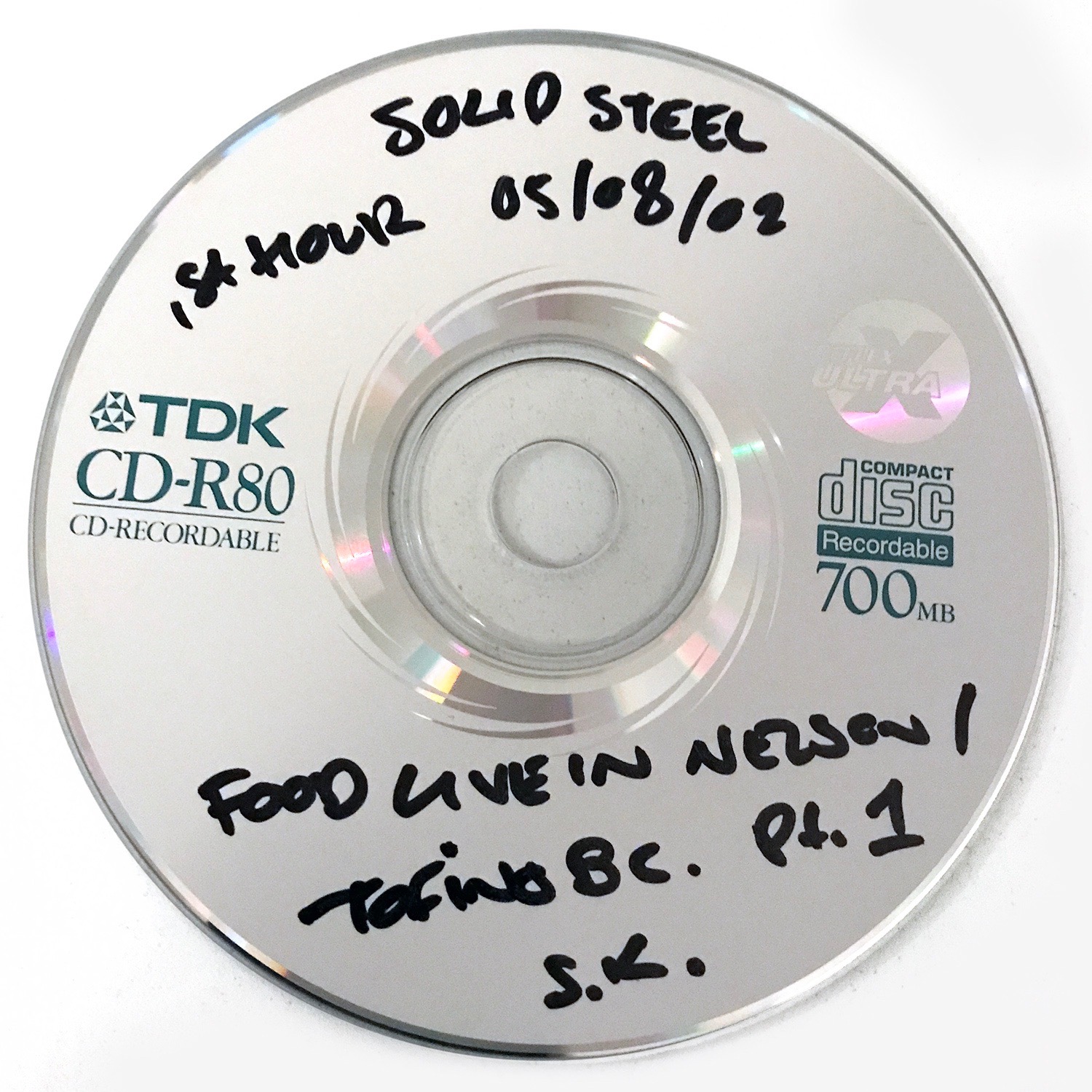 Not too much to say about this set, it does what it says on the tin, a live DJ mix from a couple of dates in the lesser-known reaches of Canada, Nelson and Tofino. I think it was for Nelson that I had to fly in a tiny plane to get to the town as it was in the mountains. Sometimes the smaller gigs are the best ones though, towns that don't always get people coming through party harder than most when they do and I have good memories of these two.
Drum n Bass, hip hop, RnB, 2 Step and a dash of funk at the end best describes this party set. I'm not sure at which point the Nelson set becomes the Tofino one but there's a part 2 up next week…
Many tracks don't need an intro here, Zinc's 'Reach Out' Remix is a classic, PC's 'Mirror In The Bathroom / Square Off' mix had been heard the year before on our Now, Listen Solid Steel mix and he'd been doing it for years before that. I'm replicating it here as best I can, still learning the intricacies of when The Beat speed up and slow down to keep the tracks in time. The Bubba Sparxxx 'Ugly' remix was one of many at the time pairing RnB pop tracks with slamming Drum N Bass, I've got a ton of them, Britney, Beyonce, Christina, all way better than the originals too.
Tali's 'Lyric On My Lip' was her first release on Full Cycle and DJ Suv went for the shuffle beat so popular with the Brazilian style of DnB doing the rounds and this time. Popularized my DJ Marky and the next track, Shy FX & T Power's excellent 'Shake Your Body', this bought the much needed swing and funk back into the genre after years of dark tech step. Cujo – aka Amon Tobin – fits in with the cheekiness of 'The Sequel' before another classic, 'Body Rock' does that swing thing ever harder.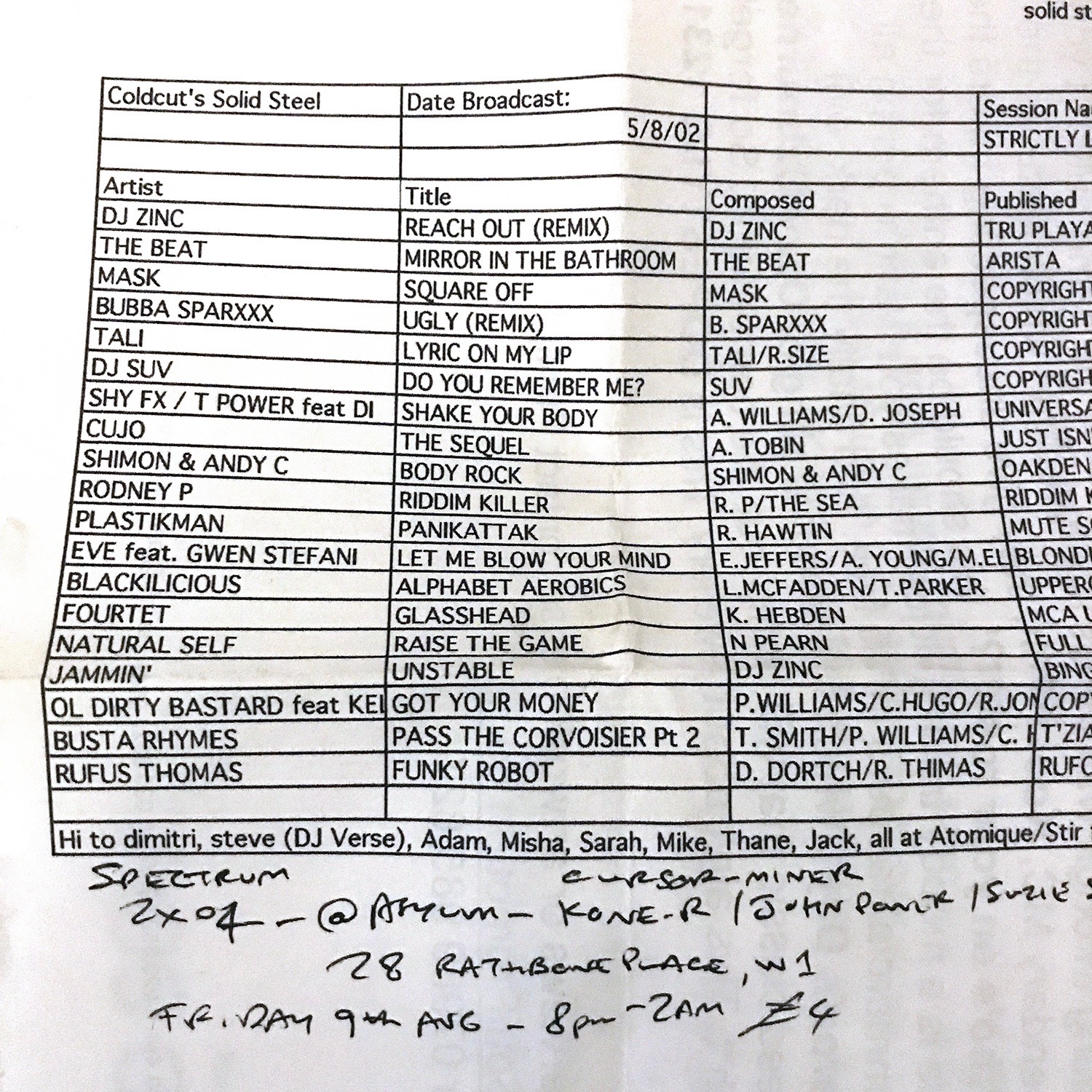 The acappella of Rodney P's 'Riddim Killer' precedes the actual full track, not sure what I was thinking there, might have been stuck for a next track and had to improvise quick. A switch down in tempo to half time and a mix I used to do a lot around this time – Ritchie Hawtin as Plaskitman's 'Panikattak' rolling under Eve's 'Let Me Blow Your Mind'. I was loving the RnB hip hop pop a lot around this time as the Neptunes and Timbaland seemed to have an endless supply of amazing collaborations every month as you can hear later on.
Another section from the Now, Listen mix is recreated in the Blackalicious / Four Tet sequence and into Natural Self – another Tru Thoughts artist, who I'd collaborate with years later – with the Ramsey Lewis-sampling 'Raise The Game'. Running Jammin's 'Unstable' into this for quite so long probably wasn't such a good idea but I couldn't get enough of this DJ Zinc track and – after a rap track I can't identify – it winds down nicely into the end section with two of the aforementioned Neptunes productions. What were those guys on at the start of the decade? No one could touch them, they seemed to throw this stuff out with the barest of elements in the immaculate mix, bringing the funk without the samples. We end with the 'Funky Robot', one of Rufus Thomas' many records about dances, although he doesn't exactly tell us how to do it, just that it's the latest thing and better than all the other dances.
* Shout out to John Power and the Spectrum/Kinky Voodoo crew who held nights at the underground 'club' on Rathbone Place that housed the Bastard club.
Track list:
DJ ZINC – REACH OUT (REMIX)
THE BEAT – MIRROR IN THE BATHROOM
MASK – SQUARE OFF
BUBBA SPARXXX – UGLY (REMIX)
TALI – LYRIC ON MY LIP
DJ SUV – DO YOU REMEMBER ME?
SHY FX / T POWER feat DI – SHAKE YOUR BODY
CUJO – THE SEQUEL
SHIMON & ANDY C – BODY ROCK
RODNEY P – RIDDIM KILLER
PLASTIKMAN – PANIKATTAK
EVE feat. GWEN STEFANI – LET ME BLOW YOUR MIND
BLACKILICIOUS – ALPHABET AEROBICS
FOUR TET – GLASSHEAD
NATURAL SELF – RAISE THE GAME
JAMMIN' – UNSTABLE
OL DIRTY BASTARD feat KELIS – GOT YOUR MONEY
BUSTA RHYMES – PASS THE COURVOISIER Pt 2
RUFUS THOMAS – FUNKY ROBOT