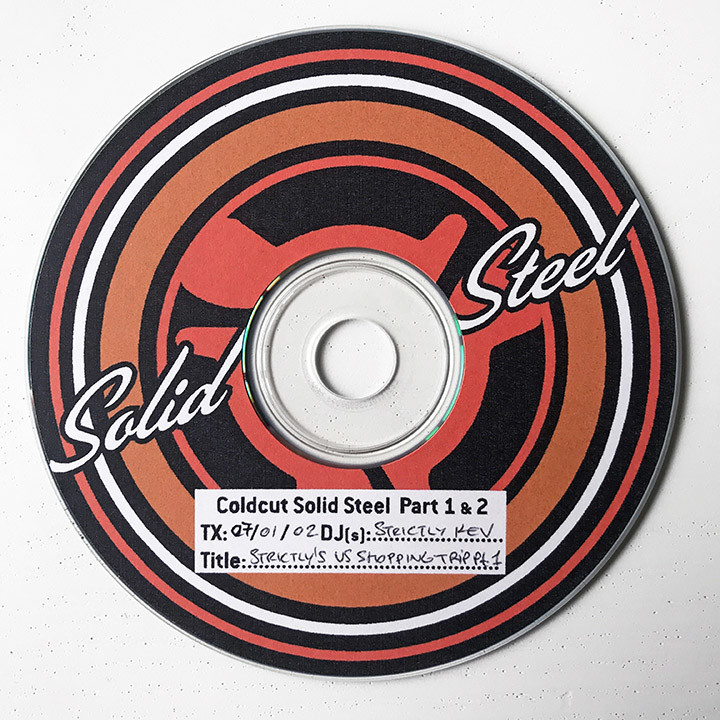 Prompted by a message from Martin (kudrnacek79) who was looking for a track ID from this set I dug it out and the memories flooded back. Above is a home made CD label version of the mix, below is one of the official CDs made for licensees of the radio show back in the 00s.
We began the new year in 2002 with a stonker of a show on Solid Steel, comprising the best vinyl finds of a recent tour to the States and Canada. Food & DK's 'Solid Steel: Now, Listen' was released in September 2001 and Darren and I embarked on a trip stateside in November, accompanied by Bonobo and Kieran Hebden who, although not on Ninja Tune, had just released his 'Pause' LP on Domino and was looking to tour. Everyone hit it off immediately and it soon became obvious that record shopping was the order of the day during downtime. Several spots still linger in the memory – The Princeton Record Exchange (pictured below), a store in a mall in Ottawa whose name I forget and Bop Street in Seattle. This last store has two big rooms, the owner's private office with the pickings for eBay and a huge basement that runs under the shop and next doors' too, full of thousands of records.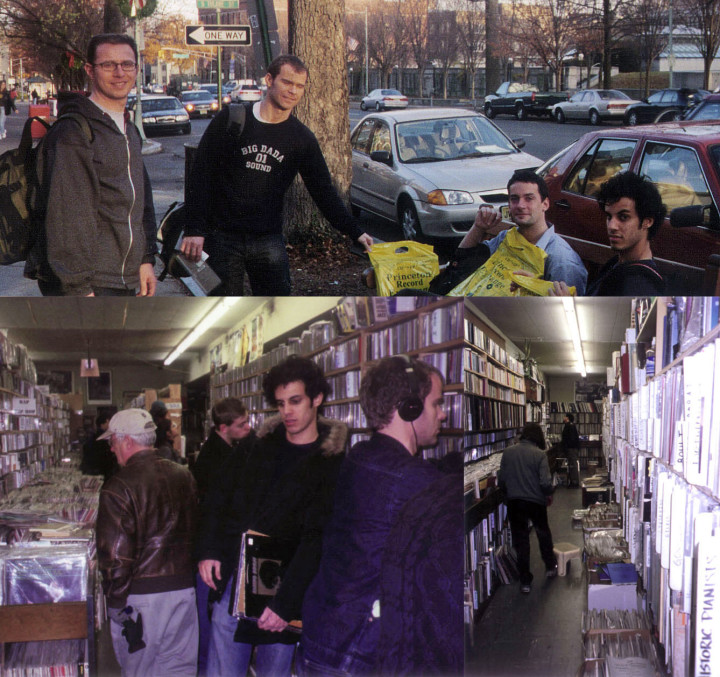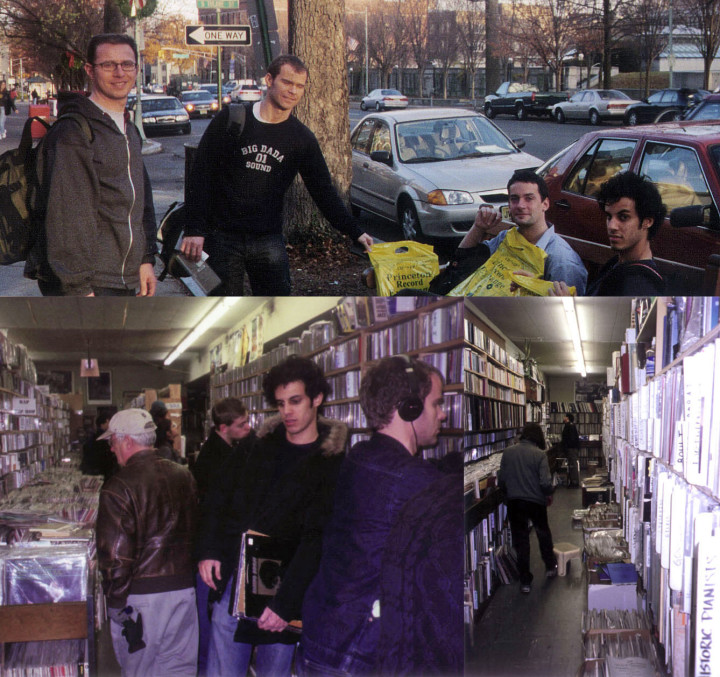 On returning to the UK, we all agreed we should commemorate the occasion with something on the show as soon as possible. The brief was simple: make a 30 minute mix of the best records you bought on the tour and come into the studio to present your section. I'm not going to lie, I was seriously trying to impress and pulled out all the stops for this set going to extra lengths to chop, scratch, re-edit and overdub tracks and make it as exciting as possible with the records I had.
Kicking things off with an answerphone message from Dom Smith, a Ninja employee who later went on manage Flying Lotus and join the Cinematic Orchestra, I think there was a party going on and they needed more content but it's a hazy memory. A Busta Rhymes/Queen mash up over the Solid Steel theme (remember this was 2002, it was all going off for bootlegs around then) leads into a host of funky rock breaks, Beatles and Led Zep cover versions, jazz, spoken word and… Britney Spears. Now there had been a thing for Britney during the tour as 'Slave 4 U' was just out – produced by The Neptunes on a roll at the time – and three of the four of us bought copies (for the instrumental you understand).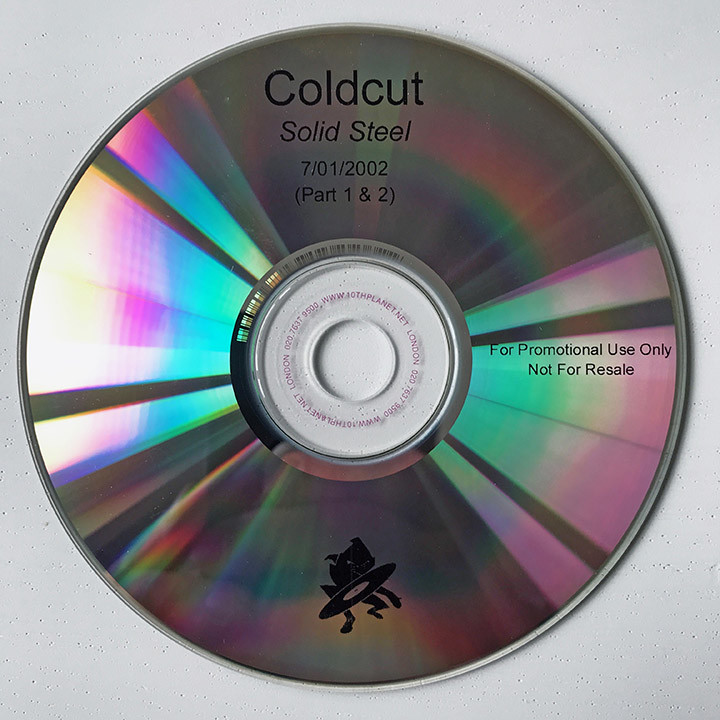 Kieran had hipped me to several of the original sources for his classic 'Glasshead' track which we'd featured in our set each night and I rather ham-fistedly strung them together. Shopping still involved hoovering up jazz, electronics, soundtracks, spoken word (I finally managed to score a copy of Ken Nordine & Robert Shure's 'Twink' on this trip) and dipping my toe into funky rock. Aynsley Dunbar was picked up because of the Frank Zappa connection and contains the excellent 'Watch n Chain' and the Fred Astaire LP was bought for a feature by Ken Nordine but contains this little skit on the beat. We were still all about buying vinyl for beats both to sample and play out and you can hear that The Fast Show's 'Jazz Club' had debuted in British TV by the inclusion of a sketch mid-mix taking samples from it, "nice!".
The Bill Cosby had been on the wants list for a while and I tracked down a copy in Seattle at Bop Street – the whole album is Bill doing skits on different drugs with a very odd cover where his head appears to be pasted on to the photo. "Oh, that's a thunderous break, a beautiful break!" it cries in the middle which was pulled from The Crepitation Contest LP which is basically a farting contest on vinyl. Listening back to this mix it encapsulates part of what Solid Steel was always about for me, aside from showcasing the latest tunes it was also about digging and chopping things up to make new forms, sprinkled with humour and nods to other records or scenes. Lord knows how long I spent on this 30 minutes but I had more time in those days, pre-kids and with the downloading downturn of the music industry not yet making itself felt.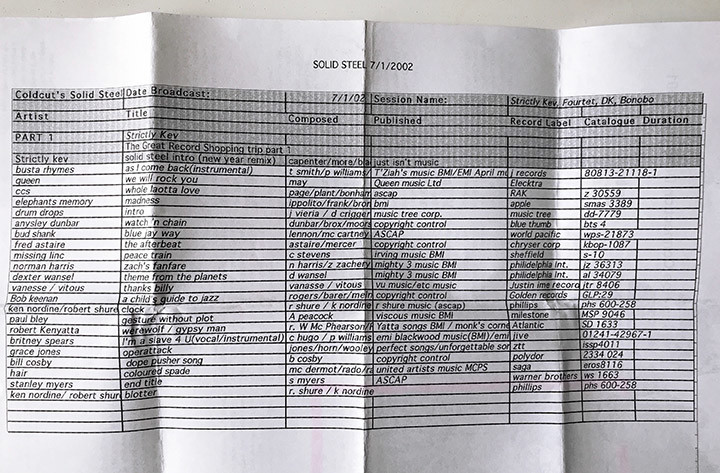 Given that this was the great tour where we shipped kilos of records back to the UK mid-tour (detailed in part in Stevie Chick's Ninja Tune history book) and we only had 30 minutes to play with here I had loads more records to plunder so next week's upload will be an hour long part 2 of the shopping trip.
Tracklist:
Strictly Kev – Solid Steel intro (new year remix)
Busta Rhymes – As I Come Back (instr.)
Queen – We Will Rock You
CCS – Whole Lotta Love
Elephants Memory – Madness
Drum Drops – Intro
Aynsley Dunbar – Watch 'n Chain
Bud Shank – Blue Jay Way
Fred Astaire – The Afterbeat
Lincoln Mayorga – Peace Train
Norman Harris – Zach's Fanfare
Dexter Wansel. – Theme from the Planets
Jean Vanesse / Miroslav Vitous – Thanks Billy
Bob Keenan – A Child's Guide to Jazz
Ken Nordine/Robert Shure    – Clock
Paul Bley – Gesture Without Plot
Robert Kenyatta – Werewolf / Gypsy Man
Britney Spears – I'm A Slave 4 U
Grace Jones    – Operattack
Bill Cosby – Dope Pusher Song
Hair – Coloured Spade
Stanley Myers – End Title
Ken Nordine/ Robert Shure – Blotter