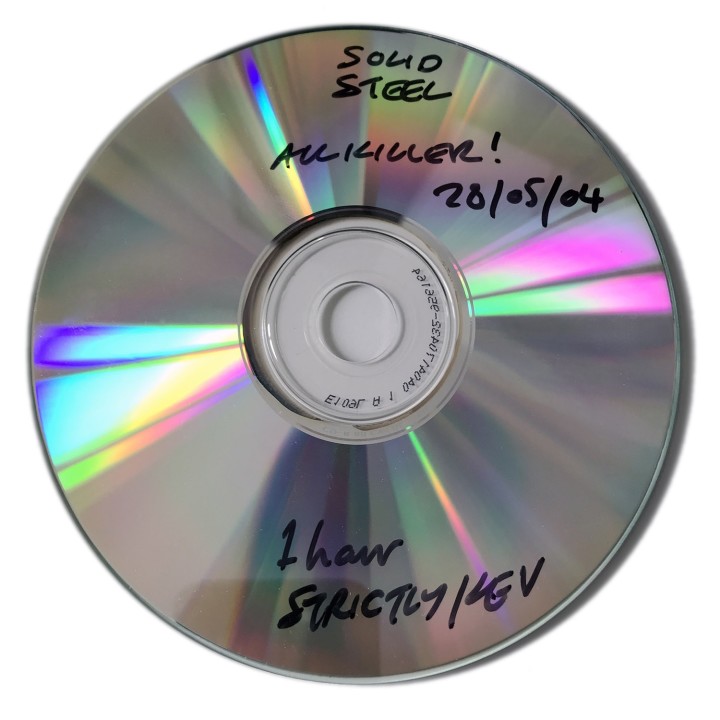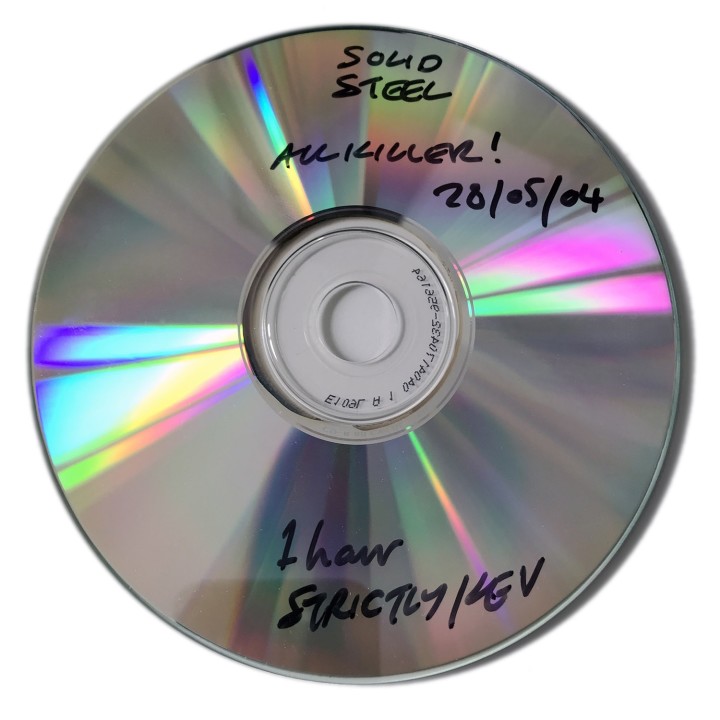 This week's upload is the 2nd version of a mix, the first of which didn't make the grade because I felt it wasn't good enough, this happened sometimes during the years when we could pre-record and edit at home. Most of the first half of this has elements of my DJ box at the time including a routine with the Spiritual South remix of Max Sedgley's 'Happy' with acappella's by the Beastie Boys and Ty overlaid. After an intro by another competition entry by Strikes it launches in an unexpected Theme From Happy Days paired with various cuts from David Shire's 'The Taking of Pelham 123' aka one of the greatest soundtracks ever recorded.
The keen-eared will spot the connection here as Sedgley's 'Happy' enters the mix – the original samples said soundtrack and the Happy Days theme refers to the title – still not sure if it was a good idea but I probably thought it was hilarious in its wrongness at the time. The Spiritual South mix plays out and was always a really exciting one to play out as the increasing tempo changes add that spice in the club and the singalong acappellas push it into carnival territory – RIP Ty. More uptempo breaks follow in the 160bpm area by the end with DJ Zinc, Skalpel and First Born's excellent Northern Soul-esque 'The Mood Club' parts 1 & 2. This excellent 7" has another great tempo changer of a mix, this time slowing down before speeding back up, always fun.
To my surprise, sandwiched in-between these two is The Jam's 'Funeral Pyre', probably my favourite song by the trio, mainly for Rick Buckler's incredible drums and it slides quite nicely in. Then back to the acappella's with PWEI over RJD2, a snatch of 'The Message', a current Breakestra tune and Jane's Addiction's 'Been Caught Stealing' which would later turn up on DK and I's 'Now, Listen Again' mix CD three years later. There really was little rhyme or reason to this selection, some of the tracks were evidently current releases but mixed up with old favourites in a party style. One that really stands out for me is The P Brothers with Cappo – their loping, almost slo-mo disco beat with that metallic noise just kills me. What is it? Some metallic Gang of Four bass guitar or weird percussion sample ? Whatever, I love it and Cappo's flow over the rhythm surely marks this as one of the more progressive hip hop collabs of the time.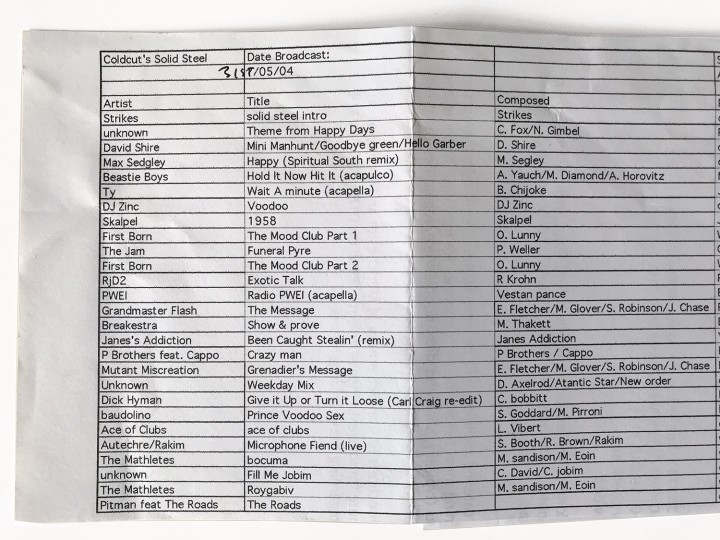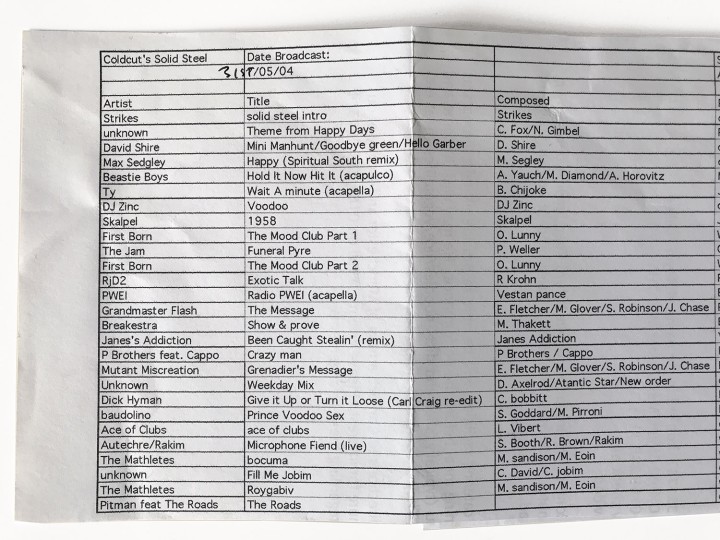 After this we get into a reconstructed version of the mix that got trashed before with a slew of mash ups, odd cover versions or just plain wrongness that should bring a smile at least. It's amazing how an edit, losing a track here and there and a reshuffle can make something a lot better and that's what it's all about as a selector, where you place something can make all the difference. I have no idea who attempted the mix 'Blue Monday', 'Holy Thursday' and 'Saturday Love' together but it works in places even if the quality is terrible. Ace of Clubs was Luke Vibert under yet another pseudonym and Autechre's polyrhythmic collision with the acappella of Eric B & Rakim's 'Microphone Fiend' was taken from a live performance. It's worth it for the drop into the vocal and the unexpected turn it takes.
Two very early covers of Boards of Canada by a band called The Mathletes follow but I have no idea where I got these from, probably downloaded from the web. What follows was probably ill-advised but could form an earworm if you're not careful, you have been warned. The final track always makes me laugh as Pitman takes a spot on satirical swipe at The Streets on his Soot FM radio show.
* Dates on the CDR refer to when the mixes were recorded, the PRS sheet says 28th, Solid Steel.net says 31st.
Track list:
Strikes – Solid Steel intro
Pratt & McClain – Theme from Happy Days
David Shire – Mini Manhunt / Goodbye Green / Hello Garber
Max Sedgley – Happy (Spiritual South remix)
Beastie Boys – Hold It Now, Hit It (acapulco)
Ty – Wait A Minute (acapella)
DJ Zinc – Voodoo
Skalpel -1958
First Born – The Mood Club Part 1
The Jam – Funeral Pyre
First Born – The Mood Club Part 2
RjD2 – Exotic Talk
PWEI – Radio PWEI (acappella)
Grandmaster Flash & The Furious Five – The Message
Breakestra – Show & prove
Janes's Addiction – Been Caught Stealin' (remix)
P Brothers feat. Cappo – Crazy Man
Mutant Miscreation – Grenadier's Message
Unknown – Weekday Mix
Dick Hyman – Give it Up Or Turn iIt Loose (Carl Craig re-edit)
Baudolino  – Prince Voodoo Sex
Ace of Clubs – Ace of Clubs
Autechre / Rakim – Microphone Fiend (live)
The Mathletes – Bocuma
Unknown – Fill Me Jobim
The Mathletes – Roygabiv
Pitman feat. The Roads – Live on Soot FM