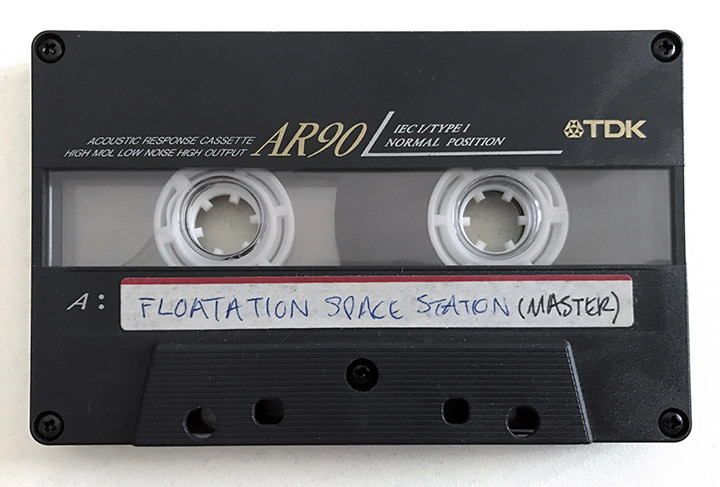 Track notes:
As I recall (although the memory is vague) this mix was created for a Floatation Centre in Brixton called Aquatonics, they had one in Notting Hill as well apparently. I was approached by the guy who ran it (Mark, maybe?) who wanted a mix of continuous ambient music and sounds to play to his customers that would aid their floatation trips. This was whilst I was working at the Ambient Soho record shop on Berwick St. in London and it's possible he came into the shop to enquire. I certainly remember designing an A5 flyer that gave you £2 off your first float that we would hand out in the shop, part of which forms the inlay for this tape.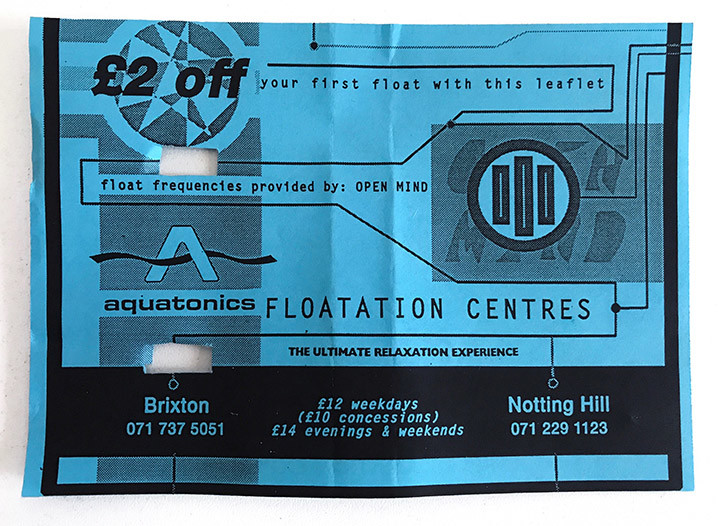 The selection is a pretty good representation of what we were playing at the Telepathic Fish parties at the time: The Orb, The Irresistible Force, FSOL, the Fax label, Global Communication, bits of This Mortal Coil, Cocteau Twins, Eno, even Grace Jones, U2 and Frankie Goes To Hollywood crept in as my meagre student budget demanded that any corner of the collection was game.
Recorded live on two turntables and a basic CD player with no pitch control direct to this cassette in the house I shared with fellow Openmind associates David Vallade, Mario Aguera and Chantal Passamonte (later Mira Calix). There are some moments that make me cringe at their out of tune-ness but mixing in key was something only Mixmaster Morris did back then, I was still very much learning my craft after years of playing hip hop and party music. I never went for a float so have no idea how this went down but they asked for a follow up mix which will appear sometime in the future no doubt. The B side of this tape, 'Daydreaming At Night', follows next week.
Track list:
DJ Spike – Outer Land (Part One)
Sequential – The Mission (Live From The Outer Zone)
The Orb – The Blue Room
S'Xpress – Coma
The KLF – Justified And Ancient Seems A Long Time Ago
Sven Vath – Drifting Like Whales In The Darkness
The Shamen – Re:Evolution (Accapella Vox)
The KLF – Madrugrada Eterna
This Mortal Coil – Tarantula
Clytus Gottwald & Stuttgart Schola Cantorum – Lux Aeterna
John Barry – Theme From The Deep
Yellow Magic Orchestra – Tong Poo (The Orb House Of Bright Colours Mix)
Unknown – Unknown
Brian Eno – Tal Coat
The Shamen – Re:Evolution (Accapella Vox)
Blue Pearl – Mother Dawn (Orb Bucketeer Mix 2)
The Irresistible Force – Mountain High (live)
Mystic Institute – Ob-Selon Mi-Nos (Repainted By Global Communication)
The Shamen – Re:Evolution (Accapella Vox)