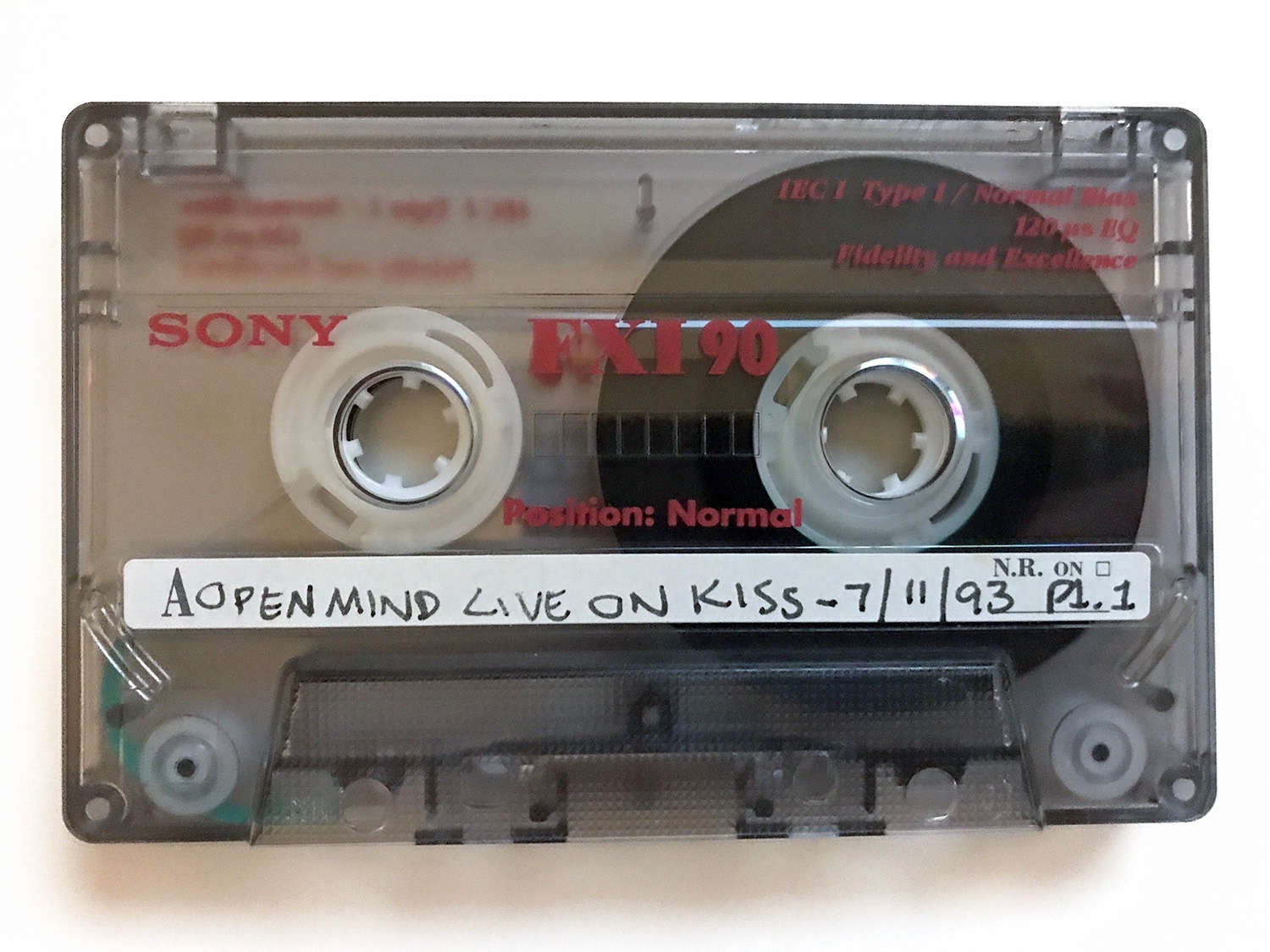 This was mixed totally live on air via 3 decks and a CD player (the old rack mounted ones) with a few Coldcut jingles being thrown in off of 8 track-style carts by Matt Black (Jon wasn't in the studio for this session). The third of the Openmind sets on Solid Steel, I took the second hour after Mario Aguera and kicked off with an Albert Hoffman monologue, borrowed from Mixmaster Morris who had the 50th anniversary of LSD album that it's taken from. As can be heard throughout I was mixing indie rock ambience in with the electronic kind as student funds were tight and I was still digging around in bargain bins at places like Cheapo Cheapo's, occasionally unearthing a Roedelius or Bill Nelson album. Also on a huge 4AD kick around this time and hoovering up Cocteau Twins, Dead Can Dance and This Mortal Coil albums which fitted into the mix but have since become forgotten in the history of things around this time, as has dub.
I wasn't quite earning enough or on enough promo lists to have all the latest Warp and R&S releases yet so there's an element of making do with the little you have, but limits can sometimes be good and foster more creative results. Sylvian & Fripp's sole collaborative album had just been released and 'Bringing Down The Light' was the Frippertronics piece on it, getting plenty of play around this time. I also slipped in a little 808 State sample from 'Open Your Mind' as an ID of sorts for us. Klaus Schultze and David Sylvian's ambient releases got tons of play for their drifting openness and were constant mix tools. Leonard Nimoy reading 'Quequeg and I' was from a spoken word album about whales. Bill Nelson was one of those artists that was always on the periphery of loads of scenes but never quite got the attention others like Eno did, his albums around this time are full of weird and wonderful experiments and worth a revisit. Voyager was an alias of Moody Boyz' Tony Thorpe and 'Arrival' is a 20 minute ambient piece only available on the CD single of the release – another ambient mix staple as you can fly it in and out anywhere without disrupting the flow.
The opener to Orbital's second album was always good to float over a mix and I've taken the trouble to correct something that's always annoyed me with this mix since it was done. The Cocteau Twins always came in way too loud and kind of jolts in the mood of the mix so I've turned it down. I've also joined two sections as there was a tape turn over moment during Eno's 'An Ending (Ascent)', a track that became almost a cliché in ambient sets around this time due to its ubiquity. Senser's 'The Key (The Other Side Mix)' was totally out of character for a band mixing rock and rap in the same manner as PWEI or Asian Dub Foundation. Playing out the B side of the single it was remixed by Club Dog's Micheal Dog, dragging the band into a brief tangle with ambient, one that I don't think they ever repeated. Pedro & Man where basically Cheech & Chong, a scene from Up In Smoke and, I only just realised, drops the phrase 'motherfucker' if you listen carefully. Schultze appears again and Eno for the first of two appearances before one of Youth's epic dub remixes of The Sugarcubes' 'Vitamin' lumbers into view. This was an age of indie groups getting dance remixes on 12"s, no doubt from the fall out of records like Screamadelica, a practice that would continue for most of the 90s as dance music culture grew and grew.
Eon's 'Spice' 12" contained a lock groove at the end which I used to transfer from an ambient wash to a 133bpm groove so that the Psychic Warriors Ov Gaia's 'Exit 23' could enter the fray. This was a big tune at the time and actually originated in 1989 on their first release, being remixed into the monster groove that it was in 1993, securing their place in the ambient scene. Diving back into the indie scene, Cranes had J.G. Thirlwell remix their 'Clear' single and the B side was a remix by Ivo Watts-Russel and John Fryer – basically a form of This Mortal Coil – I always thought the voice was way too high pitched but changing the speed just made her sound like a man. S'express' 'C.O.M.A.' (not to be confused with 'C.O.M.A. II' on the album) was given away free on a 7" with Record Mirror around the end of the 80s and I always used to mix it over things back then, being just respirator breathing and sonar pings.
The set ends with a glimpse of what was to come in '94 – elements of trip hop but from the US rather than the UK. Cypress Hill's weed-extolling 'Hits From The Bong' and Justin Warfield's acid LP opener, 'Introduction by Ellis Dee'. I'd kept my eye on what was going on in hip hop and most of what interested me was on the fringes as most of the rest of that world dived into gangsterism following NWA and Ice T's successes. Little did we know that Mo Wax were about to release DJ Shadow's 'In/Flux' in the weeks after this show aired which would set a whole new scene in motion. I dearly love this mix, it evokes a certain time when I had just left college, was finding my way into the music scene, still putting on parties with friends but soon start to DJ more regularly with Coldcut, design for Ninja Tune and start producing and playing as part of DJ Food. But that was all yet to come…
Track list:
Albert Hoffman – Lysergic Acid Diethylamide
David Sylvian & Robert Fripp – Bringing Down the Light
808 State – 'Open Your Mind' sample
Klaus Schulze – Bayreuth Return
David Sylvian & Holger Czukay – Plight & Premonition
Leonard Nimoy – Quequeg and I
Bill Nelson – Calling Heaven, Calling Heaven, Over
This Mortal Coil – Andialu
Voyager – Arrival
Unknown (phasing up and down)
Orbital – Time Becomes
Cocteau Twins – Oomingmak
Senser – The Key (The Other Side Mix)
Pedro & Man – 1st Gear, 2nd Gear
This Mortal Coil – Late Night
Klaus Schulze – Bayreuth Return
Brian Eno – An Ending (Ascent)
The Sugarcubes – Vitamin (Decline Of Rome Pt.II) check
Dead Can Dance – The Spider's Stratagem
Eon – Spice (locked groove)
Psychic Warriors Ov Gaia – Exit 23 (Source)
Brian Eno – Alternative 3
Cranes – Cloudless (Thais mix)
S'express – C.O.M.A.
Cypress Hill – Hits From The Bong
Justin Warfield – Introduction by Ellis Dee