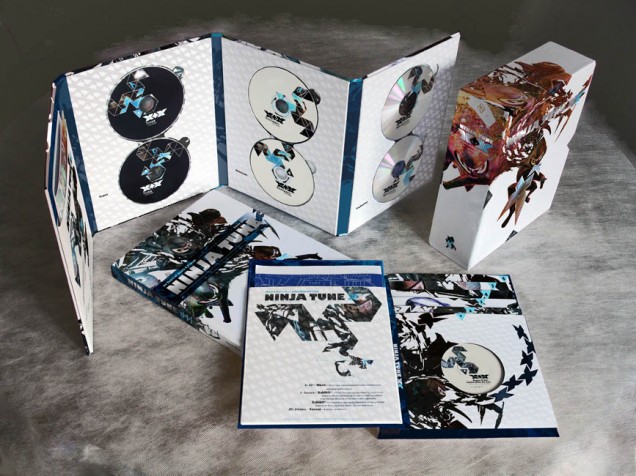 This has been consuming my time for the last 6 to 8 months – mainly the book but recently the box set and all its contents.
The set includes 3 hardback books: one is an exclusive hardback edition of the forthcoming Ninja Tune – 20 Years of Beats & Pieces book by Stevie Chick, published by Black Dog Publishing and designed by yours truly.
The second houses 6 CDs – 2 of them only available in this set, with 90% new and exclusive material specially made for this compilation. There is also a large format 24 pg booklet with a download code for a 7th CD's worth of material (I can't say what it is yet but it's excellent).
The third book contains six 7″ singles with exclusive material not on the CDs, two posters – a Ninja family tree by Nigel Peake and a complete cover gallery by me – and 20 stickers. All this is housed in a heavy slipcase with foil blocking.
Go to the Ninjashop to pre-order at a limited cheaper price until July 8th and see the full tracklist. I'm pretty excited to hear these:
Big Dada Sound 'Signs' *
Eric B & Rakim 'Paid In Full' (Switch meets Coldcut Remix) *
Diplo 'Summers Gonna Hurt You' (Diplo 2010 Remix) *
Quincy & Xen Cuts Allstars 'I Hear The Drummer' (Tunng edit) *
DJ Vadim 'Terrorist' (Gaslamp Computer Killer Remix) *
Roots Manuva 'Witness' (Slugabed Remix) *
The Bug 'Skeng' (Autechre Remix) *
King Cannibal 'The Grind & Crawl' *
Coldcut 'Autumn Leaves' (2010 Budapest Mix) *
Coldcut 'True Skool' (Zomby Remix) *
Clifford Gilberto 'Deliver The Weird' (Dorian Concept Remix) *
The Bug 'Poison Dart' (Prefuse 73 Broke Moog Version) *
Roots Manuva 'Witness' (Modeselektor Remix) *
Roots Manuva 'Join The Dots' (Cut Chemist Remix) *
Kid Koala '3 Bit Blues' *
Pop Levi 'Blue Honey' (Amorphous Androgenous Remix Edit) *
Coldcut & Hexstatic 'Timber' (The Orb Remix) *
DJ Kentaro 'Paid In Full' *
DJ Food 'African Rhythms' (Tom Middleton Remix) *
DJ Food 'Dark Lady' (808 State Remix) *
Herbaliser 'Something Wicked' (Roots Manuva Dub)
Two Fingers 'Bad Girl' (The Bug Dub) *
DJ Vadim 'Bang it Out' *
Wagon Christ 'Sloth Gets Paid' *