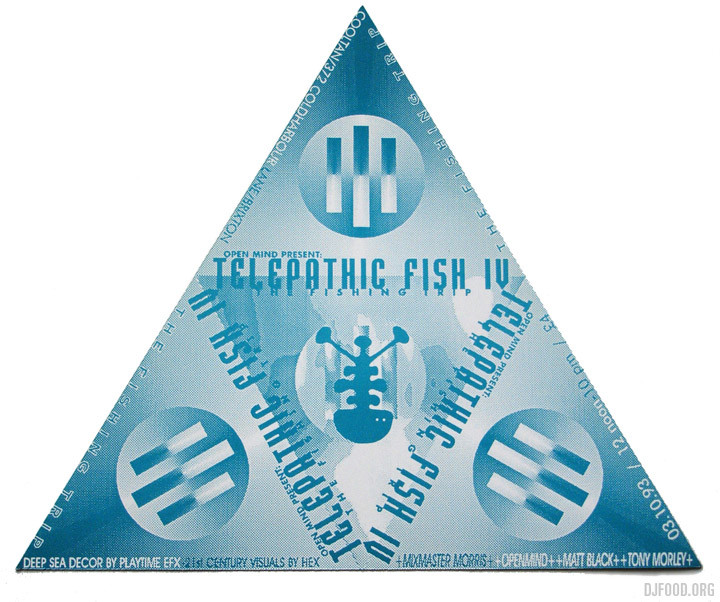 I was asked by the m.cast website to write some background history on a mix I did for Solid Steel with old friend Mario Aguera under the Openmind DJs name back in 1994 (this was before I became part of DJ Food or had been given the Strictly Kev moniker). Here's a little slice of London ambient history as I remember it:
Openmind originated at 102 Tintagel Crecsent in East Dulwich, South East London around late 1992. The shared house spread across three floors above a shop, rented out by a local chemist specifically to students at a very reasonable £37 each per week, and the occupants came together by chance from different circumstances. Computer programmer Mario Aguera and 3rd year Camberwell School of Art students David Vallade and Kevin Foakes were later joined by Chantal Passamonte at some point in 1993. They frequented many of the clubs, gigs and underground parties of the time like Club Dog, Tribal Energy and Megatripolis but often found themselves enjoying the post-club comedown chill out sessions more than the actual clubs themselves.
After an incident with a synthesiser, a Rastafarian and a bowl of fish (see David Toop's excellent 'Ocean of Sound' book for details) they formed a collective called Openmind and started a series of ambient parties under the name Telepathic Fish. Nearby neighbour Mixmaster Morris took them under his wing and introduced them to many of his contacts.
The first party was held in their house across two floors which held a rave room with strobe lighting and a chill out complete with tower of scavenged TV sets broadcasting trip videos, black lights and Morris DJing from decks on the next door kitchen counter. Advertised through word of mouth and a few posters at the college, the party drew 300 people and they realised that they had to find somewhere else to do the next one.
A squat in Tunstal Road, Brixton was located and a line up of Mixmaster Morris, Aphex Twin and the Openmind DJs (Mario and Kev) with Matt Black (Coldcut) on visuals played throughout a Sunday afternoon into the evening. A second gig was held at the same venue later that year ('93) which saw members of The Black Dog, Psychic Warriors Ov Gaia and The Future Sound of London checking out what was happening. Early flyers included shaped fish pendants and tea bags, hand-assembled using tracing and holographic paper.
After Matt Black's initial revelatory experience at the Fish (his first ever VJ set) he invited Mario and Kev to guest on his and Jon More's weekly KISS FM radio show, Solid Steel in the summer of '93. They appeared a number of times (11.07.93 / 07.11.93 / 04. 03.94 / 15.07.94) and Matt and Morris continued to guest with music and visuals at the parties.
The venue then changed to the Cool Tan building in Brixton for a fourth excursion that included Matt Black on decks with PC (DJ Food), a pre-Leaf Tony Morley and visuals by Hex. Just before that party Mario and Kev were invited back onto Solid Steel on 26.09.94 and you can hear Matt giving the party a shout out in the mix. The sets played here are a pretty good indication of the sort of thing they played at the Telepathic Fish parties, sometimes pooling their then meagre record collections to fill out the nights.
There were more parties after this, usually as part of bigger events – Orbital's Brixton Academy gig VIP room, Quirky, Megatripolis, a New Year's Day party at the derelict Roundhouse and a Dutch excursion that saw them playing in a gas silo. They also produced four issues of an ambient fanzine called Mind Food which they sold at the parties, by mail or in various record shops in London.
Mario went on to join Hex for their early explorations into visuals and software and then headed up a team at a major video game developer. Chantal, David and Kev all worked at the Ambient Soho record shop in Berwick St. at certain points. Chantal went on to become Mira Calix and sign to Warp. David designed record sleeves for Warp, Ntone, Worm Interface, MLO and Reflective among others. Kev became part of DJ Food, carrying the Openmind name on as his design alias whilst shaping the look of the Ninja Tune label in the 90s and 00s.

You can down load this mix directly from the m.cast website here
First hour: Mario Aguera (Openmind/Telepathic Fish)
Coldcut – Autumn Leaves (Irresistible Force remix) (BMG)
UVX ‎- Elevator (13th floor spectrum) (Magick Eye Records)
Frankfurt – Tokio Connection – Luminescent Avatar (Harthouse / Rising High)
Golden Girls – Kinetic (Morley's Apollo mix) (R&S)
Psychic Warriors Ov Gaia – Obsidian (Deconstruction) (KK Records)
The Grid – Crystal Clear (The Orb remix) (Virgin)
Ongaku – Mihon 2 (Fax/Rising High)
UVX ‎- Elevator (13th floor spectrum) (Magick Eye Records)
Deep Forest – Sweet Lullaby (Natural Trance Mix) (Columbia)
Peter Gabriel – At Night (Real World)
Amorphous Androgynous – Mountain Goat (Virgin)
System 7 – 7-7 Expansion (Double Edged Sword mix) (Big Life)
David Morley – Calibration (Apollo)
Second hour: Kevin Foakes (Openmind/Telepathic Fish – pre-DJ Food)
Frankie Goes To Hollywood – Warriors of the Wasteland (End) (ZTT)
Harold Budd & The Cocteau Twins – Memory Gongs (4AD) / S'Xpress – Coma (Record Mirror) No-Man – Days In The Trees (Reich) (One Little Indian)
KLF – What Time Is Love (Virtual Reality mix) (KLF Communications)
Jesus Jones – Zeroes & Ones (Aphex Twin Reconstruction 2 mix) (Food/EMI)
David Sylvian – Home (Virgin)
This Mortal Coil – Andialu (4AD)
B12 – Soundtrack of Space (Warp)
Spacetime Continuum – Fluorescence (Reflective)
Eurhythmics – The City Never Sleeps (Capitol)
Moody Boys – Free (XL)
Depth Charge – Depth Charge (Drum Death Version) (Vinyl Solution)
Material – Mantra (Praying Mantra mix) (Axiom)
Dub Syndicate – What Happened? (On-U Sound)
Moody Boys – Pumpin Dumpin (XL)
Plaid – Yamemm – (Warp)
unknown (Digidub or Moody Boys?)
Minnie Ripperton – Lovin' You (Epic)