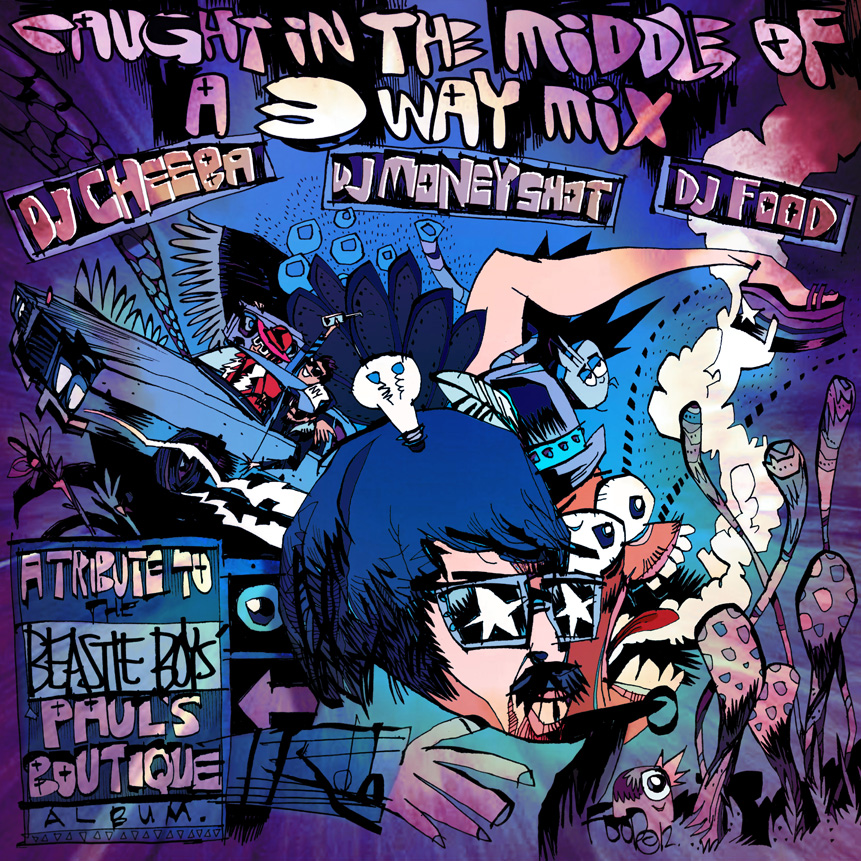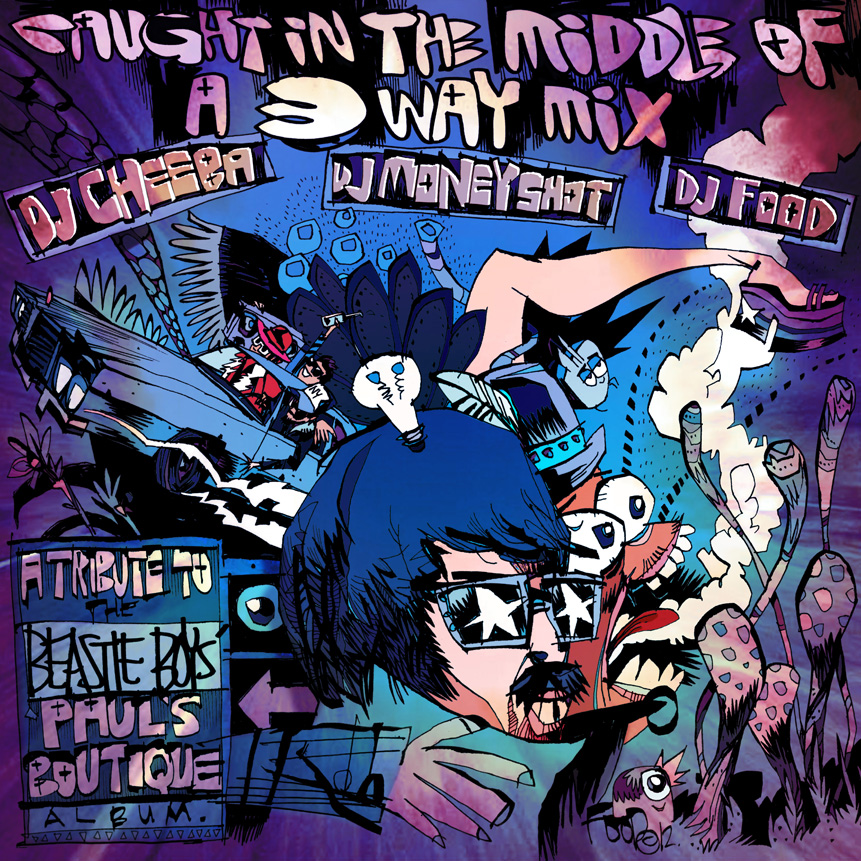 3 years in the making, 3 DJs working with over 150 tracks to recreate one of the seminal sampling albums of all time, at last Cheeba, Moneyshot and I can reveal 'Caught In The Middle Of A 3-Way Mix'. Our tribute to the classic Beastie Boys album 'Paul's Boutique' remixed and re-imagined from all the original samples plus a cappellas, period interviews and the Beasties' own audio commentary from the reissued release.
Add to this a custom illustration from Paul's Boutique super-fan and all-round great guy Jim Mahfood, taking time out from recent art duties on Tank Girl, and you have an alternate version of the album. The mix was over half way finished when we heard the tragic news of Adam Yauch's passing this May so this is also our nod to his memory, RIP MCA.
Big respect to Cheeba and Moneyshot for all their hard work and for the latter for inspiring the project with his classic mix of their 'Check Your Head' three years ago. Obviously massive respect goes out to The Beasties, The Dust Brothers, Mario C. and all involved in the making of the original album.
The mix debuted on Solid Steel via Strongroom Alive and above is the whole show with commentary and additional mix action from Coldcut and PC and the one below without chat and a download option.

Also here's the full tracklist:
Caught In The Middle of A 3-Way Mix – a tribute to The Beastie Boys' 'Paul's Boutique' album
DJ Cheeba section:
To All The Girls:
Mike D – Pauls Boutique Audio Commentary (Dialogue) – YouTube Rip
Idris Mohammed – Loran's Dance – Kudu
Beastie Boys – Triple Trouble (a cappella) – Capitol Records
Beastie Boys – Paul Revere – (DIY a cappella)
Fatboy Slim – The Weekend Starts Here – Skint Records
Beastie Boys – 3 MCs and 1 DJ (a cappella) – Capitol Records
LL Cool J – Rock The Bells – Def Jam  Recordings
Beastie Boys – Ch Ch Ch Check It Out (a cappella) – Capitol Records
Beastie Boys – Shake Your Rump (a cappella) – Capitol Records
David Berman – Pauls Boutique Release Party (Dialogue) – YouTube Rip
Shake Your Rump:
Alphonze Mouzon – Funky Snakefoot – Blue Note
Beastie Boys – Shake Your Rump (a cappella) – Capitol Records
Rose Royce – 6 O'Clock DJ (Let's Rock) – MCA Records
Rose Royce – Born To Love You – MCA Records
John King – The History of The Dust Brothers (Dialogue) – YouTube Rip
Mike D – Pauls Boutique Release Party (Dialogue) – YouTube Rip
Diana Ross & The Supremes – No Matter What Sign You Are – Tamla Motown
The Sugar Hill Gang – 8th Wonder – Sugar Hill Records
Rose Royce – Daddy Rich – MCA Records
Alan Moorhouse – Soul Skimmer – KPM Music
Afrika Bambaataa & James Brown – Unity Part 2 (a cappella) – Polydor
Funky 4+1 – That's The Joint – Sugar Hill Records
Bob Marley & The Wailers – Could You Be Loved – Island Records
Rose Royce – Yo Yo – MCA Records
Mike D – Pauls Boutique Release Party (Dialogue) – YouTube Rip
Black Oak Arkansas – Hot and Nasty – ATCO Records
Paul Humphrey – Super Mellow – Inner City Records
Harvey Scales – Dancing Room Only – Casablanca Records
Ronnie Laws – Tell me Something Good – Blue Note
Johnny Ryall:
Kurtis Blow – AJ Skratch – Mercury
Paul McCartney – Momma Miss America – Apple Records
Beastie Boys – Johnny Ryall (a cappella) – Capitol Records
Jean Knight – Mr Big Stuff – Stax
Chris Stein – Military Breakbeat – 360 Records
Pink Floyd – One Of These Days – Harvest
Donny Hathaway – Magnificent Sanctuary Band – ATCO Records
MCA – Pauls Boutique Audio Commentary (Dialogue) – YouTube Rip
David Bromberg – Sharon – Columbia
LL Cool J – Discusses the Beastie Boys (Dialogue) – YouTube Rip
Mike D – Pauls Boutique Release Party (Dialogue) – YouTube Rip
Egg Man:
Lightnin' Rod – Sport – United Artists Records
WYFF News – Which Came First…? (Dialogue) – YouTube Rip
Beastie Boys – Egg Man – (DIY a cappella)
Curtis Mayfield – Superfly – Buddah Records
Tower of Power – Drop It In The Slot – Warner Bros. Records
Elvis Costello – Pump it Up – Radar Records
John Williams – The Theme From Jaws – MCA Records
Public Enemy – You're Gonna Get Yours – Def Jam Recordings
Bernard Herrmann – Suite For Strings – Sony Classical
Mike D & MCA – Pauls Boutique Audio Commentary (Dialogue) – YouTube Rip
Sly and The Family Stone – Dance To The Music – Epic
The Commodores – I'm Ready – Tamla Motown
Public Enemy – Bring The Noise – Def Jam Recordings
High Plains Drifter:
Interview with The Eagles introduction (Dialogue) – YouTube Rip
The Eagles – Those Shoes – Asylum Records
The Fatback Band – Put Your Love (In My Tender Care) – Polydor
DJ Moneyshot Outro
DJ Moneyshot section:
DJ Moneyshot – "Can't Stand DJ Cheeba Intro" – mp3
Sounds Of Science:
The Beatles – The End – Apple Records
Beastie Boys – Sounds of Science (DIY a cappella) – Capitol Records
James Brown – Get Up, Get Into It, Get Involved – Polydor
Paul's Boutique – Audio Commentary – Capitol Records
Beastie Boys – Sounds of Science – Capitol Records
The Beatles – Sgt. Pepper's Lonely Hearts Club Band (Reprise) – Capitol Records
BDP – My Philosophy – Jive
The Beatles – When I'm 64 – Capitol Records
Issac Hayes – Walk From Regio's – Polydor
3 Minute Rule:
Paul's Boutique – Audio Commentary – Capitol Records
Beastie Boys – 3 Minute Rule – Capitol Records
Fancy – Feel Good – Big Tree Records
Sly & The Family Stone – Brave And Strong – Epic
Beastie Boys – 3 Minute Rule (DIY a cappella) – Capitol Records
Sly & The Family Stone – Poet – Epic
Loggins & Messina – Your Mama Don't Dance – CBS
Hey Ladies:
Kool & The Gang – Jungle Boogie – De-Lite Records
Disco Dave & The Force Of the Five MC's – High Powered Rap – Mixmaster Mike and Disco Dave Records
Afrika Bambaataa – Jazzy Sensation – Tommy Boy Music
Jeanette Lady Day – Come Let Me Love You – Prelude Records
Beastie Boys – Hey Ladies (a cappella) – Capitol Records
Cameo – Shake Your Pants – Chocolate City
The Bar-Kays – Holy Ghost – Stax
Kurtis Blow – Party Time – Mercury
Zapp – Dancefloor – Warner Bros. Records
James Brown – Funky President – Polydor
The P-Funk Allstars – Pumpin' It Up – Epic
The Commodores – Machine Gun – Motown
The Sweet – Ballroom Blitz – Capitol Records
5 Piece Chicken Dinner:
Eric Weissberg & Steve Mandell – Shuckin' The Corn – Warner Bros. Records
DJ Moneyshot – Rinse Out Jungle ish – mp3
Looking Down The Barrel Of A Gun:
Tougher Than Leather dialogue sample – New Line Cinema
Ocean – Put Your Hand In The Hand – Kama Sutra
Paul's Boutique – Audio Commentary – Capitol Records (dialogue)
Beastie Boys – Looking Down the Barrel of a Gun (a cappella) – Capitol Records
Pink Floyd – Time – Harvest
Mountain – Mississippi Queen – Stateside
Incredible Bongo Band – Last Bongo In Belgium – Pride
Beastie Boys – Looking Down the Barrel of a Gun – Capitol Records
YouTube Audio – MTV 1998 Beastie Boys Biography – MTV (dialogue)
DJ Food section:
Car Thief:
Funk Factory – Rien Ne Va Plus (ATCO Records)
Boogie Down Productions – The Bridge Is Over (Instr.) (B-Boy Records)
Trouble Funk – Drop The Bomb (Jamtu Records)
Beastie Boys – Car Thief (a cappella) (Capitol)
The Jackson 5 – I'll Bet You (Motown)
Max Yasgur – Speech at Woodstock (dialogue)
Donovan – Hurdy Gurdy Man (Pye Records)
Led Zeppelin – Moby Dick (Atlantic)
What Comes Around:
Gene Harris – Put On Train (Blue Note)
Alice Cooper – It's Hot Tonight (Warner Bros. Records)
Shadrach:
Sly & The Family Stone – Loose Booty (Epic)
Funky 4+1 – That's The Joint (Sugar Hill Records)
Rose Royce – Do Your Dance (Whitfield Records)
The Riddler – Batman TV soundtrack (dialogue)
The Sugar Hill Gang – Sugar Gill Groove (Sugar Hill Records)
Trouble Funk – Say What? (D.E.T.T. Records)
Ballin' Jack – Never Let 'Em Say (Columbia)
The Fatback Band – King Tim III (Personality Jock) (Spring Records)
James Brown – Funky Drummer (King Records/Polydor)
Ask For Janice:
Paul's Boutique radio ad (cassette) (dialogue)
B-Boy Bouillabaisse –
59 Christie Street:
Burundi Black – Burundi Black (Barclay)
Jimi Hendrix Experience – Are You Experienced? (Polydor)
Run DMC – Here We Go (Live At The Funhouse) (Profile)
Cerrone – Rocket In The Pocket (Live) (CBS)
Malcolm McLaren & The World Famous Supreme Team – Buffalo Gals (Charisma)
Boogie Down Productions – My Philosophy (Jive) Fab 5 Freddy – Change Le Beat (Celluloid)
Stop That Train:
Southside Movement – Save The World (20th Century Records)
Beastie Boys – Stop That Train (a cappella) (Capitol)
Scotty – Draw Your Brakes (Trojan Records)
A Year And A Day:
Tower Of Power – Ebony Jam (Warner Bros. Records)
The Isley Brothers – That Lady (Epic)
Led Zeppelin – When The Levee Breaks (on 45 rpm) (Atlantic)
Disco Dave & the Force of the Five MC's – High Powered Rap (Mixmaster Mike and Disco Dave Records)
Hello Brooklyn:
Led Zeppelin – When The Levee Breaks (on 33rpm) (Atlantic)
Beastie Boys – Hello Brooklyn (demo version)
Johnny Cash – Folsom Prison Blues (CBS/Columbia)
Dropping Names:
The Meters – Hey Pocky A Way (Reprise Records)
Stephen King's It / Andy Griffiths show – He thrusts his fists… (dialogue)
The Sweet – Into the Night (RCA Victor)
The Crusaders – The Well's Gone Dry (Blue Thumb / ABC Records)
Bob Marley interview with the BBC (dialogue)
Lay It On Me:
Kool & The Gang – Let The Music Take Your Mind (De-lite)
Jim James – No Sleep 'Til Brooklyn lyrics (dialogue)
Mike On The Mic:
Love Bug Starski – Starski, Live At The Disco Fever (Fever Records)
A.W.O.L.:
Chic – Good Times (Atlantic)
Beastie Boys – A.W.O.L. (Capitol)
Trouble Funk – Good To Go (4th & Broadway)
Idris Muhammed – Loran's Dance (Kudu)
Rise – MCA tribute (dialogue)
Beastie Boys – Sureshot (a cappella) (Capitol/Grand Royal)
Rakim – Dedication (mp3) (dialogue)