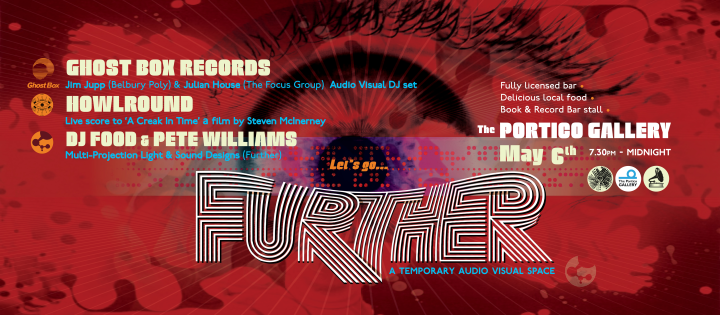 Announcing a new venture put together by myself and old friend Pete Williams (Eikon / Out Of The Wood) – a collision of Light, Sound and Design… Further.
An irregular event held in different places, it's not a club night, it's not monthly, there's no dance floor. It has got all the things we love in it though: experimental music and film, food and drink, socialising and a bit of record hunting.
The first event is on May 6th at The Portico Gallery, a hidden treasure in the heart of West Norwood and a venue very dear to us that offers an extremely adaptable space to project, perform and present our guests in.
We have Jim Jupp (Belbury Poly) and Julian House (The Focus Group) from Ghost Box Records playing an audio visual set and Howlround sound tracking Steven McInerney's short film, 'A Creak In Time'.
Pete and I will be pulling all manner of projections, films, slides and FX out to illuminate the gallery at the beginning and end of the evening to compliment our DJ sets.
There will be food on sale from local café Pintadera, a fully licensed bar and plenty of seating. Michael from the nearby Book & Record Bar will also have a stall selling hand-picked stock for the event.
Venue: The Portico Gallery, 23 Knights Hill, West Norwood, London, SE27 0HS
Doors: 7.30 and we're all done by midnight. Let's go Further…
V. limited early bird tickets are on sale now through Eventbrite

Facebook event page here