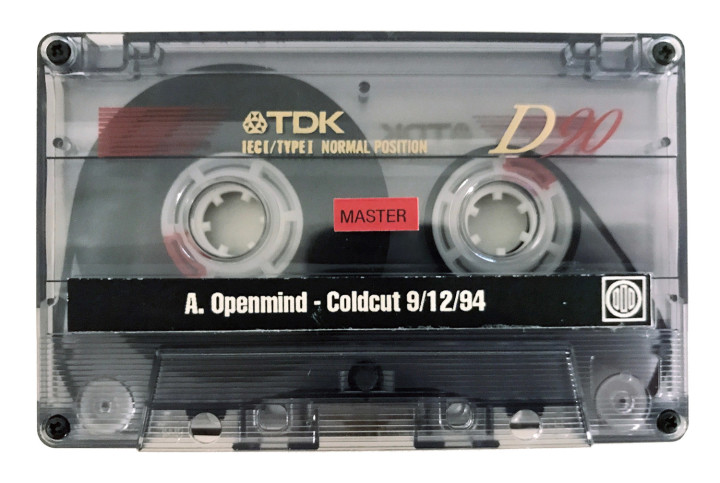 This is the other side of the tape from week 15 (which was the week after this) and comprises a mix I did of 45 minutes which is all I have of this show. There may have been more but the cassette ran out. This is still billed as Openmind but Matt Black refers to me as 'Strictly Kev on the mix' at one point so this is somewhere midway to coming to the Solid Steel / Ninja fold and becoming a part of DJ Food.
Trip hop and electro is in full flow on this one with the first release on Clear – The Jedi Knights' 'May The Funk Be With You', Afrika Bambaataa and an early Andrea Parker / David Morley production for the Apollo label under the name Two Sandwiches Short of a Lunchbox.
Jon More's (then) secret weapon – Forrest J. Ackerman's 'Music For Robots' is deployed for spoken word effect (just wait until we got to Japan in a few years time…) and coincidentally (or maybe on purpose) the Yoshinori Sunahara track that opens the set is titled 'Music For Robot For Music'.
After that the Art of Noise gets molested by Rick Rubin's uber slow, ultra heavy 'Dust Cloud' from the Tommy Boy 'Masters of the Beat' compilation, it doesn't always work but you can hear what I was trying to do. An early David Holmes mix for Justin Warfield and the Future Sound of London in their Far Out Son of Lung guise both dip their toes in psyched out trip hop with long, tripped out distorted beats and FX, this was the stuff I really loved (and still do) – weird, heavy, psychedelic beats and samples.
I think most people are hip to Justin's LP debut LP by now, 'My Field Trip To Planet 9' – a trip hop classic before the term was even coined, if you've not heard it then check it out. The only other things like it at the time coming from the US were bits of Beastie Boys' circa Check Your Head, some Divine Styler and maybe a bit of the DJ Muggs stable. UK remixes by Holmes, Ashley Beedle and The Dust Brothers (UK version, pre-name change). In a weird twist of fate Justin would soon feature on Bomb The Bass' 'Bug Powder Dust' single which would also sample DJ Food's 'Dark Lady'. Sadly he largely left hip hop for more rock-based bands for about 20 years after this although he made another rap album 20 years later and made this astute observation: "The only caveat being I didn't know what to talk about, and since hip-hop is at it's best a vehicle for an artist with something he or she has to say, a point of view given voice over beats, and that if you had nothing to say, well…then better to not say anything at all. (A point lost on some modern rappers, and more importantly, the ever-growing audience that gobbles it up).
Track list:
Coldcut – Solid Steel intro jingle
Yoshinori Sunahara – M.F.R.F.M. (Armed)
Boymerang – The Don
Forrest J. Ackerman – Music For Robots
Art of Noise – Moments In Love
Rick Rubin – Dust Cloud
The Jedi Knights – May The Funk Be With You
Afrika Bambaataa & The Soul Sonic Force – Looking For The Perfect Beat (Bonus Beats)
DJ Food – A Little Samba
Afrika Bambaataa & The Soul Sonic Force – Looking For The Perfect Beat (instrumental)
Two Sandwiches Short of a Lunchbox – Too Good To Be Strange
Justin Warfield – Live From The Opium Den (David Holmes Dub)
Future Sound of London – Far Out Son of Lung & The Ramblings of a Madman
Bandulu – Run Run