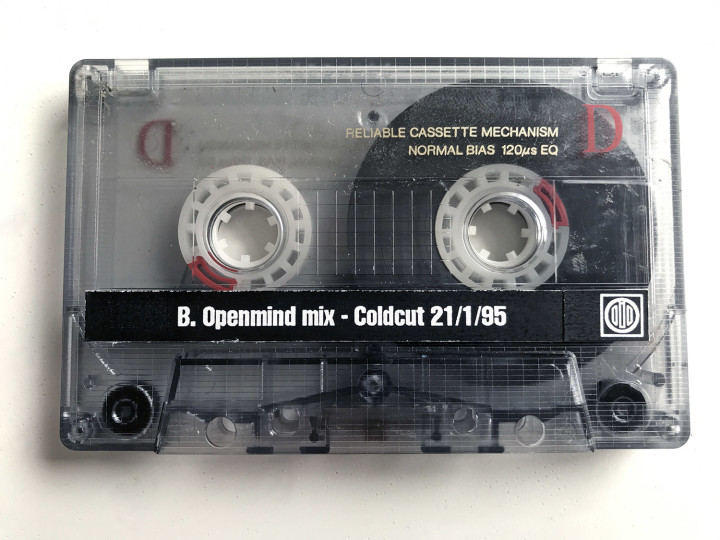 I've been asked for more mixes from 1995 so here's one from the start of that year that I barely remember, it's from a show featuring PC and I, possibly Jon More also did a mix too as he's on the mic at one point but I only have Patrick's and my mixes. I'm not too sure where this was recorded as there are additional FX in the mix that suggest it was a studio mix outside of KISS FM and we were using Coldcut's old studio DJ mixer with inbuilt sampler that could pitch shift samples and loops via a trigger button. You can hear me getting way too excited with it at certain points. I can't remember if Ninja Tune was situated in Clink Street at this point but there was a point where we were doing some work out of Jon's home studio in Herne Hill as I remember working on bits for 'A Recipe For Disaster' there and this may have been one of those sessions. Or it may have been in the Clink St studio as I'm sure we recorded the DJ magazine mix there and that came out late 1994 I think?
Anyway – details, how much of it really matters? There are some great tracks here that I'd forgotten and the front half is loaded with hip hop beats and scratches whilst the second half is more acid, electronic and slowed down jungle beats. There's at least one mix that is in time but the wrong part of the bar which wrong foots you a bit from the flow of things, I would do this sometimes, get lost in rhythms and lose where the 1 was.
We kick off with a white label promo mailed out at the time with just 'Lynch Mob Beats' stamped on it featuring a tripped out psych guitar and FX jam that I loved and realised was the work of Brendan Lynch who went on to produce and mix for Paul Weller and Primal Scream as well as the classic Indian Vibes track, 'Mathar'. This was your typical major label trying to get one over on the dance DJs trick of having a white label with no info so as not to prejudice opinion. It was Lynch working over Weller as he would do repeatedly to excellent effect and I couldn't have cared less who the original artist was but you have to remember that Weller was at a career low in the early 90s and 'Wild Wood' was the album that bought him back after years of critical bashing with The Style Council and his early solo work. To me, Lynch is one of the unsung producers of the early to mid 90s who had a unique sound and completely psychedelic production techniques that few else came close to. I'd love to know how he did his mixes, I'm presuming they were free form jams that were edited down later but he dubs a mix up like no other. I put a load of his mixes together 10 years back under the name Lynch Party Mix and there's enough for a part 2 lurking on the hard drive (I must do that, maybe a subscribers exclusive).
The first of two tracks from the freshly-minted Clear label turns up in the form of Mike Paradinas' Tusken Raiders 'Beatnik #3' and then into Gunshot and a trio of Jazzy Jeff scratch tracks where I get way too excited with the sampler. Jon had hipped me to Trouble Funk's 'The Beat' so I threw that in and then into a couple of Fax label tracks after the break. You can already hear that the ambient content of the early Openmind mixes on Solid Steel are diminishing to be replaced by more trip-hoppy beats and early strains of drum n bass with the electronic content still there via artists like Plastikman, Autechre and Air Liquide. Jon refers to me as 'Telepathic Kev' so maybe the Strictly part hadn't stuck yet. I was still very much finding my feet in the Ninja camp at this point but '95 would be the year when I really consolidated that position with the design and DJing as well as studio work as I'd left my full time job in a book shop and just worked at weekends at Ambient Soho records.
If anyone can identify the track after DJ Crystl I'd be grateful as it's alluding me, there aren't many track lists surviving for most Solid Steel mixes pre-'98 so I have to make these from a combination of memory, Discogs and Shazam and the latter isn't coming up with anything. It doesn't help that I'm playing it on the wrong speed either as we used to do with early drum n bass like Photek, Crystl, Smokin' Drum Recordings and such. Bit of a throwback to the late 80s with Bam Bam and Bomb The Bass, nothing changes there and then playing out with Jedi Knights on Clear which sadly stops abruptly as the tape runs out.
Track list:
Paul Weller – Whirlpool's End (Lynch Mob Beats)
Tusken Raiders – Beatnik #3
Gunshot – Colour Code
Jazzy Jeff & Fresh Prince – A Touch Of Jazz
Jazzy Jeff & Fresh Prince – Hip Hop Dancer's Theme
Jazzy Jeff & Fresh Prince – A Touch Of Jazz
Trouble Funk – The Beat
Plastikman – Lasttrak
Air Liquide – Combat Zone
Pulsation – Pulsar
Ongaku – Mihon
Autechre – Bronchusevenmx
DJ Crystl – Let It Roll
Unknown – Babylon
Bam Bam – Where's Your Child?
Bomb The Bass – Beat Dat (Freestyle scratch mix)
Jedi Knights – Intergalactic Funk Transmission