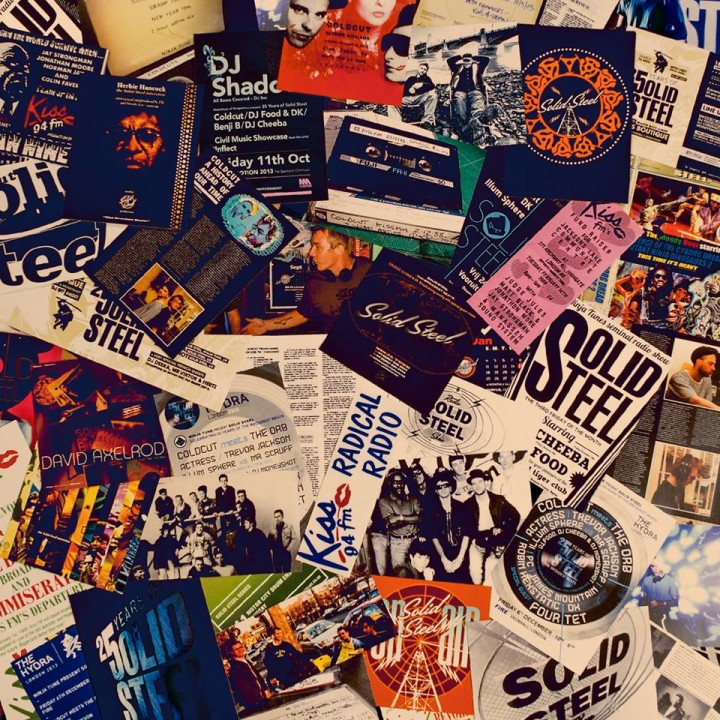 Solid Steel – Coldcut's weekly 2 hour mix show – is 30 years old – wow, now I feel old too. To celebrate they've commissioned a clutch of special mixes which will air throughout the first week of December. Juan Atkins (the show's first guest back in '88), The Bug, Bernd Friedman, Gerd Janson, HAAi and Mark Pritchard have all recorded mixes as well as Coldcut, DK (with an epic 4 hr effort) and myself.
What do you do when you're faced with a blank canvas to commemorate a 30 year anniversary? I've been with the show for 25 of those years and so much music has flowed through it in that time it's impossible to crystalize that into one set. Instead I thought I'd attempt something I'd not done before and put together a collection of classic minimalist songs by the masters – Kraftwerk, Eno, Reich, Riley, Can etc. – and weave other elements in and out of the mix. In some respects I succeeded but I started out with seven hours of music! A lot had to go as flow and tuning just didn't work and I also didn't want too much 4/4 kick drum to pin things down, rather just the throb of forward motion.
Mixing this stuff takes time and patience, the tracks are long, you can lose your place in the rhythm very easily and most of them are played live so not locked into any steady metronome or midi clock. Getting the mix tight was a constant headache. I've used some tracks more like samples to add textures to others rather than to have their own spotlight and the intention was to always have at least two things creating a third, which is the basis of all the best mixes.
When compiling sets for the Solid Steel mix CD series, then Ninja A&R for the series, Dean Smith, used to talk about 'moments'. Each mix should have at least two or three points that would make the hairs on the back of your neck stand up or blend the sound to such a point that you got a rush. It's not enough to just blend two ends of a track together, we're sculpting here, making connections that wouldn't normally sit together and, in the best instances, mean that you can never hear one of those tracks on it's own again without hearing the other playing in your head. There are subtleties at play in recorded mixes that can never be experienced in clubs as the volume and crowd noise often pushes out the details.
Two thirds the way through the set I also did something I've never done before too – inserted another guest mix. Chatting to Brian Dougans from Future Sound Of London, he'd confessed to being a Solid Steel fan, regularly taping shows throughout the 90s and being inspired by the weekly mixdowns. When I told him it was the 30th anniversary he offered an exclusive mix of new Humanoid tracks, an alias he's just reactivated as it's three decades since he first had a hit under the moniker with 'Stakker Humanoid'. It seems fitting to have a contribution from an artist whose career started at the same time as the show, FSOL's own radio shows in the 90s similarly inspired me and this is a nod to their idea of inserting guest mixes into their early Kiss FM shows. The six acid tracks are a stark contrast to my own selection but rather than surround them with similar material I've let them occupy their own space within the set, you might have to adjust your mood though. A massive thanks to Brian for this mix and all the music he and Gaz have bought us over the years.
After 25 years as part of the Solid Steel team and after hundreds of hours of mixes, it's great to still be inspired to push myself and be among such esteemed company as the show morphs once again into a new era. Solid Steel moves to a new format next year, already with some killer guests lined up, and there are around 8 years worth of mixes in the archive online along with an extensive database of dates and guests from the past 30 years.
DJ Food Solid Steel 30th mix featuring Humanoid
Linda Perhacs – Parallelograms (Kapp Records)
Brian Eno & David Byrne – The Carrier (Virgin)
Pink Floyd – On The Run (Harvest)
Kraftwerk – Autobahn (Vertigo)
Brian Eno & Daniel Lanois – Ascent (An Ending) (Virgin)
The Beach Boys – Our Prayer (Brother/Reprise)
Vapour Space – Gravitational Arch of 10 (Internal)
David Bowie – Love Is Lost (Hello Steve Reich Mix) (Columbia)
Herbie Hancock – Rain Dance (Columbia)
Can – Messer, Scissors, Fork & Light (Spoon )
Steve Hillage – Rainbow Dome Musick (Virgin)
Cavern of Anti-Matter – Tardis Cymbals (Duophonic HF Discs)
Pat Metheny – Electric Counterpoint fast (Nonesuch)
Steve Reich – Music for 18 Musicians (ECM)
10cc – Wet Rubber Soup (Polydor)
Steve Hillage – Rainbow Dome Musick (Virgin)
David Sylvian – Answered Prayers (Virgin)
Manuel Gottsching – E2:E4 (MG-Art)
The KLF – Deep Shit (The Cult of Mu 7″ mix) (CDR)
Jon Brooks – A Mechanical Eye (Ghost Box)
Humanoid In Session 2-4th Nov 2018 – guest mix
– 1 Acid Ho
– 2 Spore
– 3 Point Cloud
– 4 Co-Pilot
– 5 Koma Flow (808 State)
– 6 Far-Point
– Recorded live at 9L West, Engineered by Yage for EbV. Fsoldigital Recordings.
Terry Riley vs Meat Beat Manifesto – In C (Version 4.2) (Electronic Sound)
Boards of Canada – Telepath (Warp)
Psychic Warriors of Gaia – Obsidian (Organically Decomposed) (KK Records)
This Mortal Coil – Waves Become Wings (4AD)
Steve Hillage – Rainbow Dome Musick (Virgin)
Kaitlyn Aurelia Smith & Suzanne Ciani – A New Day (RVNG INTL)
Vapour Space – Gravitational Arch of 10 (Internal)
Linda Perhacs – Parallelograms (Kapp Records)