I hit the big 4-0 today so I thought I'd reminisce…
I remember when (in reverse order):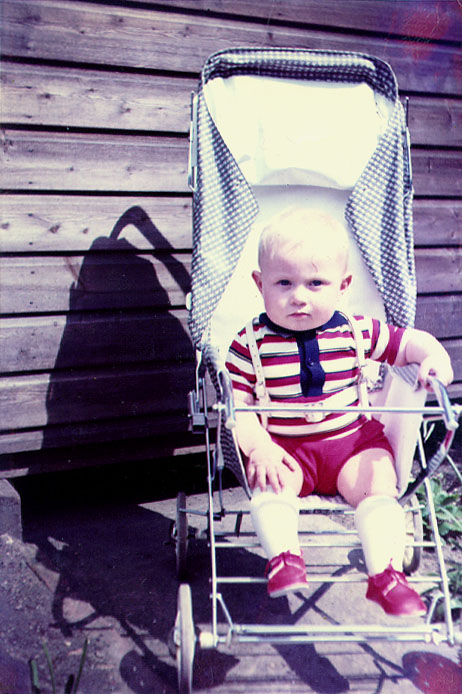 The Blue Note was the place to be every night of the week
Coldcut couldn't get a gig in the main room of any club because they were too 'chilled'
The KLF were the greatest pop band in the world
Cynthia Rose's 'Design After Dark' was the bible for dance music related artwork.
The smiley face badge from Alan Moore's 'Watchmen' was copied by Bomb The Bass and kicked off the whole Acid fashion for smileys.
Big Black called it a day
The DMC finals were held in the Albert Hall
Mike Allen ruled the airwaves for Hip Hop in the South East via Capital Radio
12″ singles were £1.99
Kraftwerk were number 1 in the charts
Thatcher got in (please not again)
2000ad was 8p
Star Wars was everything
'The King' left the building
Epiphanies in sound:
These are songs or albums that I remember vividly having a profound effect on me when I heard them first, the 'Shock of the New' if you will. Most of these I remember having a hold over me whereby I had to play them again and again because I couldn't get enough of the sounds each contained. They gave a rush of excitement that I'd been looking for that cannot be described, a feeling so alien from everything else I'd heard before that it was all I could do to keep pressing the rewind button. These are kind of in the order I heard them rather than the order they were originally released. Some of them occupy the same place because a friend made me a tape with both on or something.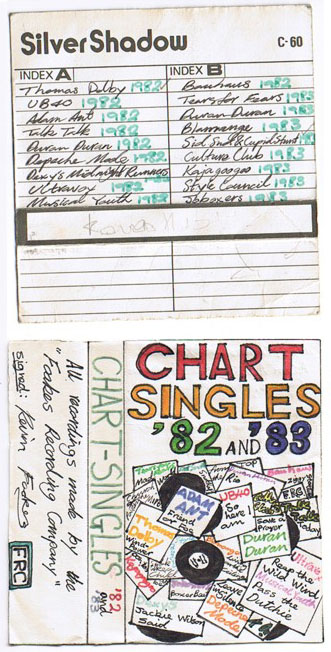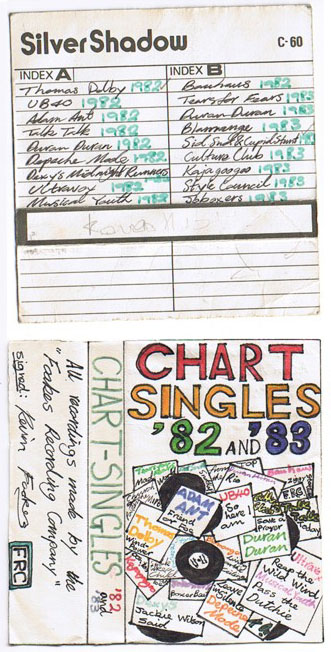 Kraftwerk – Autobahn – this has been documented before in my Kraftwerk Kover Kollection piece but to paraphrase – one of the first songs I remember, even though I didn't know what it was until later.
The Police – Message in a Bottle – I loved the drums and the whole energy of it, one of the first pop songs I consciously remember liking.
Adam & The Ants – Dog Eat Dog – My dad liked the drums so taped it off the radio, little knowing that my 10 year old ears would want to listen to little else for the next 3 years
Kraftwerk – Computer World – perfect in every way, an alien world and forerunner to electro.
The Human League – Being Boiled – pretty creepy pop to an 11 year old
Malcolm McLaren – Duck Rock – After hearing 'Buffalo Gals' and not knowing what was going on I was seduced by the ghetto blaster on the cover and Worlds Famous Supreme Team patter.
Frankie Goes To Hollywood – Relax (Maida Vale mix) For some reason, when I came to tape 'Relax' off the radio the version I got was a special remix made by Dave Cash (a Capital Radio DJ) and this was on repeat play every day after school for the first few months of '84.
Art of Noise – Beatbox – The DMX is still my favourite drum machine.
Frankie Goes To Hollywood – Two Tribes (Annihilation) After what seemed like an eternal wait for the follow up to 'Relax' (all of 6 months) this 12″ mix blew away everything in the charts and was a landmark in reconstructing a pop single until Coldcut made over Eric B & Rakim's 'Paid In Full' 4 years later.
Frankie Goes To Hollywood – Welcome To The Pleasuredome (LP version) 16 minutes of Prog Pop perfection.
Double Dee & Steinski – Lesson 2 – A milestone (with the other Lessons) in cut and paste excellence, still stands up today where others sound dated.
Arthur Baker – Breaker's Revenge – Something about this grabbed me and it was probably the Latin Rascals' edits as much as the melody, when I discovered the remixed 12″ after hearing the Beat St. soundtrack version I flipped.
Grandmaster Flash – Adventures on the Wheels of Steel – Much like the Lessons, this was an even earlier example of how to mix and match (literally with the Queen and Chic basslines)
Word of Mouth & DJ Cheese – King Kut – The first time I tuned into Mike Allen's hip hop show this was amongst the selection he played and still remains one of my top 10 favourite beats ever.
DJ Cheese – Capital Radio live session for Mike Allen '86 – a scratch showcase as part of the set by Cheese (at the same time as he won the DMC championship) made me want to learn how to scratch.
Public Enemy – Son of Public Enemy – The sound of the JBs' 'Blow Your Head' sampled over this made it as strange then as when I first heard 'Buffalo Girls'. Plus I heard this version before the rap, making it seem even more odd.
Public Enemy – Rebel Without A Pause – When Terminator X scratched in the 'rock n roll' line I felt the hair on the back of my neck stand up it was so cool, still one of the funkiest, but simplest scratch patterns ever.
De La Soul – 3 Feet High & Rising – A blast of fresh air that seemed like it was beamed down whole from another planet.
You've Got Foetus On Your Breath – Hole   / Scraping Foetus Off The Wheel – Nail – Classics – early sampling, great wordplay and catchy songs too.
The The – Soul Mining / Infected – Two of my favourite records ever
Coldcut – Beats n' Pieces – Heavy beats and breaks, spoken word and scratching – the blueprint for so much and by two British guys to boot – unheard of quality at the time.
Big Black – Atomizer / Songs About Fucking – Power and precision with a drum machine instead of a drummer – awesome.
Slayer – Reign In Blood / South of Heaven – I was never really into thrash metal but spent several weeks one summer at a mate's house painting a Megadeth banner for him to take to the Donnington festival. During this time I was played everything from Metallica to Slayer, Anthrax to G.W.A.R. Some grew on me more than others but these two particularly stood out.
Stakker – Humanoid – I was never much into house music but I 'got' acid when I heard this and it still stands up as one of the greats.
Fishbone – Truth & Soul – Ska, funk and thrash metal, what a combo, Fishbone were one great live band but never got their dues. A friend taped me this in college and it was stuck in my walkman for months.
Beastie Boys – Paul's Boutique – Unjustly rubbished on release, I never understood why, I suppose everyone wanted 'Licensed to Ill' part 2 but couldn't they see that this was a much more complex beast?. Rightly acclaimed as an ahead-of-it's-time classic years later.
Jungle Brothers – Done By The Forces of Nature – One of the funkiest hip hop records ever, supreme layers of samples and totally on point raps. I never tire of hearing it.
Depth Charge – Depth Charge – Sonar ping industrial 'trip hop' before the phrase was even invented.
808 State – Cubik – Heavy metal techno, the bassline is so simple and stupid it's brilliant.
Coldcut vs The Orb – KISS FM '91/92 – actually my introduction to the Orb and hugely influential as a signpost for where I was heading in the 90's.
The KLF – Chill Out – a real soundtrack without a film kind of record, made just before they went stratospheric
Brian Eno & David Byrne – My Life in The Bush of Ghosts – no.1 in a field of 1
Future Sound of London – KISS FM radio mixes '92/3 some of the best crafted 'mixes' ever, more like virtual worlds inside the radio, also opening up a whole heap of new music to my ears.
This Mortal Coil – Filigree & Shadow / Blood – I got played this after a friend heard me playing a FSOL record that had sampled it and I loved the concept, breadth and execution of them.
David Sylvian & Holger Czukay – Plight & Premonition – possibly my favourite ambient album ever.
Cocteau Twins – Victorialand / Treasure – Their pinnacle (along with their collaboration with Harold Budd, 'The Moon and the Melodies')
Aphex Twin – Didgeridoo – Changed the face of techno at the time, it was a good 10+ bpm faster than anything else at the time and sounded like it came from an alien planet.
Ken Nordine – Word Jazz vol.1 – Mixmaster Morris played me this in '93 during one of my epiphanic visits to his house, little did I know I would end up actually working with Ken later.
Zimbabwe Legit – Doing Damage (Shadow's Legitimate mix) Alongside 'Entropy' and 'In/flux' this pointed to a new way of presenting hip hop.
David Shire – The Taking of Pelham 123 – just an amazing suite of music based on a few simple themes, unavailable for years but now deservedly given it's place amongst classic soundtracks.
DJ Zinc – Super Sharp Shooters – Stealth anthem and one of the best fusions of hip hop and drum 'n' bass ever
DJ Shadow – Changeling – if any track of Shadow's is worthy of the label 'prog hop' then this one is it, Sublime, switching time signatures, mood building, he's never bettered this.
Dick Hyman & Mary Mayo – Moon Gas – I searched high and low for this after reading Mike D rhapsodise over it in Grand Royal, it didn't disappoint, a very unique record.
Boards of Canada – Skam EP – Beautiful and otherworldly, another record beamed in fully formed from somewhere else yet seemingly familiar.
Cut Chemist – Lesson 6 – the only other Lesson that measures up to the original three
Evolution Control Committee – The Whipped Cream Mixes – the origins of what we now know as the mash up, a complete comedy record from start to finish as all the best ones are.
Mr Bungle – California – stunning
Britney Spears – Toxic – a perfect pop song with a great video too
If you made it to the bottom of that I applaud you for indulging me, thanks to Steve Baker for the scan of the tape cover, possibly the first Strictly Kev mix tape? And congratulations to DK and family who had a new addition on Monday.