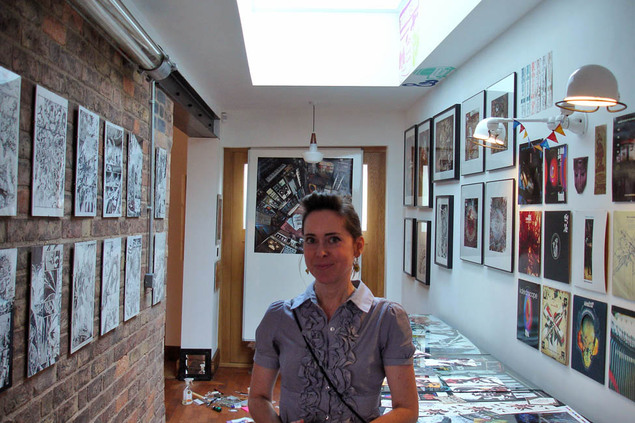 So much to say about the last few days and the opening of the DJ Food & Henry Flint exhibition at the Factory Road Gallery in Hinckley, Leicester with my friends Sarah (aka Inkymole) and Leigh. I've known them for around 15 years now and always enjoy their company so it was a no-brainer when they asked if they could host the work I'd got together for the Pure Evil Gallery earlier this year. What's unique about this is that the gallery is in their own home, on the corner of a quiet suburban street, not in the middle of a hip part of a big city. A few years ago they did some major architectural restructuring and turned the downstairs of their home into a workspace cum gallery, dependent on what was on at the time. This is the third or fourth exhibition to be held there and, with the help of their intern, Brook, and amazing chef Jed Smith, they managed to make it a very unique event.
The difference between this and the Pure Evil show is that they were keen to feature a sort of retrospective element of my design work with Ninja Tune over the years alongside work that Henry and I had generated for 'The Search Engine' album, his book 'Broadcast' and past comic work. This took the form of a whole wall running the length of the downstairs plus a tabletop collage under glass of all manner of flyers, sleeves, proofs and other ephemera. Two sides of the central supporting wall were taken up with Henry's past comic work with prints and original art from the album near the entrance. Near the rear of the gallery we set up a turntable and zoetrope disc to project animations that were also meant for London but didn't happen as well as a 55 minute mix with visuals based on my planetarium show of the same time.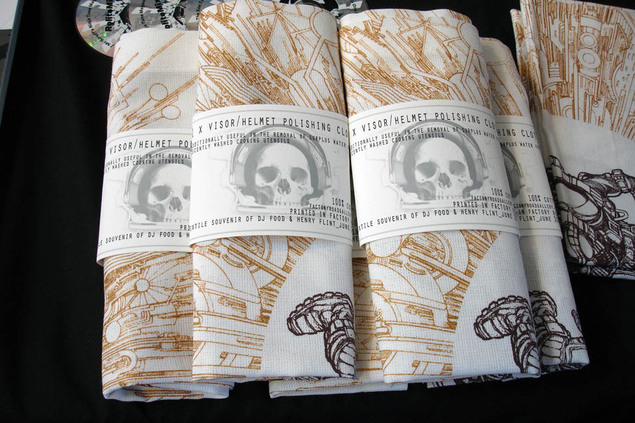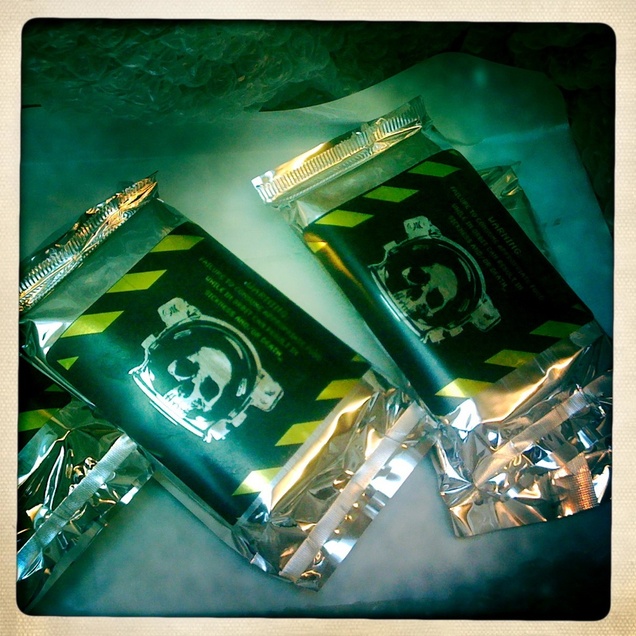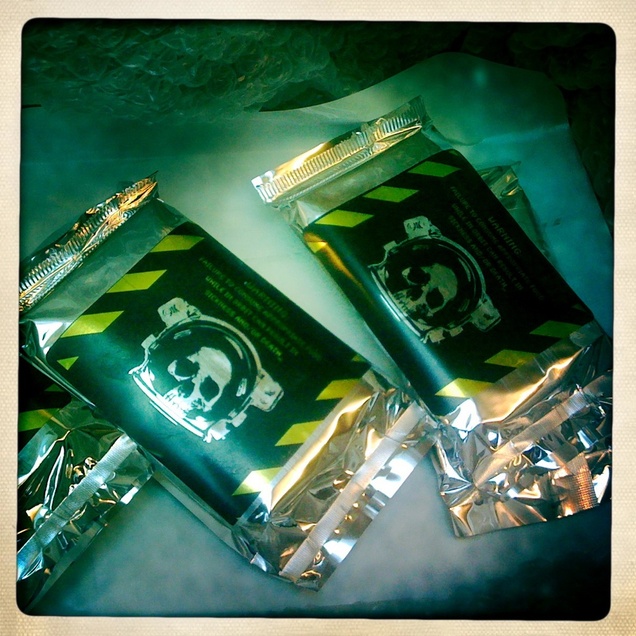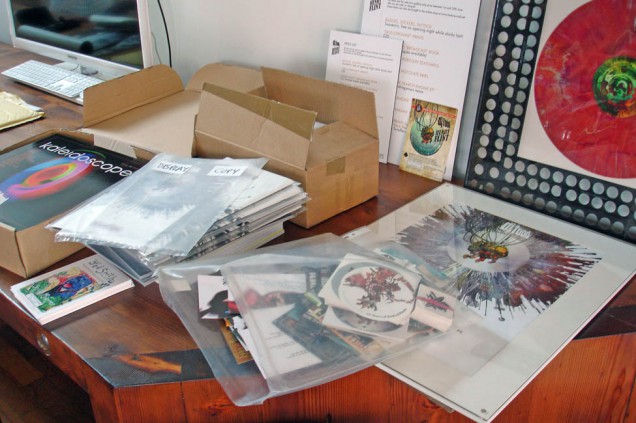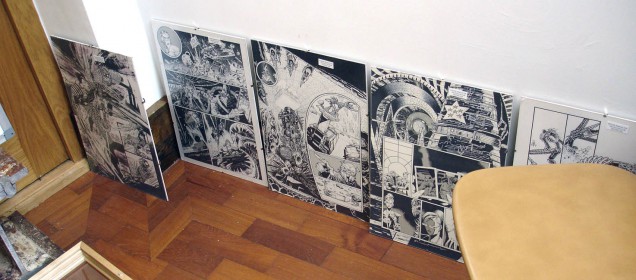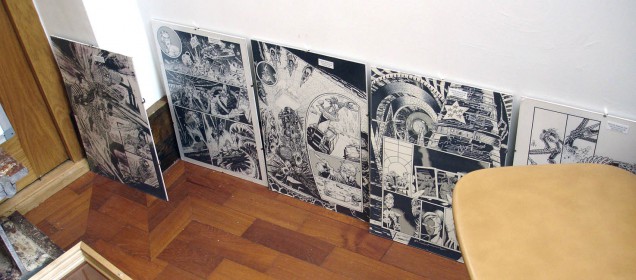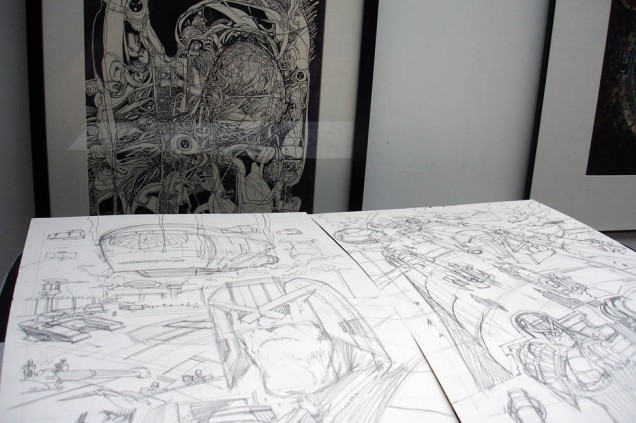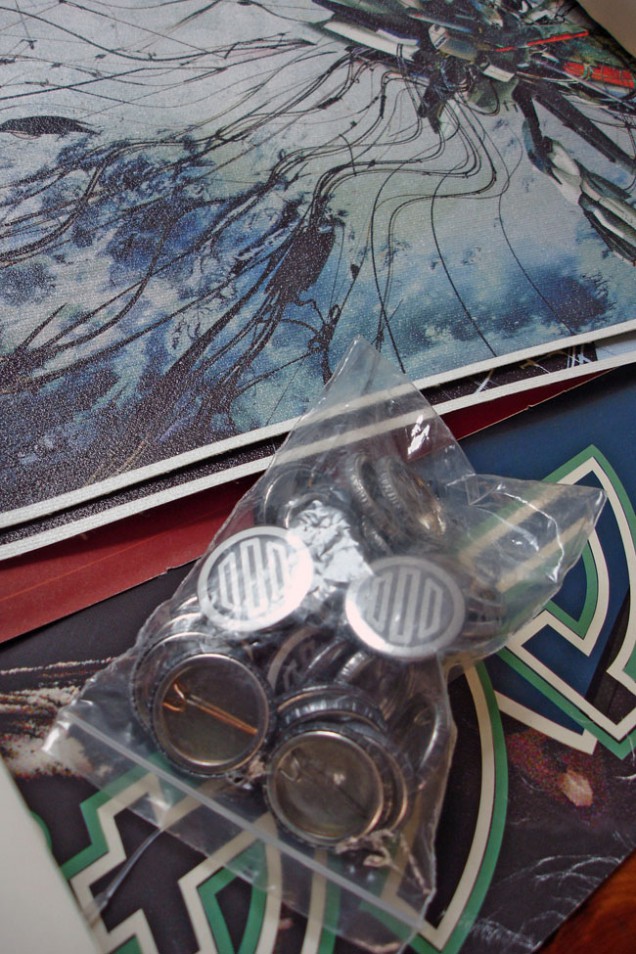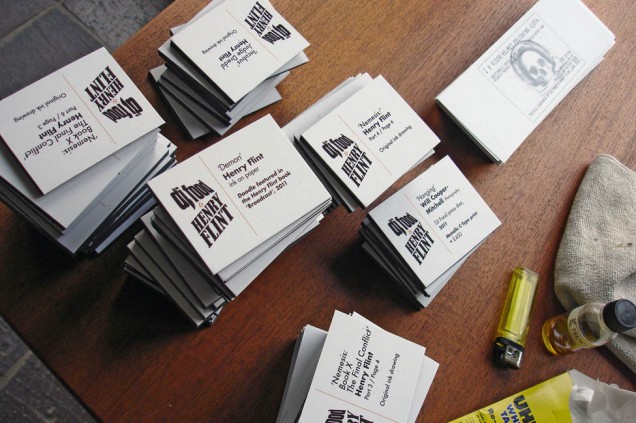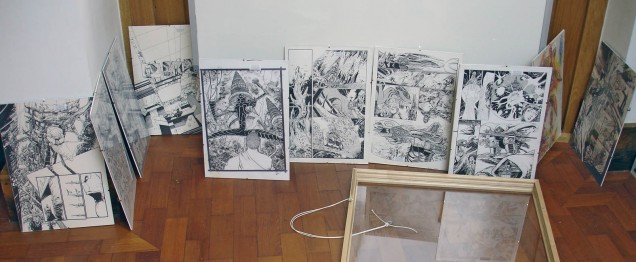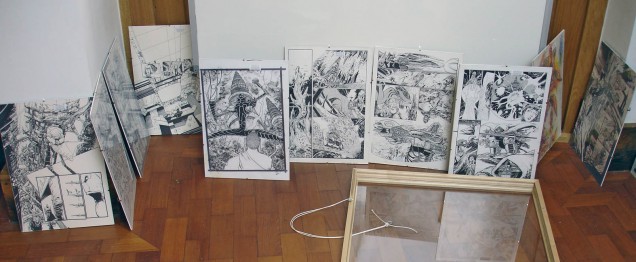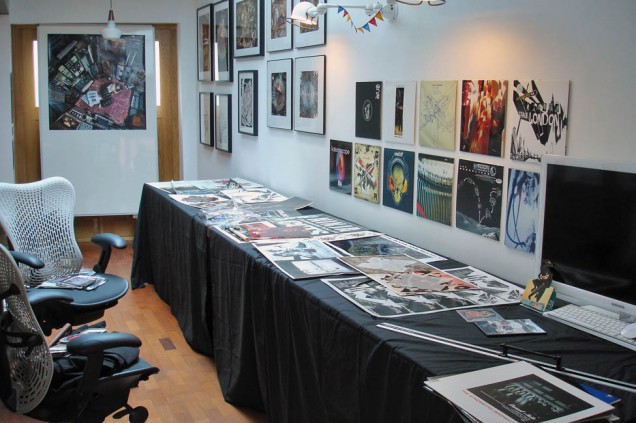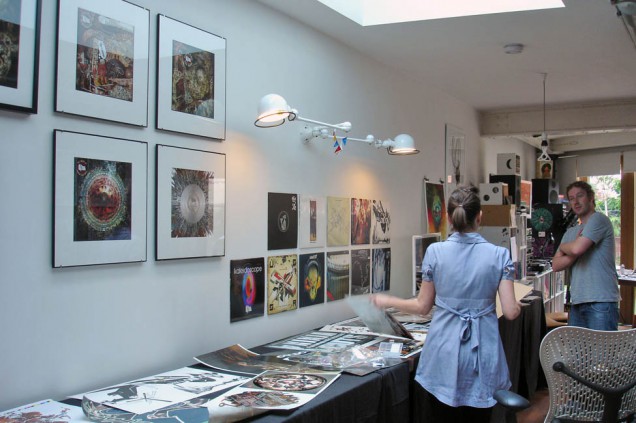 To add to this Sarah and Leigh always do special merchandise to go with each show, a regular item being a tea towel – or rather a visor / helmet polishing cloth (ooer) – printed locally and hemmed by Sarah's mum. Also for sale was a limited edition 'Skullstronaut' giclee print and locally sourced chocolate bars, cleverly playing on the outer space theme and packaged like freeze-dried astronaut food.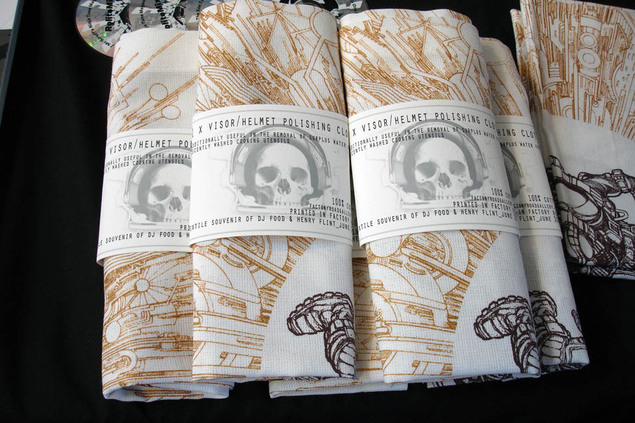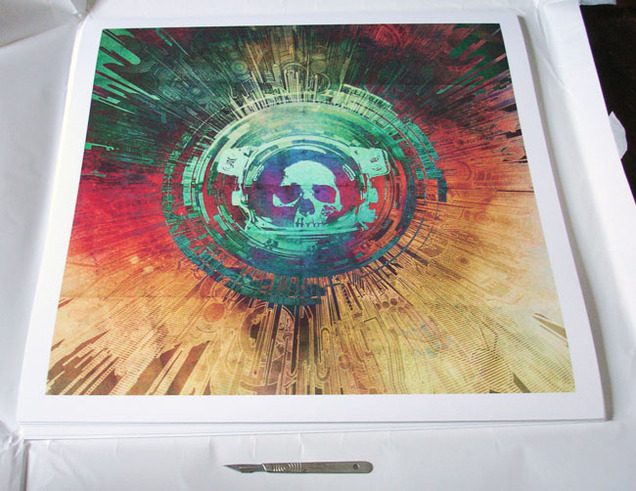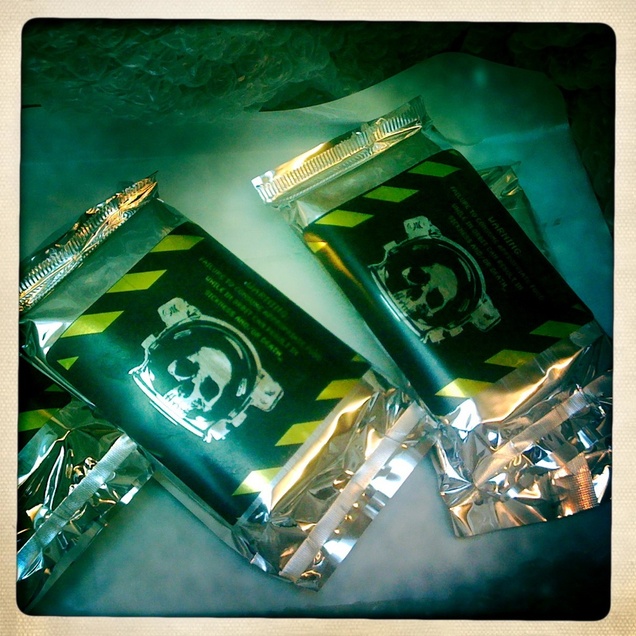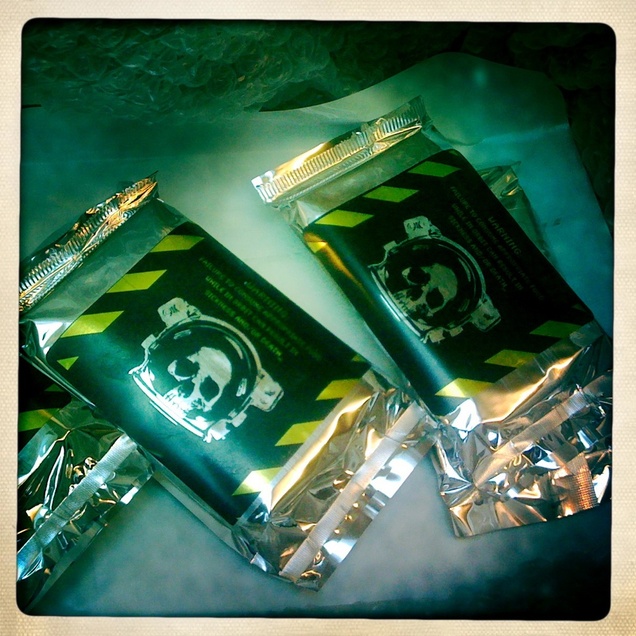 Speaking of food, the killer addition of the night was Jed Smith in the kitchen, whipping up amazing bite-sized, space-themed eats for everyone. The cubed chips, baked pea shells and sauce were the hit of the night, a bowl of 'space dust' (homemade sherbert) looked like a moon surface and the dried rice and beetroot dip was literally out of this world (sorry). Everyone who came looked uncertainly at it all, took the plunge and were instantly in for seconds.
It's rare to attend an opening and to ask the guests if they've been to the toilet yet (unless it's for some sort of nose up) but the bathroom had it's own charm in the form of Will Cooper-Mitchell's press shots of me in an astronaut suit, alongside a hand-painted shuttle (by Sarah's sister, close family ties going on here) and a short musical loop of space-themed sounds.
This, alongside a big barrel of local ale for refreshments, rounded the whole event off beautifully and added to the homely vibe of the exhibition. A steady stream of visitors arrived, both local and from further afield from 6pm until midnight and I talked to everyone from fans to friends, university professors to the local record store owner. Having been there since Thursday afternoon setting up and rearranging things I was beat by then and we had an early start the next morning but that's another story.
Thank you so much to everyone who came but especially Sarah, Leigh, Jed, Brook and everyone who helped to make it such a success, some of the photos here are by their friend, Nigel, who was also the architect who helped them build the gallery. We realised, once it was all hung and arranged, that we'd fitted in twice the content than in London, in a smaller space too so there's twice the reason to go and have a look. The show is at 71 Factory Road, Hinckley, Leicestershire, it's free and on until June 15th, all merchandise is on sale on the Factory Road Shop now.