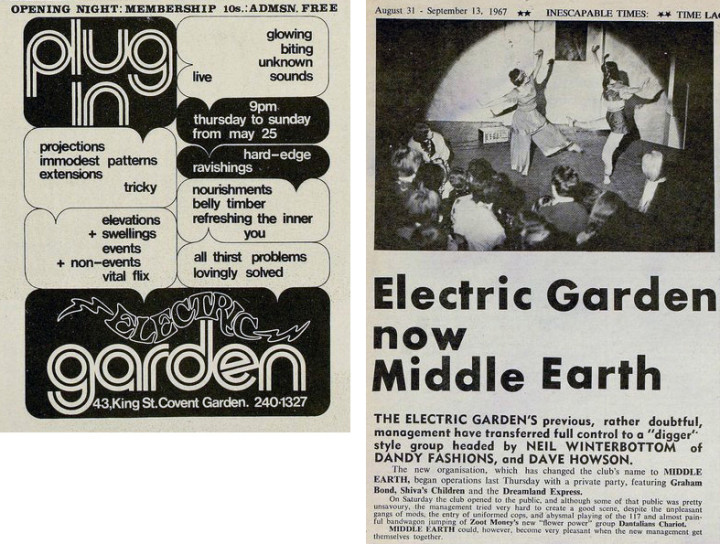 Middle Earth was one of the original, late 60s psychedelic clubs in London, coming shortly after The UFO (pronounced You-Fo – Underground Freak Out) club on Tottenham Court Rd. and pitching itself up in King St, Covent Garden. It actually started out as The Electric Garden in May 1967 but, after a disastrous opening weekend with completely misjudged vibes, heavy security and bizarre VIP areas, it had a change of name as well as management and became Middle Earth in September.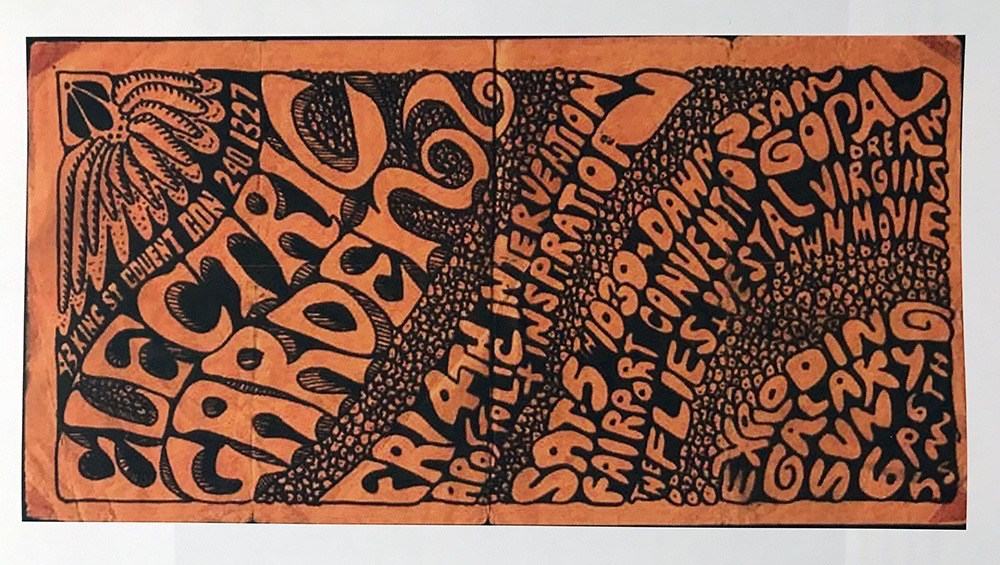 See below for eye witness details of the opening event – all these clippings taken from the International Times magazine online archive which is an invaluable resource of the times. Orange flyer above taken from Jill Drower's excellent book on The Exploding Galaxy, '99 Balls Pond Road'.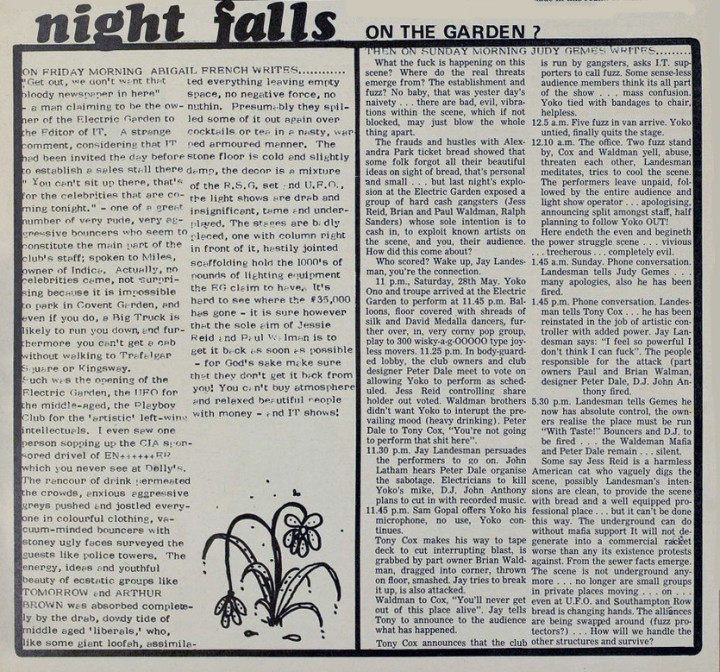 Middle Earth, an obvious Tolkien reference, John Peel was one of the resident DJs along with Jeff Dexter who would play to the crowd and the dance floor rather than Peel who would play more for the listeners out there. Jeff told me that they would be situated under the lighting rig for the light show until a small booth was built for them out with the stages for the bands to make them more part of the events. A regular track for him was The Lemon Pipers' 'Through With You' apparently, the nearest thing to an anthem for the nights, he liked this because it was nearly 10 minutes long so he could go for a smoke.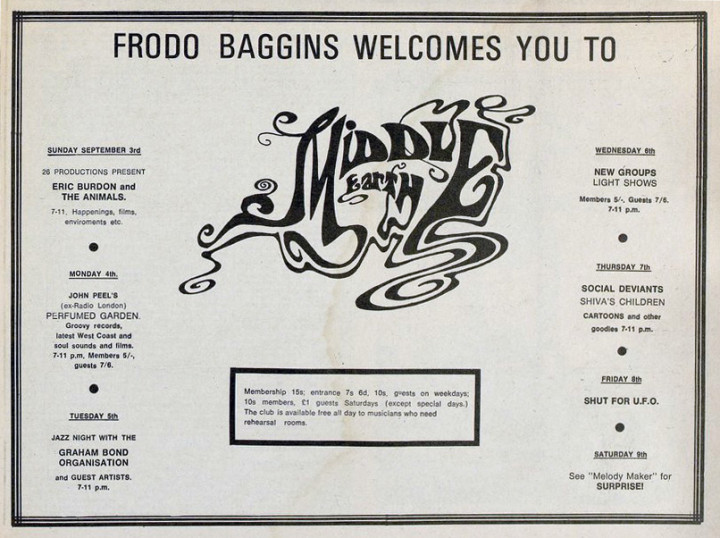 Above, the listing for the re-opening week, I like the way they were closed on the Friday that UFO was on rather than give the impression that they were competing.
There was no consistent art direction with the adverts featured in IT and most were dictated over the phone and the magazine would come up with the designs for the issue.
Below right: A benefit for Oz magazine with a 'sexy Barney Bubbles Light Show' – Barney Bubbles being the alias of Colin Fulcher who went on to design so many great sleeves for Hawkwind, Stiff Records and many more. Along with other pioneers like Liquid Len, he got his nickname from doing light shows where he would heat ink and oil under glass clock faces and project it across the club after witnessing this on the hippy scene in San Francisco on a trip to the States.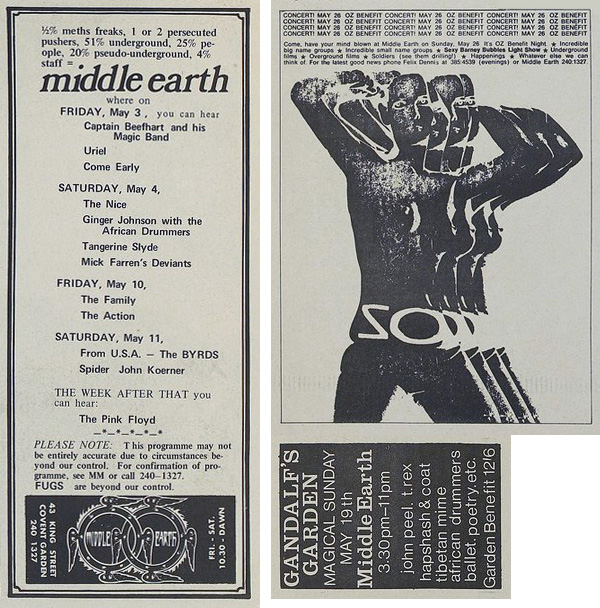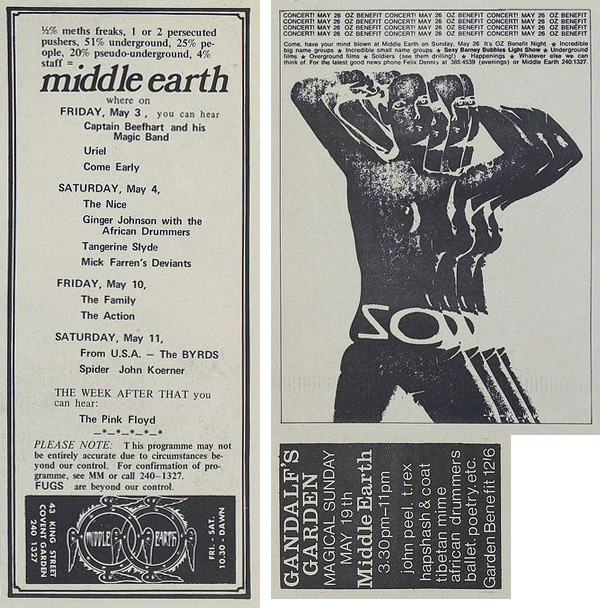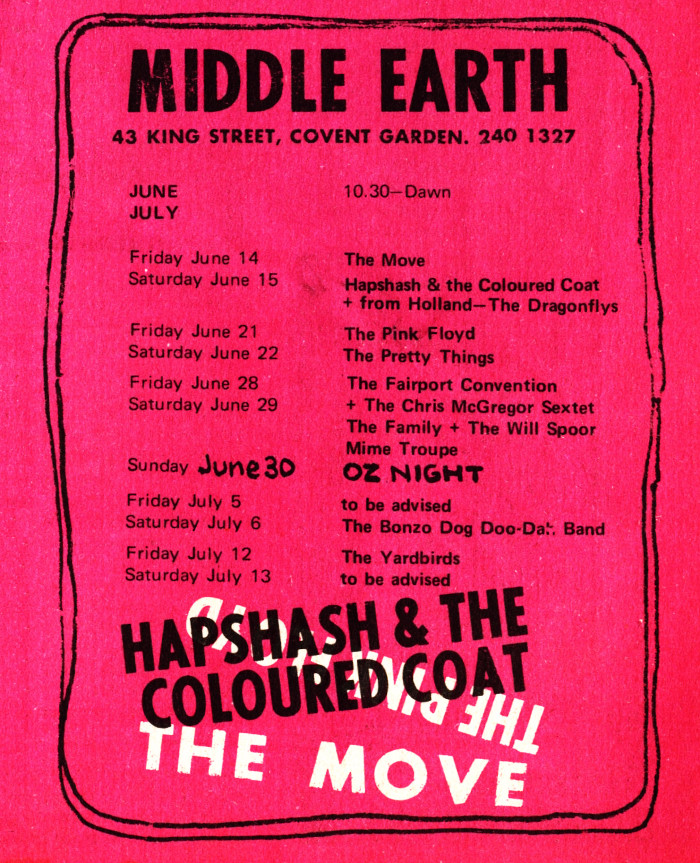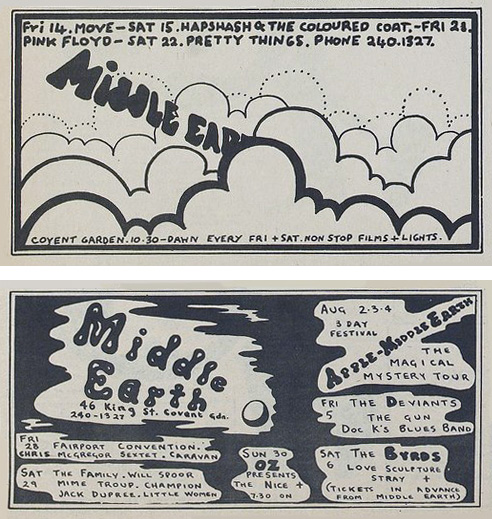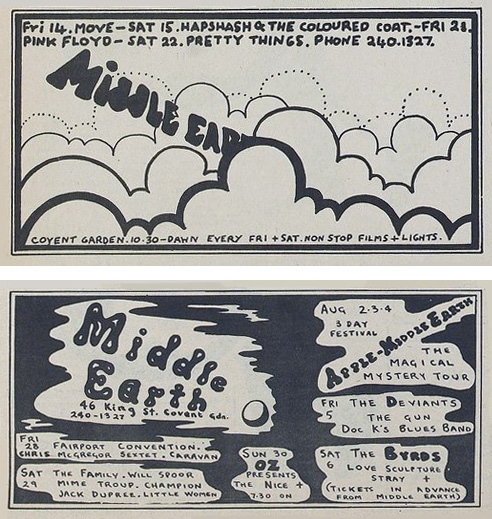 One of the mysteries of the Apple Middle Earth 3 Day festival listed above was that it never officially happened, something I'll cover in another post, but things were changing for the club around this time. Middle Earth was raided repeatedly by the police and was eventually forced to move to another venue, The Roundhouse in Chalk Farm, which I'll cover in part 2.