As James Brown passed away on Christmas Day 2006 I thought it would an idea to do a tribute, but rather than the obvious list of classics we've all heard a thousand times, play cover versions, spoken word that referenced him and DJ re-edits for an alternate look at the Godfather of Soul.
Franklin Ajaye opens with the title track from his comedy LP 'Don't Smoke Dope, Fry Your Hair', riffing off JB's quirks, he'd have had a field day with James' later shenanigans. Enoch Light comes with a funky (for him) cover of 'Hot Pants' from The Brass Menagerie 1973. An easy cover of 'Papa's Got A Brand New Bag' is taken from side 2 of Bobby & Betty Go To The Moon, a similar feat is performed on the uncredited Happy Monsters LP of children's songs where they tackle the same track under the title, 'Clap Your Tentacles'. Derek & Clive's 'Bo Duddley' take off owes more to Mr Dynamite than Mr Diddley, analysing afro-American speech in the most British of ways. DJ Harvey's re-edit of Dick Hyman's easy take on 'Give It Up Or Turn It Loose' extends the original to nearly nine minutes. The Dick version is from 'The Age of Electronicus' LP but this re-edit turned up on a 12" on Black Cock records in the late 90's.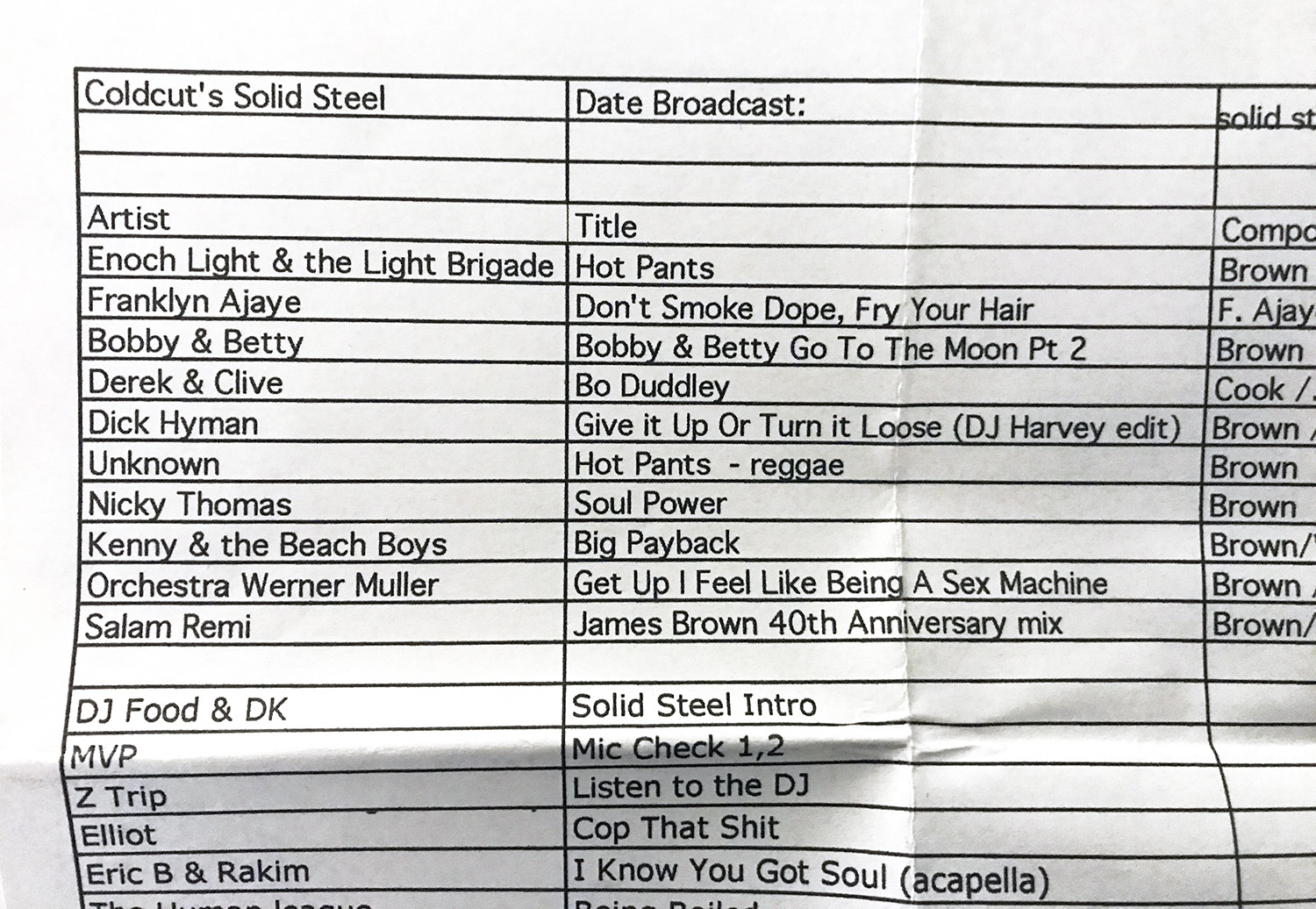 I've no idea where the reggae cover of Hot Pants comes from, quite possibly cribbed from online somewhere but Nicky Thomas' version of Soul Power was featured on the 'Funky Kingston 2 – Reggae Dance Floor Grooves' compilation in 2005. I'm sure if James was alive today he'd have capitalised on the energy crisis by remaking this as 'Solar Power'… (I'll get me coat). Kenny & the Beach Boys' 'Big Payback' was bootlegged on a 45 in 2004 but I've no memory of having a copy, Kenny is a dead ringer for James but the band are no relation to Brian Wilson's boys. The same Orchestra Werner Muller LP that yielded 'Get Up I Feel Like Being A Sex Machine' was pillaged for not one but two tracks by Bentley Rhythm Ace – a fairly easy album to come by entitled 'The Strip Goes On'. Salaam Remi's 40th Anniversary megamix of the hardest working man in show business turned up on a promo 12" in the late 90's which can still be had for cheap on Discogs.
*Note: this mix was on the same Cdr that last week's XFM Superchunk mix came from
Track list:
Franklyn Ajaye – Don't Smoke Dope, Fry Your Hair
Enoch Light & the Light Brigade – Hot Pants
Bobby & Betty – Bobby & Betty Go To The Moon Pt 2
Derek & Clive – Bo Duddley
Dick Hyman – Give it Up Or Turn it Loose (DJ Harvey edit)
Unknown – Hot Pants
Nicky Thomas – Soul Power
Kenny & the Beach Boys – Big Payback
Orchestra Werner Muller – Get Up I Feel Like Being A Sex Machine
Salaam Remi – James Brown 40th Anniversary mix