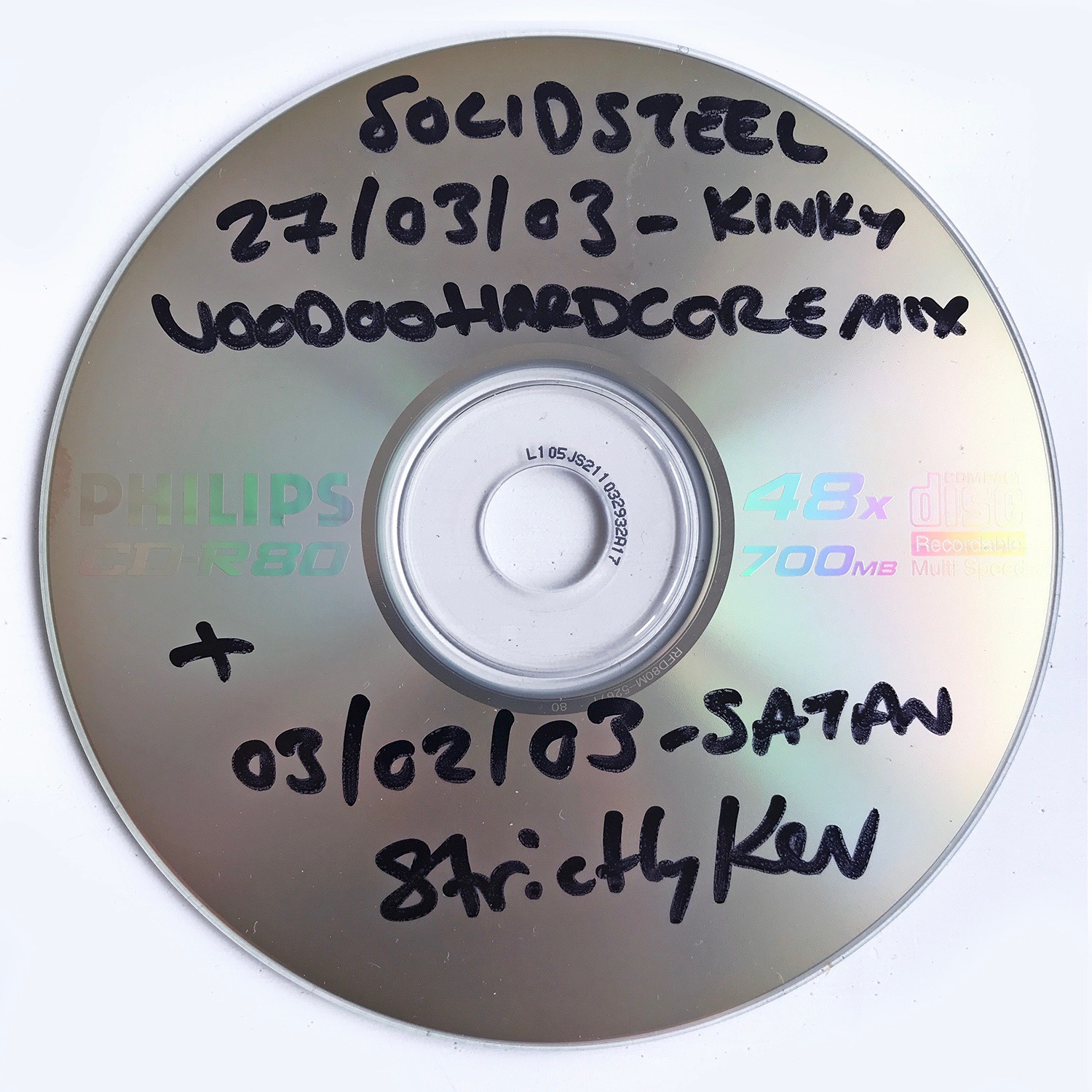 This is a silly one, a short collection of mostly comedy, cover versions or mash up tracks that was probably a last half hour in early February of 2003. The CD says 'Satan' but the PRS sheet states, 'Satanic Messages in Rock pt 492'. Opening with Kenny Everett who loved his Jean-Jacques Perry as a backing track, we slide quickly into a laid back Stereolab remix of The Polyphonic Spree's 'Soldier Girl'. By this point, the internet was yielding all sorts of audio treats via numerous illegal file sharing sites and the preacher talking about Satanic messages in rock music is spoken word gold and peppered throughout the mix. Including Missy Elliot's 'Work It' chorus which reverses itself was a nice touch. The Queen classic 'Another One Bites The Dust' was mentioned so it made sense to include it and showcase exactly what the preacher was talking about, I'll let you discover it for yourself.
I've no idea where 'I'm A Mormon' came from but I thought it was funny, apologies to all Mormons out there. Now into a couple of ska cover version, Mancini's peerless 'A Shot In The Dark' from the Pink Panther and 'Caravan', always go down well at parties. The Amelie theme song set to an electronic background was probably found on the web, I loved the film so this connected. More preaching over the end of it in the form of a ludicrous list of performers and films that were deemed 'satanic' by the church in the 80's. Back to the silliness and the Perry & Kingsley, this time paired with the 'Thong Song' by Frenchbloke & Son, two of the funniest practitioners of the mash up scene and friends to this day. Moog Country meets Missy next with more backwards lyrics and then into Andy Votel's cover of the 'Chatanaga Choo Choo' from the Finders Keepers Jukebox series of 45s.
We play out with an excerpt from the DJs On Strike Solid Steel mix which was so crazy it was vetoed by the powers that be and self-released on CD by the group as 'Too Hot For Solid Steel'. I excerpted a couple of bits so that you get the gist and added Kenny in for the final few bars.
Tracklist:
Kenny Everett – Hello/Moog theme
Polyphonic Spree – Soldier Girl (Stereolab remix)
Missy Elliot – Work It
Queen – Another One Bites the Dust
Janine Brady & the Brite Singers – I'm a Mormon
Roland Alphonso – A Shot In The Dark (Take 1)
Roland Alphonso – Ska-ra-van (Take 2)
Unknown – Amelie On Ice
Frenchbloke & Son – Unidentified Flying Thong
Dsico – This Is Missy Country
Andy Votel – Chatanaga Choo Choo
DJs On Strike – Too Hot For Solid Steel (excerpt)