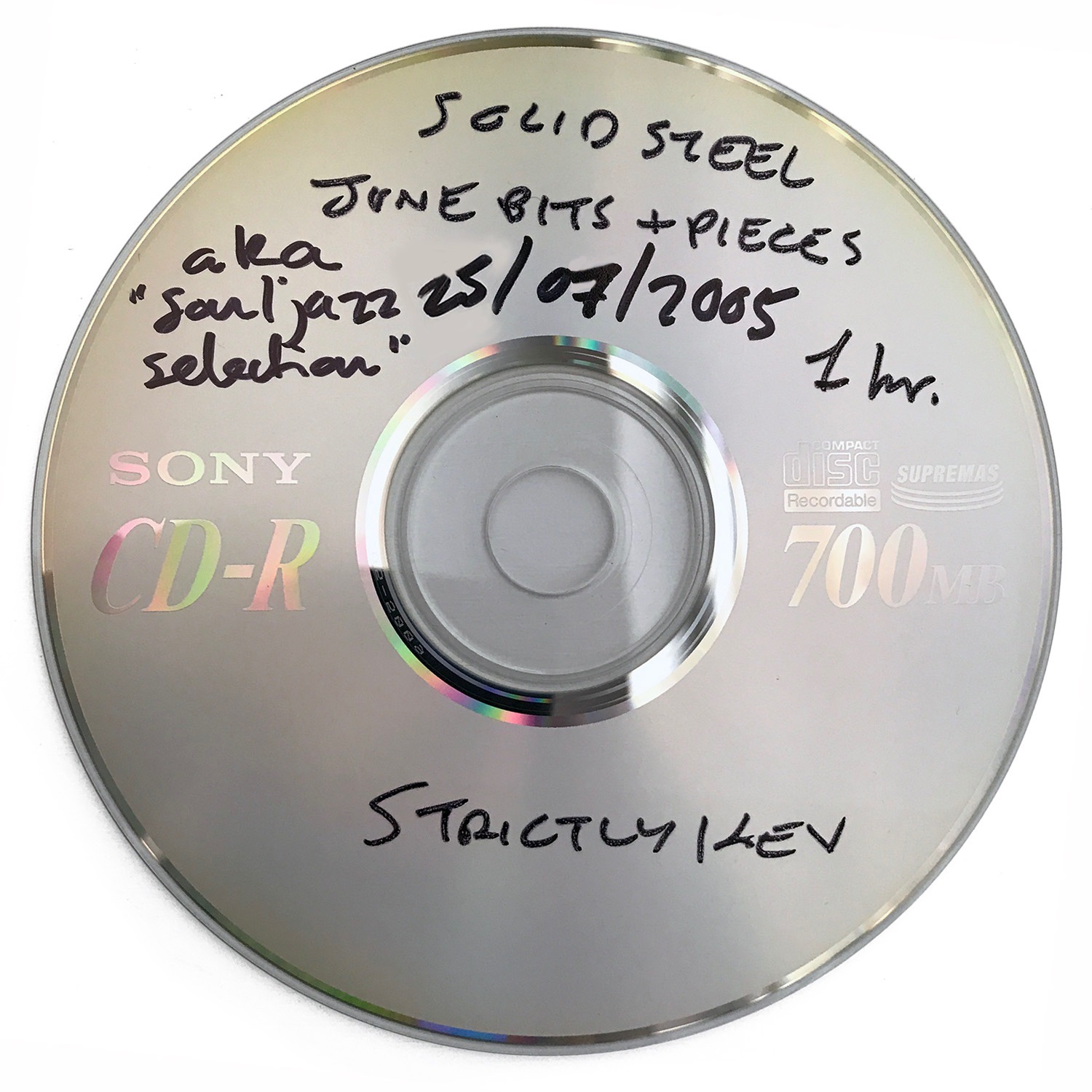 A jazz and beats-heavy hours from mid July 17 years ago this week. The lead track is from Loka who were just releasing their first records on Ninja Tune and who now have so many aliases I can't keep up (I just got the new Rotary Fifth LP this week and there's also Harmoniche 23). Nostalgia 77 follows, this was during Tru Thoughts golden period where they barely put a foot wrong release-wise and Nostalgia aka Ben Lamdin was always a solid producer. Afu-Ra's 'Poisonous Taoist' was doing the rounds on a weird bootleg-like 12" I seem to remember which I can't find on Discogs, great DJ Premier production.
The only mention of the Kid Sublime 'This Way' track on Discogs is on a Japanese comp from 2008 which can't be right unless I had a time machine. Lovely Harmonic 33 track mining the Lalo Schifrin vibe, the first of two from the 'Music For Film, Television & Radio volume 1' album on Warp (still don't think we've seen a vol.2). Elmore Judd fitted into that west coast beat maker scene for a bit, Madlib, Dilla, Sa-Ra and Dr Who-DAT?. DJ Vadim's One Self project with Blu Rum 13 and Yarah Bravo was on the same tip too. The Bees' trippy remix was only on the 7" and sees Ninja riding a nice line between rap, soul and jazz. I really need to revisit this Harmonic 33 album, it's really aged well. More Ninja business from The Herbaliser's fifth album, 'Take London' with one of my favourites of theirs – 'Geddim!' in fine Roy Budd style, (as usual I love the uptempo numbers). Ollie once told me the source of the main riff and it's really obvious once you know it but I'm sworn to secrecy.
Weirdly I've had Digital underground's 'Packet Man' in my head all week and now Humpty Hump (RIP) turns up on this Perceptionists track, a group that includes Mr Lif from the B side of their second single. It's a brilliant expose of gang bangers wanting to get into the rap game and they suggest better alternatives for their 'skills'. Roisin Murphy produced by Matthew Herbert is always a joy, he has such a minimalist groove and bounce to this, from her Ruby Blue album. Ending with the vocoder funk of Rubin Steiner and Break Reform's gorgeous Cut A Map in The Soles Of My Feet from their final album.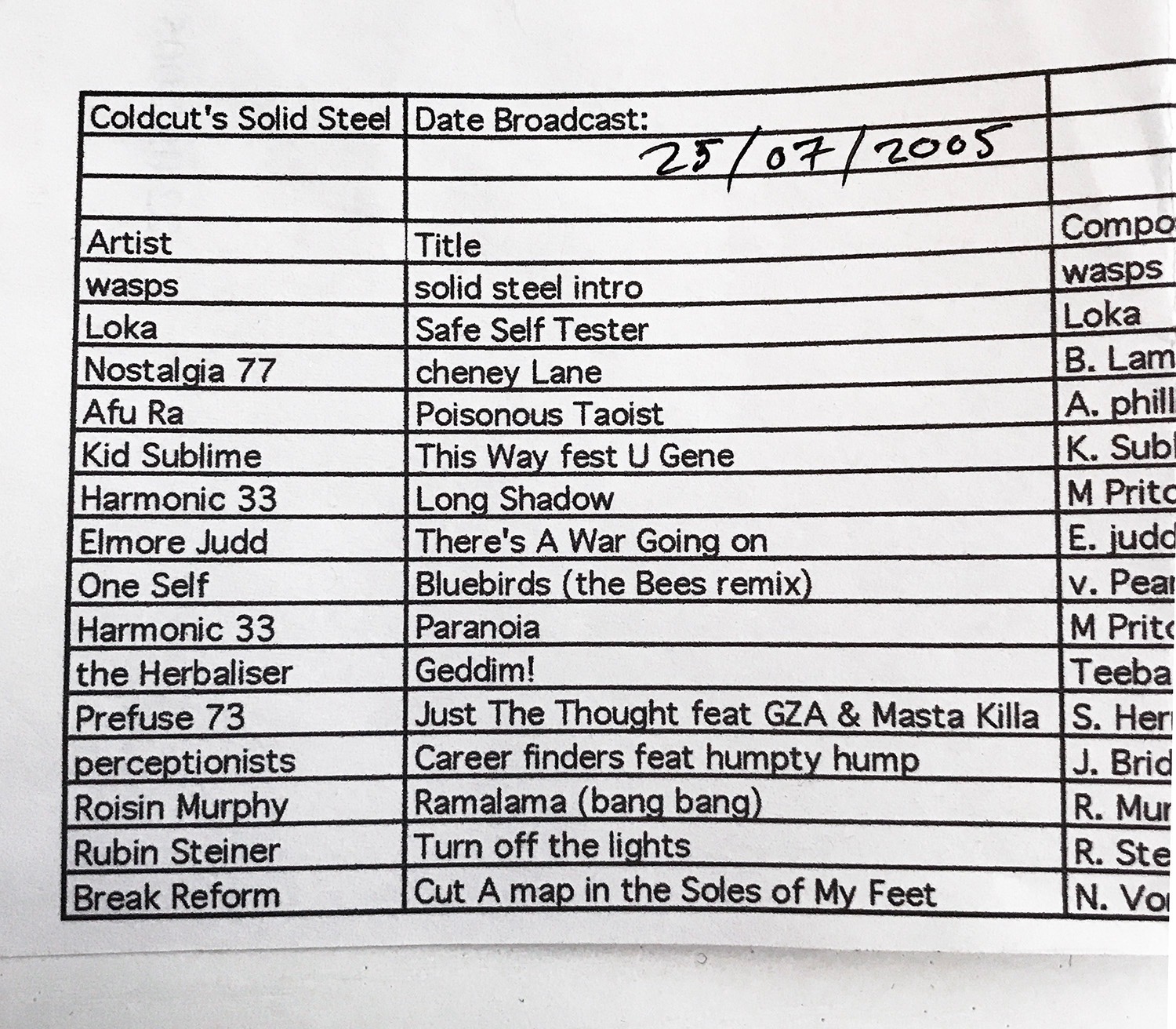 Wasps – Solid Steel intro
Loka – Safe Self Tester
Nostalgia 77 – Cheney Lane
Afu Ra – Poisonous Taoist
Kid Sublime – This Way feat. U Gene
Harmonic 33 – Long Shadow
Elmore Judd – There's A War Going On
One Self – Blue Bird (The Bees version)
Harmonic 33 – Paranoia
The Herbaliser – Geddim!
Prefuse 73 – Just The Thought feat. GZA & Masta Killa
Perceptionists – Career Finders feat Humpty Hump
Roisin Murphy – Ramalama (Bang Bang)
Rubin Steiner – Turn Off The Lights
Break Reform – Cut A Map In The Soles Of My Feet