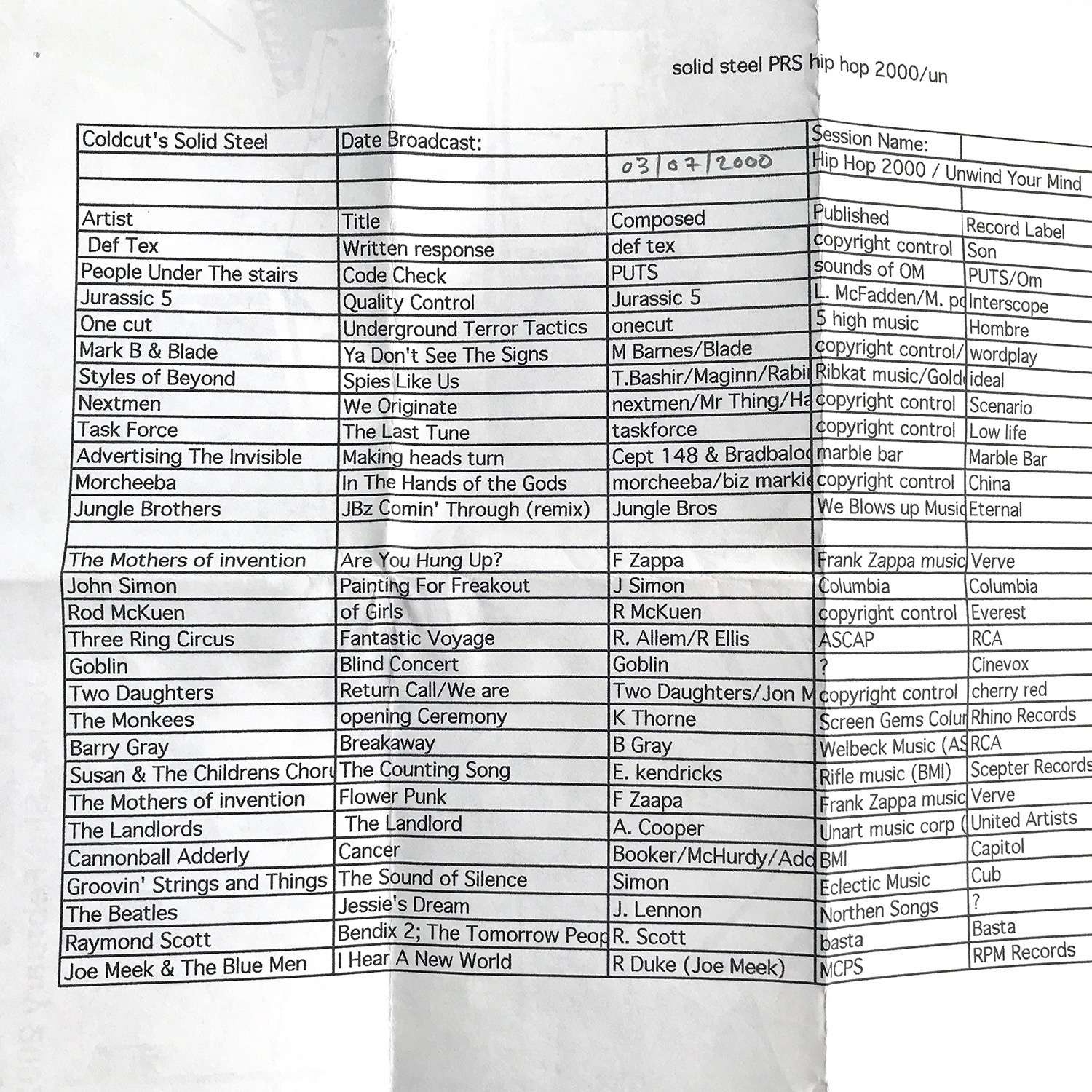 I'm fairly sure that this was the first kind of psychedelic mix that I did, largely made up of records bought whilst on tour in North America with Kid Koala and Amon Tobin during the Spring of 2000. It kicks off with something from the Blast First compilation Nothing Short of Total War (Rock Music Report) and then into some whispering piano talk from The Mothers of Invention. John Simon's 'Painting For Freakout' precedes The Electric Flag's incredible 10 minute … uh, 'Freakout' on the All You Can Eat soundtrack which is a fine record in the tradition of the Monkees' Head and parts of this mix would end up in my rescore for that film later. Rod McKuen jumps on the hippy bandwagon with his soothing tones from the Takes A San Francisco Hippy Trip album with 'Of Girls' – warning the cover is more psychedelic than the record. The Three Ring Circus made one single and an album with a clown through a kaleidoscope on the cover which which was enough for me to check it out. Goblin's 'Blind Concert' is from their classic Suspiria soundtrack and the Two Daughters track is from a Cherry Red comp from the early 80s, Perspectives and Distortion, which has all manner of interesting post punk, new wave experimentation on it including an early solo Matt Johnson track.
The Monkees' 'Opening Ceremony' montage from Head makes an appearance, in the middle of the mix, before we segue into a bit of Barry Gray's 'Breakaway' from the Space 1999 soundtrack, as sampled a few years previously by Tipsy for their 'Space Golf' tune. Susan & The Children's Chorus was a Sesame Street spin off record, not actually on Sesame Workshop, the label of the TV show. I was already collecting funky Sesame St material around this time before approaching the company to license their Pinball Number Count and later put together a compilation. I dived into Frank Zappa and the Mothers of Invention pretty hard in the early 00's, spurred on by his music concrete tape collages and Cal Schenkel's amazing cover art. The Landlords' 'The Landlord' is from the soundtrack to The Landlord – who'd have thought? This was basically an Al Kooper pseudonym and the OST has a few nice bits and pieces on it as well as a great cover.
Along with Zappa I was hoovering up David Axelrod productions including the more far out Cannonball Adderly ones and it took a little while to track down Soul Zodiac where Rick Holmes narrates the 12 signs over spacey jazz. A fairly pedestrian cover of 'The Sound of Silence' follows, the amount of cheap easy listening albums with vaguely funky versions of old standards was mind boggling back then. The Beatle' 'Jessie's Dream' – should probably be Aunt Jessies Dream I think and is from their Magical Mystery Tour film, it probably came from a bootleg of psyche-era stuff I was into along with all the Beach Boys Smile sessions I could find. 'Bendix 2: The Tomorrow People' comes from one of the greatest compilations of all time, Raymond Scott's Manhattan Research Inc. on Basta which was newly released at the time and caught the ear of a certain J Dilla. We play out with the title track from probably the UK's nearest equivalent to Scott, Joe Meek from his freaky space travel epic I Hear A New World, probably also a bootleg from around that time.
The Mothers of Invention – Are You Hung Up?
John Simon – Painting For Freakout
Rod McKuen – Of Girls
Three Ring Circus – Fantastic Voyage
Goblin – Blind Concert
Two Daughters – Return Call/We Are
The Monkees – Opening Ceremony
Barry Gray – Breakaway
Susan & The Children's Chorus – The Counting Song
The Mothers of Invention – Flower Punk
The Landlords – The Landlord
Cannonball Adderly – Cancer
Groovin' Strings and Things – The Sound of Silence
The Beatles – Jessie's Dream
Raymond Scott – Bendix 2: The Tomorrow People
Joe Meek & The Blue Men – I Hear A New World