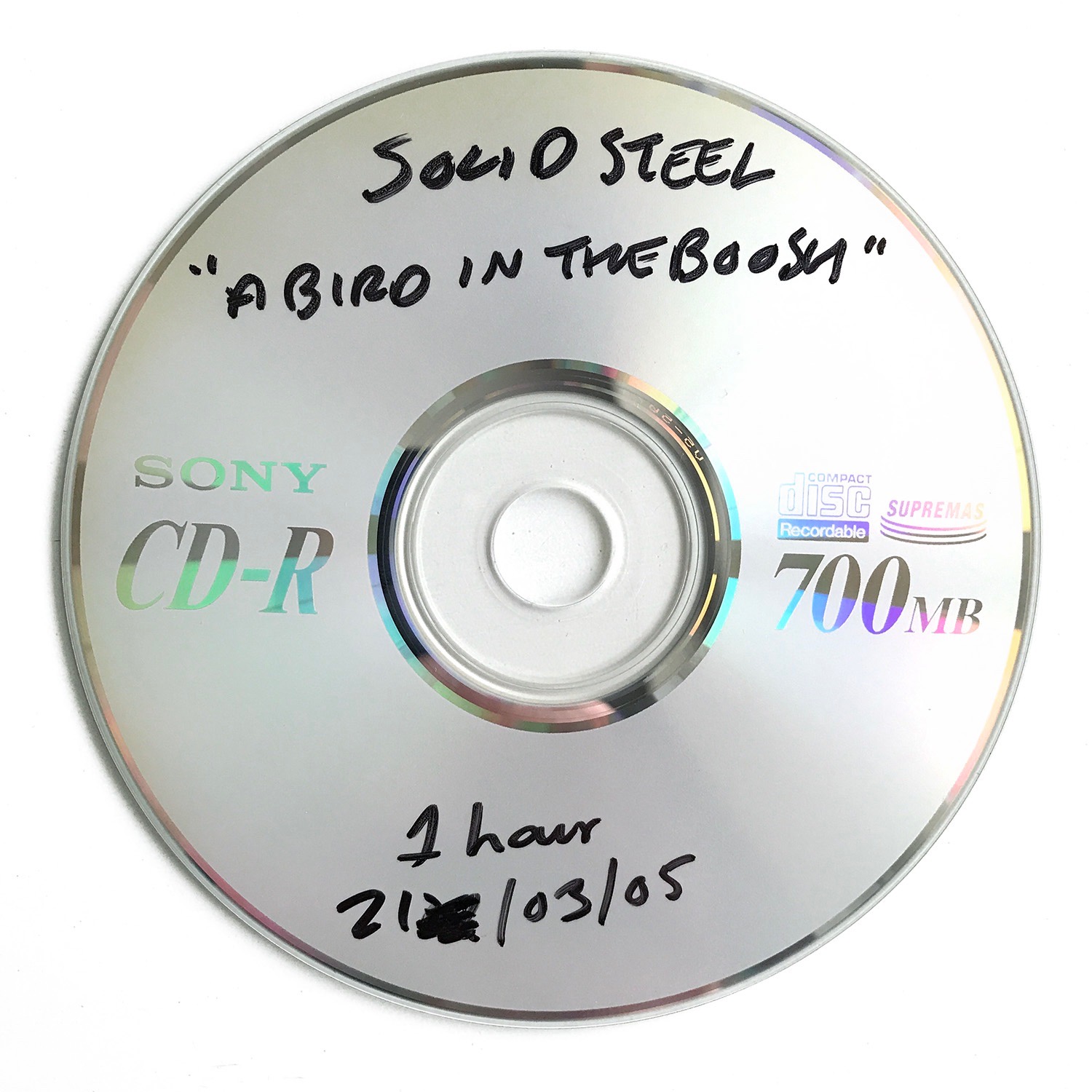 Opening with Pedro Chamorra's entry to the Solid Steel intro competition (we got so many good entries it was hard to pick a winner and I used loads of runner up tracks as intros) and we're off on an hour journey through time and space, punctuated by excerpts from series 1 of the Mighty Boosh. The first series is still my favourite with Howard and Vince's riffs on music (jazz vs electro) always a joy to hear.
The Kleptones kick the mix off with an odd collage based on Queen samples from their A Night At The Hip Hopera cut up mix, most of their stuff is still online for free at https://www.kleptones.com/. Soulwax's incredible mix of LCD's 'Daft Punk Is Playing At My House' builds and builds and was one of those rare things, a remix that improves on the original. Kevin Mark Trail's track was probably a promo 12" with MJ Cole remixes as was the Bluefoot Project Away team mix, coming from a compilation 12" entitled Interesting Flavours on Chocolate Fireguard Records.
Ms. Thing's 'Love Guide' was the Switch-produced cut from the Two Cultures Clash compilation and predates the sort of material he would go on to make with Diplo as Major Lazer. Vincent made one EP in 2004 and two tracks from it are on this mix, the duo of Phil Donkin (bass) and Simon Vincent (piano) formed the group and the broken beat jazz of the Sentinel EP was the result. More broken beats from the Sun Ra cover of Likwid Continual Space Motion Ope-ra, a collaboration between IG Culture and Bembe Segue on a 25 minute version of the classic 'Space Is The Place'. Two producers who have since become good friends and collaborators team up next as Johnny Trunk remixes Stephen Coates' The Real Tuesday Weld's classic 'Bathtime In Clerkenwell' into a reggae skank.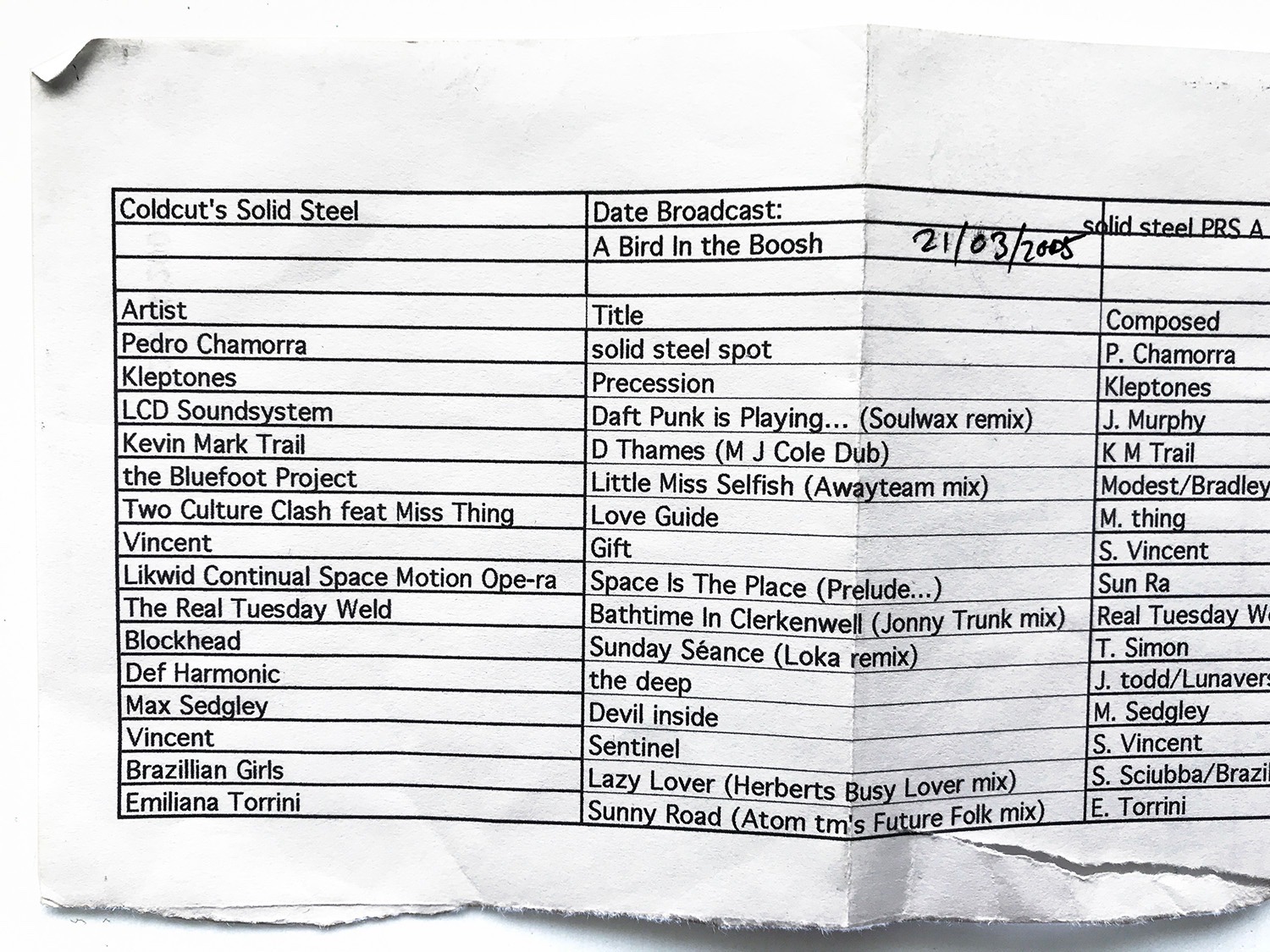 Meanwhile back at Ninja Tune the label was signing new acts and one – Loka – remixes the other – Blockhead – in fine fashion on his 'Sunday Seance'. I always liked Loka, they were exactly what I was after at that point and their first album is a hidden classic. I don't remember where the Def Harmonic track came from, I can't recall owning one of their records but maybe it was on a comp? Max Sedgley's follow up to his massive 'Happy' single was almost as big and then it's the second Vincent cut, bringing jazz to the funk – should have waited with that earlier Mighty Boosh sample. Finishing with a remix from Herbert in which I get busy on the loop pedal at the end we wind things down with Atom TM's glitchy take on Emiliana Torrini's 'Sunny Road'.
Tracklist:
Pedro Chamorra – Solid Steel spot
Kleptones – Precession
LCD Soundsystem – Daft Punk Is Playing… (Soulwax remix)
Kevin Mark Trail – D Thames (MJ Cole Dub)
The Bluefoot Project – Little Miss Selfish (Away Team mix)
Ms. Thing – Love Guide
Vincent – Gift
Likwid Continual Space Motion Ope-ra – Space Is The Place (Prelude…)
The Real Tuesday Weld – Bathtime In Clerkenwell (Jonny Trunk mix)
Blockhead – Sunday Séance (Loka remix)
Def Harmonic – The Deep
Max Sedgley – Devil Inside
Vincent – Sentinel
Brazillian Girls – Lazy Lover (Herberts Busy Lover mix)
Emiliana Torrini – Sunny Road (Atom TM's Future Folk mix)