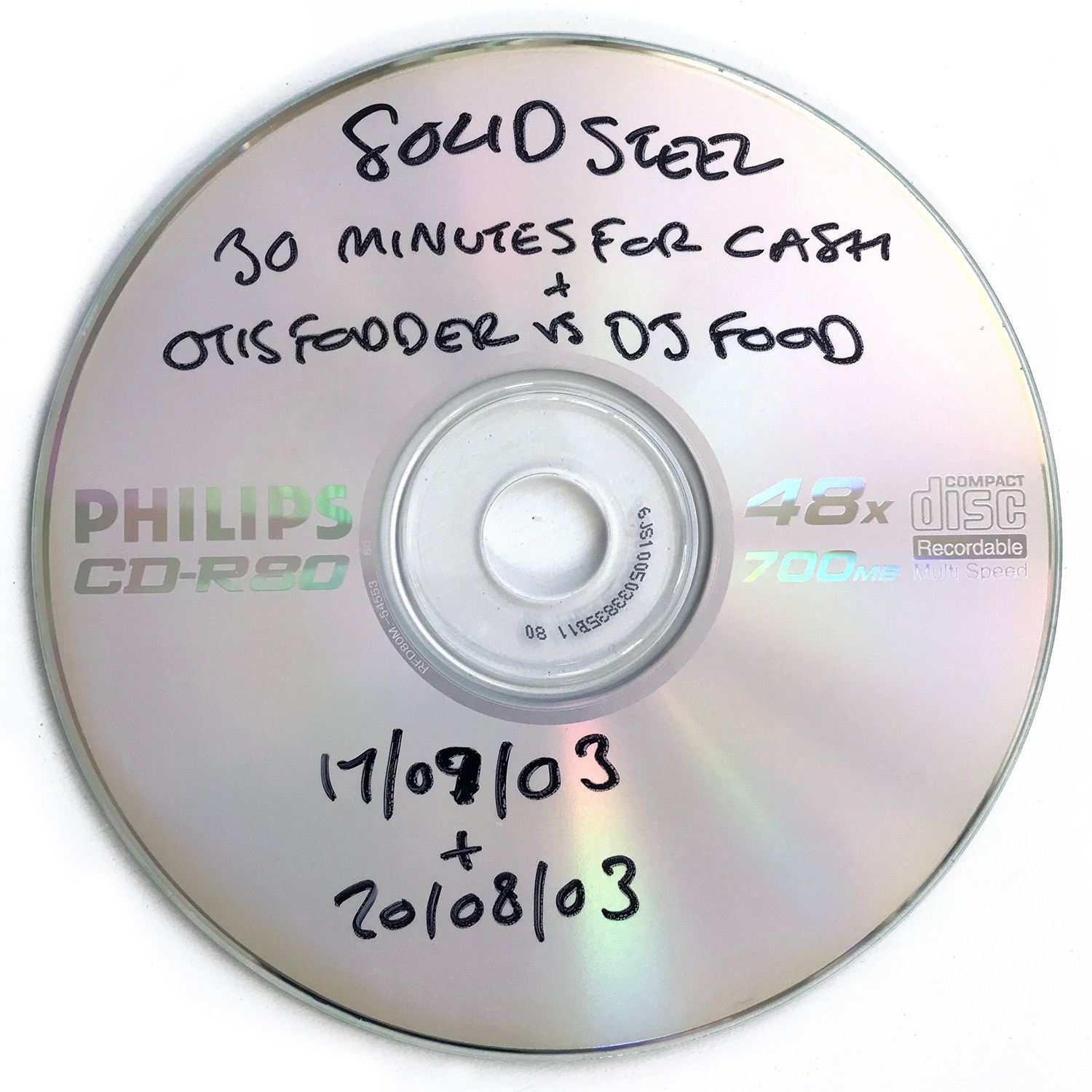 A short, mellow set from 19 years ago – Johnny Cash's 'One Piece At A Time' is one of the first songs I remember hearing as a child. My dad was/is a mechanic so this song always appealed to him and he explained that it was about a guy building a car out of bits and pieces of parts he'd stolen from the factory he worked at. He would do a similar thing with all manner of bike parts (not stolen!) over a 14 year period when he built his own custom bike later on in life. The track is book-ended by excerpts from the 'Live At Folsom Prison' album. Lunz's 'Wobbly Flu Twilight' is a dark and delicate piano piece and then a Blackalicious track produced by DJ Shadow called 'Changes' appears, introduced by a short John Rydgren interview from a series called 'Scenes'. In the interview the artist (who I'm not sure the identity of) talks about changes that he made on the new record and how the record label weren't happy with it.
This is one thing I always tried to do with spoken word inserts, make the subject matter somehow reference the track it was placed with or over, it wasn't always possible but when it works it's lovely. The track was taken from an original beat tape of DJ Shadow's I was in possession of at the time and I later found out it appeared on the Japanese version of the 'Melodica' album (credited to UNKLE) but I've never found a copy to check if it's the same. Keeping on the Shadow theme, I had recently discovered one of the samples from one of my favourite tracks of his, 'Changeling' from Endtroducing, in the form of 'Imagination Flight' by the Chaffey College Jazz Ensemble, a private press LP with various composers, Charles Argersinger being the writer of the title track.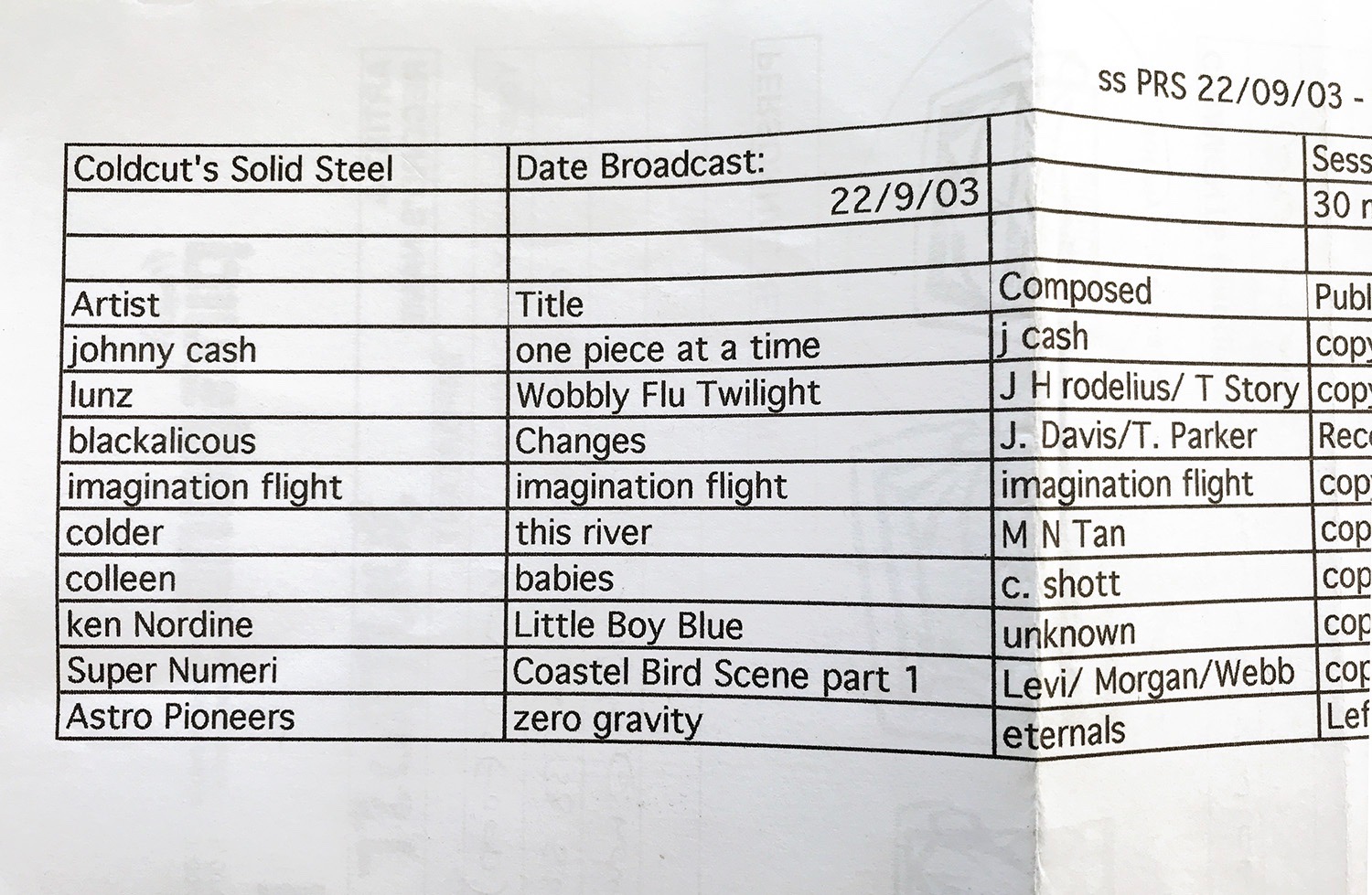 'This River' by Colder, on Trevor Jackson's Output label has a beautiful, dark piano motif I could listen to all day and Colleen's 'Babies' floats in like a saccharine lullaby. Ken Nordine narrates 'Little Boy Blue' from Billy Vaughn & his Orchestra's 1956 release on Dot, one of his first appearances on vinyl. There's more of Johnny Cash's dialogue to the crowd from the Folsom Prison album over the start of Super Numeri's 'Coastel Bird Scene part 1', at the time a new signing to Ninja Tune who would make two albums and singles before various members split into Loka, Snap Ant and Pop Levi. What I didn't know at the time was that James Morgan aka Snap Ant, had also previously released a 12" on Ntone under the name Ominium which is presumably how Super Numeri came to be on the label. The originally mis-titled Eternals' 'Zero Gravity' is the opening track from the Astropioneers OST of which I have absolutely no recollection of owning but it's a lovely way to end a fairly sedate set.
Track list:
Johnny Cash – One Piece At A Time
Lunz – Wobbly Flu Twilight
Blackalicous – Changes
Chaffey College Jazz Ensemble – Imagination Flight
Colder – This River
Colleen – Babies
Ken Nordine – Little Boy Blue
Super Numeri – Coastal Bird Scene part 1
The Eternals – Zero Gravity