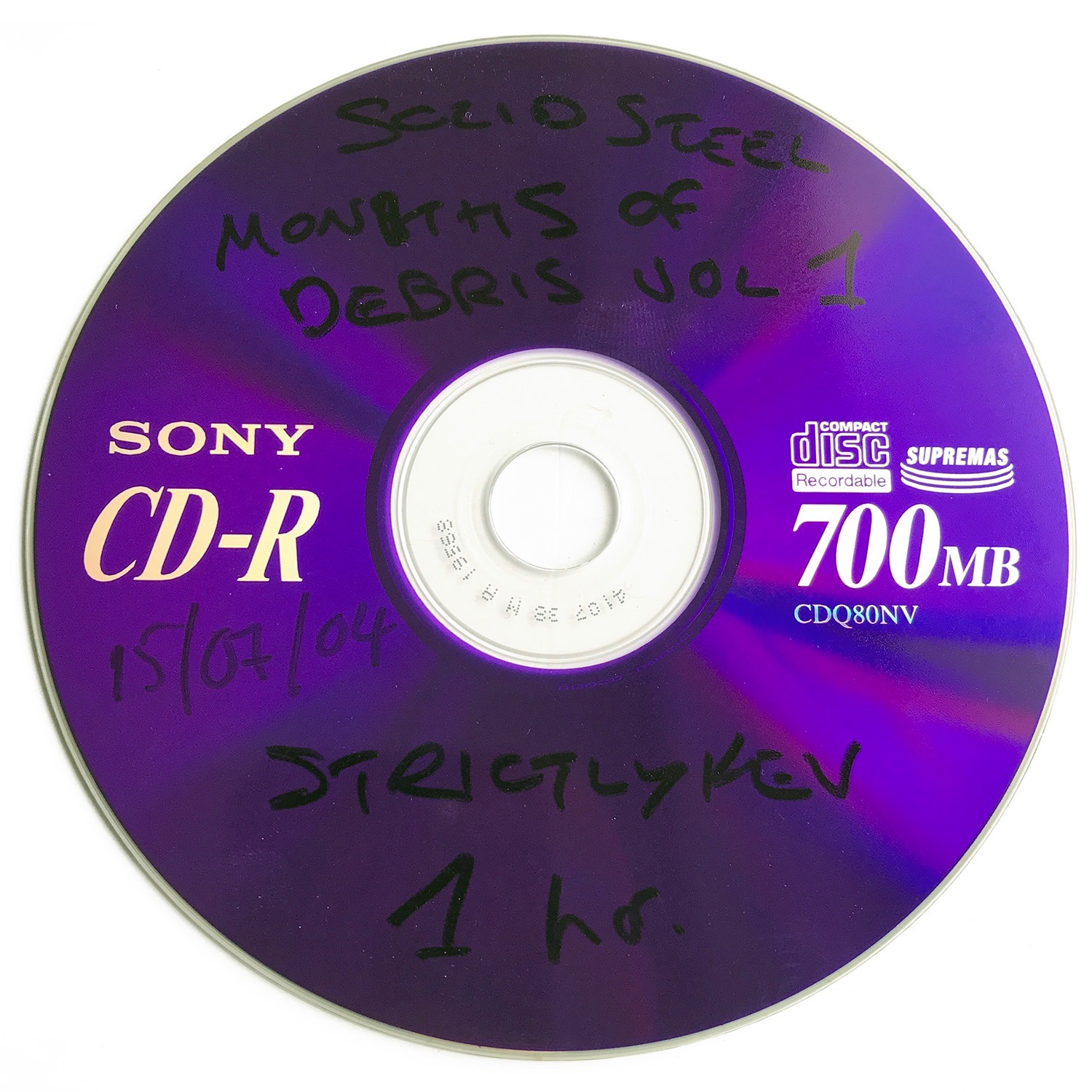 A random delve into the archive this week from a year we've not covered too often recently, 2004. Kicking off with a rather tranced up version of the Solid Steel theme by Redroof we start the show proper with Waxfactor's (aka Pete Sasqwax) 'Reggaenomics' from his lost classic LP 'Sci-Fu' which has just been re-released by coincidence. I'd forgotten about BJ Cole and Luke Vibert's 'Surf Acid Hoedown', what an acid monster, crazy 303 patterns and time changes. One of the first (that I heard) versions of The White Stripes' classic 'Seven Nation Army' was by Brighton's finest, Nostalgia 77 (Ben Lamdin) and Alice Russell, then starting to make a name for herself as a premier soul vocalist. Dynamite MC's 'Bubble' sounds exactly like that, with early grime licks meeting the sort of production coming out of DJ Zinc's Bingo Beats label around that time.
The Council Flats of Kingsbury is some kind of dirty fuzzed out beats before that kind of thing was the fashion over on the West Coast, this was from a split white vinyl 7" with LJ Kruzer on the flip on Uncharted Audio. Prince Po featuring MF Doom – 'Special Distortion' was from the Danger Mouse-produced, Lex-released LP The Slickness, Lex were really on a role at this point. Bristol's Boca 45 steams in with 'Air Drums' from his second release on High Noon Music. Blend Crafters was a one-off thing Jurassic 5's DJ Nu-mark did with Pomo which saw one LP and a handful of singles around in 2004 which is followed by the aptly-named 'Genuine' by Sharon Jones (RIP) and the Dap Kings. Has a new funk tune ever sounded so authentically 60's? At that point it was one of the first that hit that sweet spot.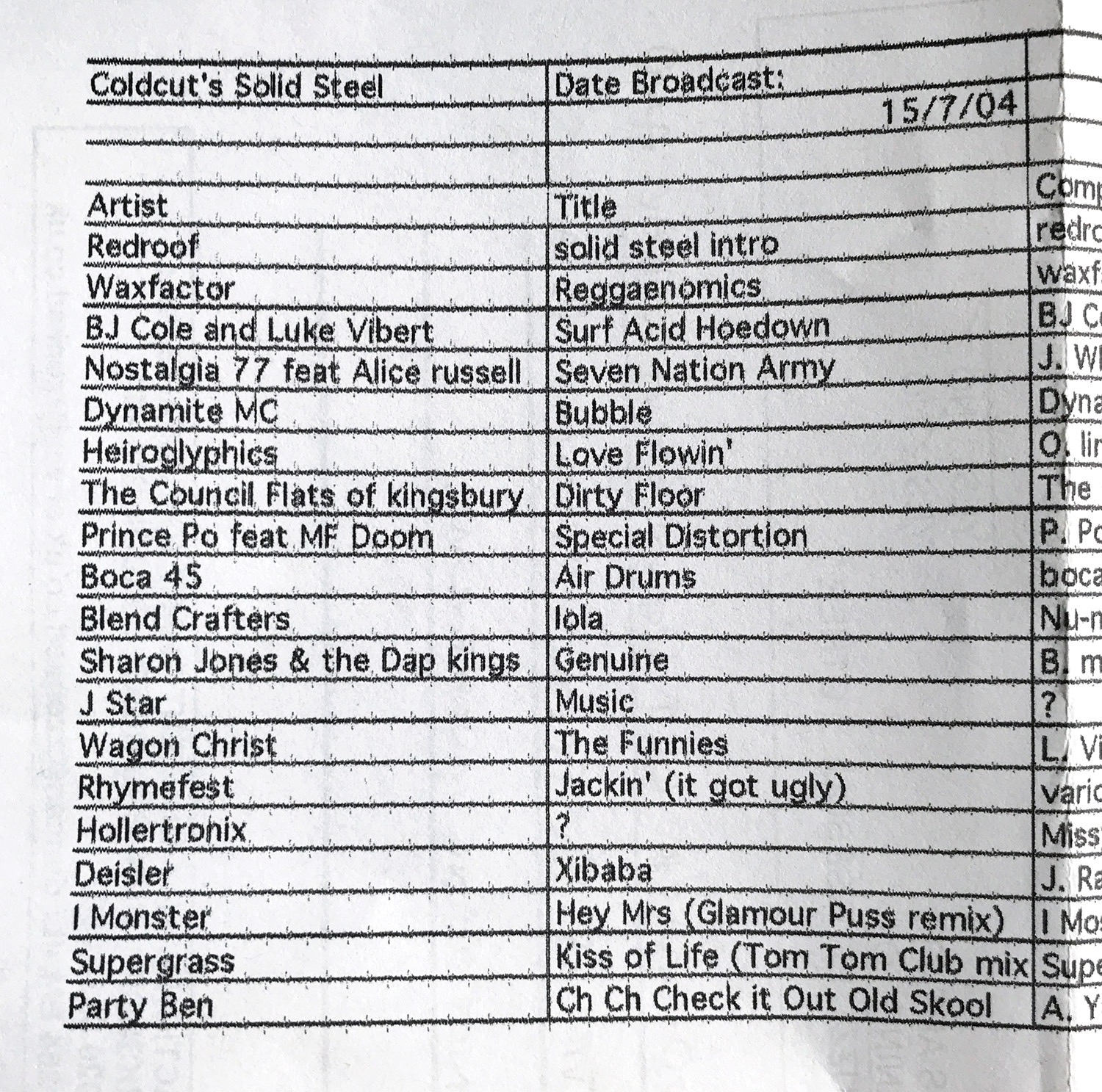 J Star's take on Erick Sermon's 'Music' was one of his first reggae make overs and it's another Luke Vibert tune, under his Wagon Christ nom de plume with a track from his second Ninja Tune LP, 'Sorry I Make You Lush'. Rhymefest's 'Jackin' (it got ugly)' single, chock full of classic rock samples, was something of a breath of fresh air at this point, stealing indiscriminately from all over the map. Diplo's Hollertronix had come late to the mash up party but were putting out some (mad) decent examples in the states with this Clash meets Missy Elliot example being one of the best. Deisler's first six track release for Tru Thoughts yielded the latin-infused 'Xibaba'. I Monster come on like the mutant cousin of a glam-stomping ELO with Hey Mrs' before an ill-advised segue into my favourite Supergrass track, the Talking Heads-aping 'Kiss of Life'. If they didn't go into the studio with the exact intention to ape the Eno-produced era of the Heads then I won't believe it, they even got Tom Tom Club to do a remix for god's sake. Interesting that Gaza's brother, Rob Coombes in credited as primary writer on it. Party Ben's hip house take on the Beastie's 'Ch-Ch-Check it Out' is fun but hasn't aged well, would probably work on the dance floor but in the mix here it's a bit full on as a final track.
Track list:
Redroof – Solid Steel intro
Waxfactor – Reggaenomics
BJ Cole & Luke Vibert – Surf Acid Hoedown
Nostalgia 77 feat Alice Russell – Seven Nation Army
Dynamite MC – Bubble
Heiroglyphics – Love Flowin'
The Council Flats of Kingsbury – Dirty Floor
Prince Po feat MF Doom – Special Distortion
Boca 45 – Air Drums
Blend Crafters – Lola
Sharon Jones & the Dap Kings – Genuine
Jstar – Music
Wagon Christ – The Funnies
Rhymefest – Jackin' (it got ugly)
Hollertronix – Untitled
Deisler – Xibaba
I Monster – Hey Mrs (Glamour Puss remix)
Supergrass – Kiss of Life (Tom Tom Club mix)
Party Ben – Ch Ch Check it Out Old Skool