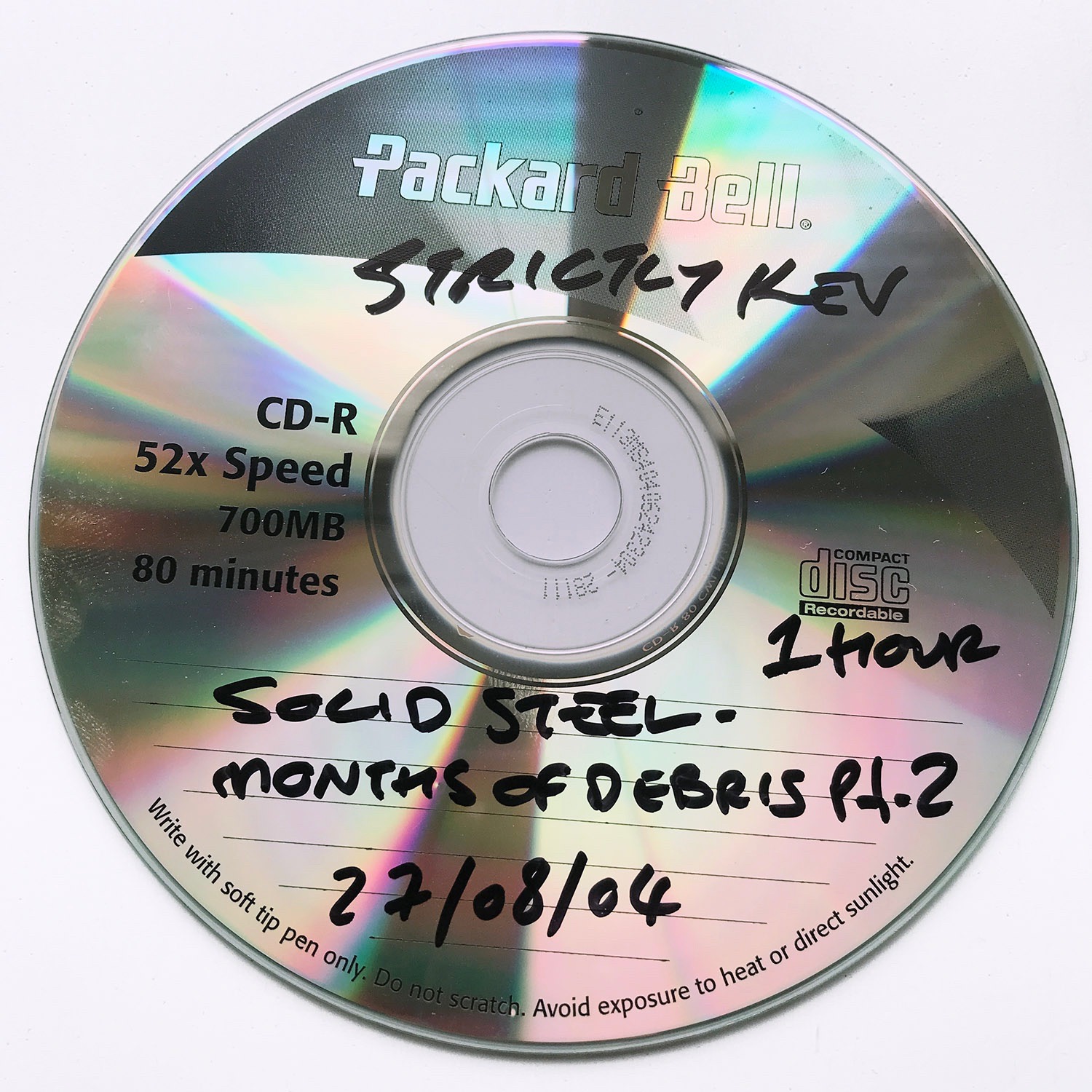 A follow up to last week's upload with a set full of bits and pieces floating around at this point in time, most of it contemporary with some oldies to finish. The recording at the start is DK from my answerphone, he's a huge World's Famous Supreme Team and I'd peppered the set with bits of a recording of an old WHBI show I'd found. A full length version of 2 Tall's entry into the Solid Steel intro competition kicks things off before Diplo's premiere release, the amazing 'Epistomology Suite' enters. I remember how exciting this was to hear at the time, we felt Big Dada had discovered the new DJ Shadow and this was his 'Entropy'. It didn't quite work out like that but his debut LP, 'Florida', is still a classic debut. Smoove switches things up with a swinging double time soul banger featuring Jess Roberts, I used to play this out for years. Firstborn's Northern Soul-esque stomper, 'The Mood Club (Part 2)' is taken from the 7" and features a great tempo switch down.
Señor Coconut remixes Stephen Coates' The Real Tuesday Weld and Madlib tackles The Free Design with a Nostalgia 77 track sandwiched in-between. Earl Zinger cuts up the Pink Elephants on Parade theme tune before Black Lodge (RIP) puts his twist on it and then Sun Ra and his Arkestra cover it from the Disney compilation, Stay Awake. Def Tex's slamming, bleeping 'Freaks' ruins the mood somewhat as does the frantic mix into Awkward's excellent break-fest 'Plug Me In', must dig that out again. Ivory blazes a trail all over the shop before Steinski gets old school with the cuts from his split 12" on Stones Throw with J.Rocc. Dr Rubberfunk gets the treatment from Fort Knox Five before Four Tet gets made over by Icarus – I seemed to like the remixes over the originals half the time. This latter remix starts like some lost Terry Riley piece before the drums steam in, must revisit!.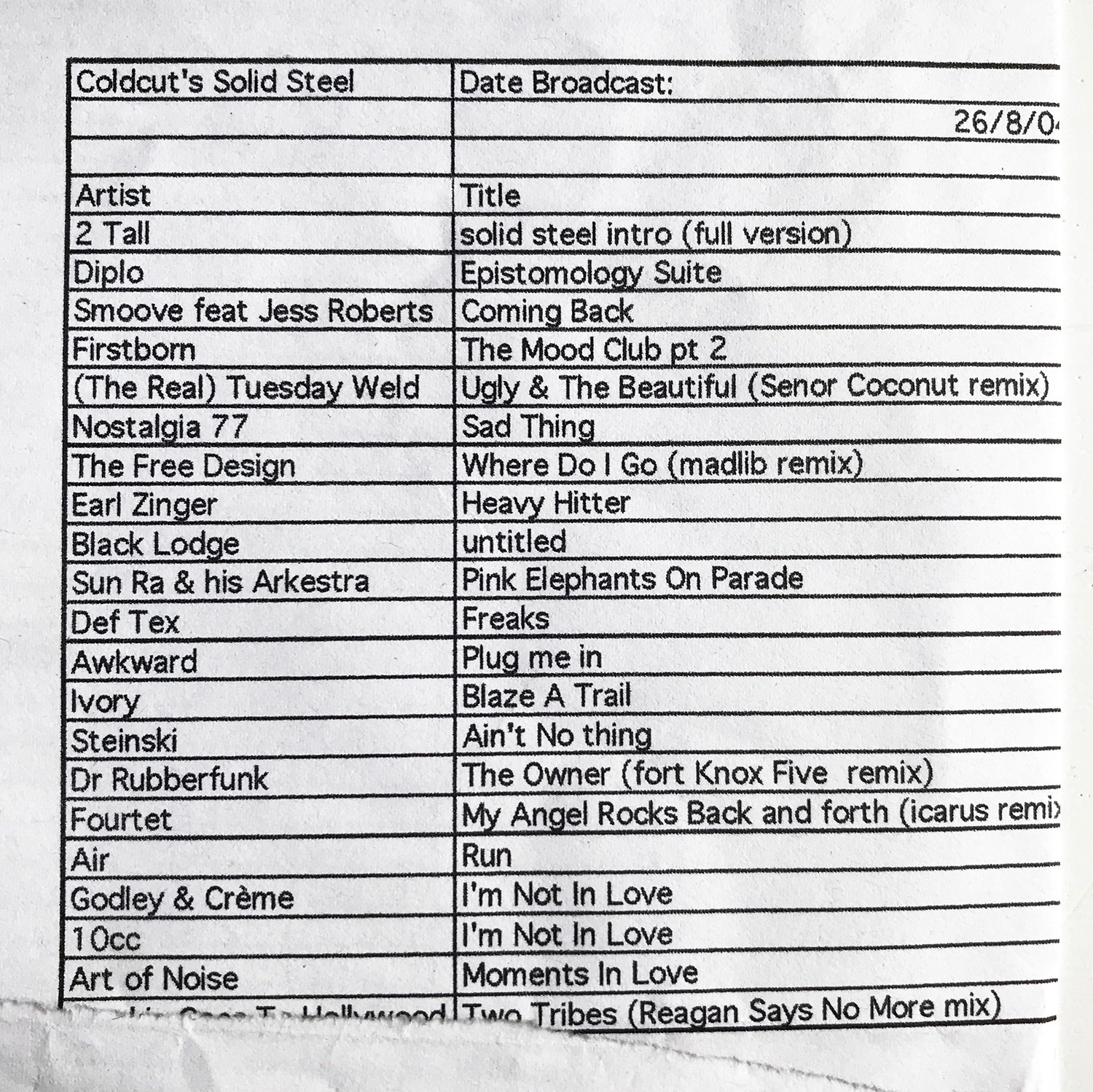 This end section was sonically themed: I thought the vocal harmonies of Air's 'Run' were a clear reference to 10cc's 'I'm Not In Love' so found the original and a Godley & Creme version. I've always thought there was an obvious sonic fingerprint shared with 10cc's I'm Not In Love' and the Art of Noise's 'Moments in Love', a theory strengthened by the fact that AON's JJ Jeczalik collaged the 10cc/Godley & Creme History Mix Vol.1 LP together and then Lol Creme joined the AON in the 00's. You could further add G&C's Trevor Horn-produced 'Cry' to the equation, forgive the tuning, it's way out. A further link to the AON/Trevor Horn axis comes in the form of Hibs' excellent fan mix of Frankie's 'Two Tribes' which could have been a lost mix from the 80's. Hibs – aka Jeff Knowler to his friends – engineered my recording of Paul Morley for the Raiding The 20th Century mix and then went on to mix most of my work since.
2 Tall – Solid Steel intro (full version)
Diplo – Epistomology Suite
Smoove feat. Jess Roberts – Coming Back
Firstborn – The Mood Club (Part 2)
(The Real) Tuesday Weld – Ugly & The Beautiful (Senor Coconut remix)
Nostalgia 77 – Sad Thing
The Free Design – Where Do I Go (Madlib remix)
Earl Zinger – Heavy Hitter
Black Lodge – untitled
Sun Ra & His Arkestra – Pink Elephants On Parade
Def Tex – Freaks
Awkward – Plug Me In
Ivory – Blaze A Trail
Steinski – Ain't No Thing
Dr Rubberfunk – The Owner (Fort Knox Five remix)
Four Tet – My Angel Rocks Back and Forth (Icarus remix)
Air – Run
Godley & Crème – I'm Not In Love
10cc – I'm Not In Love
Art of Noise – Moments In Love
Frankie Goes To Hollywood – Two Tribes (Hibs' Reagan Says No More mix)
World's Famous Supreme Team – outro