Exciting times this weekend when I visited the Spark House in Leyton for an AV gig with the Light Surgeons, Blanca Regina & Pierre Bouvier Patron, Generic Human, Julian Hand and Heena Song. The night was put on by Matekoi and featured an experimental set of modular soundtracks, film showings and DJ sets along with a few punters walking in unawares of what was going on. Wheels of Light got featured in the Observer on Sunday and
online via the Guardian
and we visited the Horror Show exhibition at Somerset House which was a mixed but fascinating bag. I've been doing even more promo and writing this week to promote the book as well as writing for Dust & Grooves 2 and swelling the ranks of my underground magazine collection. But enough of that, on to the mix!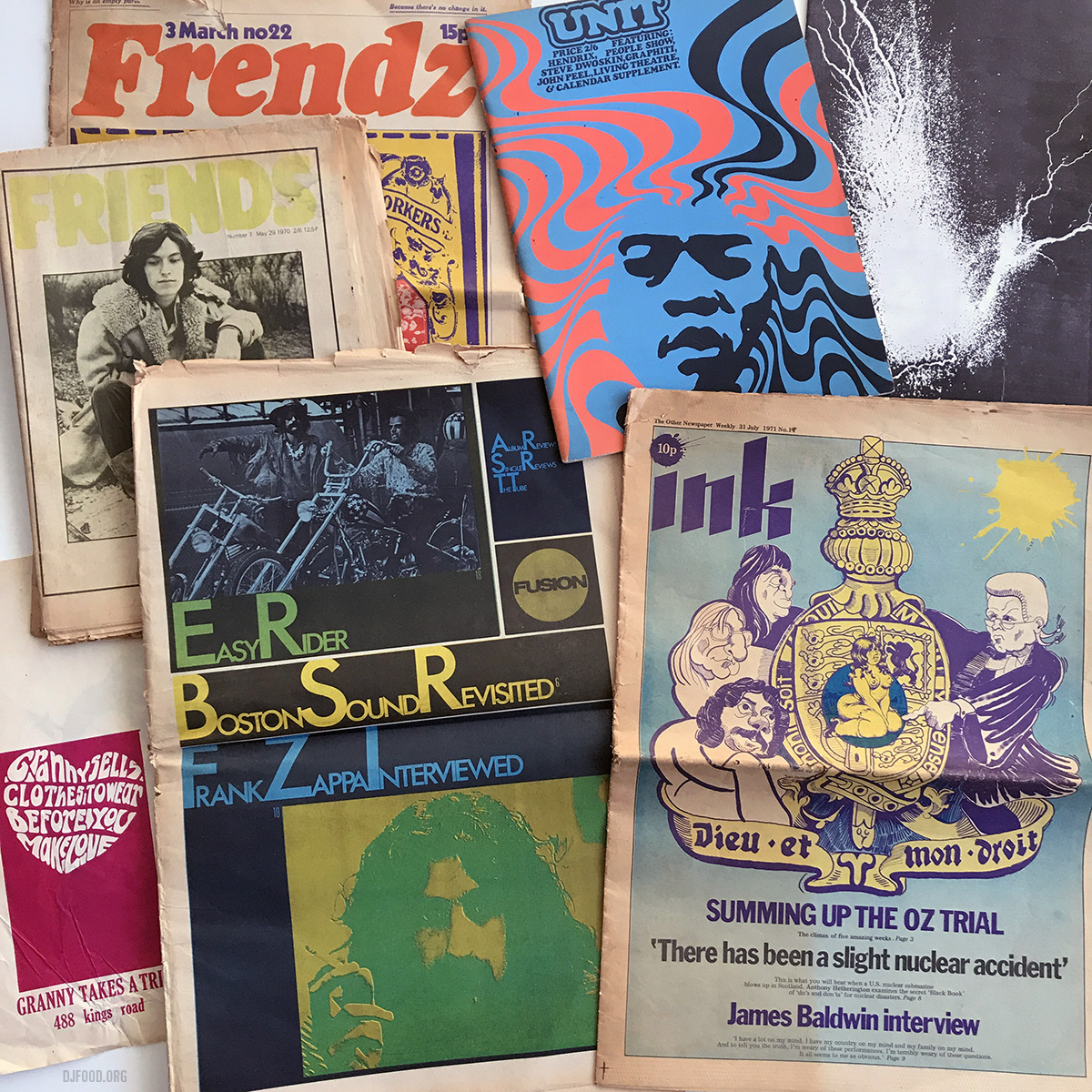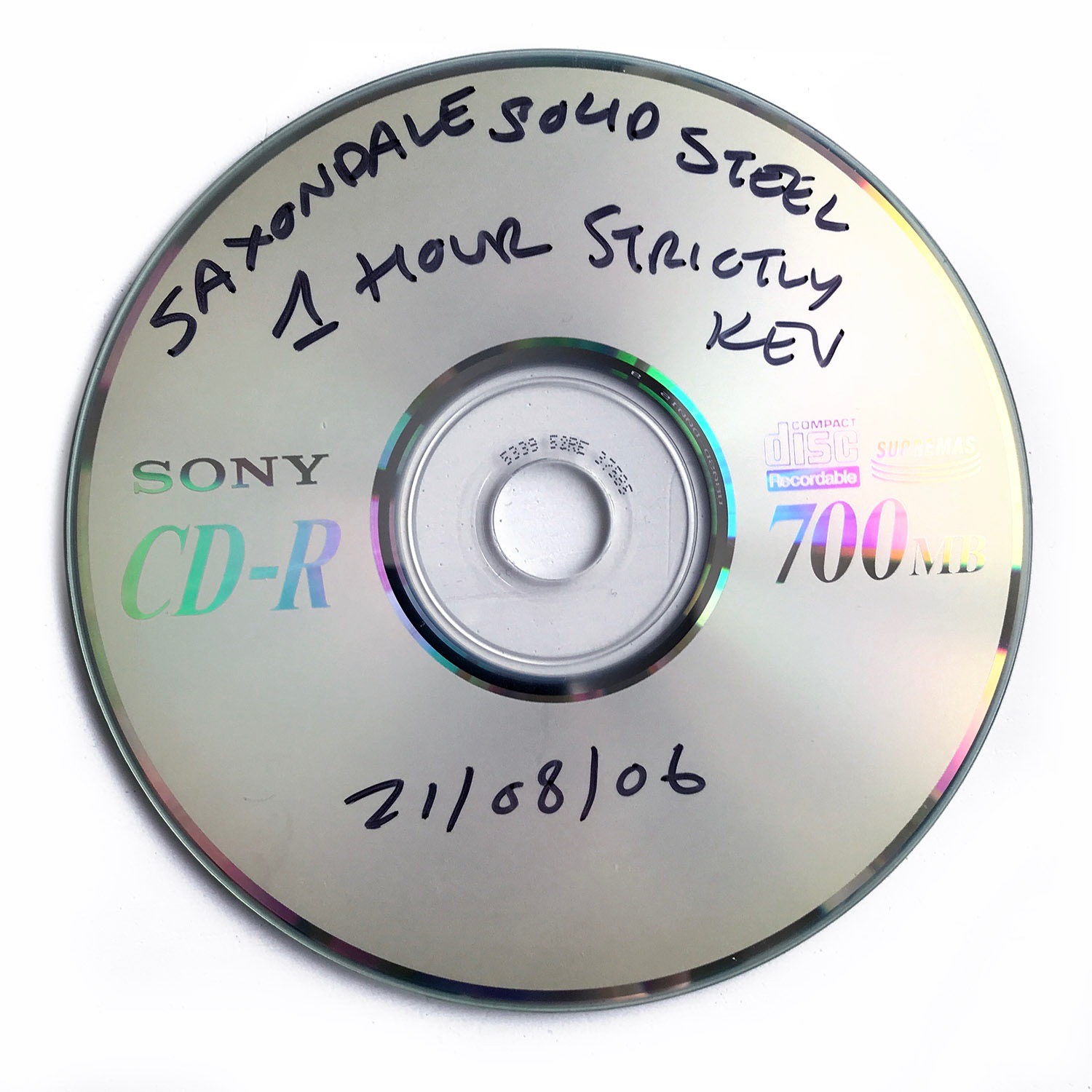 Saxondale was a short-lived TV comedy starring Steve Coogan as an embittered ex-roadie with anger management issues who now runs a pest control business. DK was and is a huge Coogan fan so I put the quote about music from it into the end of the mix and we sometimes dropped the theme tune from the show – 'House of the King' by Focus – at gigs around the time it was airing. Scanning down the track list before listening to this it looks a bit like one of my live DJ sets around the time, book-ended with a few esoteric inclusions.
Kicking off with yet another entry for the Solid Steel intro competition (these kept us going for years) by S24 and then into a DJ Krush/DJ Shadow/Cut Chemist three-way, in fact Shadow pops up in different configurations all over this mix. Dualling with DJ Krush in a snatch from his Meiso LP on MoWax and then into 'This Time' from his own The Outsider album using a found reel to reel tape of an unknown vocal take to build an extraordinary pop song. Cut Chemist's incredible '(My 1st) Big Break' from his 'The Audience Is Listening' LP is one of my favourite things he's done, from the wrong-footing polyrhythmic breakdown to the amazing 360 video (check it out). Sirconical was always an artist I hoped would release more material but he seemed to crop up more on mastering duties than writing on numerous Twisted Nerve or Finders Keepers releases. 'Ziggonometry' is from his only album and the heavy beats sync nicely with the following three tracks that all feature that Bangra-type rhythm so popular around that era. No idea who Blunt Laser was, the Thomilla track came on a neon green 10" promo and the Caveman on the Kelis remix wasn't the UK hip hop crew from the early 90s but a Ross Orton and Steve Mackey collaboration.
Shadow's back but this time remixed by Soulwax via a huge chunk of the B-52s, Danny Breaks' 'Duck Rock' takes it back to the old school with the wobbly bass reminiscent of Scruff's 'Ug'and his own 'The Jellyfish'. A snatch of the Mighty Boosh from the radio series bridges into the Nextmen who pump up the party with Dynamite MC. Next is a couplet I used to spin all the time; Cut Chemist's remix of Shadow's 'Number Song' into 'Dark Lady' – always works nicely, especially when pulling the bass line out and teasing it back in again with a replayed melody. But this is an early version where I hadn't worked out the replay sequence yet or added in the 'Bug Powder Dust' dessert for afters. Urgh, Kanye, the less said the better, this was such a huge tune and the Hollertronix version was genuinely exciting at the time but it got overplayed very quickly. Ah, but saved by Zero db's incredible 'Bongos, Bleeps & Basslines' – DK and I played the shit out of this for years in all kinds of combinations, still sounds incredible. I even went so far as to edit together a video made from a Len Lye animation that visually synced to each part for our first 4-deck AV sets.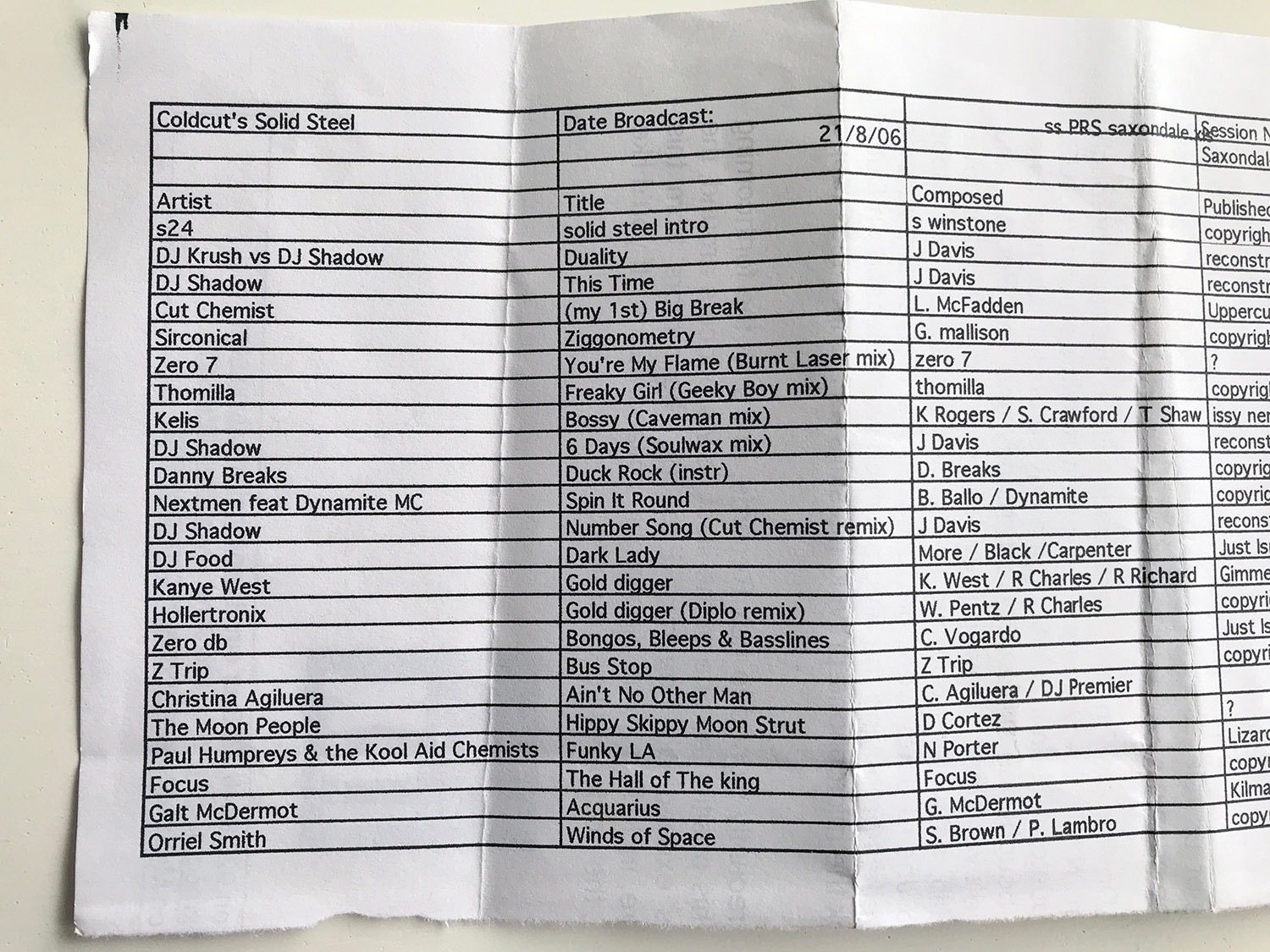 Z-Trip's block-rocking 'Bus Stop' beats work so well over it, taking it half time and then back again. Yes that's Christine Aguilera, top tune with the original that it sampled afterwards, 'Hippy Skippy Moon Strut' by the Moon People, awkwardly stumbling out of it. We take a turn to Los Angeles for a couple of tunes from Paul Humphrey and his Cool Aid Chemists and The Dragons which preceded our use of the latter in the Solid Steel 'Now, Listen Again' mix the year after. I'm glad we didn't include the embarrassing 'D-J' before the chorus in that (or did we? I forget) – RIP Daryl and Dennis Dragon. There's the Saxondale music rant before Focus and the bit where he mentions 'the Rascal' refers to his pet name for his car, 'oh! New shoes!?'. Recognise that bass line! 'Yeeeaaah! That's right!', Galt McDermot's 'Aquarius' from Hair slides in before Orriel Smith takes us out with 'Winds of Space'. This would have been taken from the excellent 'Fuzzy Felt Folk' compilation by Jonny Trunk and Martin Green on Trunk Records, a highly recommended album of songs for children that bears repeated listens.
Track list:
S24 – Solid Steel intro
DJ Krush vs DJ Shadow – Duality
DJ Shadow – This Time (I'm Gonna Do It My Way)
Cut Chemist – (My 1st) Big Break
Sirconical – Ziggonometry
Zero 7 – You're My Flame (Blunt Laser mix)
Thomilla – Freaky Girl (Geeky Boy mix)
Kelis – Bossy (Caveman mix)
DJ Shadow – 6 Days (Soulwax mix)
Danny Breaks – Duck Rock (instr)
The Nextmen feat. Dynamite MC – Spin It Round
DJ Shadow – The Number Song (Cut Chemist remix)
DJ Food – Dark Lady
Kanye West – Gold Digger
Hollertronix – Gold Digger (Diplo remix)
Zero db – Bongos, Bleeps & Basslines
Z-Trip – Bus Stop
Christina Aguilera – Ain't No Other Man
The Moon People – Hippy Skippy Moon Strut
Paul Humphrey and his Cool Aid Chemists – Funky LA
The Dragons – Food For My Soul
Saxondale – Rant
Focus – House of The King
Galt McDermot – Aquarius
Orriel Smith – Winds of Space