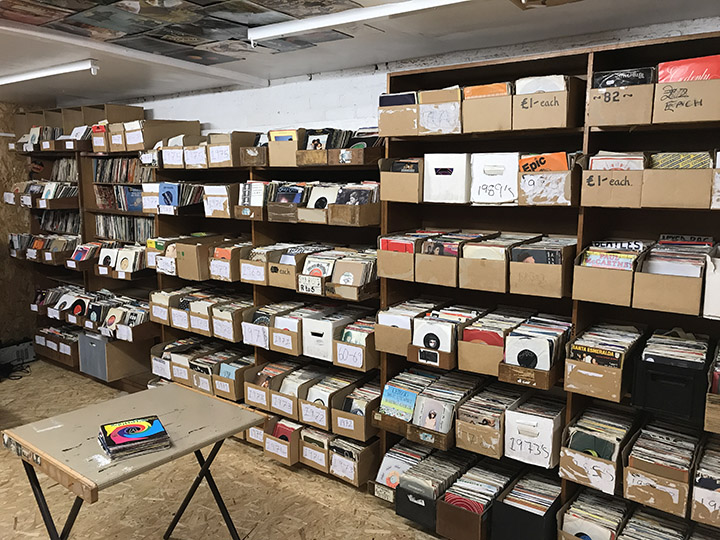 Last weekend saw a long-delayed trip out of town to Leicester to get away from the city for a few days, seriously needed when you've been living next to a building site for the last 18 months. The Leicester Print Workshop were having their Xmas Bazaar so we dropped in and caught up with friends including Kid Acne, down from Sheffield for the day to hawk his wares. Then off to Nottingham to have a mooch about, saw my book in a shop for the first time and visited brand new record shop, Running Circle.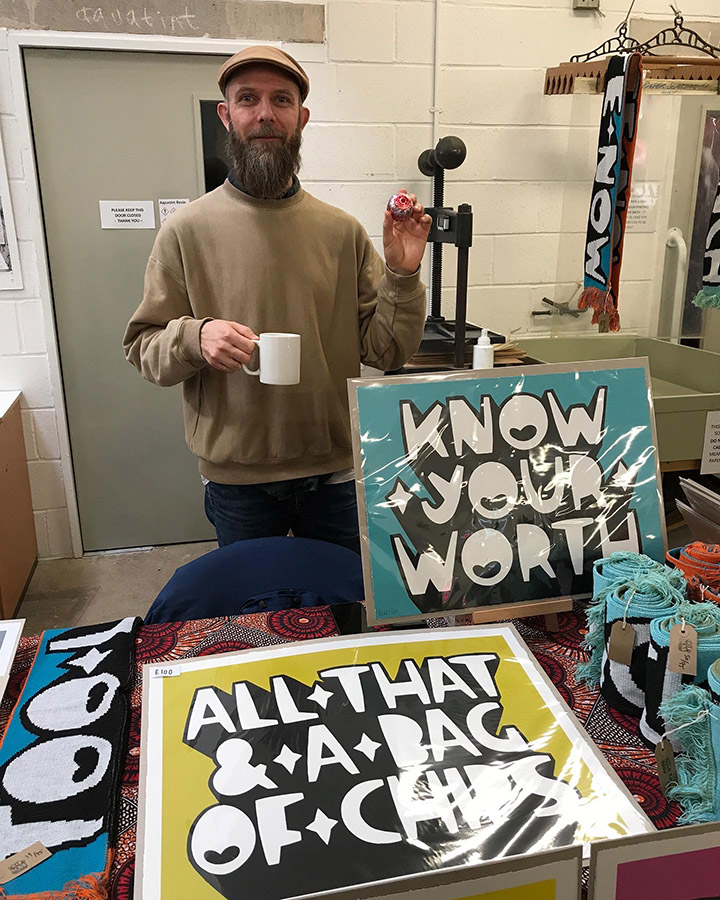 Monday I was in Birmingham picking up a turntable and sought shelter from the pounding rain in the new Diskery premises now that they've moved (well, nearly). The shop is one of the UK's oldest record emporiums and has recently had to vacate the shop they'd been in for 50 years. Luckily they didn't have to go far, just 2 minutes round the corner and they now have a large basement stacked to the rafters with 45s, the LPs and 12″s being upstairs.
Back to London for more writing and research on Tuesday, designing The Real Tuesday Weld's Xmas card and a couple of bits for De:tuned. My sons were asking about the Telepathic Fish parties I used to do and one of them is running rings around me on the iPad where I'm supposed to be teaching him how to paint with it. Loads more going on as ever but all in good time, let's get to this week's archive show…
Following on from last week's part 1, here's the rest of the set, kicking off with a snatch of People Like Us' 'Bran Mash and Crushed Beans' that we'd steal a decade later for the intro to our Now, Listen Again live set. The jazzy drum n bass track that follows is one I remember but not by name, the lovely little 'Shadow's Creep' refrain always brings a smile though. Sounds like I attempted to mix Squarepusher's 'Vic Acid' in three times before nailing it, those rolling, stumbling beats took time to get right in the mix. Out into the Plug (Luke Vibert) remix of Meat Beat Manifesto's 'Asbestos Lead Asbestos' which – I think – was only available on the US 12" of this release.
Three Wheels Out was a British ex-pat named Graham who was living in San Francisco when we first toured there in 1996 and we hung out with him as he showed us around Haight Street which was near where he had a place. As far as I know this was his only release under this name, an excellent, tempo-switching number, released on Pussyfoot and sampling the same drums we'd had for 'Spiral', always wrong-footed them in the clubs. The Herbaliser's 'Theme From Control Centre' creeps into the mix and, from the sound of it, that could be Ollie Teeba or PC cutting up The Jungle Brothers' 'Beyond This World' a cappella over it. We finish with the sublime 'Nuane' by Autechre from their Chiastic Slide LP which reminds me that I must dig it out again.
Track list:
People Like Us – Bran Mash and Crushed Beans
Unknown – Shadows Creep
Squarepusher – Vic Acid
Meat Beat Manifesto – Asbestos Lead Asbestos (Plug Remix)
Three Wheels Out – Rise Up Children
The Herbaliser – Theme From Control Centre
Jungle Brothers – Beyond This World (a cappella)
Autechre – Nuane